A new model of sports bike has always been awaited by its enthusiastic customers because a sports motorcycle not only gives you a fastest speed but also a perfect acceleration, braking system and a smooth turning facility on uneven paths as compared to ordinary bikes. There is a list of upcoming sports bike people have been waiting for this year. Among them Honda CBR650R is one of them, ready to dispatch from company. Booking has been started all over the world including India but it has not been started in Pakistan yet. Honda CBR650F was its predecessor that has been transformed with more new and amazing features. Honda has disclosed its new upcoming model in EICMA show in Milan with an expected price to be below 8 lacs Indian rupees that is an updated, improved version of CBR650F which was loved by the customers throughout the country.
Features of Honda CBR650R
CBR650R has the following amazing features inside:
Inline Four cylinder engine type.
649 cc displacement.
Electronic fuel insertion fuel system.
Front suspension is 41 mm Separate Function Front Fork.
Rear Suspension is single shock damper.
Front tire is 120|70 ZR-1.
Back tire is 180|55 ZR-17.
Seat height is eight hundred and ten millimeters.
Fuel Capacity is 15.4 liters.
Front brakes with four piston calipers and back brakes with single piston caliper.
Power output is expected to 93bhp
Torque is 64Nm.
208 kg of a total weight that is lighter than CBR650F.
It comes in Grand prix Red color only.
It offers a warranty of 12 months with unlimited mileage.
Expected price is between 7.2 to 7.5 lacs Indian Rupees.
Why you should choose CBR650R?
Honda tries to give a sportier look to its CBR650R with front LED headlights. Rider's load is more on the front wheel thus giving the impact of a sports ride. This gives us a glimpse of cowl scoop up front where the driver is giving a graceful turn back just like sport drivers. 15.4 liters of fuel capacity enables you to give a fly line with a sporty ride and keep you riding enthusiastically. It gives a handle for gripping during high speeds for passenger sitting behind the driver and a pair of aluminum footrests with elevated p-pads. The steering handle turns with a rake angle of 25.5 degree and a trail of four inches that gives CBR650R an asymmetrical, curved and smooth turn. Reduced weight of the bike helps to reduce the resistance acting on the wheel during changing of lean angle and thus it helps to turn around smoothly. Dual ABS system helps you to protect from major accidents. It gives you a five percent greater horsepower with a total of 94 ponies at 12000rpm so you can enjoy your rides more playfully. Something new in this bike is its twin ram-air ducts that act on the pressurized air on the front end to increase the volumetric efficiency of engine. The torque control feature helps you to prevent from overwhelming the traction of right wrist's over gear and prevents from sliding .This enables you to drive for 149 meters per hour.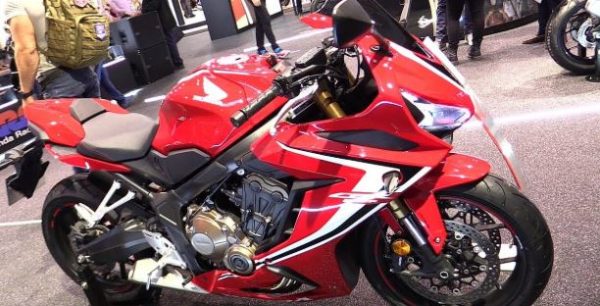 Major changes from CBR650F
A new SFF separate function fork) that is lighter than 650F and have a new aluminum lower triple clamp.
Improved brakes ( four calipers piston instead of one caliper )
A higher compression ratio increased to 11:6:1.
An updated inline four cylinder engine along with timing for sixteen valves as compared to CBR650F.
CBR650R has round LED headlights and a LCD dash that is different from CBR650F.
New improved wheels.
It is nine pounds lighter than F.
ABS version of CBR650R is $450 pricier than 650F ABS.
Major competitors
Ninja 650 ABS from Kawasaki is seem to be a major competitor of 650R. Both rides have an inline four cylinder engine. Ninja has 48.5 pound feet against 47 pounds feet of CBR. Ninja gives a tough competition to CBR650R by giving customers more suitable handlebar control for riders' triangle and gives you a relaxed position for sitting. It gives your neck a slight break from the load of your helmet and unloading your wrist and shoulders for more comfortable ride. Ninja has not the torque control feature introduced in CBR650R and this is the reason why there is a price difference of one thousand dollars in both of the bikes. So if you want to have all the above mentioned features, go and book your CBR650R from your nearest Honda Showrooms in India and all Pakistanis shall wait for the time when it will be available for purchasing there too.