2023 DFSK K01 
Sold in Pakistan = 2020-Present
2nd Generation
2023 DFSK K01 Pickup Price in Pakistan
Price Effective from 21-Feb-2023
| | |
| --- | --- |
| DFSK K01 Pickup | 20,700,00/- PKR |
K series of DFSK was introduced in 2015 as a venture between Dongfeng Motors and Chongqing Sokon automobile industry. K01 S is one of the mini-truck versions of the K series that was imported from China to other countries including Pakistan. Previously it was imported from China but afterward, DFSK signed an agreement with Engineering Development Board to promote locally produced cars in Pakistan. This initiative moved on to its glory and locally assembled vehicles made the price economical to the customers where three vehicles were announced to launch in Pakistan including K01, K07, and C37.
 K01 S is considered to be a commercial loader competing with the biggest automobile company 'Suzuki'. It is named MINI TRUCK because of its two tones loading capacity along with nine feet loading bed the story does not end here, it also features a dual-circuit hydraulic braking system and Euro 4 Standard safety rating making it the most trusted loader in the market. Regal Motors held an official ceremony on 25th September 2020 to introduce their locally assembled promised vehicles in Pakistan that including the Glory 580 Crossover and the K01S Mini truck. DFSK is also planning to introduce Glory 330 and Glory 337 soon in Pakistan after its successful launch of K01S and Glory 580.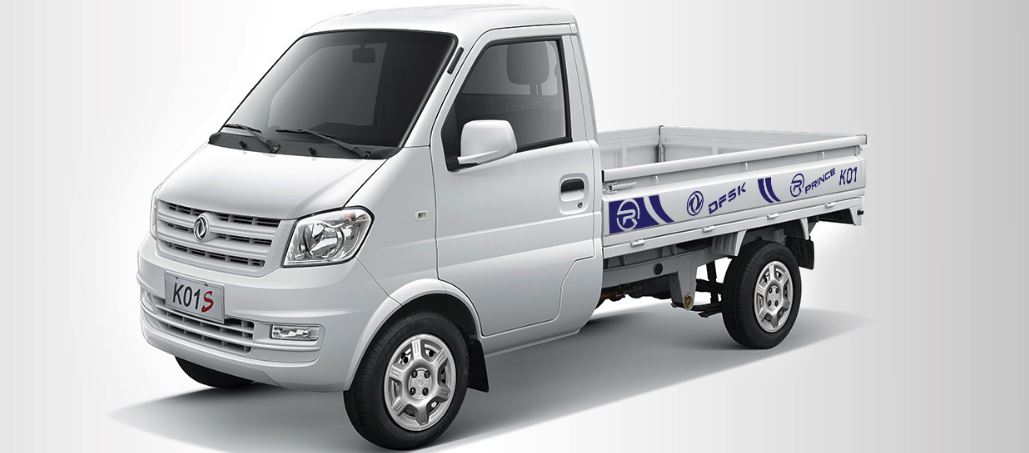 Engines, drivetrain & Power:
2020 DFSK K01S Mini truck is available in two engine options that include a 1012 ml (1.0 Liter) L4 sixteen valve engine producing power of 39 KW (52 HP) and torque of 78 Nm, 1050 ml (1.1 Liter) sixteen valve engine producing peak power of 39 kW (52 HP) and torque 78 Nm while the third option of the engine is 1298 ml (1.3 liters) sixteen valve engine producing 60.5 KW peak power and maximum torque of 102 Nm. All three engines are paired with a five-speed manual transmission system and offer a rear-wheel-drive option.
Performance & Drive: 
K01S delivers an efficient driving performance with smooth ride quality and precise handling. The Macpherson axles on the front and leaf spring axles on the rear give a smooth suspension system letting you have perfect handling and face all the odds to deliver you a good ride. Similarly, the braking system is also efficient and improved with disc axles on the front and drum axles on the rear that let the driver apply brakes smoothly without any jerks and discomfort making the driver even smoother. The top speed of K01S is 120 kilometers per hour which is much more appealing for a commercial loading truck while the 1298ml engine delivers you the top speed of 100 kilometers per hour.
 Fuel economy: KO1S is also very economical giving you a mileage of hundred kilometers with a consumption of 5.8 liters at a speed of 40 kilometers per hour and it gives you a fuel tank capacity of 40 liters. Another wonderful thing about this mini truck is its two-ton loading capacity and nine feet loading bed which makes it quite versatile and the dual-circuit hydraulic braking system gives it smoother execution even with such a heavy load on it. The rear-wheel driving option lets you carry heavy loads easily anywhere with minimum effort.
Exterior Design & Features:
DFSK K01S mini truck comes in a variety of three carrier capacity that includes 2300 millimeters carrier, 2500 millimeter carrier, and 2700 millimeters carrier. The 2500 millimeters carrier and 2300 millimeters carrier is available in 1050 cc engine vehicle while the 2700 millimeters carrier is available in 997 cc engine vehicle .K01S 2700 millimeters variant has the largest dimensions and its overall length is 4390 millimeters and its overall width is 1560 millimeters while the K01S 2500 millimeters variant has an overall length of 4150 millimeters and width of 1560 millimeters and lastly the K01S 2300 millimeters variant features an overall length of 3950 millimeters and width of 1560 millimeters while the height of all variants is same that is 1835 millimeters. It offers a ground clearance of 175 millimeters.
K01S has a typical loader shape with a front-facing like a mini truck and features LED headlights along with front fog lights to assist the drivers in a safe drive even in extreme weather conditions. the fourteen inches steel wheels give this mini truck a good look lastly talking about its exterior colors, it is available in three exterior colors that include silver, white and grey and you can have your personalized K01S.
Interior Design & Features:
The interior cabin of this mini truck is comfortable for the driver offering seating capacity for two adults that is the driver and the front passenger. The cabin features a proper air conditioning system, heating system, ashtray, glove console, front door storage pocket, sun visors, and front three-point seat belts. AM/FM radio is provided for the entertainment of drivers and passengers. Thus the interior cabin is equipped with all the necessary features needed to have a comfortable drive. This loading truck is mostly used for commercial purposes for carrying luggage from place to place and drivers have to drive long distances thus the cabin is designed in a way to gives maximum comfort to the drivers so they can do their jobs happily.
Safety & Features:
Safety ratings and features of DFSK K01S are not identified yet but some of the safety features mentioned are disc brakes, three-point seatbelts, a hydraulic braking system, and front seats given with proper headrests ensuring you a comfortable and safe drive.
Pros & Cons:
Pros:
Decent Interior
Have Some of the Basic safety features
Competitive in this Price Range
Latest Generation
Rear-wheel Drive Vehicle
Cons:
No Hill Assist
Not Suitable for Hilly Areas
No Airbags
Issues with Resale Value
Major Competitors:
Verdict:
DFSK K01S Mini truck is a big competitor to all big brands already running successfully in Pakistan like Suzuki because of its budget-friendly price. Suzuki Mega Carry Xtra is available at a starting price of 13.0 lacs Pakistani rupees while you can get K01S at a comparatively lower price which is a big attraction for all customers who are setting up their business and need their own very cheap loading truck. You can now even order K01S from the Daraz website and get your vehicle at your doorstep in one to five days.