Aston Martin DB11 2017
This beautiful sport car is successor of Aston martin DB9 that is designed little different and more comfortable then its older version. Aston Martin Company was founded by lionel martin and Robert Bamford. This company is well known for the production of Luxury sport cars and grand tourers. Here we are going to discuss about Aston Martin DB11 2017, what's new in it?? What changes have been done?? , If it is better from older one or not??
Design:
Aston martin DB11 is luxurious looking car that is beautifully made for racing. Let's start with colors because it is an expensive car that's why it got lot of beautiful colors available for exterior as well as for interior we have included all.  Front of car made using beautiful chrome grille that didn't increase its presence but as well provide lot of air to its engine. It has given cornering High intensity head lights with LED day time running lights. This coupe car structure made strong and there has been used anti roll bars so on high speed there should be reduction in body roll during fast cornering. As this car is so much fast that why there has been given aero blades on left and right doors that use the incoming air to down force the car. Not only this there is small spoiler on the rear side that pop up when aston martin reaches 144 kilometers per hour that also work by shooting air up and help to you keep the rear end down. Rear side of Aston martin got dual stainless steel exhaust with chrome tailpipe and awesome looking tail lights. Interior of Aston martin furnished using leather it is applied on dashboard, wheel, arm rests, front console and most importantly on seats. As there is no compromise on speed that's why there has been used light tinted glass and aluminium panel that didn't make car strong but make it light weight too and Kerb weight of car is 1850 KG .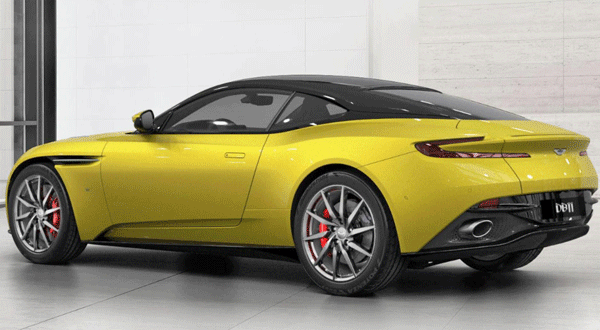 Engine and Transmission:
This rear wheel drive car Aston martin has been loaded with 5.2 L twin turbo premium unleaded gasoline engine that has 12 cylinders and 48 DOHC valves. This Twin Turbo Premium engine by using its cylinders and valves produces 600 Horse power , 600Nm @ 6500 Rpm Peak toque plus 178 KW @ 5800 Rpm Max out. Transmission of Aston martin is 8 speed ZF automatic transmission with manual shifting mode that work perfectly and shifts so smoothly that it is definitely to experience, for making it more smooth there has been added power tilt telescopic steering wheel. It has two modes GT mode and sport mode, controls are given on steering wheel that you can use any time to shift from GT to sport. This racing car Aston martin has top speed of 321 Km/h and has capability to reach 0-60 in just 3.9 seconds and 0-100 in 8.7 seconds, You cannot deny that this car is really made to compete.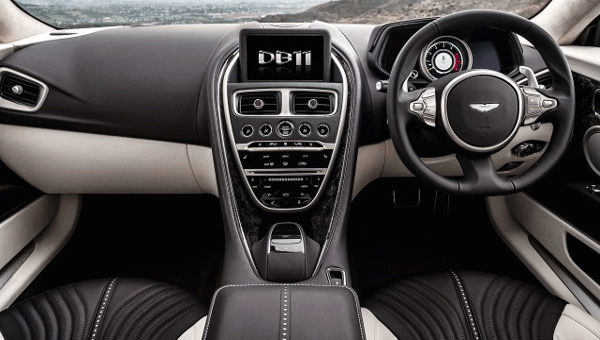 Comfort and Security:
Comfort of car is property that is measured from inside the car, what is given for ease of passengers and driver. For driver and passengers it has loaded with heated sport bucket seats, Cushion tilt and height adjustment. Everything in related to car and its performance is in front of eyes as it has odometer, speedometer, techno meter and trip computer. It has cup holders, glove box and arm rest on front and with integrated navigation panel you will not lost your way. Security in sport cars has more importance and that can never be decline, Aston martin is high speed vehicle that is famous among other car brands too so leaving anything undone is not an option. First of all it has cameras on all side left, right, front and back as this is high speed car so it has electronic stability control and traction control. It has airbags for all seats with occupancy sensor furthermore also embed in 1st and 2nd row curtain. So after knowing all it will not be wrong to say this Aston martin will beat their competitors not just in race but in the fields of comfort, style and security.