Honda City 2019- Most efficient sedan
Honda always wins the race when it comes to affordability, economical and daily driven whips for any place in the world. From the cheap 90's Honda beaters to latest years Honda's are famous for getting the job done, hence a choice for millions of people all around the globe. The Honda City is one of most efficient, one of highest sold and liked car in automotive market when it comes to subcompact sedans. The Honda City stands below the Civic and Accord, costing less and being more fuel efficient with compromises to few corners. The latest 6th generation Honda City was launched in 2016 in Thailand, Indonesian and Indian market majorly. However unfortunately in Pakistan "Honda Atlas" decided to skip the 6th generation at all and continues selling the famous 5th generation from 2008-present. Some blame it to the dealers as the car is still one of most desired locally produced sedan in the market. Whereas other blame the poor efforts by Atlas Honda Pakistan to not launch the car and save some bucks. Unfortunately Honda Atlas Pakistan has been doing so when it skipped the "facelift" of 9th generation Civic as well; henceforth the Honda Atlas has been notorious of its delayed launches. Anyways moving towards the review, we'll be discussing the 6th generation International model of Honda City 2019. Honda City 2019 has sold itself in massive amounts among the Australian, Mexican, Asian and African markets. Interestingly the sales for city despite of its unavailability in USA have been set to record.
Engine, Power & Transmission:
Honda City 2019 comes under subcompact car category. The Honda City 2019 comes with 1.5L i-vtec petrol engine and optional 1.5L Earth Dreams i-Dtec turbo diesel engine.  The diesel engine is limited to Indian market only whereas the Honda City is sold under many names in different markets such as being sold with the name Honda Grace in Japanese market. The 1.5L petrol engine generates about 118 Hp and 107 lb-ft of torque.  The drive train for City 2019 is pretty much standard as it is available in all the regions. However in some markets the same engine comes with pushing about 130 Hp with the same engine married to either 5-speed or 6-speed transmission, both auto and manual ones.
Aesthetic Exterior:
Honda City 2019 is not a great car when it comes to cruising on highways as it does 0-60 mph in long 16.8 seconds. However with the Honda City 2019 it never was about the performance figures, since it's oriented to being least maintaining and fuel efficient sedan on a budget. The drive quality is pretty much good as it should be in this respective category with maximum speed of 100 mph (160.9 kmh). On the exterior it has moderate styling with LED headlamps, DRL, optional fog lights, chrome front grille. The steel wheels are standard unless you opt for higher trim that are equipped with 16-inches wheels.
Exterior Photos: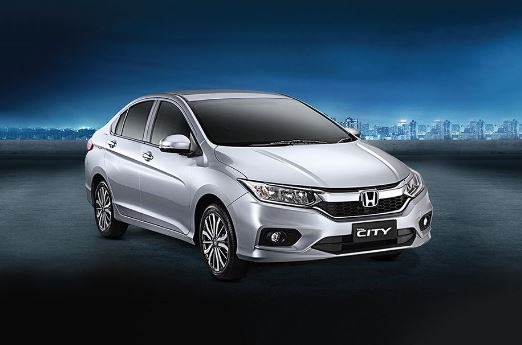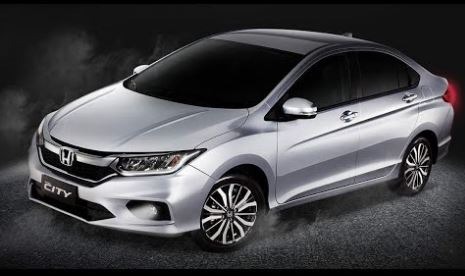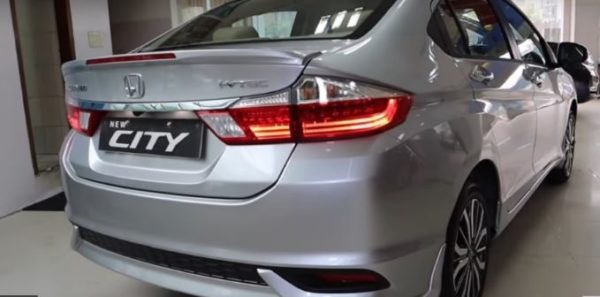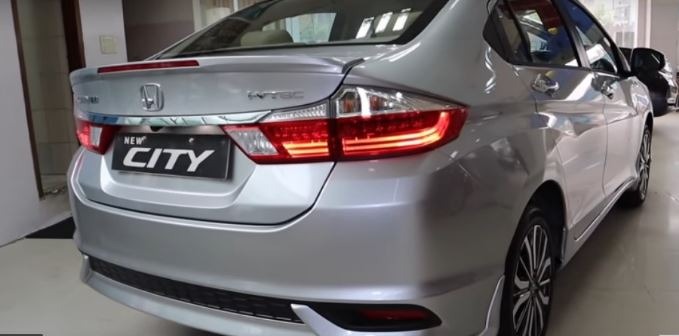 Balanced Interior:
 The interior is pretty much close as it is a subcompact sedan. The aesthetics include clothed seats, satin accents, wood panels etc. The dashboard in 5th generation has quite a bit improved from predecessor along with multi functional steering wheels. The blues and whites in the odometer give a nice feel when driving down the road. The 7.0-inches audio infotainment system with Bluetooth connectivity, reverse camera, captive touch surface front climate and volume control, a button-less piano central stack and cruise control with paddle-shifters comes inside the cabin. Moving towards the safety features of Honda City 2019, it comes with Variable stability control, Hill assist, Honda's G-con technology, electronic stability control.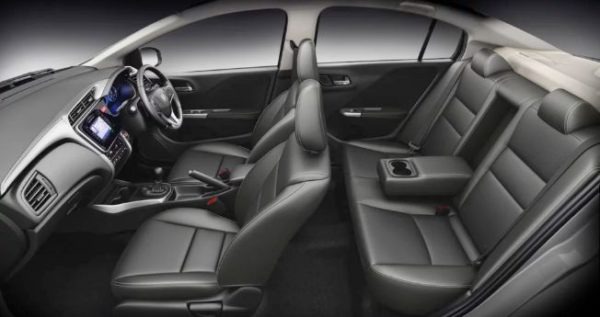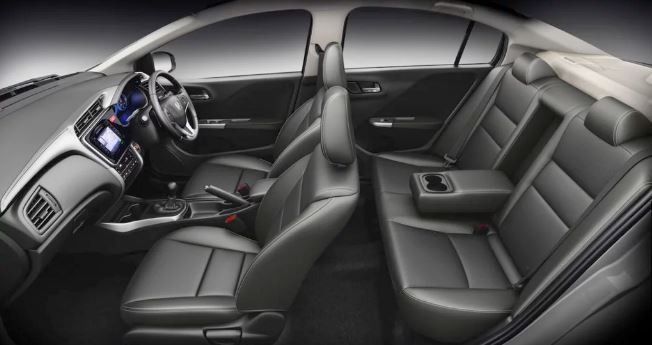 Most Fuel Efficient Award:
Honda City 2019 was awarded UAE car of the year for 2018, obviously it's not the fastest, sleekest and modern car available in the market however what makes Honda City 2019 so special is its affordability and cheap maintenance. The Honda City is responsible to deliver 14 km/l locally and 19.2 km/l on highway, therefore making Honda City 2019 one of most highly giving fuel economy on the road. The Honda City 2019 costs around $15,000-$18,000 varying in the different markets. With this price bracket the Honda City seems like the perfect choice when shopping for a budget car.
Conclusion:
 Yes it feels sluggish and under powered on a highway run however that's not much to ask when you get the brilliant mileage, economical maintenance and premium sedan for the price you pay. Hence Honda City 2019 is a big yes to buy any day.