2020 Mercedes Benz GLA Class
Mercedes Benz has recently launched its GLB 2020 SUV blossoming the high ride portfolio of the company to introduce plethora of all shapes and sized models of cars and now it seems that Mercedes is ready to drop another vehicle in its world premiere at an auto show which will be GLA class upgraded model that is being spotted on roads of Germany which confirms that the vehicle is undergoing its final testing phase and is still under its production unit. 2020 GLA is a crossover variant which will be slightly redesigned with more ground clearance with chunky wheel arches while the interior will not be as luxurious and spacious than the other SUVs of A class.
Benz GLA Class Variants:
Same like before GLA 2020 will be available in two trims  GLA 250 and GLA 250 4MATIC. GLA 250 is the base model that comes with front wheel drive only while on the other hand GLA 4MATIC offers all-wheel drive letting you drive in all type of weather conditions. You can avail many latest and upgraded features by purchasing different packages at different prices. Some of the packages include premium package, smartphone integration package and leather upholstery package.
Engine, transmission and performance of GLA 2020:
GLA 250 will be powered by two liters 4 cylinder turbocharged engine generating horsepower of 208 hp and front wheel drive is made standard in all variants of GLA 250. It offers 7 speed automatic continuously varying transmission that performs a superb job of pulling it around so long while it will make you feel sluggish during light footed around city driving. It has the capability to accelerate to sixty miles per hour in just 5.8 seconds.
The increased ground clearance makes the cornering and rolling of the car easily especially around twists and turns and the chassis is competent in spirited driving. Steering of GLA 2020 is light and precise to control and the firm suspension let you drive easily even on chopping highways and uneven roads. On the other hand the GLA 250 4MATIC will provide you will all-wheel driving system making your journeys even more comfortable in all type of weather and road conditions.
Exterior looks and features:
Detailed looks of GLA 2020 will be released in the upcoming world premier but the spied shots showed us that the upcoming model will be ten centimeters more in height than its predecessor and the wheels will also be larger in size than the previous model. It will be 174 inches in length, 71 inches in width and have a height of 60 inches. Some of the features of this prototype include halogen headlights, windshield wipers, fog lamps, day time running lights, heated side mirrors with memory incorporated system, power side mirrors and windows and power lift gate and trunk.

Interior cabin and features:
The interior design of GLA 2020 is kept stylish and sophisticated but the test cars don't have refined finishing of the cabin but we expect the actual released model to have better quality of materials used in the cabin. Front row of seats are very spacious providing ultimate comfort to driver and front passenger while back seats are cramped discomforting passengers on back. There is an eight inches infotainment screen on the central console which is provided with Android Auto and Apple Car play interface and on board Wi-Fi system. Audio system provided in the cabin is also very good and the controls are given on the steering wheel too beside the touch screen.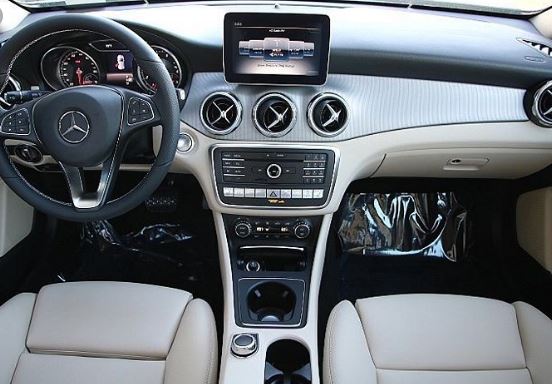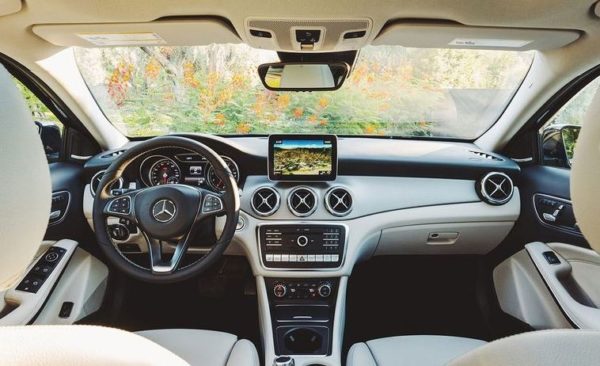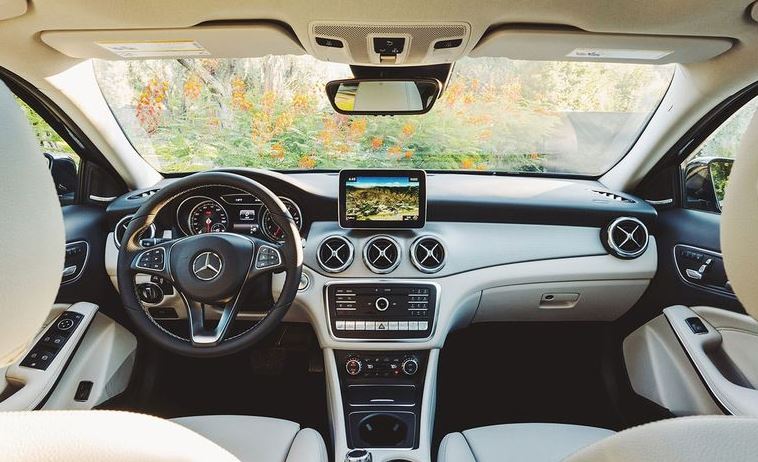 Some of the features provided in cabin include climate control, adaptive steering, driver memory seat, passenger memory seat, ambient lighting, Bluetooth, USB, eight speakers and navigation system. It fulfils all safety features necessary for a safe drive providing you with standard forward collision warning system, automatic emergency braking system, lane keeping assistance, adaptive cruise control, traction control, stability control and air bags.
Major competitors:
It is expected that major competition to the upcoming GLA 2020 will be given by BMW X1, Volvo XC40, Lexus UX 200, Audi Q3, Lexus NX, Lincoln MKC and Land Range Rover Evoque.
Price:
Mercedes Benz GLA will be available for purchasing in mid of 2020 or late 2020 and the GLA 250 version will be available at a price of 35,245 US dollars and the GLA 250 4MATIC trim will be available at a price of 36, 245 US dollars. It will be coming all around the world including Pakistan and the price will be fairly competitive in respective countries. Warranty of four years or 50,000 miles limited will be provided to its csutomers.