Toyota Yaris Cross 2020
If you want a crossover Yaris and need ground clearance too then Toyota did a wonderful release to meet up your demands with its 2020 model of Yaris Cross which was launched in European markets in competition with Rush and now it has been released in Thailand to make its way to Asian automobile markets. Toyota has given this hatchback a pair of stilts and added cladding to make it look more bold and aggressive. Major difference between the typical Toyota Yaris and Toyota Yaris Cross is in the faux skid plates on front and back along with funky cladding on sides of Yaris Cross. Wheel design and size of Yaris Cross also differs from Yaris which gives us impression of an off road vehicle but it is still an on road hatchback with a wonderful performance. It is available in three trims Levels in Thailand that are mentioned as follows: entry trim which is the base level trim, mid trim which is upgraded from the entry trim and the High trim which is top of the line trim. The powertrain of Yaris Cross is made compatible with a friendly environment to comply with the Eco Car Phase 2 policy made in Thailand.
Engine and performance:
Toyota Yaris Cross 2020 gets it power from 1.2 liters 1200 cc 3NR FKE 4 cylinder VVT-I engine that produces a horsepower of 92 PS and 109 Nm torque. It has a lower displacement engine and offers automatic transmission. This front wheel drive vehicle exhibits wonderful performance to drive it through city and even on highways at high speeds with agile movement. The sport tuned power assisted steering is light enough to ensure turning and curving of car smoothly while power assisted ventilated disc at front and drum brake discs at rear provides a well-controlled smooth immediate stops when required. Fuel efficiency of Yaris Cross is sufficient enough to give you a mileage of 23 kilometers per liter in city and 26 kilometers per liter on highways.
Exterior design and features:
Toyota Yaris Cross 2020 is different in its ground clearance which is increased in thirty millimeters that means you are sitting at a height of 190 millimeters from ground and special shocks and springs made it higher from ground. It is available in different exterior colors also you are given the option of two toned exterior theme color. It has additional faux skid plates apart from its typical hatchback design while the front end has a sport inspired funky grille striking it's amazing looks and automatic LED headlight amplify the visibility even when there is extreme dark. The cherry on the top is its sixteen inches alloy wheels that are provided with split spoke design giving it a gunmetal finishing that makes your eye still on this wonderful car running on roads. The jewel shaped LED tail lights on rear give rear end a stylish look to keep you rolling in style.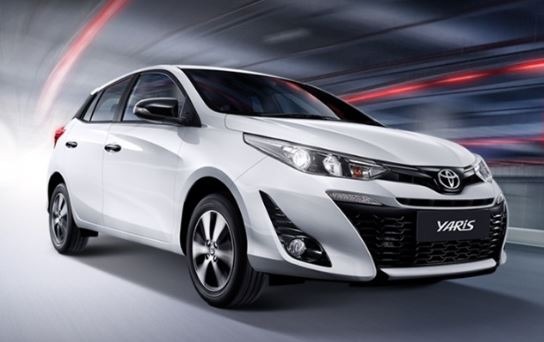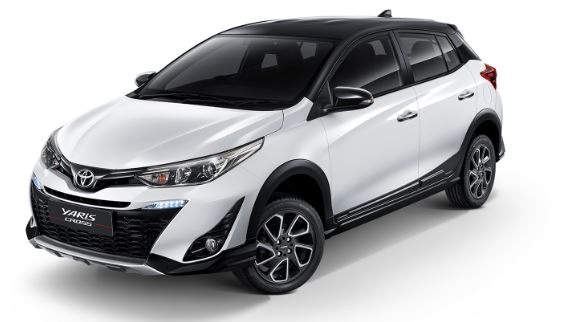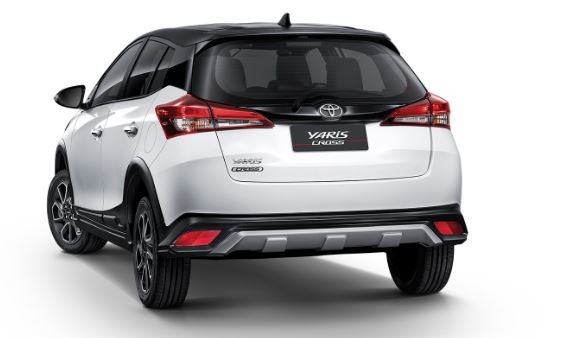 Interior design and features:
The interior side of Yaris Cross holds a deluxe look and provide a refined seating with leather covered seats and other upholstery in contrast stitching design while cabin is made more attractive with piano black accented trim pieces elevating the central console and the chrome finishing gives the real luxurious looks. A seven inches touch screen display is made compatible with Android Auto and Apple Car play interface to provide you with infotainment while reversing camera is provided with backup system and made easy to use. The audio controls for infotainment system are also mounted on steering wheel to make it easy to use and to make calls.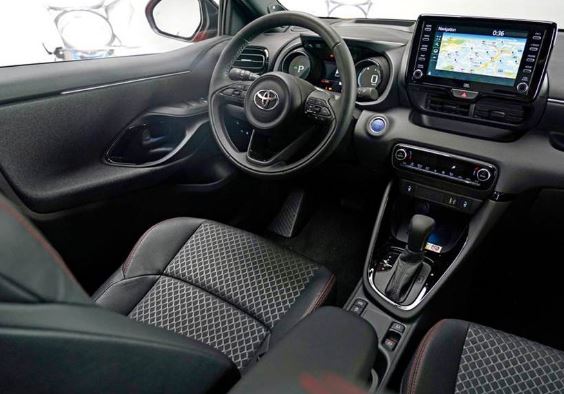 Automatic climate control system makes the temperature in cabin ideal enough to enjoy your long route journeys. Safety: Cabin is equipped with pre collision system, active safety system, heated power side mirrors, rain sensing windshield wipers, stability control, traction control system, anti-lock braking system, electronic force distribution system, air bags and brake override system to ensure a safe and sound drive with minimum loss during collisions. Toyota Care provides a 24 hour assistance to the drivers in case of emergency and gives you a maintenance plan for two years.
Major competitors:
Major competitors of Toyota Yaris Cross 2020 are Honda City , Volkswagen Vento, Hyundai Verna, Maruti Ciaz and Toyota Platinum Etios.
Price:
The entry trim of Yaris Cross 2020 has a purchasing price of 539,000 baht. Mid trim has a starting price of 589,000 baht and high trim has a price of 649,000 baht.