2023 Toyota Revo Rocco
Sold in Pakistan = 2022-Present
8th Generation facelifted
2023 Toyota Revo Rocco Price in Pakistan
Price Effective from 10-March-2023
VARIANT
EX-FACTORY PRICE
Toyota REVO G MT
12,409,000

PKR

Toyota REVO G AT
13,019,000

PKR

Toyota REVO V AT
14,389,000

PKR

Toyota

REVO V ROCCO
15,179,000

PKR

Toyota REVO 4×4 GR-S (2755CC Diesel)

16,149,000

PKR
The Toyota Revo Rocco was launched at the International Motor Expo held in Thailand in November 2017. It was introduced as a restyled version of the Toyota Hilux, and it had a grey rear bumper, glossy black grille, 18-inch alloy wheels, and redesigned instrument cluster. It was introduced in Malaysia and the Philippines in 2018. It is available as an Invincible X variant in the United Kingdom and Z Black Rally Edition in Japan. The Toyota Revo Rocco is also available in Pakistan, and you can book yours at any Toyota dealer in Pakistan. The  Toyota  Revo Rocco has redesigned alloy wheels, an automatic headlight control system, redesigned grille, and many improved features. It is way more than just a car that unleashes your freedom and safely takes you through all your adventures. It is all about you and the power move you have dreamt of. It has the best-in-class exterior design and intuitive features. The new premium Toyota Revo Rocco has a new fog lamp design, new front skid plate, new Rocco sticker, new sports bar, and black side mirror. It brings a unique experience with its powerful looks and powerful engine; it is one of the best off-roaders. It is a four-wheel drive that enhances the driving experience. It comes with an advanced traction control system that helps you in 2-wheel-drive mode and 4-wheel-drive mode. It cuts the engine's power off and applies selective braking when driving in two-wheel-drive mode and when more traction is required, it switches the traction control system off to engage Auto LSD and increases start-off performance. If you need more traction, then the 4-wheel drive is selected. It automatically monitors wheel sensors and avoids wheel slipping during acceleration so you can take you through rocky and hilly roads of the country.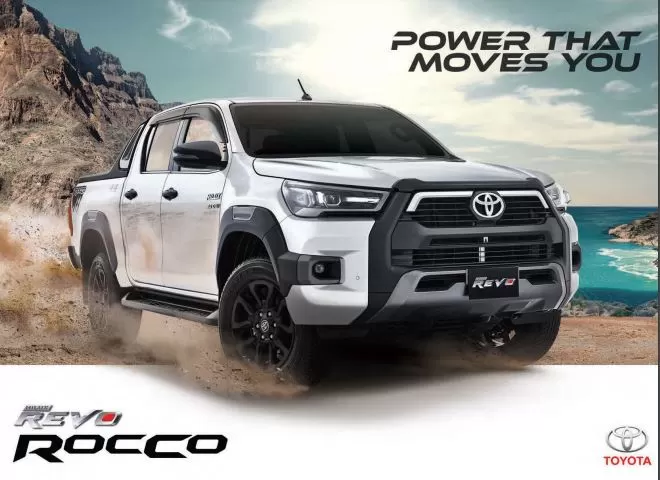 Trims & Variants:
The Toyota Revo is available in various variants, and Revo Rocco is one of them. Other variants of Toyota Revo include:
Engine & Power:
The Toyota Revo Rocco gets its power from a 1GD-FTV, 2755 CC, 4-cylinders, INLINE, Common rail Diesel engine that generates 150 kW (201 horsepower) at 3000 RPM to 3400 RPM and a torque of 500 Nm at 1600 RPM to 2800 RPM. It offers a 6-speed sequential transmission. It comes with ventilated disc brakes at the front and LT drum brakes at the rear, while the suspension system consists of double Wishbone suspension at the front and leaf rigid at the back.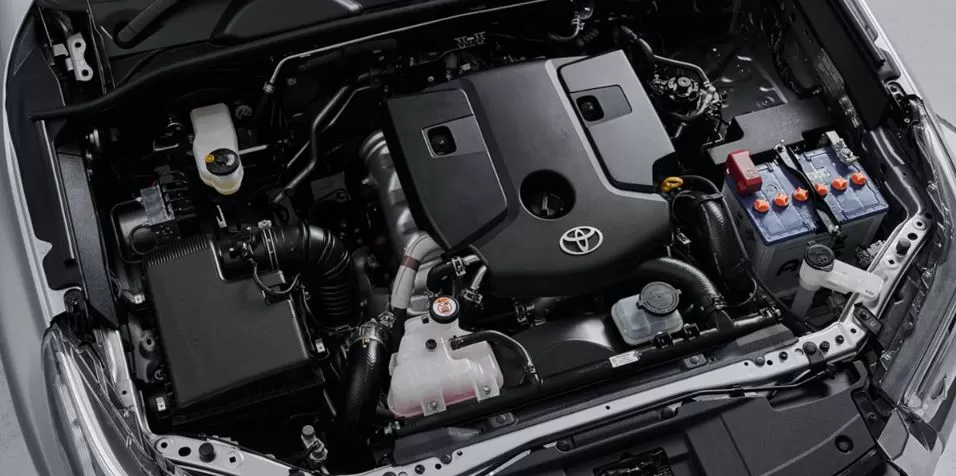 Performance & Drive:
The new generation 1GD engine of the Toyota Revo Rocco delivers more torque and power and has an upgraded suspension system. The suspension system is well-tuned and delivers smooth performance over bumps and breakers. The variable flow control steering can be adjusted accordingly and provides confident control with minimum body roll and turns the car confidently. The Toyota Revo Rocco makes enough power on the roads, and it is fitted with all features for your travel memories. It offers an advanced cruise control feature that makes you more confident, and you can control the ride according to your requirement. The best part of the Toyota Revo Rocco is the off-road performance that makes it the best among other competitors. The four-wheel-drive powerhouse features downhill Assist Control; Hill-start assists control, active traction control, and a limited-slip differential. All these features make your adventures more thrilling and safe. As already discussed above, the traction control system in Revo Rocco allows you to go through all terrains confidently. It lets you drive in two-wheel-drive mode safely and makes the 4-wheel-drive more thrilling by providing more traction. The 4-wheel-Drive LO can be selected when more traction is required, prioritizing the engine power and rapid brakes. If you are traveling on extremely rough terrain and need more traction, the rear differential lock is selected in conditions where one of the rear wheels is not getting enough traction. The Toyota Revo Rocco comes with front and rear parking sensors that make parking easier and alert the driver when hitting close to a nearby object. The Toyota Revo Rocco comes with a fuel tank capacity of 80 liters and gets a fuel economy of 9 kilometers per hour in the city and 11 kilometers per hour on the highways.
Exterior Design & Features:
The Toyota Revo Rocco comes with an updated exterior design with an overall length of 5325 millimeters, 1855 millimeters, and a height of 1815 millimeters. It has a restyled black grille in the front and a new smart LED headlight design. The headlamps come with daytime running lights, and new fog lamps are also there to assist you in extreme foggy weather: a new front skid plate and a sports bar in the rear cabin. New Rocco stickers look attractive, and the over-fender molding over the wheels looks aggressive. The 18-inches newly designed alloy wheels make it look sportier, and the rear painted bumper and the new tailgate handle look astonishing.
Interior Design & Features:
The inside of the Toyota Revo Rocco looks premium, providing comfort and accessibility. The cabin has premium leather seats, and the front seats have separate headrests for additional comfort. The 8-way power adjustment in the driver's seat lets the driver set the seating position according to his comfort. The cabin has illuminated driver controls, rear AC vents, a rear armrest, and a sunglass holder for your convenience. There are premium Optitron meters in the instrument panel and show tire turning angle in the mid. The variable flow control steering has premium steering switches that are driver-centered. There is a 9-inch tablet mounted in the front that gives you an infotainment system. It comes with a new dual-zone automatic climate control feature that makes the temperature inside the cabin comfortable and set according to the driver's and passenger's needs. The rear deck comes with Bedliner, and you can either carry goods in it for fun traveling or can be used for security purposes in our county.
Safety & Features:
The Toyota Revo Rocco has updated safety features to make your ride safe. Some of the safety features it provides are as followed:
Immobilizer with alarm
SRS airbags
Anti-Lock Braking System
Emergency Brake Signal
3-point ELR Seat belts with pre-tensioners
Vehicle stability control
Drive start control
Electronic Brakeforce Distribution
Refined suspension and cabin mounts
Impact-absorbing structure
Pros & Cons:
Pros:
Latest Generation
Latest Facelift
Powerful Engine
Decent Built Quality
Cons:
Bad Handling
Low fuel Economy
Not Very Much Comfortable
Overrated Truck
Over Priced
Major Competitors: