2023 Audi E-Tron GT & RS 
Sold in Pakistan = 2021-Present
1st Generation
2022 Audi E-tron GT Price in Pakistan
Price Effective from 8-Sep-2022
| | |
| --- | --- |
| Audi E-tron GT (Pure sportiness and progressive luxury) | 48,325,000 PKR |
| Audi E-tron RS GT (Pure energy and progressive performance) | 68,000,000 PKR |
Audi E-Tron GT is the executive car with an all-electric powertrain introduced by Audi in 2020. It is a dual motor car with an all-wheel-drive feature, and a sporty version RS is also added up in its lineup later on, which is as quick to run 0-100 kilometers per hour in 3.3 seconds. This potent car is now also available for sale in Pakistan. After immense love for A-series and Q-series, Audi Pakistan is looking forward to seeing the reaction of customers to the E-Tron GT. Audi is known for classy and Premium cars, and how is that even possible that Audi brings a new vehicle to Pakistan and we do not get a glance Many automobile companies are entering Pakistan at a high rate, and we have seen a bundle of new cars moving on the roads. Still, this time, we are not talking about an ordinary car, but a blockbuster in the all-electric range introduced by Audi. Yes, it is the Audi E-Tron which is a plethora of gadgets and features a stunning layout. The electrically powered gran is manufactured in the Bollinger Hofe, and it does not compromise in quality. It is a blend of comfort, sportiness, and luxury. The bookings for Audi E-Tron GT are started in Pakistan.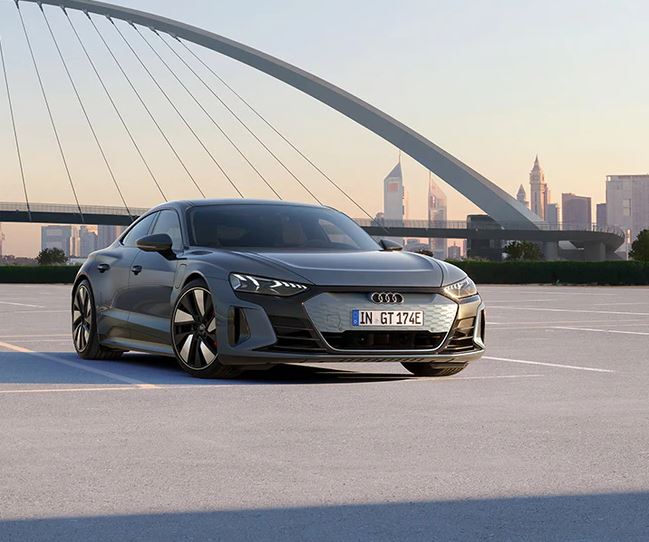 Trims available:
Audi E-Tron GT is available in the following two variants in Pakistan:
The Base G: the power generation of the base trim differs from the RS trim. It offers a two-speed transmission and accelerates to 100 kilometers per hour in 3.9 seconds.
GT RS: the RS is a sportier version of the e-Tron, and it can accelerate to 100 kilometers per hour in just 3.3 seconds.
Powertrain:
The Base and the RS GT trims get their power from two electric motors backed by a 93 kWh lithium-ion battery, but their maximum output is 86 kWh. The Base GT produces a maximum of 522 hp power and 640 Nm torque, while the GT RS trim produces a maximum of 637 hp power and 830 Nm torque. The suspension and controls of the Audi E-Tron GT are sound, and both models give permanent all-wheel drive. The Audi e-Tron GT Quattro can be charged up to 270 kW at an 800-volt charging station, and it offers fast charging taking only 5 minutes to charge the battery so it can give a mileage of 100 kilometers and takes just 22.5 minutes to charge by 80 percent.
Driving Range:
Audi E-tron GT Base:
"The 800-volt lithium-ion battery integrated into the flat underbody, offers extremely high performance – both when charging and when driving. In combination with the recuperation system, it provides a range of up to 487 km according to the WLTP measurement procedure."
Audi E-Tron GT RS:
The 800-volt lithium-ion battery integrated into the flat underbody, offers extremely high performance – both when charging and when driving. In combination with the recuperation system, it provides a range of up to 472-433 km according to the WLTP measurement procedure."
Performance & Drive:
The Audi e-Tron GT is famous for its all-electric powertrain that gives a fully Quattro drive ensuring the distribution of power to all individual wheels and also sending power to the front axles when sufficient traction is required. The exceptional power of the electric power is good at one time, and it becomes even better.  You can charge your batteries quickly with a 22 KW onboard fast AC charger at home, besides setting it from any charging station. It makes it an efficient car as you don't have to refuel it again and again, and when fully charged, it gives you a mileage of 19.6 miles per hour to 18.8 miles per hour. As it is an all-electric car, its CO2 emissions are zero, making it an environment-friendly vehicle. It creates no noise while running even at higher speeds, and zero noise and environmental pollution make it more appealing than other cars. The steering feels soft that it even felt like a joystick, and you can confidently control your Audi in all dimensions. The steering is precise and handles maneuvering in tight spaces easily. Another outstanding feature of the Audi e-Tron GT is adjustable aerodynamics. Depending on the driving situation, you can set it for the rear wings option or the cooling air inlets option at the front. You will get air suspension in the RS model while standard adaptive dampers are in the GT base model. It has sorted handling and gives you a thrilling driving experience, and the body feels 400 kilograms lighter than its original weight. The acceleration of the Audi e-Tron GT is appealing, which makes it a sporty car as it takes just seconds and a blink of an eye to accelerate from zero to 100 kilometers per hour.
Exterior design and features:
Audi e-Tron GT has a sculptural style that epitomizes power and performance. The body is flat with a long wheelbase and features aerodynamic functional details. The design is exciting, with intelligent air inlets at the front and a striking rear diffuser. The wheels have 10-spoke trapezoidal looks with a glossy finish, giving them a sporty stance. The front end has aggressive LED headlights and heart-winning 4-rings encrypted in the center, and there is a panoramic glass sunroof with a glossy black layout conveying a generous space in the cabin.
Interior Design & Features:
From the inside, Audi e-Tron GT has a premium yet straightforward layout with a variety of options for upholstery so that you can personalize your Audi according to your choice. You can choose from trending leather to leather-free options of artificial hide and fabrics. The seats are well-cushioned, and the rear row of seats has an optional central seat that emphasizes its sporty character. It has a large boot of 405 liters which is quite enough for carrying your goods on a short trip. The cabin combines a significant screen with physical buttons that work brilliantly. It has a 12.3 inches virtual cockpit situated behind the steering wheel with three modes: classic, e-Tron, and sports. The dashboard's center has a 10.1 inches touch screen, and below the screen, physical buttons are present for driving modes, heated seats, air conditioning, etc. The infotainment system is controlled with audio controls on its steering wheels. It offers you a wireless charging system along with a Wi-Fi hotspot to charge your smartphones and provide you with internet services. It also gives you a head-up display and particular heating, cooling, and massage functions in the front seats. It gives you 16 speakers that offer you exceptional sound quality with its Bang and Olufsen sound system.
Safety & features:
Audi E-tron GT is among the top safety picks by the IIHS (insurance institute for highway safety) & NHTSA (National Highway Traffic Safety Administration) with five-star safety ratings. Audi E-Tron GT offers a variety of safety features. Some of them are mentioned below:
Adaptive cruise control
Remote self-parking assist
Lane-departure warning
Lane-keeping assist
Blind-spot monitoring
Rear cross-traffic alert
Forward collision warning
Automatic emergency braking
Pros:
Extremely Economical to Drive
Environmental Friendly
Fewer Taxes
Luxurious
Value for Money
Excellent Mileage
A dealership network is available in Pakistan
Cons:
Not Practical or Daily Driven
Charging stations are not widely present
Parts are expensive and are not easily available
Major Competitors: