2022 BAIC EX3 R500
Sold in China = 2018-Present
Generation = 1st
2022 BAIC EX3 price in China : 
| | |
| --- | --- |
| R500 Breeze Edition | 11,990,0 YUAN |
| R500 Jinshang Edition | 12,990,0 YUAN |
BAIC exhibited its all-electric concept car BJEV EX3 in 2018 at Beijing Auto Show. It was introduced as a five-door hatchback that is driven by an electric powertrain and offers a front-wheel driving feature. BJEV EX3 R500 production then started at BAIC assembly plant Beijing, China, and the launch of EX3 R500 took place in February 2020. The Chinese government is promoting the production of all-electric vehicles to cut down the emissions, and it has made it necessary for automobile companies to build or import at least 10 percent of electric vehicles/cars in China. This percentage increased to twelve percent in 2020, which is why many automobile companies have started the production of their all-electric vehicles/cars in this regard. BAIC also followed the initiative and introduced their various all-electric vehicles among which EX3 R500 is one. The all-new EX3 features the crossover style and has equipped with lots of modern technological features. It comes with an i-Link 2.0 car networking system, satellite navigation, and up to date infotainment system. It offers you an electronic precision shift super smooth single-speed transmission. The exterior design of EX3 resembles Chevrolet Bolt EV, and without any doubt, it's a worthy addition to BAIC's electric vehicles lineup.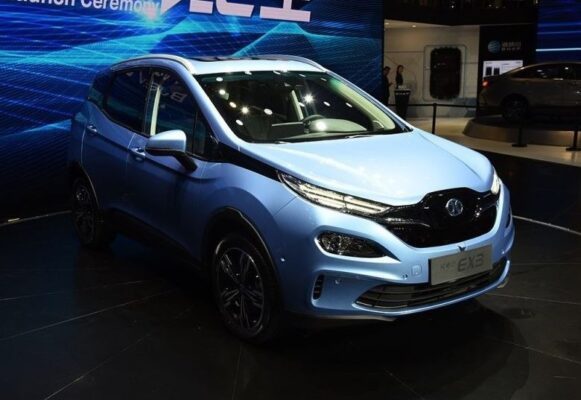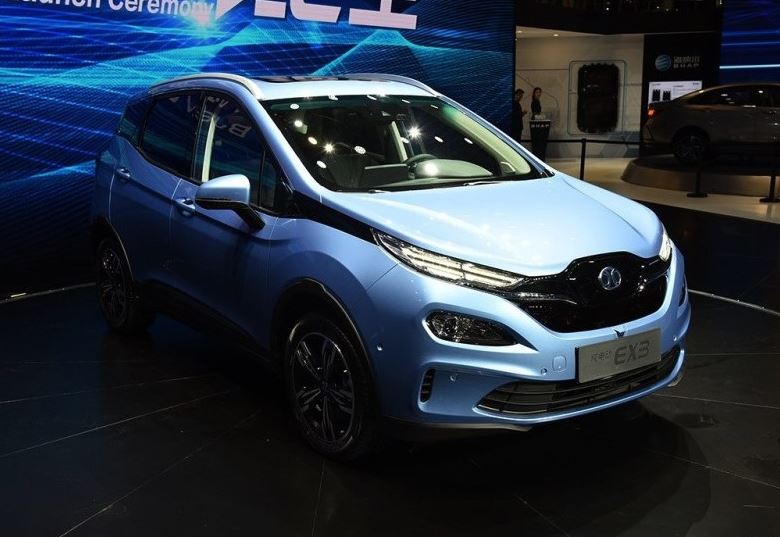 Trims available:
2020 BAIC BJEV EX3 is available in a total of five variants. The powertrain of all the trims is similar, but they differ in different features. Details about the comparison of these trims are not available but the "BAIC EX3" base trim is equipped with all necessary technological features and equipment with availability at a starting price of 123,900 yuan after the subsidy given by the Chinese government.
Powertrain:
The all-electric BAIC BJEV EX3 is powered by an electric motor that is backed by a 52.56 kWh lithium-ion battery and generates a horsepower of 215 hp and torque of 221.0 pounds-feet. The battery equipped is a ternary lithium battery that has an energy density of 161 Wh/kg. The key features it includes is one pedal energy function and vehicle-to-vehicle function of charging. Charging the BAIC EX3 takes only ten hours to charge its batteries to the full while charging at fast-charging stations it takes only 30 minutes to charge up to 80 percent. 
Performance & Drive:
The driving experience of BAIC EX3 R500 is quite amazing giving you a smooth drive with its updated suspension system. The suspension system has Macpherson independent axles on the front and torsion beam non-independent axles on the rear.  The suspension system is the improved and latest one that gives you a jerk-free ride by absorbing maximum jumps. The acceleration is also quick and rapid in the all-electric lineup of BAIC and EX3 is capable of accelerating from zero to hundred kilometers per hour in 7.9 seconds with a top speed of 150 kilometers per hour. Even at its high speed, the car does not tremble but runs smoothly. This all-electric car runs on an electric motor that produces no noise that's why driving the electric EX3 at higher speeds will give more excitement and passengers will get an even comfortable and quiet rides when driving on highways. Sometimes this noise-free driving can be dangerous both for drivers and pedestrians because it can become a cause of accidents as drivers are not aware of the alarming high speeds and pedestrians don't get if a car is coming. In this regard, US NHTSA has made it compulsory for electric vehicles to emit artificial noise when crossing the speed of 18.6 miles per hour. Artificial noise has not been added in EX3 yet but will be a feature in upcoming models of this vehicle. Handling the car is also easy-with its electric power-assisted steering wheel making the turns and curves easy with the minimum effort being used. The transmission of EX3 is also precise with a single-speed electronic precision shift that runs the car smoothly. BAIC EX3 guarantees a balanced ride that gives you maximum comfort. The braking system of EX3 is also efficient in applying emergency brakes efficiently and safely without giving any jerks. The braking system features ventilated disc brakes on the front and disc brakes on the rear. As a whole, you will have an amazing driving experience when driving EX3 R500. The fuel economy of BAIC BJEV EX3 R500 is also quite economical, giving you an NDEC mileage of 263 miles and an estimated driving range of 421 kilometers. It is a zero-emission and environment-friendly car. 
Exterior designs and features:
The design of EX3 R500 is simple, and elegant having an overall length of 4200 millimeters, a width of 1780 millimeters, and 1638 millimeters. The front end features a flowing design of headlights that are narrow split shaped. The front end resembles the U shape, which is liked by some customers but probably not by everyone. The rear end features popular bar-styled taillights that give it a lateral visual width. Lastly, the seventeen inches five-spoke alloy wheels are two-toned and look equally bold and beautiful.
Interior design and features:
The interior of EX3 R500 is equally attractive as its exterior, having a very smart dashboard on the front. The dashboard is equipped with 12.3 inches LCD screen that displays entertainment, navigation, and it comes with smartphone connectivity where you can receive your calls while touching the screen. There is also an enlarged LCD digital instrumental panel that gives the driver's necessary information about driving. The navigation mode can be viewed from either the central control nine inches display screen or on the dashboard display. The infotainment system features an i-link 2.0 car networking system and a built-in smart voice function. It gives a seating capacity to four adults, and the fabric upholstery not only gives it a beautiful appearance but also gives passengers maximum comfort. It also provides you with enough cargo space to carry luggage for a weekend trip, and the cargo area can be increased further by folding the rear seats.
Safety features:
Some of the safety features of BAIC BJEV EX3 include electronic brake force distribution, central locks, child locks, seat belt warning alarm, forward collision warning alarm, airbags, and tire pressure monitoring alarm.
Major competitors:
BYD Yuan EV360

Changan CS15 350e

Chery Tiggo 3Xe EV

Weima EX5 SUV 500

GAC Honda Everus Sport VE1
Price:
The price range of BAIC BJEV EX3 R500 starts from 123,900 yuan, and the higher trims are priced at 163,900 yuan that is much lower after the Chinese government subsidy.
Verdict:
The design of BAIC EX3 is different and unique in its way that may not be appreciated by all the customers. On the other hand, it delivers you a remarkable driving experience, and charging its battery is also made easy that makes driving even more exciting. It is an all-electric car, so it is not only an environment-friendly car but also a budget-friendly car. Finally, all these features make it one of the demanding electric vehicles in China.