2022 Hyundai Lafesta EV
Sold in China = 2018-Present
Generation = 1st
2022 Hyundai Lafesta EV Price in China =

173,800 yuan
Hyundai Motors announced an all-new electric sedan in China in 2019 to revive its sale in one of the biggest automobile mobile markets in the world. This news became true when the Hyundai Lafesta sedan was unveiled on 1st December 2019 at the 17th China Guangzhou auto show. The Hyundai Lafesta with its all-electric powertrain officially launched on 18th February 2020, and the entry of Lafesta is now accelerating the popularity of electrification of Hyundai cars in China. Hyundai company is playing a role of importance in bringing a positive impact to the cleaning of the environment with its eco-friendly Lafesta and Enconia in China. The all-new Lafesta sedan comes with an electric powertrain and cutting-edge technology. The Hyundai Lafesta BEV has brought the 45 EV concept back into the trend which is a harbinger of the latest era of a sedan's design coalescing electrification and introducing stylish aesthetics. 
The sporty design of Lafesta looks retro and futuristic and gets its definition from its distinctive radiator grille. It comes with a navigation system, home IoT speaker system, home-based remote control feature that enables you to control the air conditioning system, heating system, and locking the door from your homes. Hyundai has been suffering from decreasing sales in China due to the presence of newly introduced models. Their sales from January to September 2020 decreased by ten percent but now Hyundai expecting an increase in sales with the introduction of two new electric eco-friendly vehicles in China. Currently, an electric version of Hyundai Lafesta is only available in China but we also expect it to be released in Russia soon. The exact date of its launch in Russia did not reveal yet. The Electric version of Lafesta is available in only one trim level, and that is not provided with different options as well but is the first sedan available in electric powertrain by Hyundai Motors.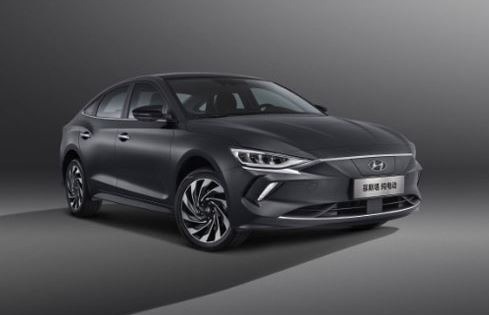 Power train & Battery:
The electric sedan comes with one electric motor located on the front axle, that runs the front wheels efficiently, providing you with a front-wheel drive only. The battery pack is installed on the bottom of the vehicle as in traditional electric cars. The electric motor is powered by a 56.5 kWh battery that produces a power of 181 hp and torque of 229 pounds-feet. The suspension system of the all-electric Lafesta will be similar to the gasoline-powered Lafesta. The charging system for Lafesta is installed all over China in its big cities to ease people in charging its batteries.
Performance & Drive:
The driving performance of Hyundai Lafesta BEV is much impressive for everyday traveling, making it best suited for city drives. The battery with 56.5 kWh capacity gives you a mileage of 490 kilometers with a single full charge. Charging its batteries is also not a fuss anymore, charging the 56.5 kWh battery by DC chargers from thirty to eighty percent takes only forty minutes while AC chargers take 9.5 hours to charge the battery from zero to a hundred percent. This lithium battery is designed to add extra thrill and fun to your rides. Hyundai is using CATL cells in the batteries used in Lafesta. The acceleration of Lasfesta BEV is also not very bad for an electric sedan like this and gives a top speed of 103 miles per hour while it can speed up from 0 to 60 miles per hour in 11 seconds. The suspension system of Lafesta BEV is also good enough to provide you with a balanced ride by absorbing all shocks efficiently. 
Thus driving it in narrow city streets is not a big issue because the speed breakers or uneven roads get balanced with its suspension system. Similarly, the brakes are also accurately designed to let the drivers drive it confidently because brakes will never let you down whenever they are required to be applied. The transmission option given in Lafesta EV is a one-speed reduction gear that drives the vehicle smoothly. The electric power trains of Lafesta produce zero emissions, and the environment remains clean. Advanced driver assistance program assists the drivers in emergency conditions and everyday driving. These ADAS includes blind-spot collision avoidance assistance, forward collision avoidance assistance, safe exit warning alarm, and rear cross-traffic alarm. The specific navigation system guides the drivers not only to their destination but also to the nearest charging stations. Driving Lafesta EV is fun as it confidently provides an exceptional driving experience and makes your journey comfortable.
Exterior design and features:
The futuristic design of the Hyundai Lafesta EV features a lattice radiator grille on the front and LED headlamps that come with Kinetic Cube lamps providing you with multitudinous illuminations. The front and rear bumper also restyled as compared to the original Lafesta. The bumper was tweaked from the bottom where a solid air intake was previously present. It is also a bit longer than the Lafesta gasoline-powered sedan as it is 4705 millimeters in length and 1790 millimeters in width. The rear end features combi lamps equipped with taillights that look equally attractive, and lastly, the seventeen inches aluminum wheels define more sportiness in its looks. 
Interior design and features:
The interior of the Hyundai Lafesta EV provides a world of comfort and advanced technology marked by its seamless lines and the high quality of materials used inside the compartment. The light-colored wooden trims are present throughout the compartment give it a premium feel, and the leather-covered seats give it an extra luxury. The cockpit of Lafesta BEV was inspired by a science-fictional spaceship layout adding fancy looks to it. This layout provides a panoramic view, while all the ergonomic controls are driver-centric. Ten inches touch screen is mounted on the dashboard to give you infotainment, and it comes with smartphone connectivity. Some of the latest features provided in the cabin are heated seats, ventilated seats, wireless charging, a two-zone climate control feature, adaptive cruise control, a reverse camera, and a panoramic sunroof.
Safety features:
Hyundai Lafesta EV ensures your safe ride with an anti-lock braking system, electronic brake-force distribution, adaptive cruise control, and six airbags. Advanced driver's assistance features enhance safety standards with its blind spot detection system, rear cross-traffic alarm, forward collision avoidance system, and safe exit warning alarm.
Major competitors:
GAC Aion S

Jill GE11

Kia K3X

Beijing EU7
Verdict:
Hyundai is trying its best to strengthen its position in the electric-vehicle market of China by introducing its electric vehicles. It will not only be bringing positive changes for the environment but also provide an excellent driving experience with budget-friendly maintenance and running costs vehicles. It will give tough competition to other electric cars already present in China, and Hyundai is expecting to regain its sales with the introduction of such electrifying vehicles in its production.