2022 Jaguar I-Pace
Sold in USA = 2018-Present
Generation = 1st
2022 Jaguar I-pace price in the USA =

69,900 $
The Jaguar I-Pace was launched in Europe and North America in 2018, while the deliveries in India started in March 2021 under the Tata automotive company (a subsidiary of the British Jaguar Land Rover). The Jaguar I-Pace is an all-electric compact luxury crossover SUV with two electric motors and an all-wheel-drive feature. It is the first electric SUV to be introduced JLR in Europe, and it won the European Car of the Year award in March 2019. It also won several other awards, and its popularity is seen through its great sale. JLR has managed to sell a total of 32,166 units of this luxury SUV till now. The performance of the Jaguar I-Pace is good, giving you a feel of a sports car with its sporty drive rather than a five-seat crossover. The inside of the Jaguar I-Pace comes with cutting-edge technology and spectacular design. The 2021 Jaguar I-Pace upgrades you with a 360-degree camera system, wireless charging pad, and a 4G data plan. You can also avail of an optional Bright package that adds styling details to your I-Pace, like the chrome trim and Atlas Grey accents to the exterior. The infotainment system is also improved, and it also informs you about the nearest charging station. It also provides you with an onboard 11.0 kW charger for fast charging the dead batteries.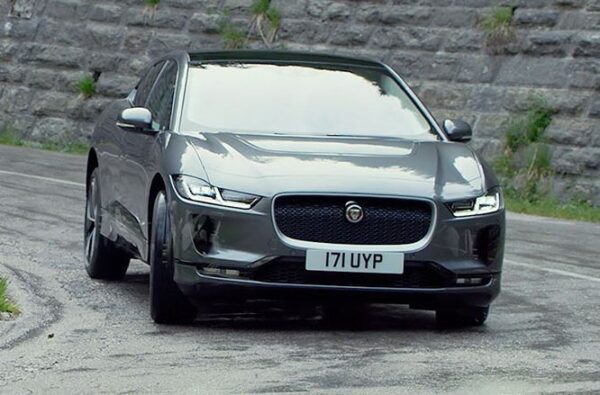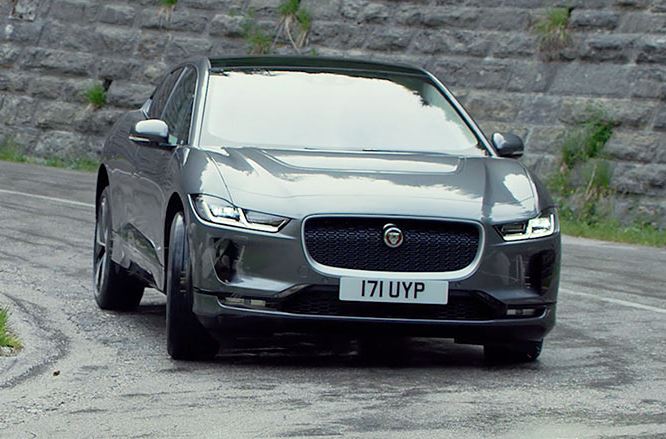 Trims available:
The 2021 Jaguar I-Pace is available in the following three trim levels:
S Trim: it offers synthetic leather upholstery, 6 USB ports, dual-zone climate control system, navigation system, Wi-Fi hot spot, panoramic sunroof, and push-start button.
SE Trim: it offers 10-way power-adjustable front seats, adaptive cruise control, emergency braking system, blind-spot detection, and genuine leather upholstery.
HSE Trim: it offers 18-way power-adjustable front seats, heated and cooled front seats, 15-speakers, a 360-degree view camera, genuine leather upholstery, and a 4G data plan.
Powertrain & Transmission:
The Jaguar I-Pace gets its power from two electric motors charged by a 90 kWh lithium-ion battery. The dual motors produce a combined capacity of 400 PS and a total torque of 696 Nm. The battery can be recharged easily from the nearest charging stations, and now you are even provided with an onboard 11.0 kW charger, which takes 13 hours to charge the batteries fully. The DC fast charging port allows the charging of the battery to 80 percent in just 40 minutes. It offers 1-speed direct drive reduction transmission. Jaguar I pace gives a driving range of EPA: 246 miles (396 km) WLTP: 292 miles (470 km) with its 90kwh lithium-ion battery fully charged.
Performance & Drive:
 The Jaguar I-Pace uses permanent Synchronous Magnetic electric motors to produce power, and both the Motors transfer power from the battery with a 97 percent efficiency. The electric motors are axle-mounted, and these are now positioned lower, which contributes to a low center of gravity. This, in turn, contributes to enhanced handling and controlling of the I-Pace. The electric motors create little noise and vibration as compared to traditional combustion engines. It delivers torque immediately in response to your demand, and the 90 kWh battery is designed in a way so it gives you maximum power and longevity. It features a double-wishbone suspension at the front and an integral link suspension at the rear that gives you perfect balance and handling of the car. The car is turned confidently with its torque vectoring by braking that delivers controlled torque and braking forces to all the wheels when cornering. It also offers you an all-wheel-drive feature with dual Motors, among which one is fixed on the front axle and the other on the rear axle. The all-surface progress control system enables you in setting and maintaining a steady speed on slippery surfaces paired with an all-wheel-drive system. It offers an adaptive suspension with adaptive dynamics that automatically lowers the car by 10-millimeters when traveling at a speed above 105 kilometers per hour and optimizes dynamic body control through damping technology. The electronic air suspension can be lowered and raised only by touching a button, and the Suspension can be enhanced to 230 millimeters when improved ground clearance is required. The acceleration of I-Pace is instantaneous with no gearshift interruptions, and it takes only 4.8 seconds to accelerate from 0 to 100 kilometers per hour. The convenience of the drivers is increased by providing you with onboard chargers to charge your batteries. The Jaguar I-Pace gives you a mileage of 80 miles in the city and 72 miles on the highways.
Exterior design and features:
Jaguar I-Pace features a revolutionary design with a pronounced wheel arch and a rear diffuser. It has a bold grille on the front, which curves inwards and reduces drag force by channeling air through its scoop bonnet, and the roofline is curved to give you maximum efficiency. You are offered the choice of either a body-colored roof, black roof, or a panoramic sunroof. The LED headlights of I-Pace are slim and futuristic with signature J blade graphics, and daytime running lights provide greater visibility for safety. The high beam light in LED headlights automatically adjusts the light for your assistance. The aerodynamic design of the I-Pace lowers the drag coefficient to 0.29Cd, which improves the range. Even the base model comes with 18-inches glossy-silver wheels, and the top model offers 20-inches 5-spoke wheels with a contrast diamond-cut finish.
Interior design and features:
the inside of the Jaguar I-Pace focuses on luxury and comfort. The cabin is designed, so the front seats are placed forward, and it creates additional space between the front and rear seats that give more legroom to the rear passengers. The form-fitting sport seats at the fronts are given with 18-way power adjustment, and the top models of I-Pace offer genuine leather upholstery, adding luxury craftsmanship to the cabin. The instrument panel is positioned lower, so it is more visible to drivers, and everything in the cabin gives sophistication and refinement. The cabin offers a purifying system, in which the fine particulates are captured from the outside in filters by just pushing the PURIFY button. An optional Head-up Display displays the vehicle's information on the windscreen, so you do not take your eyes off the roads. You will be given 12 speakers with 1-subwoofer to give you good quality of sound with the help of Merdian Sound System. A large touch screen mounted on the dashboard controls the cabin's temperature and gives you 3D navigation. You are given I-Pace Select that controls various features through your smartphones like PINPOINT TOUCH CONTROL, PERSONALIZED HOMEPAGE, MULTIMEDIA, ALL-NEW NAVIGATION, ONLINE ROUTING, REAL-TIME TRAFFIC, ONLINE SEARCH, AND PARKING SERVICE.
Safety features:
The Jaguar I-Pace gives you the following safety features:
Emergency Braking.
Cruise Control and Speed Limiter.
3D Surround Camera.
Roll Stability Control.
Emergency Brake Assist.
Electronic Traction Control.
Motor Drag Control.
Dynamic Stability Control.
6-airbags.
The Jaguar I-Pace has not been tested by IIHS or NHTSA for safety ratings yet.
Major competitors: