Mitsubishi Minicab
Sold in Pakistan = 2015-2021 (As import Model)
Generation = 8th (Discontinued)
Mitsubishi Minicab Price in Pakistan = 9-17 Lac PKR (Depending upon the Condition & Model Year)
Mitsubishi Minicab is a Cab-over Kei truck manufactured by Mitsubishi Motors in Japan since 1966. Previously it was sold at only one retail chain known as Galant shop. It is known as Mitsubishi Vercya in Taiwan, Mitsubishi Jetstar in Indonesia, and in 2014 it was a rebadged Suzuki Carry. Currently, the eighth Generation of Mitsubishi Minicab is available in markets that are also a rebadged Suzuki Every. The 2021 model of Mitsubishi Minicab includes three types of vehicles.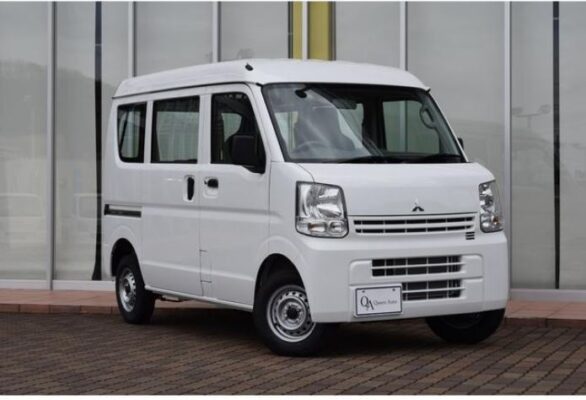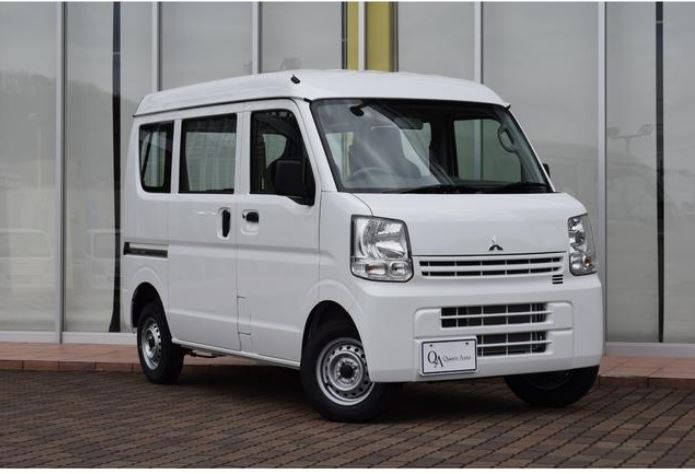 These include:
Minicab 

MiEV

: this is the all-electric version of the Minicab van, and it offers a seating capacity of two to four people.

Minicab Van: this is a gasoline-powered van providing you Support Car S Wide safety and seating capacity for four persons.

Minicab Truck: used as a commercial truck with a loading platform of 1940 millimeters in length.
Mitsubishi minicabs also exported from Japan either the old models or the latest models. The used 2018 model of Mitsubishi minicab is available in Pakistan as low as 7.32 lacs Pakistani rupees, while the 2021 model can be imported directly from Tokyo-based Mitsubishi dealers in Japan. In Pakistan, the demand for 2nd-hand Mitsubishi Minicab is more as compared to the latest version of it.
Mitsubishi Minicab Van :
2021 Minicab van is known for its loading capacity and outstanding performance. It not only gives a better fuel economy but a safe drive by detecting the dangers of accidents and by informing the drivers about them. It is an environmentally friendly vehicle and is subject to the greening exception (MIEV only), and tax has also decreased. It is available in three trim levels that include:
Bravo turbo: it is available in four-speed automatic transmission. It features electric retractable side mirrors, heated door window, rear heating system, and rear center-armrest

G High roof: it is available in both five-speed manual and four-speed automatic transmission. It features keyless entry, privacy glass with UV cut function, sliding doors, and power windows at the front.

M high roof: it is also available in five-speed manual and four-speed automatic transmission. It is the base trim of a minicab van equipped with a manual air conditioner, SRS bags, and AM/FM radio.
Engine specs and driving performance:
All the trims are powered by K6A, DOHC, three-cylinders, 12-valves engine generating a horsepower of 36 kW at 5700 RPM, and torque of 62 Nm at 3500 RPM. The VVT engine gives you excellent fuel economy and great strength, so you can drive the van smoothly even when it is loaded. The Bravo turbo trim makes carrying goods to long distances easy and comfortable. It offers you two transmission options, either manual or automatic.
Exterior and interior features:
The design and looks of the Mitsubishi-minicab are similar to the Suzuki Every. It is available in three colors that are; bluish-black, white, and silver metallic. Mitsubishi minicab has a decent and good-looking interior having a fabric or leather-covered seats inside as per the trim level. The large-sized doors make access to the cabin easy, and you will find power steering, power door locks, AM/FM radio, room lamp, luggage room lamp, glove box, instrumental panel, and center console in the cabin. The rear seat can be removed, and you will get a 1910 millimeter long and 1385 millimeters wide luggage room where you can load various types of goods, and the large-sized tailgate makes the loading and unloading quite convenient. It has up-to-date safety features that include dual cameras, a forward collision mitigation system, brake force when reversing, and a lane departure warning alarm.
Price:
It can be imported at a starting price of 11,800 US dollars.
Mitsubishi Minican Truck
Not Found in Pakistan
This minicab truck is best known for its loading platform and safe driving performance. It is available in both two-wheel drive or four-wheel drive, and it gives you the option of three trim levels:
8th Generation Mitsubishi mini truck view

G trim: it features fabric-covered seats, fog lights for driving in extreme weather conditions, power windows, and keyless entry.

M trim: it features power steering, air conditioner, and AM/FM radio for entertainment.

Minori trim: it features a tory and gate protector, rear gate chain, and four-wheel-drive with a switching mechanism.
Engine & Driving:
All the trims are powered by 0.658 liters DOHC, RO6A engine that produces 37 kW power at 5700 RPM and 63 Nm torque at 3500 RPM. It runs on a two-wheel drive, but you can switch to a four-wheel drive depending on the type of road condition. The two-wheel drive with manual transmission gives you a mileage of 19.8 kilometers per liter, and a four-wheel drive with manual transmission gives you 19.6 kilometers per liter of mileage. The small turning radius of this truck lets you drive smoothly, even on narrow roads, and with heavy loads.
Exterior and interior features:
It is available in two exterior colors; white and silver metallic, while the interior has colored in grey and black theme. The cabin has many storage compartments, and the features include; power steering, accessory socket, air conditioner, fog lights, power windows, keyless entry, and AM/FM radio. The loading platform at the rear is 1405 millimeters in width and 1940 millimeters in length, which carries a decent amount of cargo. The floor of its platform is low, so it makes loading and unloading easy. The loading platform is equipped with tory with rope hook, roop hook, resin cover, working light, loading platform side step, large gate handle, easy to use the rear gate and rear gate chain it can carry loading capacity up to 350 kilograms. The safety features of this minicab truck include high beam assist headlights, active stability control, SRS airbags, and a hill start assist system.
Price:
It can be imported from Japan at a starting price of 11,800 US dollars.
Mitsubishi Minicab MiEV
Not Found in Pakistan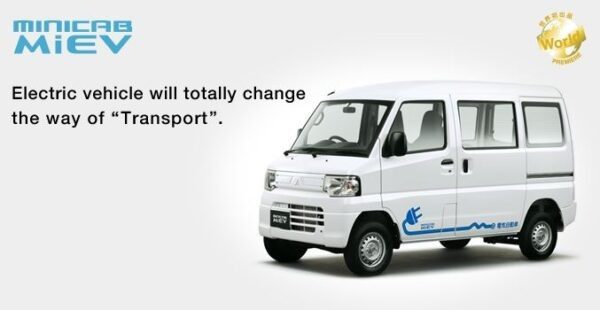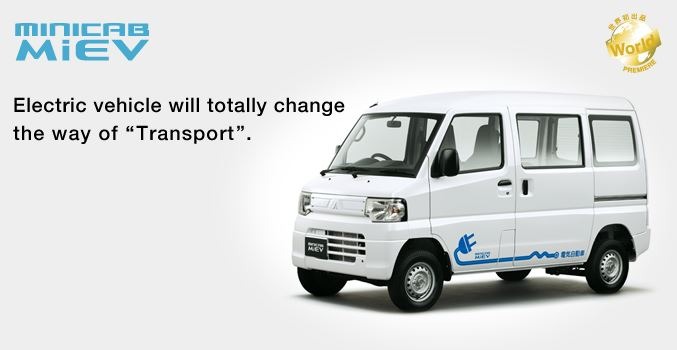 It is an all-electric environment-friendly van that runs on electricity while the older models use gasoline. It is not only environmentally friendly but is also to your budget by cutting down daily petrol expenses and tax exemptions. It is quite comfortable to drive and is suitable for a variety of industries because of its wonderful cruising experience. The luggage compartment is spacious, and it is easy to load and unload the cargo out of its big tailgate. It is a two-wheel drive vehicle that comes with the configuration of either two-seater or four-seater. It gets driven by a permanent magnet synchronous motor backed by a lithium-ion 16 kWh battery that produces a power of 30 kW and torque of 196 Nm. For driving Mitsubishi minicab under different conditions there are three driving modes; an eco mode to save fuel consumption, a Normal driving mode (drives the vehicle with default settings for acceleration and fuel-saving), and regenerative-braking-mode (The car recovers kinetic energy during braking to reduce fuel consumption and emissions). 
This electric vehicle has a visually readable charging scale that tells about the percentage or need of charging the battery. It shows 16-scales when fully charged and when there is a need to charge the battery immediately when the fuel gauge reaches the 2nd-scale. Charging its battery is quite convenient, which can get charged from a 200 V AC outlet. The other features of this van are similar to a standard van. 
Price:
This electric van is manufactured for the local market only, and it is available at a starting price of 2,431,000 yen in Japan.