Audi S6 (2018-2023)
Sold in the USA = 2018-2023
Status =

Major Cosmetic Changes done to Model 2024

Overall Rating =

8/10
Audi S6 Price in the USA in 2023 
| | |
| --- | --- |
| Premium | $ 74,795 |
| Premium Plus | $ 79,495 |
| Prestige | $ 83,595 |
The Audi S6 has been available for sale for the past 10-15 years and stands as the high-performance variant of the A6 model. Throughout its history, Audi has consistently delivered vehicles with elegant designs, innovative technology, and luxurious interior materials. The S6 is no exception, offering a captivating luxury sport sedan experience. What sets the S6 apart is its ability to provide the best of both worlds: the refined ride of an executive sedan and the thrilling performance of a sports car. This versatility makes it an ideal choice for those seeking a vehicle that excels in both areas. In terms of design, the Audi S6 maintains the brand's signature elegance. Its sleek and aerodynamic contours, combined with aggressive styling elements such as a distinctive front grille, sporty alloy wheels, and chrome accents, make it visually striking. The S6 embodies a perfect blend of sophistication and athleticism.
When it comes to technology, Audi has always been at the forefront of innovation. The S6 boasts cutting-edge features and advanced driver-assistance systems designed to enhance both convenience and safety. From state-of-the-art infotainment systems to intuitive controls and connectivity options, the S6 provides a seamless and immersive driving experience. Stepping inside the S6, you'll be greeted by a sumptuous interior crafted with the finest materials. The cabin exudes luxury, with plush leather seating, meticulously detailed finishes, and a host of comfort features. The ergonomically designed cockpit puts everything within easy reach, creating a driver-focused environment that further enhances the overall driving pleasure. Under the hood, the Audi S6 houses a powerful engine capable of delivering exhilarating performance. Its sport-tuned suspension and responsive handling ensure precise control and an engaging driving experience. Whether you're cruising on the highway or taking on winding roads, the S6 effortlessly combines comfort and agility.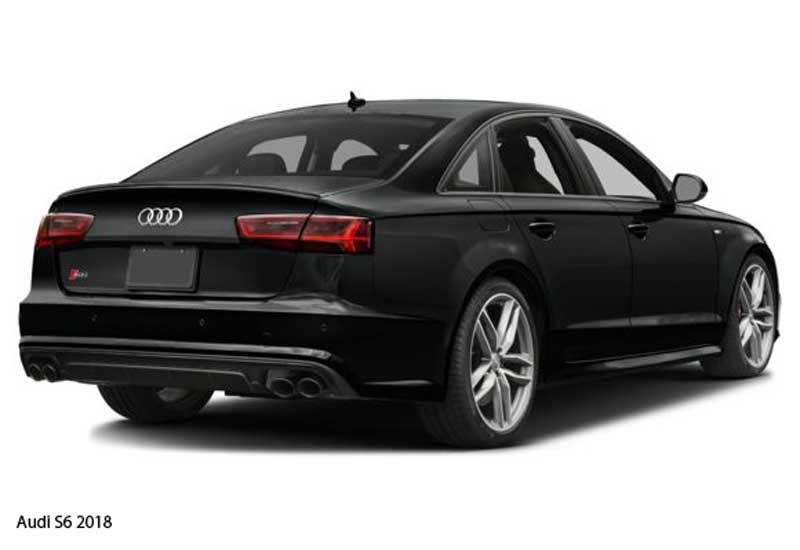 Trims & Variants:
The Audi S6 offers a range of trims and variants, each providing unique features and options to suit individual preferences. While the specific trims and variants may vary depending on the model year and region, here are some commonly found options:
Standard S6: Serving as the base trim, the standard S6 comes equipped with a comprehensive set of luxury and performance features. It typically includes a powerful engine, sporty exterior design elements, comfortable leather upholstery, an advanced infotainment system, driver-assistance technologies, and a range of convenience features for an enhanced driving experience.
Premium Plus: Building upon the standard S6, the Premium Plus trim offers additional luxury and convenience features. This variant may include upgraded leather upholstery, a premium audio system for superior sound quality, advanced safety features, larger alloy wheels for enhanced aesthetics, and a selection of interior trim options to customize the cabin according to personal taste.
Prestige: Positioned as the top-tier trim level, the Prestige variant elevates luxury and technology to the highest level. In addition to the features found in the Premium Plus trim, the Prestige trim may include a head-up display for convenient access to key information, upgraded interior materials for a more refined ambiance, adaptive cruise control for enhanced driving convenience, advanced lighting systems for improved visibility, and other premium amenities that elevate the overall driving experience.
It's important to note that the availability of specific trims and variants for the Audi S6 may vary depending on the market and model year. For the most accurate and up-to-date information regarding the available trims and variants in your area, it is recommended to consult with a local Audi dealership or visit the official Audi website.
Comfort and Performance in One Package:
The executive appeal of the Audi S6 is attributed to several key factors, including its exceptional build quality, spacious interior, and, most importantly, the way it provides a comfortable ride. This all-wheel-drive vehicle offers four distinct driving modes, with one particularly noteworthy mode being the Comfort mode, which optimizes the air suspensions for a smooth and supple ride. Additionally, the S6 boasts comfortable seats with a standard massage function, further enhancing the overall driving experience by providing a sense of relaxation and relief.
However, when you switch to Dynamic mode, the Audi S6 transforms into a true driving monster. In this mode, the vehicle adjusts its shift points and throttle response, resulting in a more aggressive and exhilarating driving experience. The exhaust valves open up, unleashing a powerful and captivating roar from the exhaust system. Furthermore, the air suspensions tighten up, ensuring greater stability and responsiveness when tackling corners. The brake pedals also become more sensitive and responsive, allowing for precise and confident braking, bringing this dynamic beast to a halt when needed.
While the ride may become firmer in Dynamic mode, the sheer joy and excitement it offers surpass the comfort-oriented experience. The Audi S6 embraces its sporty nature, delivering a thrilling driving experience that enthusiasts will truly appreciate. The combination of heightened performance, precise handling, and the immersive soundscape from the exhaust system creates an exhilarating environment that leaves a lasting impression. Ultimately, the Audi S6 strikes a remarkable balance between comfort and performance. It provides a refined and comfortable ride in its Comfort mode, catering to those seeking a more relaxed driving experience. Simultaneously, the Dynamic mode unleashes the full potential of the S6, delivering a high-performance driving experience that will leave drivers craving more.
Exterior & Interior Photos:
A Dynamic Force with Unmatched Performance:
Experience the raw power and precision of the Audi S6, equipped with a formidable 4.0L twin-turbo engine. This high-performance executive sedan generates a commanding 450 horsepower, delivering an adrenaline-inducing driving experience. With a torque of 335Nm at 5800rpm, the S6 effortlessly accelerates with remarkable force.
With its impressive capabilities, the Audi S6 is built for performance. It boasts a top speed of 153 miles per hour, allowing you to conquer the open road with exhilarating speed and confidence. Engage the launch control option, and you'll witness the S6 sprint from 0 to 60 mph in a breathtaking 3.9 seconds, leaving bystanders in awe of its acceleration prowess.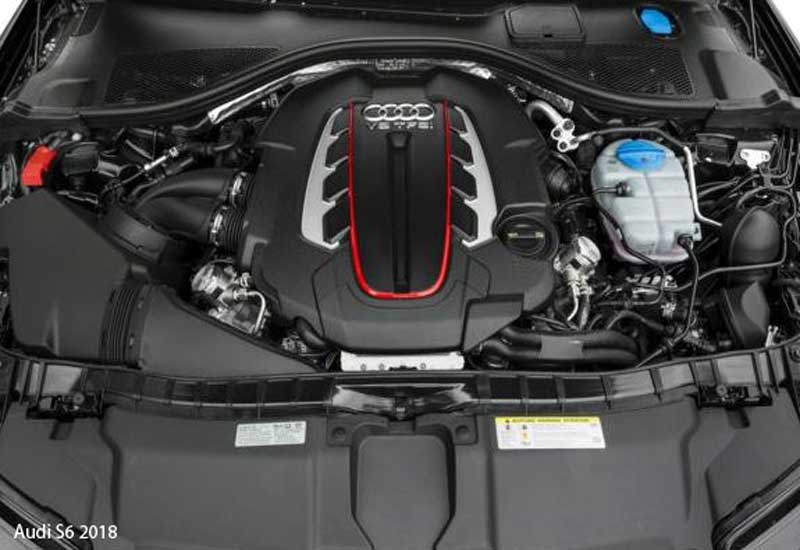 The Audi S6 is equipped with a responsive 7-speed Tiptronic transmission, ensuring seamless gear transitions and precise control. Whether you prefer smooth cruising or spirited driving, the S6's transmission adapts to your style, offering a dynamic and engaging driving experience.
Enhancing the driving dynamics further, the S6 features electric power-assist speed-sensing steering. While it may provide a firmer feel, this steering system ensures precise and agile handling, allowing you to maneuver with confidence and control. Paired with the S6's all-wheel-drive capability, this combination provides optimal traction and stability, ensuring a thrilling and secure driving experience in various road conditions.
2.9 Liter Engine Introduced in 2020:
The Audi S6 features a potent 2.9-liter V6 engine that incorporates twin-turbocharging and a 48-volt hybrid system. This unique combination also utilizes an electric supercharger, delivering an impressive output of 444 horsepower. Paired with an eight-speed automatic transmission and Audi's renowned Quattro all-wheel-drive system, the S6 showcases exceptional performance capabilities. During testing, the S6 demonstrated its agility by accelerating from 0 to 60 mph in just 4.0 seconds, while the S7, its sleeker counterpart, accomplished the same feat in a remarkable 4.1 seconds.
Audi S6 Updates and Enhancements Over the Years:
Over the years, the Audi S6 has received updates and enhancements to keep it competitive and up-to-date. Here's a summary of the changes the Audi S6 has undergone:
 2020: After taking a year off, the S6 was reintroduced for the 2020 model year. It received interior and technology updates from the standard A6 model. The notable change was the introduction of a new twin-turbocharged and supercharged 2.9-liter V6 engine.
2021: The 2021 S6 saw the addition of standard features such as 21-inch wheels with summer tires, Audi's Virtual Cockpit digital gauge display, and carbon fiber trim. The optional Executive package for the Premium Plus model now included adaptive cruise control and lane-keeping assist.
 2022: There were minimal changes for the 2022 model year. Standard rear side airbags were added, and a carbon twill interior trim option became available. The available Black Optic appearance package received a new 21-inch wheel design.
2023: The 2023 S6 introduced a new base Premium trim and an optional Convenience package. The Executive package now included adaptive cruise control with a lane-centering feature, a power trunk lid, and LED interior lighting. A new Audi Sport Stitching package offered red contrast stitching on black leather upholstery throughout the cabin. The Premium Plus model came standard with LED interior lighting, heated rear seats, additional driver-assistance features, and extended leather upholstery. The top-tier Prestige model offered the Design Edition package, featuring unique 21-inch wheels, black exterior trim, darkened chrome accents, and black microfiber-and-leather interior upholstery with red stitching.
These updates over the years have ensured that the Audi S6 remains competitive in its segment, offering enhanced features, performance, and luxury to meet the evolving demands of drivers.
Verdict:
The Audi S6 and its 2018 model specifically offer a powerful driving experience, combining elegance with high performance. Its 4.0L twin-turbo engine generates an impressive 450 horsepower, resulting in thrilling acceleration and a top speed of 153 miles per hour. The S6's launch control feature enables it to sprint from 0 to 60 mph in just 3.9 seconds, showcasing its exceptional speed. Equipped with a responsive 7-speed Tiptronic transmission, the S6 ensures smooth gear shifts and precise control. Its electric power-assist speed-sensing steering provides confident and agile handling, while the all-wheel-drive system enhances traction and stability.
In terms of competition, the Audi S6 faces rivals such as the BMW M550i xDrive, Mercedes-AMG E 53, Jaguar XF S, Cadillac CT5-V Blackwing, and Lexus GS F. Each competitor brings its own set of strengths and characteristics to the luxury sport sedan segment, creating a competitive market for high-performance enthusiasts. Overall, the Audi S6 delivers an exceptional driving experience, combining comfort, luxury, and exhilarating performance in one package.
Difference Between Audi S5 & S6: 
The Audi S5 and S6 are both high-performance models in Audi's lineup, but they differ in terms of size, design, and specific features. Here are some key differences between the Audi S5 and S6:
Size and Body Style: The Audi S5 is classified as a compact luxury sports coupe or convertible, while the S6 is a mid-size luxury sport sedan. The S5 offers a sleek and stylish two-door design, whereas the S6 features a more traditional four-door sedan layout.
Power and Performance: The S5 is typically powered by a 3.0-liter V6 engine, while the S6 is equipped with a larger 4.0-liter V8 engine. The S5 delivers impressive performance with around 350 to 400 horsepower, while the S6 offers even greater power with approximately 450 horsepower. The specific performance figures may vary depending on the model year and engine options.
Interior Space: Due to their different body styles, the S6 generally offers more interior space and rear-seat legroom compared to the S5. The S6 is better suited for those who prioritize spaciousness and comfort, while the S5 prioritizes a more compact and sporty design.
Features and Technology: Both the S5 and S6 come equipped with advanced features and technologies, but the S6 typically offers a higher level of luxury and advanced amenities. The S6 may include features such as upgraded interior materials, a head-up display, enhanced driver-assistance systems, and more advanced infotainment options compared to the S5.
Price: Generally, the Audi S6 is priced higher than the S5 due to its larger size, more powerful engine, and additional luxury features. The price difference can vary depending on the specific configurations and optional extras chosen.
Ultimately, the choice between the Audi S5 and S6 depends on personal preferences, including desired body style, performance level, interior space, and budget. Both models offer impressive performance and luxurious features, but the S6 provides a larger and more refined package overall.
Major Competitors:
The Audi S6 faces stiff competition from a range of luxury sport sedans in the market. Here are some notable rivals of the Audi S6:
BMW M550i xDrive: The BMW M550i xDrive is a high-performance variant derived from the BMW 5 Series. It offers a commanding engine, precise handling, and advanced technological features, making it a strong contender in the luxury sport sedan segment.
Mercedes-AMG E 53: As a performance-focused iteration of the Mercedes-Benz E-Class, the Mercedes-AMG E 53 delivers a blend of luxury and exhilarating performance. With a turbocharged engine, dynamic handling capabilities, and a suite of cutting-edge features, it presents a formidable challenge to the Audi S6.
Jaguar XF S: The Jaguar XF S is a sporty luxury sedan known for its distinctive design, robust performance, and opulent interior. Boasting powerful engine options and agile handling characteristics, it stands as a worthy competitor to the Audi S6.
Cadillac CT5-VBlackwing: Designed as the high-performance variant of the Cadillac CT5, the CT5-V Blackwing showcases an impressive engine, track-focused dynamics, and an array of performance enhancements. It aims to directly rival the Audi S6 with its powerful presence.
Lexus GS F: The Lexus GS F is a performance-oriented sedan that offers refined luxury, a potent V8 engine, and an engaging driving experience. With its focus on both comfort and performance, it presents a compelling alternative to the Audi S6.
These examples represent some key contenders in the luxury sport sedan segment, each bringing their own strengths and characteristics. The market is highly competitive, catering to enthusiasts seeking the perfect balance of high-performance and luxury in their vehicles.