Bentley Continental GT speed 2017
When discussion is about racing cars you cannot deny the powerful presence of Bentley Company, It produces high end support cars that may be expensive but surely gives you car that you dream to win race.  When discussion is about race than requirements for winning a race first one is powerful engine and second is high speed and today we are going to discuss about Bentley continental GT speed that has both and after knowing its complete specifications it will become  your dream car plus next preference  if you like racing.  Continental GT is available in two version one is Simple continental GT other one is Continental GT speed by its name you can easily understand the differences among these two cars, yes the major differences among these cars are engine, top speed, horse power. Complete differences among these two versions can be found by adding them to compare list. Now lest move toward further discussion about Continental GT that starts with Design.
Design:
Exterior Design of both versions is same; it can be difficult for users to find out which one is Continental GT and which one is Continental GT speed. Structure of car made using Galvanized steel and aluminium composite; there has been used light tinted glass and trim around windows made up of stainless steel. Beautiful front has Chrome grille, LED high intensity head lights and fog lamps. Making it in single color; bumpers, door mirrors has given same color like body whereas in some color combinations side mirrors can have different colors. There left door handlers; that are not of same color but are chromed color that give great combination with chrome body side moldings. Interior of Bentley Continental GT speed available in many beautiful colors that looks fantastic on leather seats and leather interior.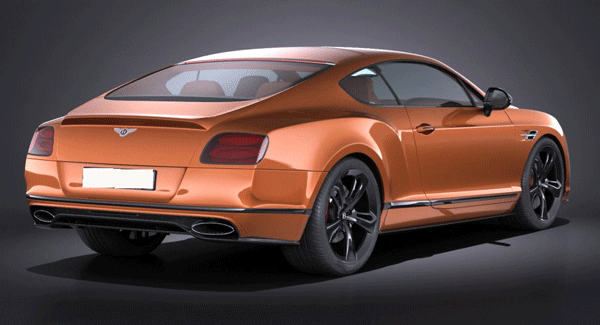 Engine & Transmission:
As I mentioned earlier that this version of Bentley continental have more powerful engine that generates more horse power then simple version (Continental GT). This Bentley Continental GT speed 2017 has twin turbo premium unleaded W-12 gasoline engine that has 12 inline cylinders and 48 DOHC valves that work together to produce 633 horse power  with 620 Nm @ 2000 Rpm peak torque. Top speed of Bentley continental according to company is 331 km/h but we cannot say anything about that unless we didn't found any review about it.  Bentley continental is automatic Transmission car that controlled using rack-pinion power steering with tilt adjustable telescopic wheel.
Comfort and Security:
Rise in comfort and security is directly proportion to rise in sale plus increase profit. If car is expensive Bentley Continental GT than it has everything present for comfort and security that we can hardly imagine. As we also know GT (Grand Tourer) is given to top speed luxurious cars that have comfort and style for long journeys. There is long list that define features for comfort and security; we have added all features below for quick review. At the end of discussion after knowing its design, watching its images, finding about its engine; one thing is clear this car can be concluded among top most expensive and fast support cars in the world. Furthermore we are looking for your reviews about Bentley continental GT speed plus Differences that you know among its two versions, share with us and other users. Thanks