2022 BMW 6 Series Gran Coupe
Sold in India = 2017-Present
Generation = 4th
2022 BMW 6 Series Gran Coupe Price in India :
620d Luxury Line

Rs.

70.00 Lakh

INR

630d M Sport

Rs.

68.50 Lakh

INR

630i M Sport

Rs.

79.20 Lakh

INR
BMW introduced the first BMW 6 Series in 1976 as a range of grand tourers, and currently, it is in its 4th generation. The 4th generation BMW 6 Series went on sale in 2017, and now it is a five-door fastback. It is available in three engine choices and offers both rear-wheel-drive and all-wheel-drive systems. The BMW 6 Series with convertible body style was discontinued in the United States in 2019 but still, it remains in Europe as a fastback Gran Turismo, while an updated BMW 6 Series is introduced in Europe in 2021. The 2021 BMW 6 Series is a five-door coupe that is now more spacious than before with enough room for passengers and large boot space. The updates in the latest BMW 6 Series include new infotainment technology and a mild-hybrid power train. The grille is more significant, and a new headlight design is added, while the kidney-grille design is continued. The mild-hybrid technology consists of a starter motor and a generator. The BMW 6 Series is also available in Pakistani markets in used condition and can be imported from Europe also. The mild-hybrid model is unavailable in Pakistan, and you will mostly see the used BMW 6 series in markets. It will cost you less money than other BMW models and give you plenty of standard features with an all-wheel-drive facility.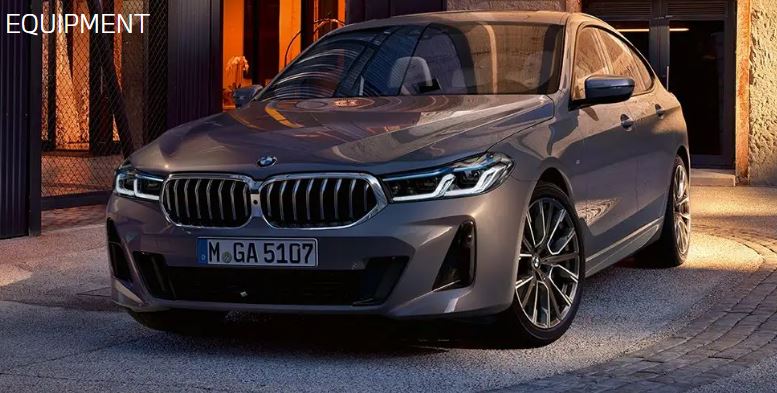 Trims & Variants in India:
It is available in two trims in India that are BMW 6 Series 630i M sport Gran Turismo and BMW 6 Series Luxury line.
Luxury Line:
The Luxury line shows the Elegant side of the vehicle. Elegant Design elements made of chrome high-gloss give the exterior its exclusive appearance. The stylish impression is also presented in the interior. Here first-class leather upholstery and high-quality interior trim finishers characterize luxury.
M Sport:
The M Sport gives the vehicle a particularly sporty character with its sporty design elements at the front and rear, the vehicle appears even more powerful. The dynamic profile is rounded off by exclusive paintworks, Sport M light-alloy wheels, and numerous details in the interior.
For complete specifications & features differences please check the specs & features section
Engine, Power & Transmission:
The BMW 6 Series Gran Coupe is available with 3 different engine configurations two with Diesel and one with gasoline.
3.0 Liter 630d M Sport:
BMW 6 Series M Sport powered by 3.0 Liter six-cylinder diesel engine Generates 265 horsepower @ 4000rpm with maximum torque of 620nm @2000-2500 rpm.
2.0 Liter 620d Luxury Line:
BMW 6 series Luxury line Powered by 2.0-liter four-cylinder diesel engine Generates 190 horsepower @ 4000rpm with a maximum of 400nm @ 1750-2500 rpm.
2.0 Liter 630i M Sport:
BMW 6 Series 630i M sport Powered by a 2.0-liter four-cylinder petrol engine Generates 250 horsepower @ 5000 rpm with maximum torque of 400nm @ 1550-4400 rpm.
All the Engines are paired with Eight-speed automatic Steptronic transmission while sport trims have sport Steptronic.
Performance, Drive & Efficiency:
The BMW 6 Series lets you enjoy a sporting driving experience with its high-torque engine and ingenious chassis. The sophisticated BMW Efficient Dynamic technologies make it an efficient vehicle for everyday use, and the long-route journeys are also made comfortable. The Launch Control function makes the drive more fun and thrilling with maximum acceleration and pulse rate. The road-holding of the BMW 6 Series is excellent, with precise steering responsiveness that makes an ideal balance between stability and agility. It comes with an 8-speed Steptronic Sports transmission that guarantees you a smooth and comfortable driving feel from the moment you start the vehicle to the top gears you are driving in. You can shift gears manually at any time, and perfect for comfortable cruising. The Active Steering system with Control power makes sure your journey is a one-off experience. This Integral Active System combines steering force with the rear wheels at a variable steering angle and speeds of 60 kilometers per hour; the rear wheels turn opposite to front wheels thus improving stability.
"The Dynamic Stability Control holds down the brake firmly and presses the accelerator pedal to kick down and release the brake by maintaining kick down. Dynamic Stability Control also referred to as electronic stability program (ESP), is a computerized technology that improves a vehicle's stability by detecting and reducing loss of traction (skidding). When ESC detects loss of steering control, it automatically applies the brakes to help steer the vehicle where the driver intends to go. Braking is automatically applied to wheels individually, such as the outer front wheel to counter oversteer, or the inner rear wheel to counter understeer. Some ESC systems also reduce engine power until control is regained. ESC does not improve a vehicle's cornering performance; instead, it helps reduce the chance of the driver losing control of the vehicle."
The vehicle will accelerate to its maximum that delivering a sporty driving experience. The all-wheel-drive system guarantees a safe acceleration on slippery and steep surfaces along with Dynamic Stability Control and ensures stability and safety. It offers a variety of driving modes, among which the Eco Pro mode reduces fuel consumption by twenty percent and depends on the driving style. The acceleration of both the variants is impressive as the rear-wheel-drive with diesel engine 6.1 seconds for (M sport) and 7.9 seconds for (Luxury line) to accelerate 0 to 100 kilometers per hour, While the petrol engine takes 6.5 seconds to accelerate 0 to 100 kilometers per hour. Fuel Economy: The rear-wheel-drive consumes 8.8 to 8.6 liters of fuel per 100 kilometers driven, and the petrol engine M sport consumes 9.3 liters to 9.1 liters per 100 kilometers driven.
Exterior Design & Features:
The design of the BMW 6 Series is graceful with precise contours and sporty characteristics. The M Sports package makes its design sportier with voluminous air inlets and attractive tailpipes. The front end has two kidney-shaped grilles with 9-gleaming slats and has LED headlights on its sides. The adaptive headlights come with high and low-beam functions that automatically adjust the light according to environmental conditions. The rear end has a muscular appearance with extensive wheel arches and inward-pointing taillights. The twenty-inch alloy wheels with a multi-spoke design are highly sporty, and the tires provide excellent stability and ensure improved handling. It is available in various exterior colors: Silver, sapphire black, mineral white, Melbourne red, Alpine white, Jatoba, and the Mediterranean blue. It has a curb weight of 1940 kilograms and a ground clearance of 127 millimeters.
Interior Design & Features:
The inside of the BMW 6 Series is spacious and made of high-quality materials to create a good impression. There is a black panel central console with premium finishing looks and a frameless control display with an instrument panel and infotainment screen. The gear selector looks eye-catching with ceramic embellishers, and the seats are designed ergonomically with premium Nappa leather. The interior trims are in fine wood or aluminum, while the leather seats are designed in contrast stitching. The sound system consists of 16-speakers that provide good quality sound with a Bang and Olufsen sound system. There is a 10.25-inches touch screen that gives you infotainment and is compatible with the Apple Carplay interface. You will be given an automatic control feature, keyless entry and push-button system, Bluetooth connectivity, Wi-Fi hotspot, navigation, a power liftgate, and rear sunshades. It comes with a cargo area of 31 cubic feet, and it can be increased to 65 cubic feet when rear seats are folded. The cabin is spacious enough to accommodate five adults comfortably.
Safety & features:
On the safety front, the BMW is at the top of its game. The 6 Series GT hasn't been tested by Euro NCAP, but the platform-sharing 5 and 7 Series have both received the full five stars for crash protection. Some of the standard safety features BMW 6 Series provide are:
Anti-Lock Braking System
Airbags
Traction control system
Autonomous Emergency braking
Vehicle stability control
Brake Assist
Dynamic stability control
Front and rear parking sensors
Adaptive cruise control
Immobilizer
Reverse camera
Theft-proof system
Auto high beam headlights
Major competitors