2023 BMW IX 3
1st Generation
Sold in Pakistan = 2022-Present
2023 BMW IX3 Price in Pakistan =

22,100,000 PKR
 IX is the sub-brand of BMW that has been manufacturing electric vehicles since 2011. IX3 is an all-electric vehicle manufactured under the IX brand and was launched in late 2020 in Europe, while the newest version of the BMW IX3 will go on sale at the end of 2021. The BMW iX3 is the 2nd fully electric car introduced by BMW after i3. IX3 can be called the converted version of the X3 SUV after full electrification because it resembles X3. It is a rear-wheel-drive vehicle while the previous model's battery size is not much sign that has been improved in the newest. The 2022 model has a facelift with a sharper front end and a bigger infotainment screen in the cabin. The IX3 is manufactured in China, and you get the same quality as you get your car from Germany or United States where X3 was manufactured. The energy density of BMW IX3's Battery has been improved significantly compared to previous electric cars, and it's cheaper than its four-wheel-drive rivals. It is not an all-wheel-drive SUV, but it still takes you through off-road adventures comfortably. It can go a long way with a single charge that makes it more loveable. Dewan Motors plans to bring IX3 to Pakistan as they are the exclusive importers of BMW vehicles in Pakistan. It is expected to be introduced here by December 2021, and unlike other cars, it will be embracing a streamlined shape with futuristic innovation in Pakistan, promoting electric vehicles in Pakistan.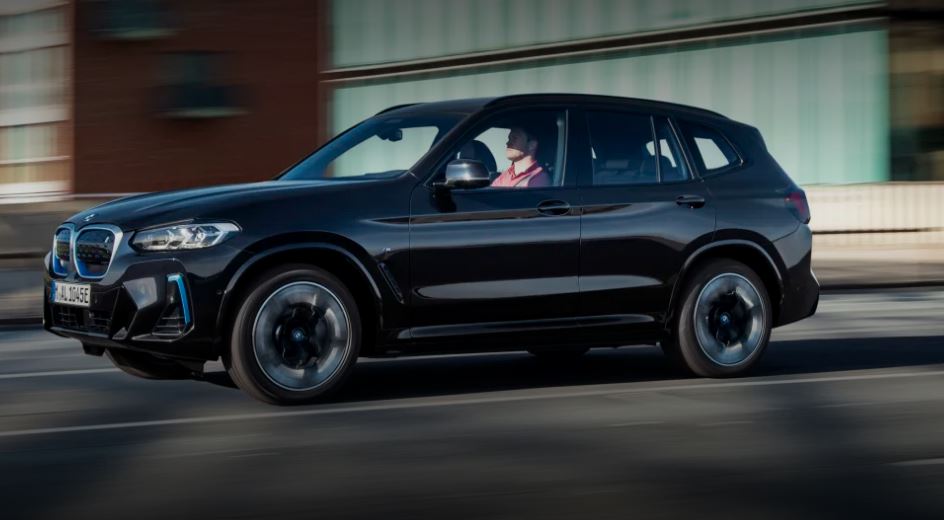 Trims & Variants:
The BMW IX3 is available in two models that are M Sport and M Sport Pro. The M Sport is the base model, and the M Sport Pro is an upgraded version of it. The M Sport Pro offers twenty-inches aerodynamic alloy wheels, a head-up display, a parking Assistant Plus package, a Harman Kardon sound system, and sun protection glass. The M Sport model has 19 inches alloy wheels, Vernasca black leather upholstery with blue stitching details, and a similar power train.
Power train & Battery: 
The BMW IX3 gets its power from an electric motor backed by a 73.8 kWh lithium-ion battery pack. It produces a maximum capacity of 286 hp and a torque of 400 Nm. It offers a Steptronic standard transmission in all the variants and offers rear-wheel-drive only. The Battery can be charged conveniently by AC chargers, taking 7.5 hours to charge the Battery by 100 percent, and the DC chargers take 32 minutes to charge the Battery by eighty percent. It can be set at home through fast, flexible chargers or a wall-box that can be installed easily at home.
Performance & Drive:
The BMW IX3 delivers exceptional driving dynamics that make it stand out among its rivals. The e-Drive system in BMW iX3 brings an electronic system, transmission, and an electric motor in one unit and maximizes the efficient dynamics. You will achieve maximum torque with spontaneous power and uninterrupted acceleration. It can accelerate 0 to 62 miles per hour in 6.2 seconds with a top speed of 112 miles per hour. The automatic regeneration system and radar sensors improve your driving skills by slowing you smoothly in certain circumstances, and the rear wheels never feel frisky. The iX3 has a naturally weighted steering wheel that feels relaxing and responsive. The lane-keeping system in BMW iX3 is smooth and the convenient turning and curving of the vehicle. The charging of the BMW iX3 battery is made carefree with a variety of options to charge it. The BMW charging card gives you access to all international charging networks for fast charging whenever you are on a long-route journey. The BMW smartphone app lets you have a look at your battery charging and the nearest charging stations. Other than this, you can quickly charge the Battery at home via a flexible, fast charger that can charge up to 11 kW and by a Wall box that can be installed into the home energy management system and charges up to 22 kW of power at home conveniently. The rear-wheel drive takes you through uneven and bumpy roads comfortably, and the suspension system is well-tuned to give you extra comfort when moving through bumps and breakers. The electric range of the BMW iX3 is impressive, giving a combined range between 453 kilometers to 461 kilometers by consuming 18.9 kWh of power per 100 kilometers driven.
Exterior Design & Features:
The exterior design of the BMW iX3 is eye-catching with modern touches. The wide front apron has a kidney-shaped grille with the BMW i-logo encrypted beautifully in it. The L-shaped air inlets also attract the front end, and the signature blue accents add an innovative claim to its design. The side view is fascinating with a powerful silhouette and gives a sporty orientation to it. The rear is designed confidently with a dominant insert in glossy black trim and blue accents to add electric aesthetics. The adaptive LED headlights come with high and low beam lights with selective beam, and the higher-end trim adds 20-inch glossy black alloy wheels with R20 tires that look sporty and provides additional road grip.
Interior Design & Features:
The interior of the BMW iX3 is as attractive as the exterior. You will find a sporty and luxurious feel as soon you enter the BMW iX3. The seats are covered with Vernasca leather with attractive stitching details that look breathtakingly sporty and provide various adjustment options and maximum comfort. The sports seats come with backrests and are well-bolstered to give you excellent ergonomics and more lateral support. It accommodates five adults comfortably, and a variety of upholstery and trim finishes choices are available. There is a 12.3-inches central display screen that gives you infotainment along with the instrument cluster. The gesture control function operates by defined hand movements, recognizes gestures like pointing or swiping, and controls various functions like accepting or rejecting calls or adjusting volumes. The head-up display gives you information about your field of vision, speed, navigation, and directions. Amazon's Alexa service can be enjoyed in your BMW which works by listening to your voice commands. There is a panoramic glass roof that adds fresh air to the cabin along with bright light, and it opens and closes with a push of a button or by a vehicle's key. The parking assist plus makes parking easy by giving you a panoramic view of the parking field and emergency braking function.
Safety & Features:
The BMW IX3 has received a five-star rating by NCAP, and some of the valuable safety features of the BMW IX3 are as follows:
Parking Assistant Plus
Reversing Assistant
Head-up display
Navigation
Collision warning alarms
Adaptive cruise control
Live cockpit instrument cluster showing safety information
Blind-sport monitoring
Lane-keeping Assist system
Major Competitors: