Chrysler 200 2017
Companies are trying their best to produce a handsome package car that engage more users than before and this is not the only reason, because the one most important is competition that surely has risen so much. Companies producing cars from decades can survive in this competition because they know what customers want and how can they given best product in fewer prices. Chrysler is new brand for me also even though I have never heard name of it before, some companies got fade in the presence of high profile ones; may be same happened with Chrysler that's why I have never heard its name before. Today we are going to discuss about Chrysler 200 that release in the year of 2017 or can be said that updated in the year of 2017. This is not the best compact sedan in market but it still in the market so we have to write about  is as we write about every car if how good that is or how bad that is?? We always try to start our review with the meaning of name but you said this is co-incident or something like that for the first time i searched company name meaning and Wikipedia didn't come up on front page so let's move toward and try to understand its meaning and little about company.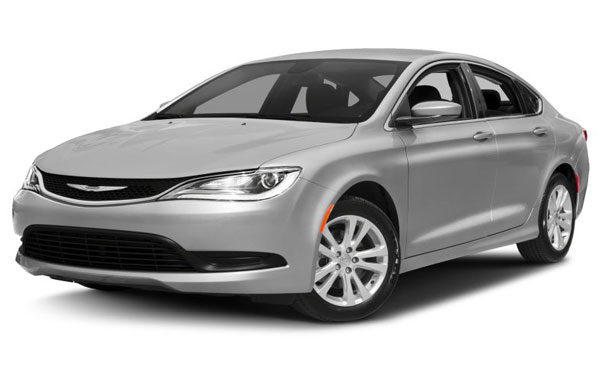 Meaning of Chrysler 200:
Basically this company originate from one older company Maxwell motor co in the year 1924, Maxwell was produced a car with name Chrysler and from that day there become a new corporation with Chrysler wow its great even I am thinking to do this one day. As there are no meanings found about Chrysler but we always try to infer meaning so let's start "this word Chrysler is modification of German word Kreisel which means spinning top" and if we try to put that in sense of car it gives us little about drifting & spinning that mostly done with sport car so here we can infer that they want to build a car but a sport car that can give sporty workout like spinning and drifting because spinning top can only reach here. If you have better meaning I would like to hear that must share in comment box.
Design:
This sedan Chrysler 200 has beautiful exterior looks; smart front with sharp halogen headlights but there's not any day time running LED lights as well no fog lamps. Its body shape is aerodynamic so in case of racing it will face less friction than others. Interior of car is available in black with linen blue color that gives great internal appearance to the users. Exterior as always available in lot of colors so users can choose the best they like. It has 18 inch alloy wheels that are little bigger than previous generation and are helpful for adding little more attraction in the car. Exterior of car is shiny because round about everything present or related to exterior is chrome or chrome surrounded like windows, grill, door handlers, bumpers inserts and exhausts. Moving inside the car make it little difficult because of roof line, if you are more than 5.7 in height than you have to bow your head little more than usual. Interior finishing is great there has been used great quality material; seats are made up of cloth or nylon material and also have little bit of blue leather that has been applied to match with blue door panels and dashboard. Gauges are analog and have three dimensional affect but between them display is digital and quite big. Other than this there is present big LCD embed in front console that give you other entertaining functionalities. Some other designing work include body color front and rear bumper and body color mirrors with integrate turn lights.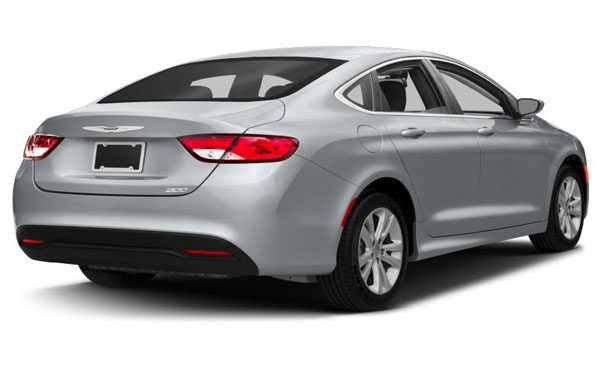 Engine and Transmission:
Chrysler 2017 has been loaded with V6 3.6 L gasoline engine with 24 valves and 6 inline cylinders that work on 262 Nm @ 6350 Rpm peak torque to produce 295 horse power. This is all wheel drive that is operated using nine speed automatic transmission and rack-pinion steering with electric power assist plus speed sensing. Using this V6 3.6 L engine Chrysler 2017 gives 7-8 kilometer per liter mileage within city and 11-12 kilometer per liter on highway that is okay but not so good. Top speed of car is 194 kilometer per hour and for reaching 0-60 it only takes 5.7 seconds. Even having this much powerful engine they are thinking to discontinue Chrysler 200 because this car not able to make good position in market as other companies are building better class cars.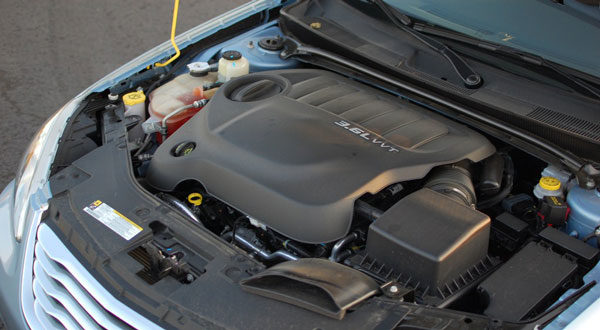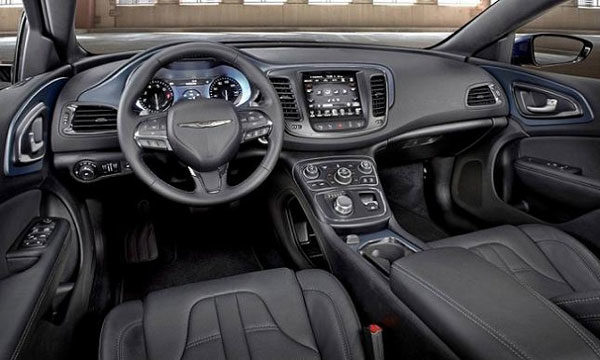 Comfort and Security:
Comfort starts with spacious interior and seating; front seats are good and little wider than usual as in other sport cars and comfortable too. Arm rest present on both front and rear with sliding and storage options, Rear seat passenger are not as comfortable as front seats because there is less head room and leg space. Air conditioner is present with automatic dual zone front, there is no heater but seats are heated from back again for front passengers but  not for rear ones. After knowing all of this we are helpless to say that comfort is not good as in most of luxury sedans in its competition. Security concerns are better in it, body structure of car is made using galvanized steel and aluminium panels so crash test scores are good. For more security it has side impact beams, traction control, stability control, tire pressure monitoring and the basic stuff air bags with occupancy sensors plus seat belts with pretensioners. This was all about Chrysler 200 so if you want to buy this car you can have it in little less price then written above because its price has gone down and if I give you my opinion I will suggest you to buy Chevrolet Malibu 2017 or Mazda 6S 2017 as these are better choices than this. We write review but we didn't mean to say wrong about any company, we only write what we understand. Finally don't forget to share your reviews and comments as they are more important for us to know about vehicles.