2016-2021 Daihatsu Cast (1st Generation)
Import Closed by Pakistan Govt
Current Price 2021:
Daihatsu Cast: 17-25 Lacs PKR (Depending on the Condition)
When it comes to affordability and fuel-efficiency Japanese Kei cars dominate the world. Small cars categorized as Kei cars are affordable and imported all around the world. Daihatsu is a long runner auto manufacturer in 660cc Kei car category. Daihatsu Cast was introduced in September 2015, Cast is also famously marketed as Toyota Pixis by Toyota under its badge. This is common among the companies since Daihatsu is under Toyota's umbrella. Daihatsu Cast is manufactured in Nakatsu, Oita city of Japan.
Exterior Design & features:
 Daihatsu Cast was introduced in the crossover SUV category. The Cast features a mini-cooper styling when it comes in terms of body styling, Cast comes as 5-door hatchback primarily marketed as Crossover due to its ground clearance being higher than other cars in this category i.e. 175mm. The engine is placed at the front with optional front-wheel-drive and all-wheel-drive. The front is made by a big chromed grille in black colour under the round headlamps. The fog lights come right under the bumper with small parking lights at the front lip; Front lip of the car comes with chrome lining increasing aggressiveness in its looks. When it comes to the exterior of Kei cars the manufacturers push wheels towards the outside giving the cars boxy look to increase interior space.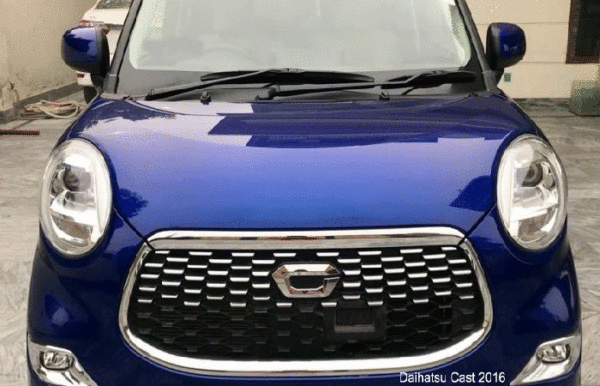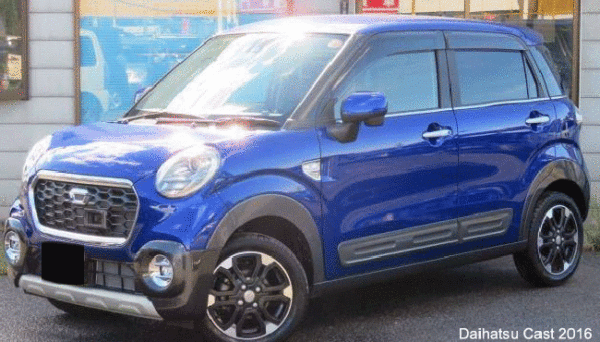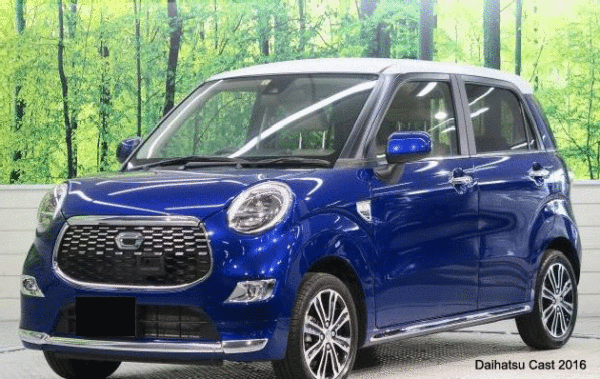 Interior Design & features:
Daihatsu Cast comes with a big multimedia display in the centre with ac grills just below it. The gear is placed at the central higher position along with the interior controls. The steering wheel has a triangular shape with control buttons on the left arm of steering. Passenger side has a compartment over top. Seats are in sofa styling whereas the ac vents are in circular shapes. In some variants, the dashboard comes with red vinyl. The interior overall as appearance comes in soft padding which provides a luxury look in terms of interior. While most of the cars in the Kei category come in light colours this one is in black, therefore, making it sleek and more decent.

Physical Dimensions:
Daihatsu Cast has a wheelbase of 2,455 mm. The length of the car is 3,395 mm with a width and height of 1,475 mm and 1,600 mm respectively. It has a Curb weight of 840-890 kg (1,852-1,962 lbs.).
Engine & Transmission:
Daihatsu Cast comes with a 660cc (658cc) petrol engine. The Cast comes in two different engine options.
KF-VE I3 engine that generates 51 hp.
KF-DET I3-T engine making 63hp, this engine is offered in Sport variant.
When it comes to transmission of Daihatsu Cast, it comes with 7-speed CVT along with paddle shifters.
Versions:
Daihatsu Cast comes under three versions as following.
Daihatsu Cast Activa:
The Activa version was announced for consumers who want to drive off-road. Normally the Kei cars lack in off-roading capabilities as they are made for the urban drive. However, in the case of Activa, it is actually capable of going over the rough terrains. This distinguishes the Activa from other competitors in its league. The Activa variant is mostly sold and famous model in Daihatsu Cast.
Daihatsu Cast Sports:
The Sports version is based for consumers looking for more performance under the wheels. It especially caters the need of car enthusiasts with higher figures on the odometer.
Daihatsu Cast Style:
The Style version packs a suspension with greater handling controls in order to increase the handling of the car.
Overall Experience:
Overall Daihatsu Cast feels very comfortable in a ride-along with high performance, The car delivers a high performance as compared to others in the league, therefore, it directly competes with A-segment vehicle category in European vehicle class. When it comes to rating of Daihatsu Cast it received a 5-star rating in Packaging followed by Interior & comfort, Power, Recommendations and Footwork. Although the Daihatsu Cast is very close to Suzuki Hustler in terms of physical appearance and body styling however it has more to offer. Daihatsu Cast is priced at 1,308,000 yen which translates to $11,915. What differentiates the Daihatsu Cast from others is the sportiness it has to offer. The premium touches in terms of exterior, as well as interior, are top-notch. Daihatsu Cast, therefore, is a vehicle for people looking for something decent to sit-in while staying in the budget. The Cast provides a platform to people who tend to stay in economical range while opting for something extra. Concluding the statement it is one of best vehicles in Kei car category.