Dodge Dart Gt Sport 2016
This 2016 is the last year for this beautiful Dodge Dart GT but in my opinion this car is among the best cars. According to history Dodger dart was first time produced in 1960 and later on it was stopped because of another model of dodge named as Aspen, and after long time of stop this car Dodger Dart again debuted in the year of 2013 with lot of advancements. This car is available in many versions round about five versions but well known versions in 2016 are SXT sport, Turbo and GT sport the current version we are talking about. Major differences among the versions are engine and transmission mostly. At the end of this discussion we will conclude the other two versions engine and transmission.

Design:
Presentation of this car is so much impressive, interior and exterior is design with much care and completely for users. This is compact sedan car that let five users to sit comfortably, Exterior is available in multiple colors whereas interior looks best in black with red stitching. Before going inside I think we should have to discuss little about it exterior that starts from front which settled nicely with hyper black cross hair front grille that has gloss black surround. Head lights given in car are automatic bi-function head lamps whose attractiveness increases more in the presence of day time running lights. On front bonnet their present air extractor and fax hood scoop. Down in bumper within black accents their present fog lamps and in between these wide center air dam for the passing lot much air. Body structure of car made using galvanized steel and aluminium panels that has been colored using clear coat pitch black paint (images attached). Body color bumpers, door handlers and mirrors with integrated turn lights shows this car in one high tech piece. While moving toward the rear side of car we found black accents used on side Windows,  at rear side LED tail lights and track lighting is present to make this car more and more appealing. Sitting inside gives your leather seats as well as leather gripping on steering wheel, gear knob and on dashboards plus door panels. There are present two display's one 7 inch between gauges that are manual and other is 8.4 inch with touch used as infotainment system. We have also added a preview video at the end after features where you will be able to see car in better way than images.
Engine and Transmission:
How much power your car can generates mean what has been given under the hood?? This dodge dart GT sport has 2.4 Regular unleaded Multi air engine that is present with four inline cylinders and 16 valves. It is a gasoline engine that produces 174 Nm @ 4800 Rpm peak torque with 184 horse power, I think this is okay with 2.4 L engine. This car available in both 6 speed automatic and manual transmissions but now it's on you if what's your preferences??  mine should be automatic because it is with manual shifting. For smoothly controlling this high tech vehicle there is present rack-pinion steering wheel with manual tilt telescopic steering column. Top speed of this Dodge Dart GT is good which is 204 kilometer per hour but reaching time for 0-60 is not as good as it top speed because it took 8.2 seconds that is lot of time because there are vehicle present that can reach in just 3.5 seconds; yes its true.
Comfort and Security:
Comfort of cars can be different even among version but security is mostly same even among different companies because features require for providing security are mostly the same like air bags, seat belts, front rear cameras , ABS , stability control and traction control with many other these all are also present in Dodge Dart 2016. There is nothing new I found with respect to security end and if you know anything that we have missed then don't forget to share with us. Comfort is good in it unlike Dodge challenger it has good head room and leg space on rear seats. Front both seats are heated plus have lumbar support, Steering wheel is heated too with lot of buttons embed on it that give you easy access to different functionalities of car and the best among all those functionalities is voice recognition that can be used further to work with commands. Arm rest present on front and rear with 2 , 2 cup holders and small spaces below these arm rest if you want to place something else. Dual zone automatic air conditioning is given to make your environment for better and long time sitting. We have added all other features below that you must like to know before purchasing this handsome Dodge Dart 2017.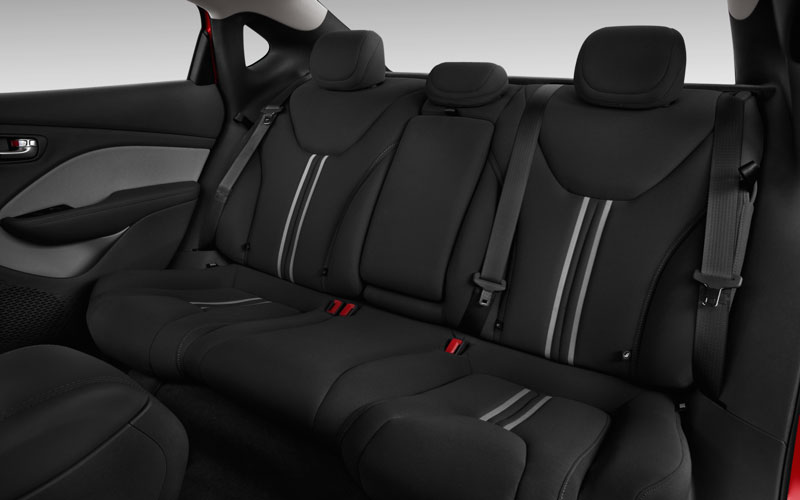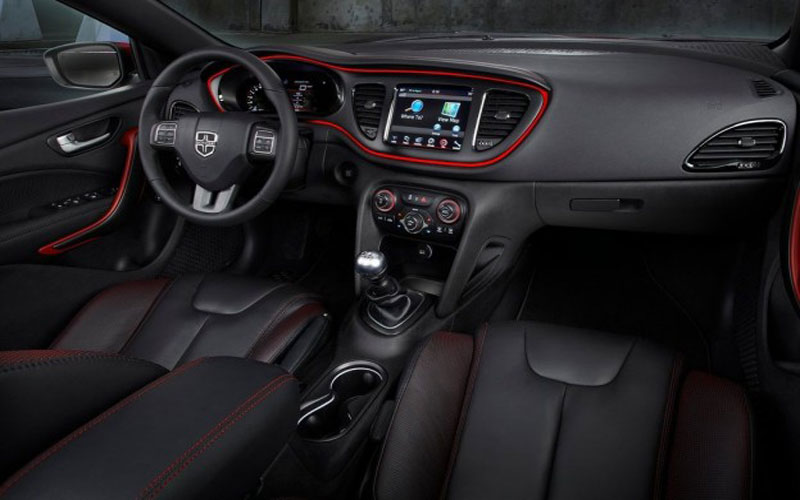 Dodge Dart SXT sport:
Engine of this version is 2.0 L with four inline cylinders that produce 140 horse power and 148 Lb-Ft torque, now the transmission again on choice if you want manual or automatic with manual shifting.
Dodge Dart Turbo:
This version of Dodge dart has 1.4 L engine, 4 cylinders, 16 SOHC vales that gives you 160 horse power and 184 lb-ft torque.
Reason of ceasing Dodge dart production:
In the start of discussion I was told you that this year 2016 is the last year for the production of this beautiful vehicle, there can be other reasons but the one that we know is the production of crossovers because company hasn't earned enough profit from compact sedan cars that's why crossovers can be a best try as there is less competition there. Best of luck for company and Thanks for reading the Review but your review is more important for us so share below In comment box with us and other users.