Faw V2 VCT-I 
Faw V2 VCT-I Last Price in 2021 =

160,9000/- PKR

Status:

Discontinued

Sold in Pakistan = 2016-2021
 What's New and what is Difference:
Faw is a new emerging company within Pakistan and is going to be a big competitor in the coming days. Faw V2 is the first car introduced by the company and it is the big competitor of some present cars like cultus, Vitz, swift and also giving nice features that are not available in that car in cheap price with contrast to other cars. Faw V2 is equipped with a 1298 cc engine with electric control multi-point fuel injection supply system. The engine type is a CA4GAI water cool four-stroke engine. Providing all the facilities that are present inexpensive cars and mostly not available in cars of the same price. Fuel efficiency is also great because of the Euro-IV engine. The Interior is also comfortable and having a seating capacity of five persons and the material used for covering the seats is fabric. The braking system is an anti-lock braking system with a front ventilated disc and rare drum. Beautiful Hatchback car at a cheap price and also available in multiple colors. These cars have now versions till now if new versions are launched soon will be added here.
Special Features:
RPM meter Digital Odometer
Anti-lock braking system
Front and rear seat belts
Tilt-adjustable telescopic wheel
Competitors of FAW- V2 VCTI:
As faw is a new emerging company and giving a lot of features in less price but there's always exist competition in market Check out few Competitors of same prices or Near about that.
1: Suzuki Cultus: 1st biggest competitor of faw this time. Suzuki Cultus is a good car but compares to Faw features are quite less it's better to buy faw by adding just a few thousand rather than buying cultus.
Detailed Overview & Review of FAW V2:
Faw introduced the first generation V2 in 2014 in collaboration with the al-Haj group. First-generation has a front engine with front-wheel drive and is available in only one variant; V2 VCT-i. It became a major competitor of Vitz and Cultus in Pakistan. It has been upgraded and improved with every upcoming model. Faw V2 VCT-i was launched in 2016 and it has been running successfully up till now. It has been upgraded to the 2019 model now and it is available in 12.04 lacs Pakistani rupees. 2019 model is available in showrooms and the old models are not available in zero meter condition but people are still preferring the used models of FAW V2 VCT-i because of its wonderful response and the V2 VCT-i has always been among the favorite list of the customers and it is available in markets with the price range of 9.5 lacs to 10.5 lacs Pakistani rupees. It is the locally assembled non-Japanese car that made it different from other cars but the 2016 version was imported from China and the meanwhile company started to produce locally assembled cars and local V2 launched in 2017. Let us see the amazing features that made it so popular among the customers.
Features and specifications of V2 VCT-1:
V2 has a 1298 cc 1.3 liters engine that generates 9000 horsepower and 120 Nm torque @ 4400 revolutions. It comes in manual and CVT transmissions. It comes only in one variant; VCT-1. It has a good fuel consumption giving a mileage of 12 to 23 kilometers per liter in cities and 16.5 kilometers on highways. It is 3760 millimeters by length, 1680 millimeters by width and 1530 millimeters by height. The total weight of V2 comes out to be 981 kilograms. It offers sixteen valves VCT-1 water-cooled four-stroke engine. it has a better suspension with front Macpherson front suspension while strutting arm coil suspension at back. It has front ventilated disc brakes and back drum-type brakes for a smooth and efficient drive. It has a stylish exterior with a comfortable interior.
Exterior of V2 VCT-i:
It has a unique body language with trapezium-shaped headlights at the front and a chrome grille with FAW logo in the middle and air intakes are angular in shape. Fog lights are also styled uniquely with a rectangular shape that increases the beauty of the car. Taillights at the back are also trapezium in shape with a large outward bumper and fourteen inches alloy wheels.
Interior of V2 VCT-i:
It offers a comfortable interior with light grey and silver color combination. There is a fabric covering on the seats that makes it look good. It has power steering, front, and rear seat belts, power windows, an anti-lock braking system, two speakers with a stereo system, air conditioning, and heating system, tachometer, low fuel warning, and spacious interior. It offers a seating capacity for five people with four adults seating and one child.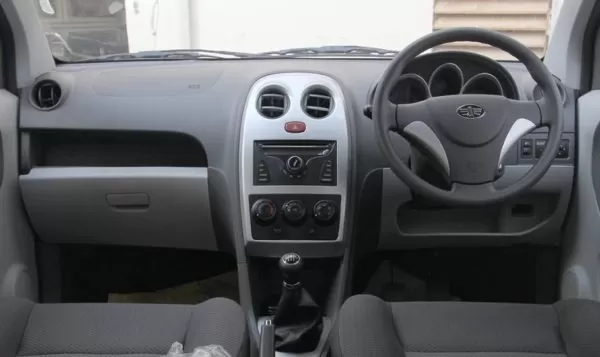 Reviews
PROS
It offers a cheap purchasing value, although it is an imported car still is available at low prices and it has been the most economical imported version in Pakistan. Most of the imported cars come in automatic version only but this version of FAW also comes in manual transmission. It offers a spacious interior with extra coziness and more leg spacing. The performance of the engine is great with decent pickup speed and amazing road grip that ensures safety and security. It offers smooth transmission that comes in less amount of money.it has all the basic features like power door locks, ABS, keyless entry, defogger, and LED lights to make the drive smooth and comfortable in all types of extreme weather conditions. It offers aluminum alloy rims at a low price as compared to competitors. Another amazing advantage of this car is its readily available spare parts that are available at cheap prices in markets so the maintenance value of the car is not so bad. The sound system is also great with a pair of speakers and USB and MP3 player.
CONS
One of the biggest disadvantages is the resale value of the car because new and latest models have been in the market so people go for the latest models. Another concern is about the substandard interior material used in the cabin that lacks attractiveness and smooth finish to the interior because of the low-quality plastic used inside. Fuel consumption of the car is not so promising and we can see a lot of bragging towards the economy of fuel usage. Brakes are not as smooth as compared to competitors and you have to apply greater pressure on applying brakes. We also do not get cruise control, satellite navigation, and traction control features in the car.
FAW V2 VCT-i versus Suzuki Cultus and Toyota Vitz:
Suzuki cultus will produce 63 hp power and 5000RPM torque with petrol fuel type engine and giving mileage of 14 to 20 kilometers per liter while Toyota Vitz gives a mileage of thirty kilometers in the city and thirty-five kilometers per liter on highways and generate 106 hp horsepower at 6000RPM and Toyota Vitz has a strong market and more customers. Suzuki cultus has a price range between 12.5 lacs to 15 lacs Pakistani rupees while Toyota Vitz has a price range between 16 lacs to 23 lacs Pakistani rupees. Compared to FAW both brands have highly distinctive market value and FAW is in the average value and still, it cannot beat the place and supremacy of both brands. Customers will choose Toyota or Suzuki as their first preference while going to purchase the car and the durability and reliability of both the competitor brands are far more attractive than FAW that makes it the first choice of customers.
Final verdict
Even after the major competition between the superpowers of Pakistani automobile industry FAW has maintained its popularity because of PAK-CHINA friendship and increase trade between both the countries. FAW V2 VCT-i has been advanced with many whopping changes and its sales have been increased a lot in the recent years and it has managed to make a stable growth in markets. Older models of used V2 are still under purchase in markets because of their average cost and amazing features.