Ferrari GTC4 Lusso Coupe 2019
Ferrari GTC4 Lusso was introduced as a four seated Grand Tourer in 2016 by Italian automobile manufacturers Ferrari. It was introduced as a front engine car with all-wheel drive option and was available in two classifications; GTC4 Lusso and GTC4 Lusso T. 2019 model is launched with a new facelift and it has a blend of innovation, versatility, classiness, agility, reliability, performance and sportiness that has made a whole world of experience. The 2019 Ferrari GTC4 Lusso Coupe is a four wheel drive vehicle with two door and seating capacity for four people. It is a 4922 millimeters long coupe which makes the usage of back seats for accommodating passengers too when required. The tapered shape of the car gives a more fastback profile. The outstanding 4RM ( four wheel drive and four wheel steering) Evo system of GTC4 Lusso has been integrated with rear steering wheel and this 4RM system comprises of electronically differential system and SCM-E suspension damping system. It is introduced as an updated performer perfect for individual use, family use, sports car thus it has wide range of practicality. In short it is a stylish car with refined features and technology that will make your ride superb comfortable, relishing even on twisty routes and longer journeys apart from straight pathways.
Performance and drivetrain of Ferrari GTC4 Lusso Coupe 2019: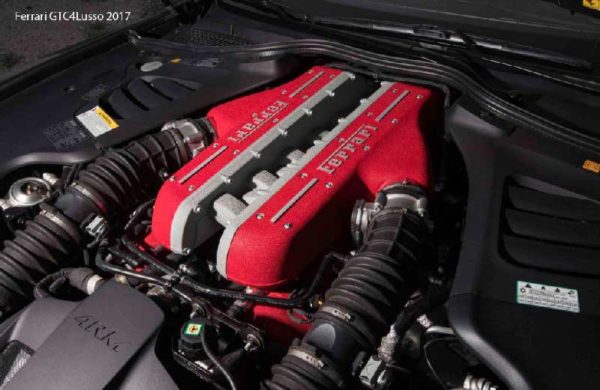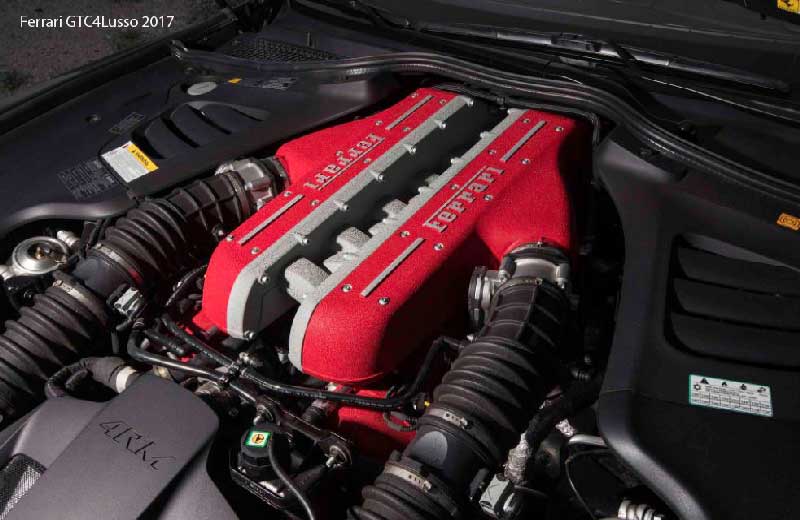 The Ferrari GTC4 Lusso offers options of two engines: 6.3 liters V12 engine or a 3.9 liters V8 turbocharged engine. The V12 engine consisting of twelve cylinders generates a horsepower of 651bhp and peak power of 514 lb-ft at 8000rpm. The V8 engine that has four cylinders generates the horsepower of 620bhp at6500 rpm and power of 560 lb-ft. Ferrari GTC Lusso Coupe 2019 V8 engine can accelerate to 62 miles per hour in just 3.5 seconds while the V12 can accelerate from 0 to 62 miles per hour in 3.4 seconds and can achieve a rocket speed of 199miles per hour. There are two gear boxes in the vehicle, one on front of the engine and the other at the rear. The rear gearbox has seven speed automatic dual clutches that will let you have a backward weight bias while the front mounted gear box has two speed gear box with Power Transfer Unit provided with two clutches, one for each wheel on front. It offers five modes of traction control system which can be chosen by the driver's choice. It provides a firm and controlled ride with adaptive suspension for driving on bumps and twists. It also offers an efficient fuel economy with a combined MPG of thirteen.
Exterior looks of Ferrari GTC4 Lusso Coupe 2019:
There is a restyling of the 2019 model with rear roof design changes and some additions of more aerodynamic design and the overall design is quirky plain and attractive. The tail lights on rear are attractive with classiness. The front of the car is lower and more aggressive because of engine placement that has added more space to the front grille. It has a fast back profile with tapered and streamline shape and it maintains its shooting brake styled body. There are some distinctive changes in the flanks that are more characterized while a sharp line can be noticed running from headlight defining onto rear shoulder and side doors. The bottom of the car is angled with blade type shape and it creates a shadow image for brightening the flank. The side vents have also been restyled with three integrated wings while there are two circular lights on rear spoiler.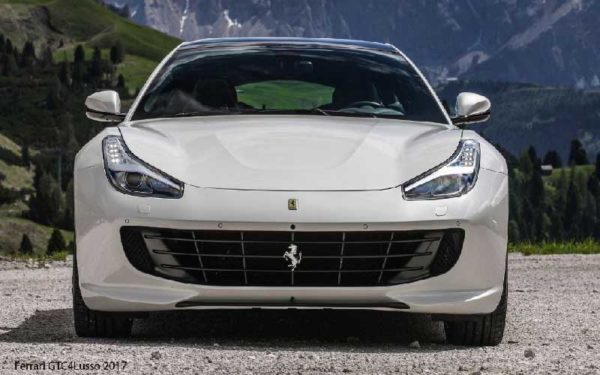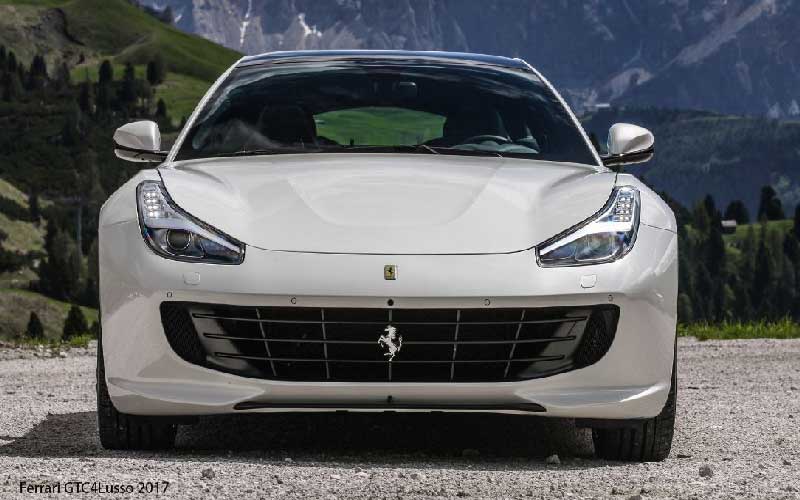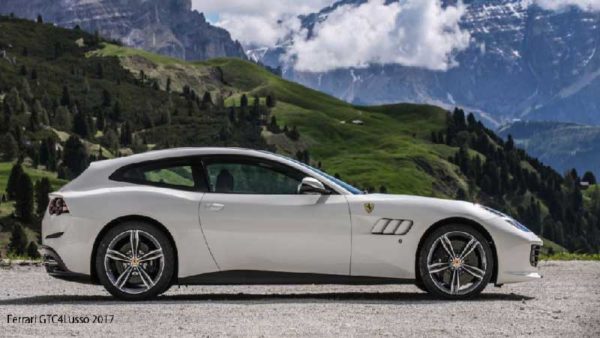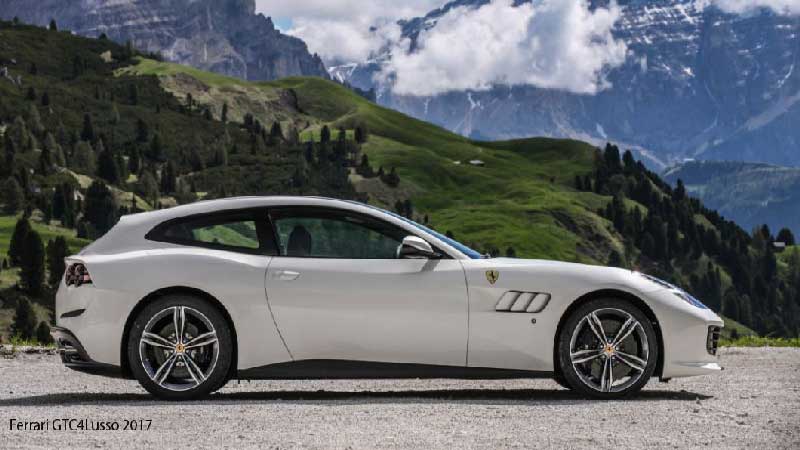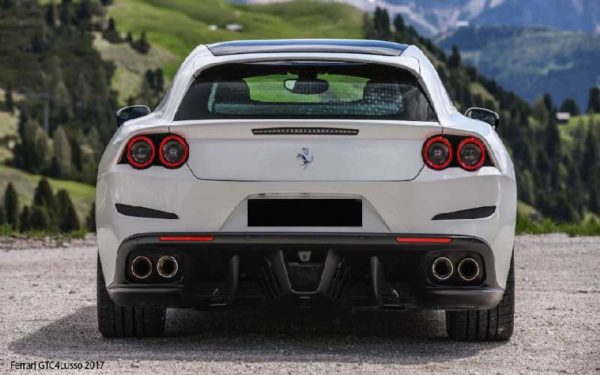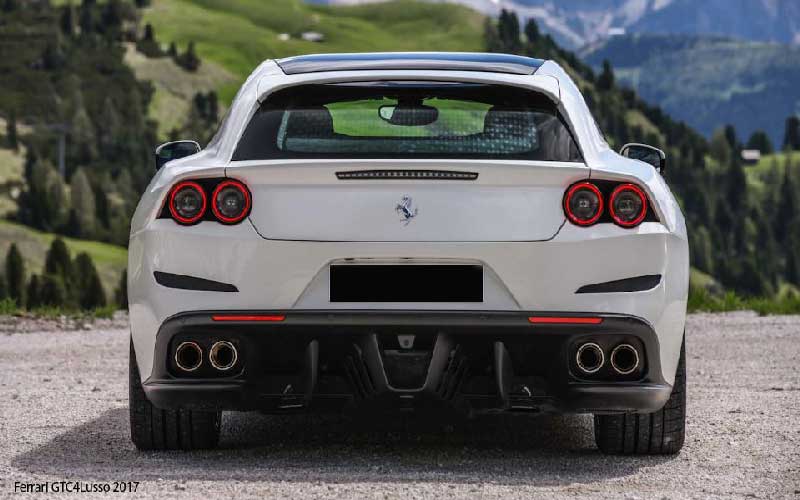 Interior design of the cabin of GTC4 Lusso Coupe 2019:
The main eye catching feature of the cabin is the dual cockpit which has display screen option for passengers. The craftsmanship material used in the innovative architecture of the cabin has been painstakingly chosen to give a striking ambience to the cabin. The sleek and modern seats are leather covered with detailing of carbon fiber and aluminum all over the cabin. The front seats are very comfortable for longer journeys. The controls for infotainment and instrumental cluster have been placed on steering wheel. The back seats can carry your cargo or luggage beside from the carrying passengers. The transmission tunnel runs all along the cabin and the smaller items can easily be accommodated. There is a 10.2 inches display screen on front that entertains you with Apple Car play compatibility providing 128GB music storage system and displaying rear view camera for parking. You can select Daytona or Diamond stitching detailing on your seats and color theme of your choice while there are options of a panoramic sunroof, adaptive headlights to adjust in less light, sport exhaust system, front camera for parking and rear wiper. You can choose the external theme color of your choice too.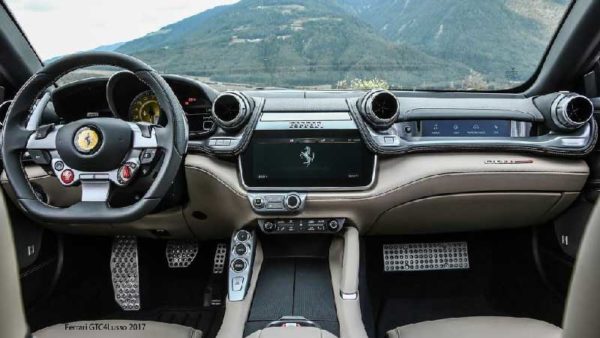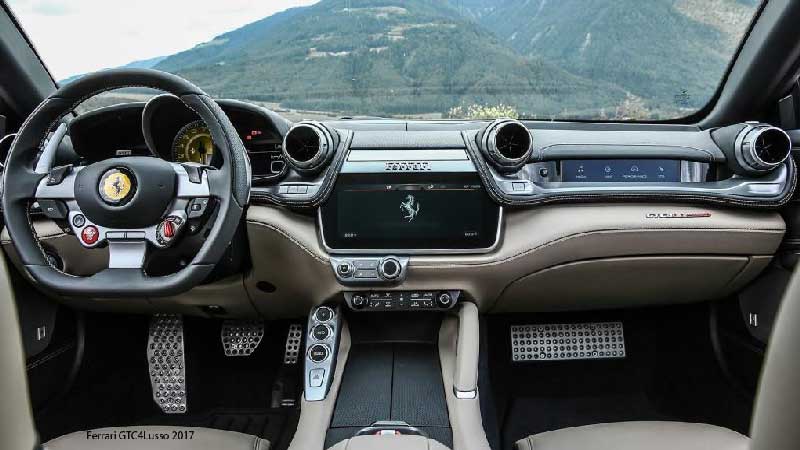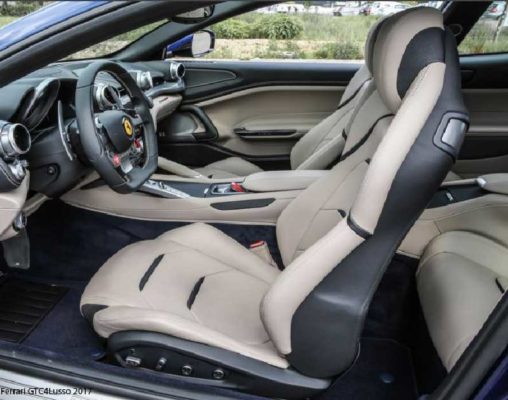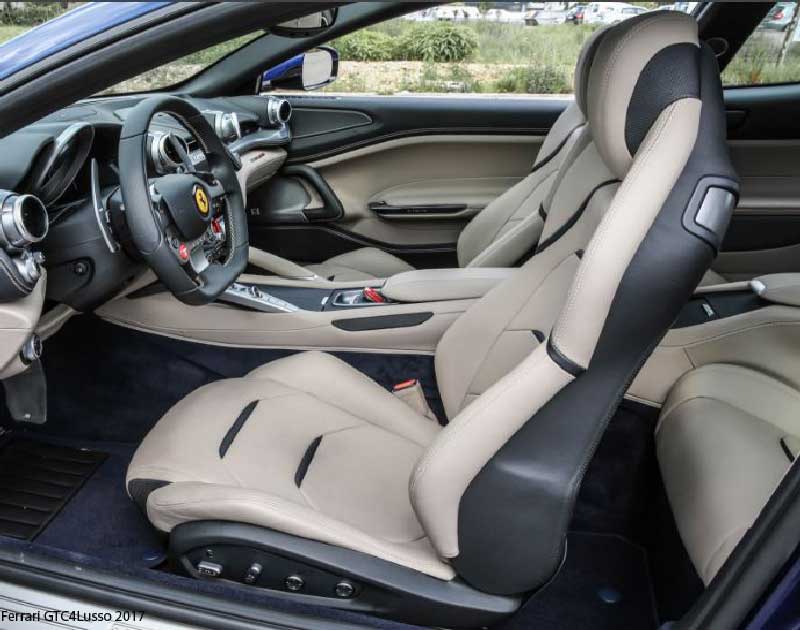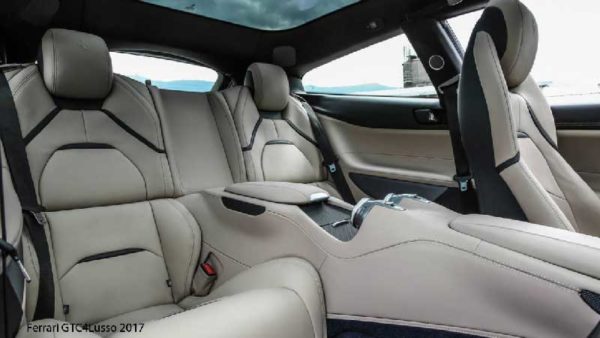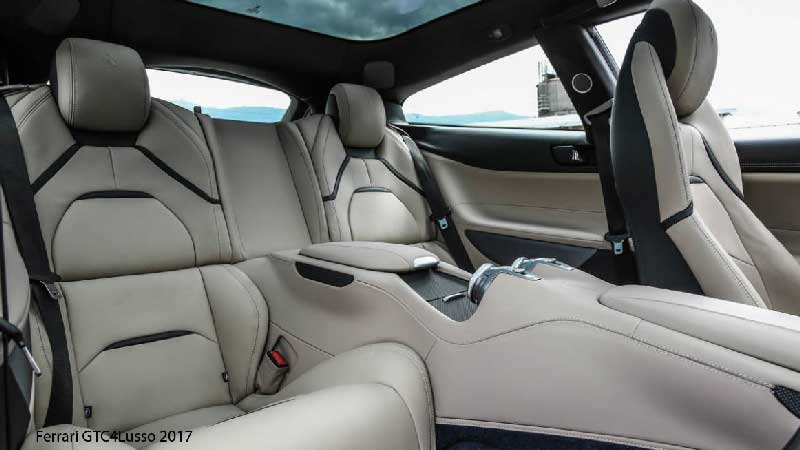 Major competitors:
Some of the major competitors of Ferrari GTC4 Lusso Coupe 2019 include McLaren 675LT Coupe with a price of 349,500 US dollars, McLaren 720S with a price of 284,745 US dollars, Ferrari 812 Superfast with a price of 363,730 US dollars, Porsche 911 GT2 RS with a price of 293,200 US dollars, Lamborghini Aventador S Coupe with a price of 417,650 US dollars and Lamborghini Huracan Performate with a price of 274,390 US dollars.
Final verdict:
Ferrari GTC4 Lusso Coupe 2019 model is available with a starting price of 350,000 US Dollars. Summarizing the stylish Coupe, it is a super car with blend of fine eye catching crafted interior with stunning exterior design, low fuel consumption, agile handling, powerful performance and powerful grip on roads. It is also price fairly competitive as compared to its customers and that's why it is better option for the customers who are finding a car for daily usage that car the qualities of super car inside it.