Fiat Spider Abarth 2017
When it comes to Italian cars one thing that I like about them is their design from internally and externally. What if you have to make choice between modern Japanese car and modern Italian car?? Yes there is something behind this question. This Fiat 124 Spider is being produce by two companies jointly one is "Mazda" and other is obviously Fiat, that's the reason its external and internal looks are quite familiar to Mazda Mx5 Miata now It will not be wrong to say it's not fiat but Fiata. Before going into details of car Let's try to infer the meaning of car.

Meaning of Fiat Spider Abarth:
Fiat is an Italian word which mean a command that can't be annul and denied after which everything will be happen on its own because everything will follow this command. "Spider" has simple meaning that everyone knows but if we take verb instead of Noun it gives meaning "run hurriedly (with quick steps)" that clearly define car's work. Now the word Abarth is the name company that was known for producing sport cars which latter combine with fiat. If we combine all this word together than the Meaning of Fiat Spider Abarth is clear its " A undeniable command Given to sport car that will start scuttling as given in command".
Design:
124 Spider Abarth is sporty look coupe car that have seating capacity for 2 members, things that make abarth different from other version is its sporty look and engine. Exterior of car gives combine look of Miata and Fiat Classic, Front of car has beautiful small spider net grill and below air dam bumper again with same look as above. Headlamps used on front are fully automatic Halogen high projector beam that have daytime running and delay off option too and below in the bumper there are fog lamps present but the thing that make it more  beautiful is black color on front bumper that  not only provide sporty look but it also help for absorbing glare of light.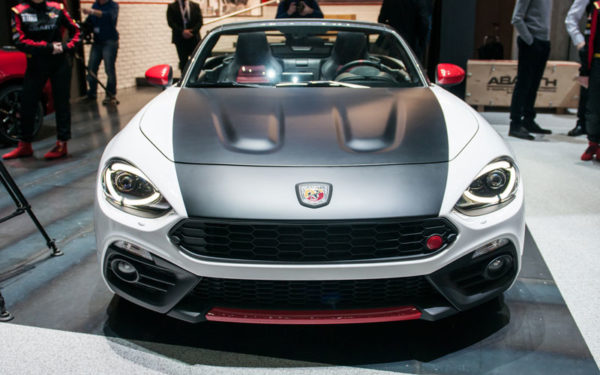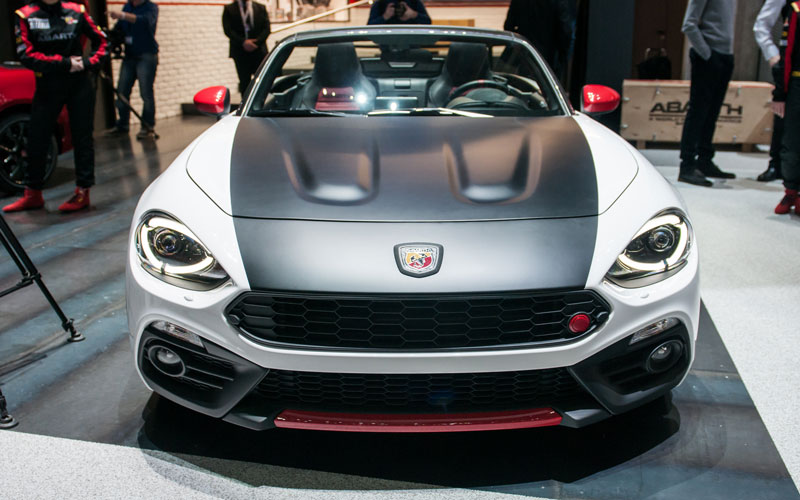 As bumpers, door handlers have same body color but mirrors of car paint using different color that truly shows best color combination on car.Rear side of Spider Abarth 2017 has led brake lights, Quasi Dual Stainless exhausts that are chromed and bumper again with black paint as done on front.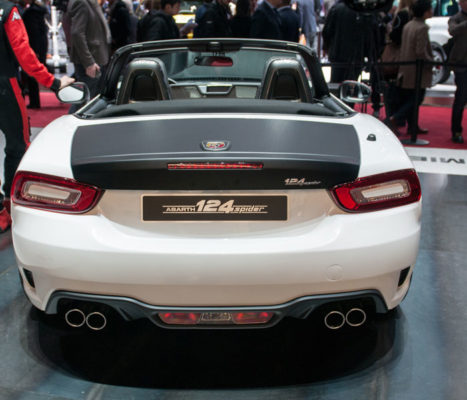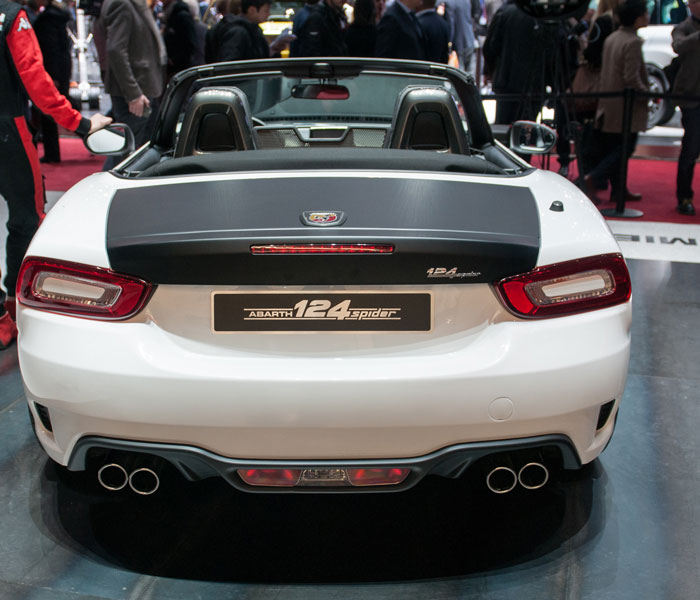 This color combination done on car really made it sportier and more dashing. Interior of car is available in black with red lines on seats, dashboard as well as on steering wheel. Abarth Version is more expensive than all other versions of Fiat spider as it has leather used on seats, steering wheel, dashboard as well as on gear shift knob.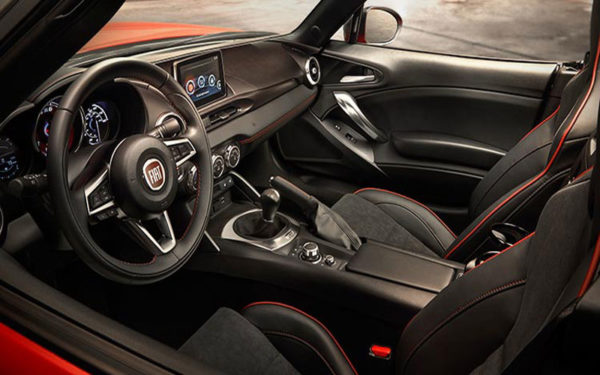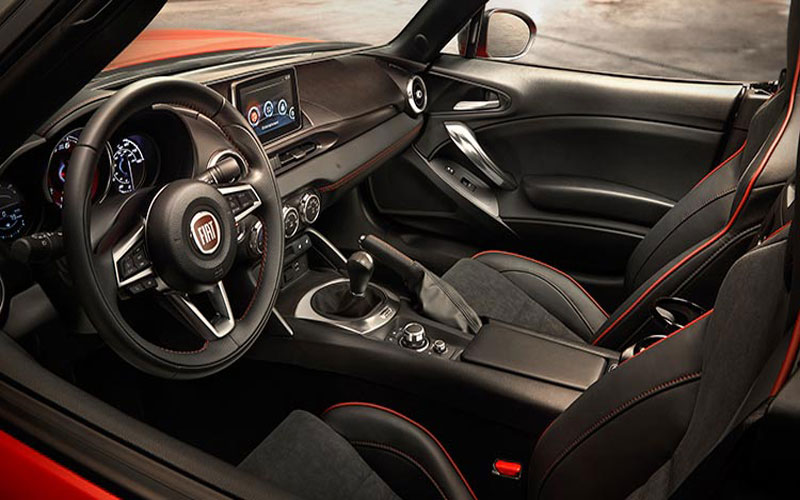 Engine and Transmission:
Engine in all version of 124 Spider is same but this Abarth sport version Generates more horse power. Other versions Generates 160 Horse power while this one  generates 164  horse power with same 4 inline cylinders and 1398 cc Piston displacement.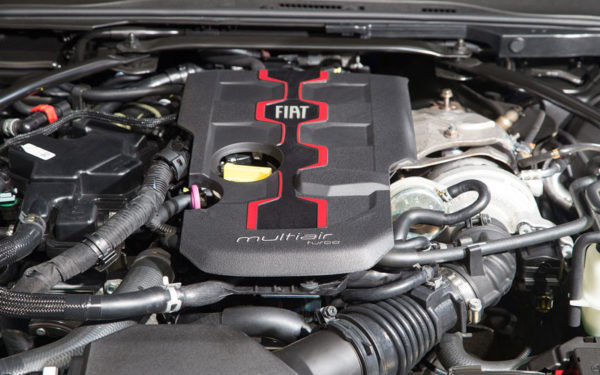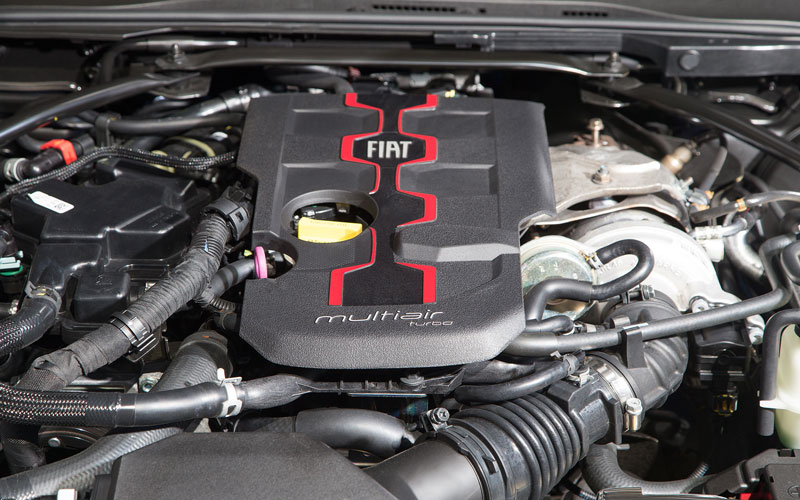 This turbo charged engine is good if you are living above sea level; its engine is enhanced and quick than others of Fiat Spider. Top speed of Fiat spider Abarth is 215 kilometer per hour and to reach 0-60 it just require 6.3 seconds that is good with its 1.4 L small engine.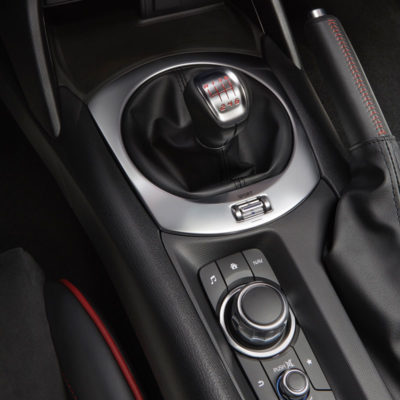 All versions are available with automatic and Manual Transmission but this Rear Wheel Drive car has 6 speed manual that work nicely with Electric power assist speed sensing steering wheel.
Comfort and Security:
This Italian car is comfortable and there is no doubt in it but it is not as much comfortable as new cars that come with lot of technologies embed, As this is purely made for joy and fun you have comfortable seats, Lot of space , High Suspensions, Height adjustable seats but there are no advance technologies present like android and apple air play more importantly there are no options for navigation, so in easy words you have to stick with comfortable drive that is classic means you have no up dated technologies that help you lot and give you more comfort.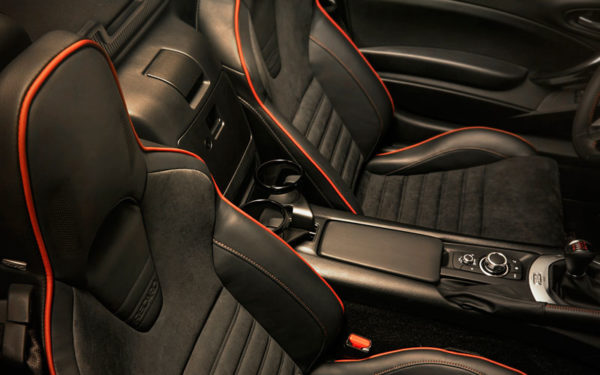 With respect to Security point of View this is in competition and we can't deny it , there are present all things related to security; there are present air bags with occupancy sensors, It has Electronic Stability, ABS and drive line traction control systems and last but not least tire low pressure monitoring system. Overall a good car for enjoyment with your partner on long drives where open roof give more fun without updated technologies.  Don't forget to share your reviews and comments about Fiat 124 Spider Abarth 2017. Thanks