Fiat 124 Spider Lusso 2019
 The 2019 model of Fiat's Spider is introduced with an efficient exhaust system and new styling along with a handful of new exciting features providing a retro chic roadster. It is available in three variants including Classica, Lusso and Abarth. Abarth is the highest trim level of Spider 124, however the Lusso variant is also very appealing with its advancement in luxuries as compared to Classica. Lusso 124 Spider in addition offers many packages that offer the customers with more features. The Comfort and Convenience package is offered in 1500 US dollars and it offers blind spot detection, cross traffic alert system, parking sensors, automatic dimming mirrors and garage door opener. The Navigation package and sound package is offered in 1300 US dollars that offers nine speakers stereo system and proper navigation while the Visibility Package can be purchased by paying additional 1000 US dollars and it offers LED daytime running lights and high intensity automatic focusing headlights. In addition to these features some of the other features equipped in Lusso 124 Fiat Spider are large sized alloy wheels, fog lights, leather coverings on seats and steering wheel, rear view camera, heated system of seats and automatic climate control system. The 2019 Fiat 124 Spider has been ranked number five among sports cars  and it has scored 8.3 scores out of ten by evaluating its performance, interior, safety, reliability and critics. It offers nimble handling with superb fuel economy and it is a two seater car which can be easily folded and provides refined quality of ride.
Engine & Performance Specifications:
It is powered by 1.4 liters Multi air turbo engine that provides a six speed manual RWD transmission and it generates a horsepower of 160 to 164bhp and 184lb-ft f torque. Its fuel economy is very efficient as it gives a mileage of twenty six miles per gallon in cities and thirty six miles per gallon on highways. It will make your drive fun by its agile handling and responsive steering wheel and because of its strong engine. The light weight of the sports car makes it even more fun to drive as it has lesser body so it gives a smoother quality of ride. Engine takes time to accelerate initially but once it is speedup it will fly like a roller coaster and it will increases the driver's enthusiasm. Fiat 124 Spider runs speedily over bumps and glides without any jerks because of its tuned suspension and Brembo braking system.
Exterior looks of Fiat 124 Spider Lusso 2019:
The 2019 Fiat 124 Spider is five inches longer in length and has larger sized front overhangs and rear overhangs. The honeycomb type grille of 124 Spider scowls on the front of the car which have eyelid designed LED headlights with day time running lights and the fog lamps are fixed horizontally with flanked shaped large sized air intakes. The rear of the car is more redesigned with pretty looks and the black hood is paired with silver touching on the body. The tail lights are triangular in shaped with unique design finishing and the body is very light weighted because of its cuts.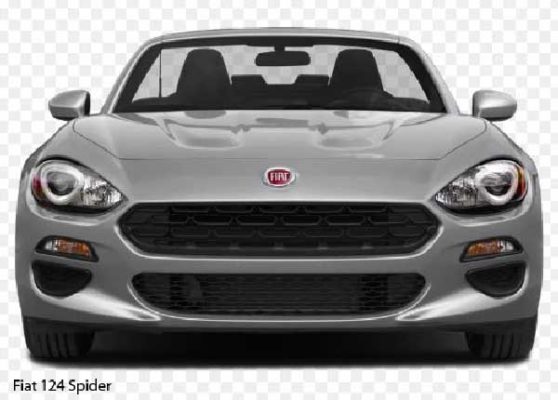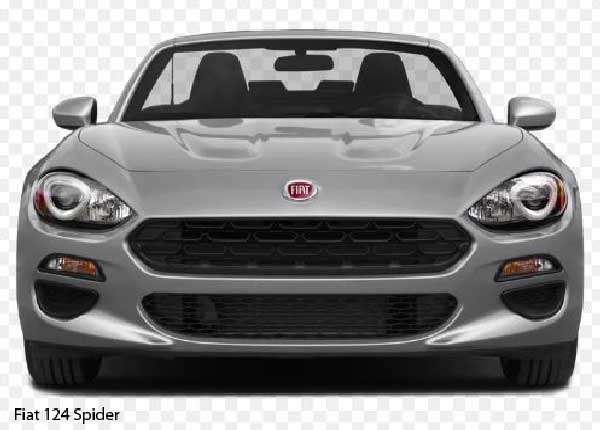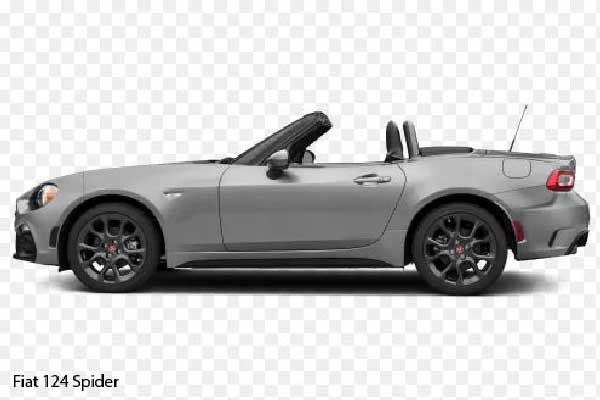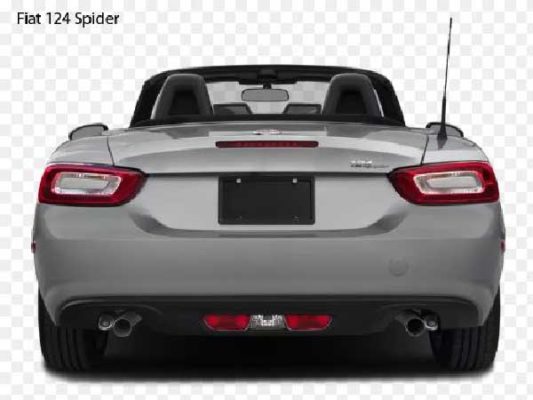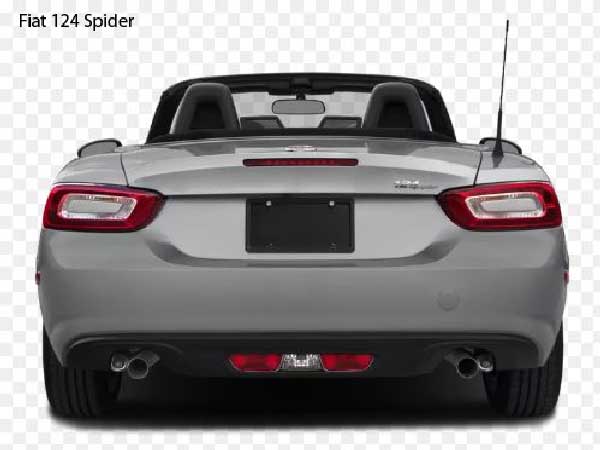 Interior styling of Fiat 124 Spider Lusso 2019:
The interior of the car is very stylish with good quality of material used in the cabin and it offers leather upholstery with heated leather seats and Recaro typed sports seats. However the seating area for passengers gets very small because of the engine placement and tall passengers get difficulty in getting in and out of the car. As it is a sports car and it is not known for large cargo area but it does provide a 4.6 cubic foot trunk that is enough for your luggage for a weekend or your grocery. It has a three inches display screen on the front for infotainment that comes with nine speakers option and Bluetooth connectivity. However the Apple Car play and Android Auto System is not available and the infotainment system is controlled by knobs and buttons. The additional package of navigation and sound system can also be purchased. The seating is however very comfortable with pads and the insulated cabin makes the cruising more fun and thrilling.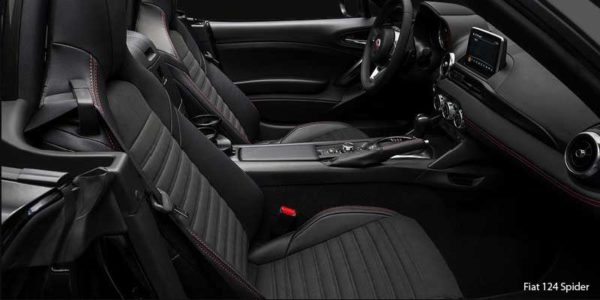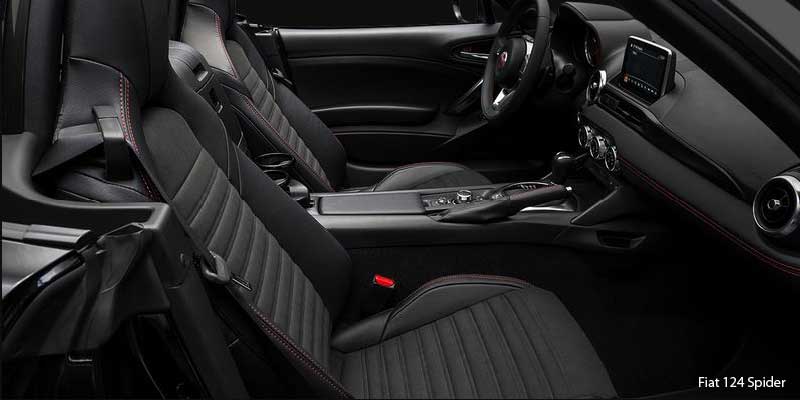 Major competitors:
Mazda MX-5 Miata is built on the same platform as 124 Spider and both cars are great, however Mazda MX-5 Miata is little more expensive than Fiat 124 Spider. Subaru BRZ offers an extra space and more safety features as compared to Fiat 124 Spider, that's why Spider 124 has to face a major competition from it. Apart from these some other competitors include Ford Mustang and Mini Convertible.
Pricing:
The Fiat's 124 Lusso Spider has a starting price of around 27,795 US dollars. It however has low power speed, smaller cabin room and less storage area but apart from it, it is still ranked number three among subcompact cars because of its comfortable ride, superb handling and top down freedom. The European design and easy technology blends together to give you a fun loving ride and it would not be wrong to call the 2019 model Fiat Spider as austere