Fiat 500e 2019
Fiat introduced its 500e electric version of its 500 in back 2013 after being forced by the emissions regulations to make the environment pollution free and it has been always criticized for its limited amount and availability and it was only available in California and Oregon and it has not been changed much in these all years but however the 2019 model of 500e is facelifted with unique badging, redesigned front and back bumpers and new design of rims and decals. The 500 e 2019 model is a compact electric car with hatchback body style and peppy performance with satisfying usability for short journeys. Only one trim is available in Fiat 500e and you can only decide either you want a sunroof or not or you want grey to orange theme color option. It is ranked number twelve among electric cars taking into account the styling, performance, comfort and safety features. It is available in two states only, while the gasoline version of Fiat 500 is available widely and that's why it is more appealing. The Fiat's 500e is a mixture of an impressive efficiency, high technology and eco-chic styling that spice it up a fully appealing electric car that can be charged in just four hours.
Electric Powertrain of Fiat 500e 2019:
The powertrain of Fiat 500e is hundred percent electric that is made up of 3 components including a high voltage lithium ion battery pack, a high power electric motor and power inverter to control power flow. The electric drive motor in the car uses the phenomenon of conversion of electrical energy into mechanical energy by using 83 kilo watt per hour electric power to generate 111 horsepower and 147lb-ft of torque. The lithium- ion battery which it uses is 24KWH and it can be charged and recharged various number of times. Its transmission is different from the normal gasoline variant and it offers only one speed transmission that drive's the power from electric motor and this type of transmission produces lower power input speeds, decreases the use of battery with generation of increase amount of torque. It can accelerate from zero to 60 miles in just eight seconds and offers top speed of 85 miles per hour and has a range of eighty four miles on full charge which makes it suitable for short trips only because no fast charging is available.
Exterior features of Fiat 500e 2019:
The design of 2019 model is not changed very much but the spoilers at back have addition of air of performance and the exterior mirrors are heated those give you pristine vision even in extreme weather conditions. The halogen headlights with functional projector beams, day time running lights and fog lamps make the visibility very easy and makes your drive comfortable. It serves both style and efficiency with its eSports package that includes a fifteen inches aluminum cast wheel caps, black trimmed headlights and orange mirror caps of mirrors with wheel accents.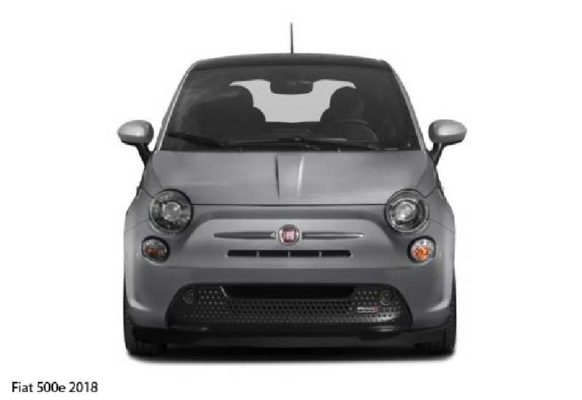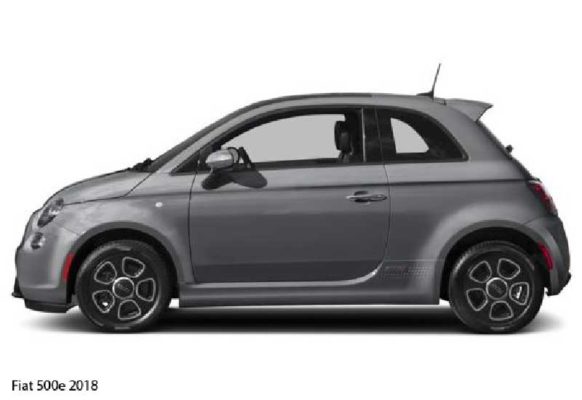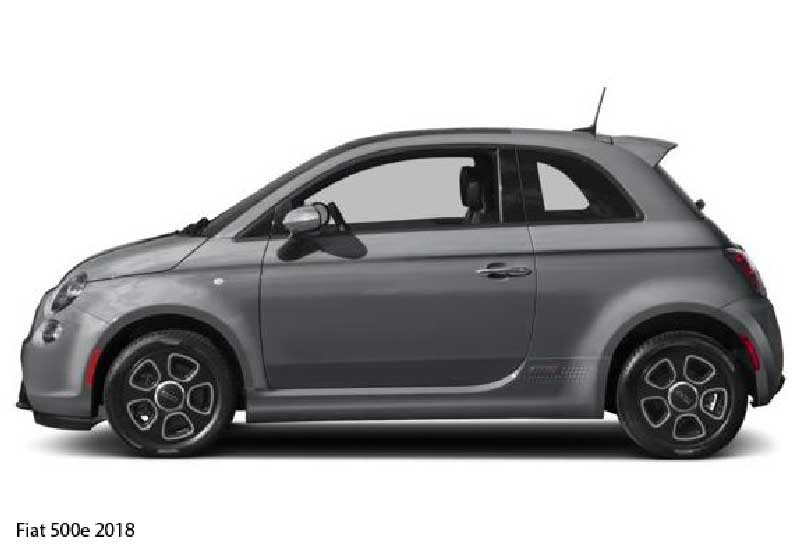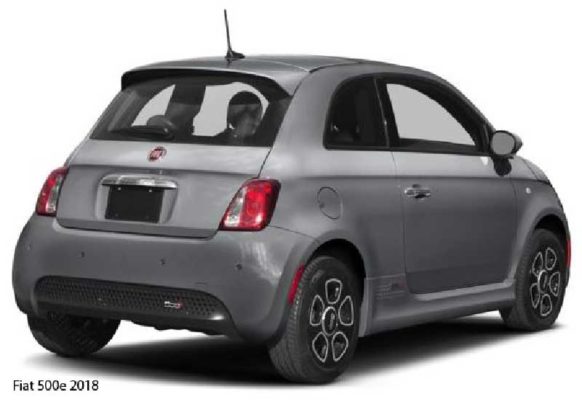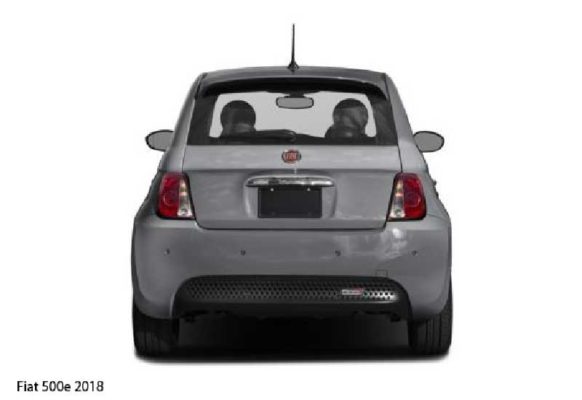 Interior features of Fiat 500e 2019:
The cockpit of the electric car is a fit for royalty with convenience from its leather heated seats including a memory feature that recalls the position of every seat especially the position of driver's seat. Distinctive headrests in turn provide ultimate comfort; there is the option of a power sun roof which can tilt out and slide backwards to give full opening and fresh air inside the cabin. The seven inches instrumental cluster that shows up all charging levels and information about trip. Infotainment is provided by the five inches touch screen that have Android Auto, Apple Car play and Bluetooth connection. There is a large sized room area for front passengers but the back seats are smaller in size with tight room area for back passengers while the cargo area is also very small and it provides poor visibility from back and sideways. It has drive, neutral and reverse options on its gauge cluster that can be selected by switch buttons.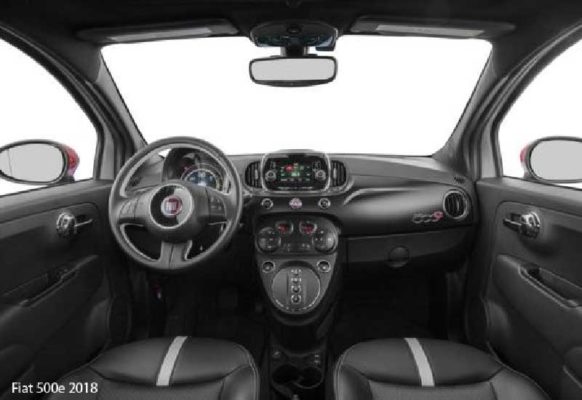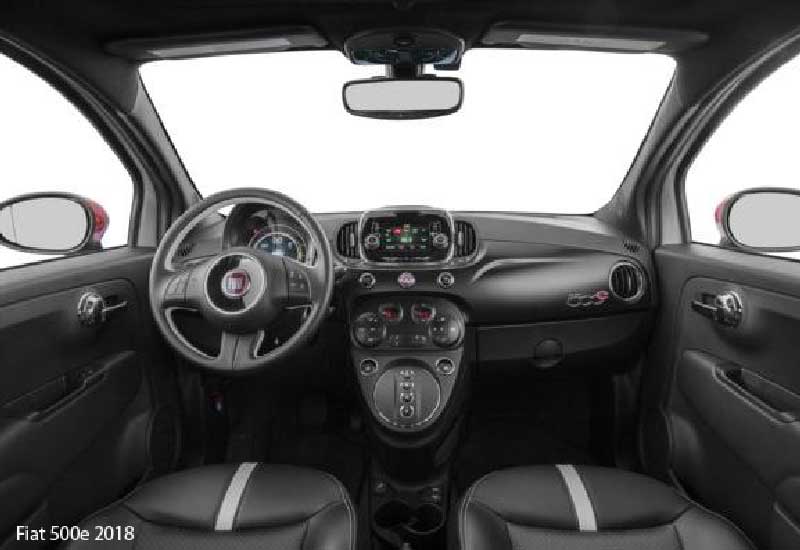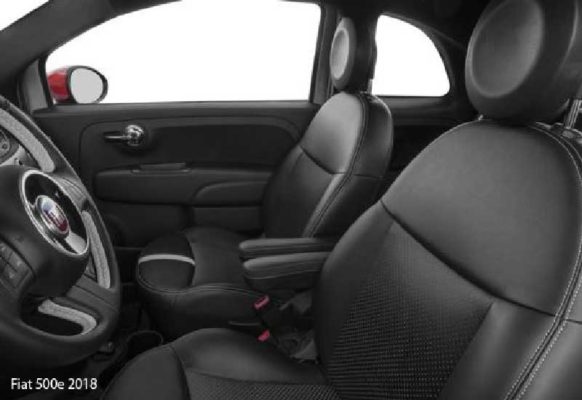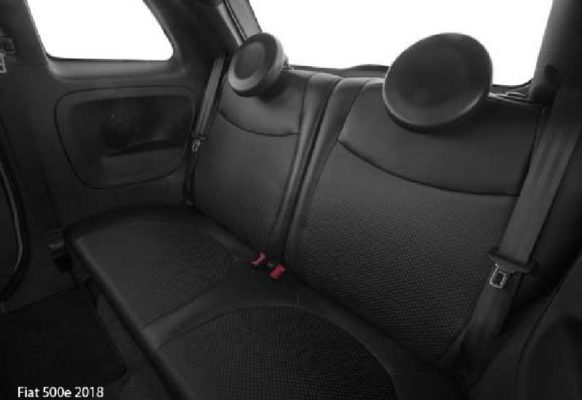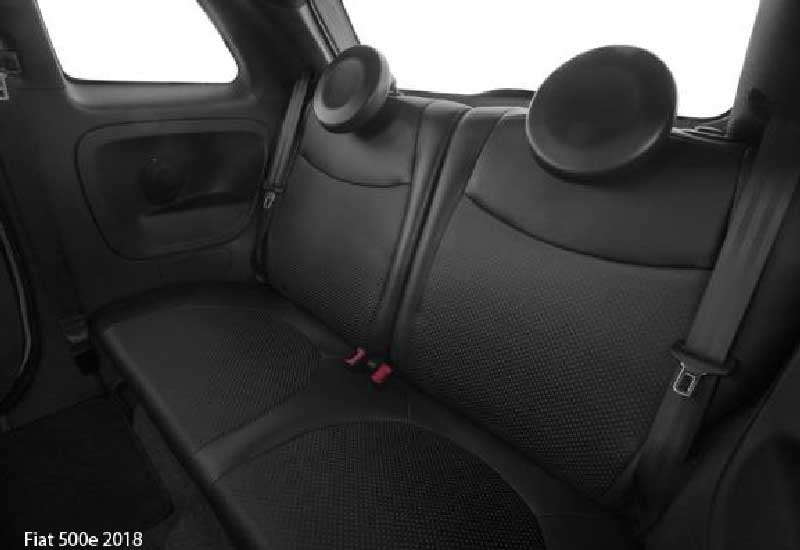 Safety features of Fiat 500e 2019:
It offers variety of safety features to its customers to assure a safe ride. It has pedestrian warning alarm system that activates automatically when you reverse your car and alerts you of any pedestrian coming near the car. The electronically stability control system provides stability by automatically applying brakes when it sense anything approaching near and decreases the torque of engine to provide directional control. The hill start assistance system helps in maintaining pressure of brakes when inclining a hill when you press the brake pedal and accelerator. There are total seven air bags in this e500 that protect the driver and passengers from all aspects during any collisions.
Major competitors:
Its major competition is between Chevrolet Bolt, smart EQ For two, BMX EV13 and Renault Zoe
Pricing:
The starting price of Fiat 500e is 32,995 US dollars and it varies depending on which package you are buying. It comes with a warranty of four years and its battery has the warranty for eight years. It costs much higher than its competitors and it is less likely available than its competitors. It has not been changed much since its arrival and it is available in only two states that is the reason it is not commonly seen on roads as compared to other competitors of its class.