2023 Genesis GV80
Sold in the USA: 2021-Present
1st Generation
2023 Genesis GV80 Price in the USA:
GV80 2.5T I4 AWD
Starts at:

$55,550

GV80 3.5T V6 AWD
Starts at:

$62,700

3.5T V6 AWD ADVANCED
Starts at:

$70,600
The Genesis GV80 was unveiled officially in 2020, and it is a collaborative effort-based product of Genesis design teams in the United States, Europe, and Korea. It is a mid-size luxury SUV with a front engine and options for rear-wheel-drive and four-wheel-drive. It is available in South Korea and the United States markets. The 2022 Genesis GV80 comes with very few changes, and among the few upgrades introduced include the new Prestige Matte trim, which has flat matt paint finishes on the exterior instead of glossy chrome. It also offers a Prestige Signature trim that adds captain chairs in the rear seats and adds wireless charging pad for rear passengers. The Genesis GV80 is now available in the 2023 version, and it is a designer SUV that offers well-integrated technological features. The 2023 Genesis GV80 is the latest model available, and it is different from the 2022 Genesis GV80 in powertrain as the all-wheel-drive configuration is standard in all trim levels. The 2.5T Advanced trim offers a panoramic sunroof and ventilated seats not available in previous models, and Capri Blue replaces the Adriatic Blue colour exterior colour. The four-seat Prestige Signature trim is not available in the latest Genesis GV80. The Prestige Matte trim is available, but the Makalu Grey colour replaces the Melbourne Grey exterior. All Genesis GV80 variants offer cup holders in the 2nd row, an infotainment screen mounted on the central console, and an oil life monitoring system.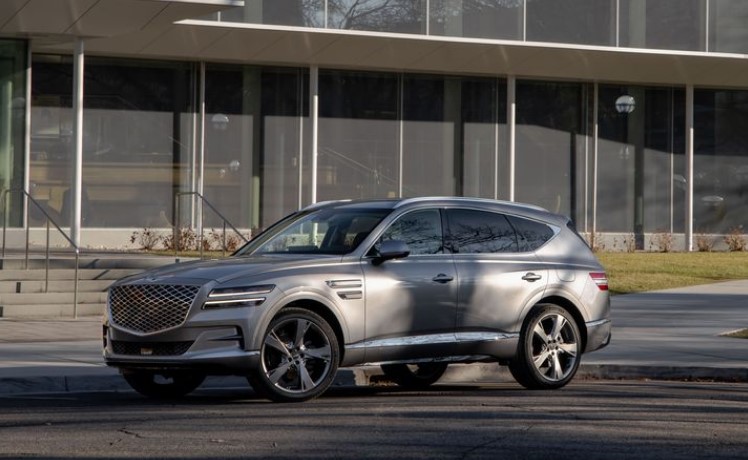 The Genesis GV80 is an impressive SUV with an eye-catching design. It makes the ride thrilling with its intuitive technology, elevated comfort level, and smooth ride quality. It offers three powertrains and a variety of trim levels. It is declared a Top Safety Pick by IIHS in 2022, which ensures passengers' safety and protection.
Trims & Variants: 
The Genesis GV80 is available in three trim levels:
(2.5T) Standard: it offers nineteen-inch wheels, a power liftgate, a navigation system, a 14.5-inch touchscreen display, a 12-speaker audio system, parking sensors at the front and rear, adaptive cruise control, lane keeping Assist, and a blind-spot monitor.
(3.6T) Standard: it offers a panoramic sunroof, ventilated seats at the front, a wireless charging device, a digital key, a heated steering wheel, and a power outlet in the 2nd row.
(3.6T) Advanced: it offers twenty-two inches wheels, adaptive suspension, a head-up display, forward attention warning, 2nd-row vanity mirrors, and road active noise cancellation.
Engine, Transmission & Power:
The Genesis GV80 is available in three powertrain options: a 2.5T I4 AWD, a 3.5T V6 AWD, and a 3.5T V6 AWD ADVANCED PLUS engine. The 2.5T I4 AWD generates 300 hp power while the 3.5T V6 AWD and 3.5T V6 AWD ADVANCED plus generate 375 hp power at 5800 RPM and 391 torque at 1300 RPM to 4500 RPM. The 3.5T V6 AWD ADVANCED PLUS differs from the 3.5T V6 AWD because it offers 3rd-row seating and seven total passengers capacity. It offers an eight-speed automatic transmission, and an all-wheel-drive is standard in all powertrains.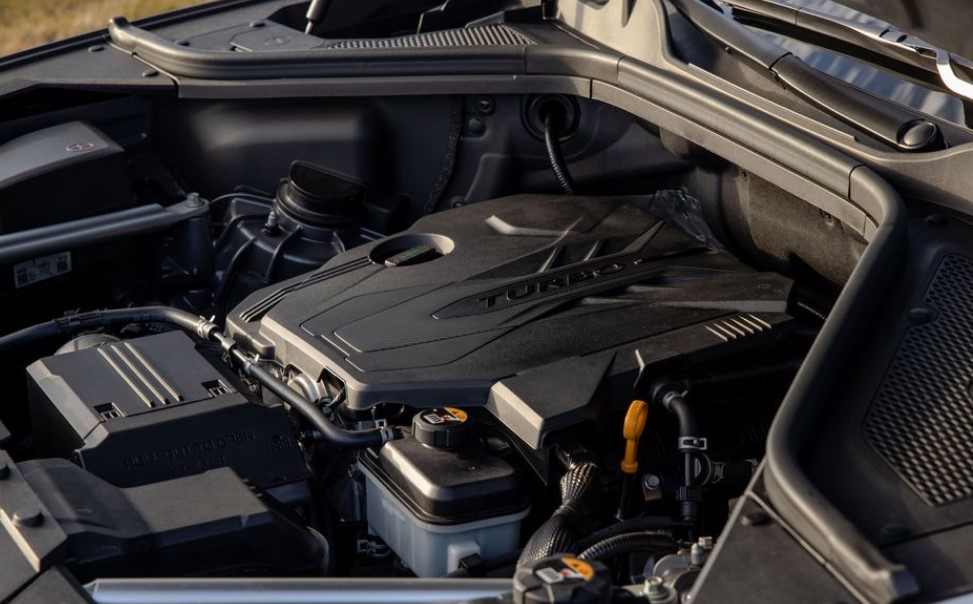 Performance & Drive:
The 2023 Genesis GV80 makes driving fun with its high-performance capabilities. The 3.5-liter V6 engine boasts up to 375 hp, and all-wheel-drive makes driving comfortable on rocky and bumpy surfaces. The 2.5-liter engine delivers equally impressive performance. The eight-speed automatic transmission in Genesis GV80 is ultra-fast, with paddle shifters, delivering power from the engine to all wheels seamlessly and providing quick acceleration from a stop. The all-wheel drive comes with an electronic limited-slip differential system that distributes power equally between left and right rear wheels following the road condition and level of grip. It ensures excellent off-road performance and stable on-road performance. The ride is even more comfortable with active noise cancellation, guaranteeing a relaxed journey by muting road noise and producing inverted sound waves. It offers five driving modes for your convenience: Comfort mode, snow mode, Eco, Sport, and Custom mode, so you can adjust the throttle response and suspension according to the road condition. The Genesis GV80 has quick acceleration, and the 3.5-liter V6 engine accelerates from 0 to 60 miles per hour in 5.7 seconds which is good for a mid-size SUV, but when compared to most of its rivals, the rivals are quicker than Genesis GV80. The brakes are efficient but respond abruptly sometimes, the steering response is fine but feels a little heavier, and the driver has to apply more effort to turn the car. It offers an adaptive cruise control feature that maintains a preset distance from the vehicle ahead and slows the car accordingly. The forward collision mitigation in Genesis GV80 warns the driver of any impending collision and applies brakes automatically to avoid accidents. It comes with a Blind-Spot Monitor that alerts the vehicle in the blind spot when you are reversing your car. The Lane Keep Assist helps to steer your vehicle back into the lane if you are drifting over. The suspension system is tuned well and keeps the ride quality smooth over bumps and breakers so you can enjoy your off-road and on-road journeys. The fuel economy of Genesis GV80 is not bad, and the 2.5-liter, four-cylinder engine delivers 21 miles per gallon in the city and 25 miles per gallon on the highways, while the V6 engine gives 18 miles per gallon in the city and 23 miles per gallon on the highways.
Exterior Design & Features:
The Genesis GV80 is eye-catching, and the front looks aggressive with a bold meshwork grille attracting customers' attention. The two-line LED headlamps come with two lines of light and look astonishing. The rear is curved into a low profile and wide stance with a power liftgate and box-shaped rear taillights. The higher-end trims offer twenty-two inches alloy wheels and have all-season tires that assist in all-road driving, and the larger wheels give the vehicle a sporty look. With an overall length of 184.7-inches, width of 77.8-inches, and height of 67.5-inches, the Genesis GV80 looks bold and dominating.
Interior Design & Features:
The inside of Genesis GV80 is luxurious with its burled-wood trim pieces, metallic accents, and ambient lighting. The cabin has a fancy touch, but despite its premium feel, it also gives an elegant minimalism sense. It is available in two-row seats and three-row seat options. The front seats are comfortable and given heating technology and massage function, and the 2nd-row seats are equally satisfied with ample space in the 2nd row to accommodate four adults. The cargo space can load up to thirteen suitcases, and the 2nd-row seats get folded to load 28 bags in the cargo area. There is a 14.5-inch infotainment screen mounted on the dashboard, compatible with Android Auto and Apple Car Play. It also offers a navigation system to assist the driver in finding the best route to his destination. The screen is close to the front passenger, so he can conveniently select the music of his choice. A panoramic sunroof in high-end trims adds fresh air and sunlight to the cabin. There is a 21-speaker audio system that delivers impressive sound quality.
Safety & Features:
The NHTSA bestowed a five-star rating on the GV80 in its barrage of crash tests, which the IIHS echoed with a Top Safety Pick+ award. Some of the top safety features Genesis GV80 offers are:
Blind-spot collision avoidance
Lane change oncoming
Rear occupant alert
Adaptive cruise control
Automated emergency brakes
Lane-departure warning alarm
Lane-keeping Assist
Pros & Cons:
Pros:
The Genesis GV80 has an eye-catching design and is equipped with luxury technological features at a reasonable price. It delivers a smooth ride quality and has a noise-free cabin with wind-noise insulation. It gives extended warranty coverage.
Cons:
The 3rd-row seat in the Genesis GV80 is tight, and the fuel economy is not very impressive compared to its rivals. The infotainment system is a bit difficult to operate.
Major competitors
Porsche Cayenne
Volvo XC90
BMW X6
Audi RS Q8