2023 GUGU 250 EV
Sold in Pakistan = 2023-Present
1st Generation
Technology = permanent magnet synchronous motor with lithium-ion phosphate battery
2023 GuGu 250 EV Price in Pakistan 
GuGu 250 Maximus

7,800,000

PKR

GuGu 250 Tourer

8,000,000

PKR
GUGU Motors is an automobile company formed by Tesla Industries in Pakistan. Tesla Industries is an electronic company in Pakistan that deals with renewable energy-based projects. Tesla Industries and GUGU Motors are subsidiaries of Sitara Group of Companies, and the CEO of Sitara Group stated that GUGU Motors is importing electric vehicles from China and will start manufacturing EVs locally in Pakistan soon. GUGU Motors launched its all-electric minivan in Pakistan, designed for eleven passengers. It is primarily for commercial use and has limited dealerships in the country. The government of Pakistan has been promoting electric vehicles in the country for a few years, and that is why automobile companies are introducing their EVs in the market.
The GUGU Tourer 250 is a low-cost, eco-friendly transportation solution designed for urban areas. It can seat up to 11 passengers and provides a mileage of up to 250 kilometers single charge. The GUGU Tourer 250 EV features a modern design with air conditioning, power windows, and a multimedia system with a touchscreen display. It has an efficient motor and a lithium-ion battery which charges quickly within two hours. It is a multi-purpose electric minibus that offers more cargo space configuration and many updated features to provide a comfortable ride to the passengers.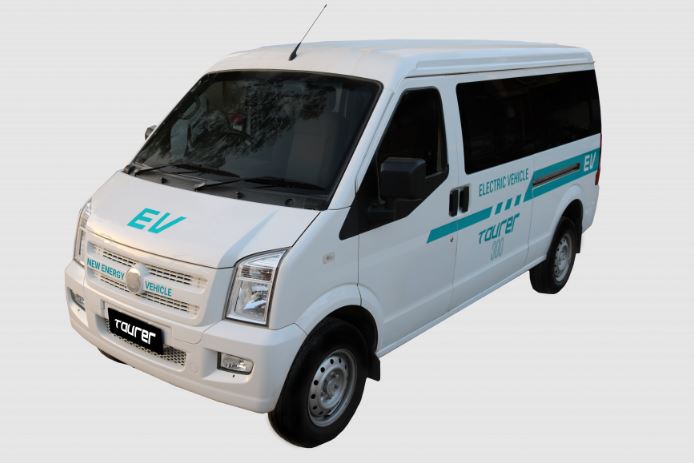 Trims & Variants:
GuGu 250 EV is available in Two variants Maximus & Tourer and the major differences between these are;
| | | |
| --- | --- | --- |
| Features | Maximus | Tourer |
| Seating Capacity | 2 | 11 |
| Electric Power Steering EPS | Yes | No |
| Anti-Lock Braking System (ABS) | Yes | No |
| Cup Holders | Yes | No |
| Front Fog Lights | Yes | No |
| Rear AC Vents | Yes | No |
| Power Door Locks | Yes | No |
| Keyless Entry | Yes | No |
| Climate Control | Yes | No |
Powertrain & Battery:
The GUGU Tourer 250 EV gets its power from a permanent magnet synchronous motor backed by a 42 kWh lithium-ion phosphate battery. It generates 60 kW (80 HP)of power and 200 Nm of torque. The minibus offers a Macpherson-independent suspension at the front and a leaf spring non-independent suspension at the rear. It also offers a regenerative braking system and an anti-lock braking system that enhances the safety of the passengers. The GUGU Tourer 250's battery charges quickly and can also charge at home with a slow 3/7.5 kW charger.
Performance & Drive:
The GUGU Tourer 250 EV's performance depends on various factors, including road conditions, driving style, payload, and battery charge level. According to the manufacturer, the minibus can cover up to 225 to 250 kilometers on a single charge, which may be affected by several factors. The vehicle features a regenerative braking system that converts the kinetic energy generated during braking into electrical energy and stores it in the battery. This system, along with the hydraulic braking system, helps to extend the range and improve the vehicle's efficiency. Moreover, the GUGU Tourer 250 EV comes with an anti-lock braking system (ABS) that prevents the wheels from locking up during hard braking and maintains steering control to prevent skidding or sliding. These safety features, including regenerative braking and ABS, ensure reliable and efficient stopping power. Additionally, the vehicle boasts a modern design with air conditioning, power windows, and a multimedia system with a touchscreen display. The low floor height of the minibus makes it easy for passengers to get on and off the vehicle. However, it is crucial to consider factors such as cost, maintenance, and suitability before making a purchase decision.
Suspension System:
The GUGU Tourer 250 EV has a suspension system designed to provide a comfortable ride for passengers, even on uneven roads. The front and rear independent suspension with hydraulic shock absorbers and coil springs offers good handling, stability, and ride comfort. The multi-link suspension at the rear provides stability and ride comfort, making it suitable for minivans and SUVs with a high center of gravity. However, the performance of the suspension system may be affected by factors such as payload, road conditions, and driving style. Regular maintenance and proper care can help to keep the suspension system in good condition over time.
Charging Time:
The charging time for the GUGU Tourer 250 EV's battery depends on various factors such as the remaining charge level, the battery pack's capacity, and the charging rate. It takes approximately 8 hours to fully charge the battery using a standard 220V AC power outlet, but the charging time may vary depending on the charging rate and other factors. The minibus can also be charged using a DC fast charger, which significantly reduces the charging time.
Performance Metrics:
The GUGU Tourer 250 EV can reach a maximum speed of 90 kilometers per hour, with approximately an average mileage of 80 kilometers per hour without AC and 50 kilometers per hour with AC.
Exterior Design & Features:
The GUGU Tourer 250 EV has an overall length of 4500 millimeters, width of 1680 millimeters, and height of 1985 millimeters, with a wheelbase of 3050 millimeters. The front of the vehicle features a bold and angular grille with sharp headlights and LED daytime running lights, while the overall design is clean, minimalistic, and focused on functionality and practicality. The minibus has a low floor height and dual sliding doors, making it easy for passengers to board and exit the vehicle. Large windows provide ample natural light, creating a spacious and comfortable interior environment. The rear of the GUGU Tourer 250 EV has a simple and clean design, with a large tailgate and prominent taillights. The small spoiler on the roof helps to improve aerodynamics and reduce wind resistance.
Interior Design & Features:
The interior design and features of the GUGU Tourer 250 EV are modern and clean, with a focus on functionality and ease of use. The seats are designed to be supportive and comfortable, with durable upholstery and adjustable headrests. They are arranged in a forward-facing configuration, with grab handles and handrails for added safety and stability. The minibus can accommodate up to 11 passengers and provides ample legroom and headroom for a comfortable ride. The dashboard is simple and user-friendly, with a digital instrument cluster and a large touchscreen display for the infotainment system. The infotainment system features GPS navigation, Bluetooth connectivity, and a backup camera, making it easy for drivers to stay connected and navigate on the road. The vehicle also offers a power control rearview mirror, EPS, remote control key, and power windows.
The Tourer 250 EV comes equipped with several safety features, including an Anti-Lock Braking System, 11-point seat belts, a safety cage-type body, a front anti-collision system, and a fire-retardant roof.
KEY FEATURES:
11-Seater Mini Bus
Multi-Purpose Electric Vehicle
More Functions
Cargo Space Configurable
Dual Sliding Doors
Good Mileage
Downhill Regenerative
ABS Brakes
LED Headlights
Fog Lights
Android Display
LIPo4 Super Long-life Battery
Half-Integral Reinforced
Front Anti-collision System (optional)
Safety Configuration (Optional)
Fire Retardant Roof
Regenerative Braking
11 Points Seat Belts
Driver Air Bag
Air Conditioning
Pros & Cons:
Pros:
Pros of the GUGU Tourer 250 EV include its eco-friendliness, cost-effectiveness, spacious and comfortable interior, quiet operation, and low maintenance requirements.
 Economical and Environmental Friendly Electric Commercial Vehicle
Exceptional Mileage on a Single Charge
Same Shape as DFSK C37, So does the exterior parts availability is easy
Can be charged in the home as well
Cons:
However, some cons include its limited range, long charging time using a standard AC power outlet, limited availability, and high upfront cost in infrastructure.
Late Charging Issues
Compact Leg Space in Tourer Variant
Low Build Quality
Major Competitors: