2024 Honda Accord Hybrid
11th Generation
Sold in the USA = 2023-Present
Overall Rating =

10/10
2024 Honda Accord Hybrid Price in the USA
Accord LX

Start at:

27,295 $

Accord EX

Start at: 

29,060 $

Accord Sport Hybrid

Start at:

31,345 $

Accord EX-L Hybrid

Start at:

32,990 $

Accord Sport L Hybrid

Start at:

33,325 $

Accord Touring Hybrid

Start at:

37,340 $
The Honda Accord Hybrid is a  popular version of the popular Honda company. It combines a traditional internal combustion engine with an electric motor and a battery pack to improve fuel efficiency and reduce emissions. The Accord Hybrid offers a more environmentally friendly and fuel-efficient alternative to the standard gasoline-powered Accord. Although SUVs are popular right now, there are still quite many people who want a practical and fuel-efficient mid-size family car. The Honda Accord is the top choice in this category. The basic models of this well-known four-door car use a small turbocharged engine, but most versions come with a very efficient setup that combines a four-cylinder engine with an electric motor. No matter which version you go for, the car's power is sent to the front wheels. The Accord got a new look in 2023, and many people agree that the new design is the best it's looked in a long time. The Honda Accord is a good-looking and reliable family car that benefits from the expertise gained over 10 previous generations. It remains one of the most well-designed and spacious midsize sedans available. What sets the Accord apart is its ability to be useful without being dull. The current Accord belongs to the 11th generation, introduced last year. A major update for this generation is that Honda has made a hybrid engine a standard feature on four out of the six available trims.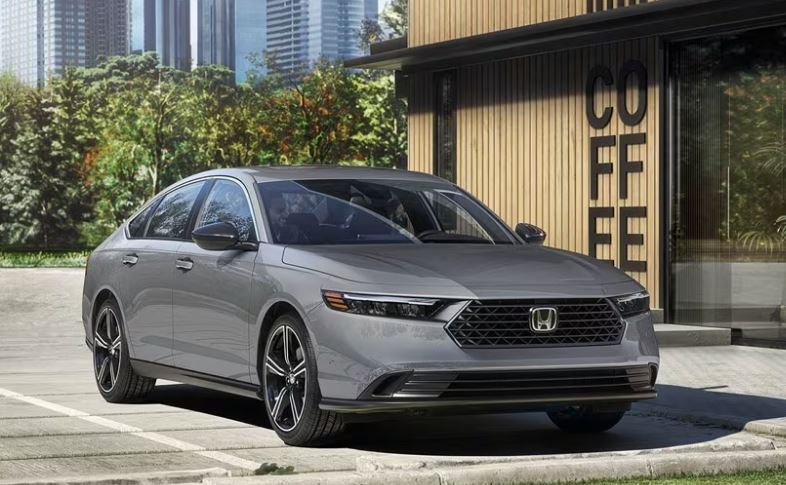 Trims & Variants:
The Accord offers six different versions: LX, EX, Sport, EX-L, Sport-L, and Touring. All versions will offer a hybrid powertrain from 2024 onward in Honda Accord.
Base Trim LX : The base trim typically came well-equipped with features like the Honda Sensing suite of advanced safety and driver-assist technologies, dual-zone automatic climate control, a touchscreen infotainment system, Apple CarPlay, Android Auto, and more.
EX: The EX trim often added features such as a power moonroof, heated front seats, a blind-spot monitoring system, keyless entry with push-button start, and additional USB ports.
EX-L: The EX-L trim typically included leather-trimmed seats, a premium audio system, a power-adjustable driver's seat, and other premium interior touches.
Touring: The Touring trim was the highest level of the Accord Hybrid and often featured premium amenities like adaptive cruise control, a head-up display, built-in navigation, heated rear seats, wireless phone charging, and more.
Honda Sport-L: The Accord Sport-L features a hybrid powertrain that balances fuel efficiency and performance, with a 0-60 mph time of 7 seconds. While it lacks the sportiness of previous Accords, its innovative programming mimics a traditional automatic transmission for smoother shifting.
Engine, Power & Fuel Economy:
The LX and EX versions of the Accord use a turbocharged 1.5-liter four-cylinder engine that produces 192 horsepower. This power is sent to the front wheels through a continuously variable transmission (CVT), which is a type of automatic transmission. Unlike some other cars, the Accord doesn't have the option for all-wheel drive, which means power is sent to the front wheels only. For the 11th generation model, the hybrid powertrain takes a more important role in the lineup. It's like the heart of the car's power. This hybrid setup combines a 2.0-liter four-cylinder engine with two electric motors.  They give a total of 204 horsepower. This hybrid system is the only choice if you go for the Sport, EX-L, Sport-L, or touring versions of the Accord, but from 2024 Honda Accord  to have a hybrid powertrain in all variants. It is more efficient and eco-friendly compared to the regular engine options.
Performance & Drive:
The 2024 Honda Accord hybrid is to deliver the same performance as the previous Honda Accord hybrid. Honda mentions that they have made some adjustments to the suspension and steering of their family sedan to make the ride smoother and improve how it handles on the road. There will be no big change from the previous version. This present model of Accord  feel just as comfortable and enjoyable to drive. The Touring version goes from 0 to 60 miles per hour in 6.6 seconds. The regular Accord without the hybrid engine took a bit longer, around 7.3 seconds, to do the same thing.  The fuel average of the Honda Accord hybrid present model will be the same as the previous model, as the powertrain is the same. If you're interested in the hybrid version of the Honda Accord, you will sure expect it to give you much better gas mileage. The regular Honda Accord, which runs on gasoline, was estimated by the EPA to get around 29 miles per gallon (mpg) in the city and 37 mpg on the highway. That's already pretty good for a car with a regular engine. If you're looking for even better fuel efficiency, you might want to think about the hybrid version.  The hybrid Accord was rated to get about 48 mpg in the city and 51 mpg on the highway. That means it can go much farther on the same amount of fuel. The Accord Hybrid's steering is typically responsive and well-weighted, allowing for easy maneuverability and control. It offers a good balance between providing feedback to the driver and being light enough for everyday driving. The suspension system of the Accord Hybrid provides a smooth and comfortable ride, soaking up road imperfections effectively. It's tuned to provide a good balance between comfort and agility, making it suitable for both city driving and highway cruising. The Accord Hybrid isn't a sports car, but it generally handles corners well. It maintains its stability and composure through turns, and its body roll is well-controlled, giving the driver confidence when navigating twists and bends in the road. The regenerative braking system used in hybrid vehicles like the Accord Hybrid helps capture energy during braking and provides a smooth transition between regenerative and traditional friction braking. This can contribute to a more consistent and confident braking experience. We expect similar features in the 2024 Honda Accord as well.
Exterior Design & Features:
The 2024 model of Accord Hybrid will have a similar design to the previous Honda Accord Hybrid. It features a sleek and streamlined profile, with smooth lines that flow from the front to the rear of the vehicle. The front grille and headlights of the Accord Hybrid often feature a contemporary design with bold lines and chrome accents. The grille might have an active shutter system that opens and closes to manage airflow and optimize cooling when needed. LED headlights, daytime running lights, and taillights are in the Accord Hybrid's design. LEDs offer bright illumination, energy efficiency, and a distinctive appearance. It features hybrid-specific badging to differentiate the Accord Hybrid from its non-hybrid counterparts.
Interior Design & Features:
In 2023, Honda introduced a completely new generation of the Honda Accord which is 11th generation that is why there will be not any drastic changes to the car in coming years.  The inside of the Honda Accord will probably look quite similar to other Honda vehicles. It might have a dashboard with different levels, giving it a modern feel. The instrument cluster, the part with the speedometer and other gauges, will also likely have a modern look. The Accord had an attractive interior design which looked like a honeycomb covering the air vents. We think Honda will keep this design element in the upcoming year models. The 2024 model will use the same screen as the previous year model and put it in the same place on the dashboard. You can link your phone with Apple Car Play or Android Auto to use your phone's apps on the car's screen. You can also connect your devices through Bluetooth, and there are places to plug in your gadgets using USB ports. The Accord will likely have the same spacious interior as a good sedan. The trunk had around 16.7 cubic feet of space, which is enough room for a bunch of suitcases or other things you might want to take along.
Safety & Features:
The 11th generation Honda Accord has been awarded the Insurance Institute for Highway Safety's (IIHS) highest honor, the 2023 TOP SAFETY PICK+ (TSP+) rating. This recognition reflects the Accord's outstanding safety performance, achieving top ratings in six out of seven evaluated categories, including front crash prevention during both daytime and nighttime pedestrian avoidance tests. Honda's commitment to safety extends across its lineup, with six Honda models earning the TSP rating or better for latest generation, including the Accord, HR-V, and CR-V. The inclusion of the Honda Sensing® suite as a standard feature in all Honda models, along with advanced safety technologies and a robust safety structure, contributes to these achievements. Furthermore, Honda models have consistently received 5-Star Overall Vehicle Scores in NHTSA's model year NCAP testing.
Pros & Cons:
Pros:
Fuel Efficiency: The 2024 Honda Accord Hybrid offers excellent fuel efficiency, making it an environmentally friendly and cost-effective choice for those who prioritize saving on fuel costs.
Variety of Trims: With six different trim levels, including hybrid options for all, the Accord allows buyers to choose a model that suits their preferences and budget.
Smooth Ride: The Accord provides a comfortable and smooth ride, with well-tuned suspension and responsive steering, making it suitable for both city and highway driving.
Safety Features: The Accord is equipped with a range of advanced safety features, including lane departure warning, blind-spot monitoring, lane keep assist, and automatic emergency braking, enhancing overall safety.
Interior Quality: The interior design is modern and attractive, with a user-friendly infotainment system that includes features like Apple CarPlay and Android Auto. It offers ample space for passengers and luggage.
Cons:
Lack of AWD: The Accord is front-wheel drive only, which might be a drawback for buyers in regions with harsh winter conditions who prefer all-wheel drive (AWD) for added traction.
Limited Performance: While the Accord Hybrid is fuel-efficient, it may not provide the same level of performance as some competitors, particularly in the higher trim levels.
Hybrid Price Premium: The hybrid models typically come at a slightly higher price point compared to their non-hybrid counterparts, which can affect the overall cost of ownership.
Major Competitors:
Toyota Camry Hybrid: The Toyota Camry Hybrid is one of the closest competitors to the Honda Accord Hybrid. It offers similar hybrid technology, fuel efficiency, and a comfortable ride. The Camry Hybrid has been a strong contender in the midsize hybrid sedan segment for years.
Ford Fusion Hybrid: The Ford Fusion Hybrid was a competitor known for its hybrid and plug-in hybrid variants. It provided a spacious interior and a smooth ride. However, Ford discontinued the Fusion in the United States after the 2020 model year.
Hyundai Sonata Hybrid: The Hyundai Sonata Hybrid offered a stylish design, a comfortable interior, and a competitive hybrid powertrain. It aimed to provide a balance of efficiency and practicality.

Kia Optima Hybrid (Now Kia K5 Hybrid): The Kia Optima Hybrid, now known as the Kia K5 Hybrid, shared its platform with the Hyundai Sonata. It provided similar hybrid technology, a comfortable ride, and modern features.

Chevrolet Malibu Hybrid: The Chevrolet Malibu Hybrid was another option in the midsize hybrid sedan segment. It aimed to combine fuel efficiency with a comfortable cabin and a smooth ride.

Nissan Altima Hybrid: The Nissan Altima Hybrid, while less common than some rivals, offered a hybrid powertrain and comfortable seating. However, it was not as widely available as some other hybrid sedans.

Volkswagen Passat GTE (Europe): In some global markets, including Europe, the Volkswagen Passat GTE was a competitor. It offered a plug-in hybrid powertrain and the familiarity of the Passat nameplate.

Mazda6 Hybrid (Europe and some markets): In certain markets, such as Europe and some Asian countries, the Mazda6 was available with a hybrid powertrain. Mazda aimed to provide a more engaging driving experience with its hybrid technology.