Honda Insight
Sold in Pakistan = 2008-2021 (Imported Model)

Generation = 2nd (Discontinued) & 3rd
Price in Pakistan =  16-77 PKR

(As Per Generation, Model & Condition)
This was among the most awaiting vehicles while searching on YouTube you will find thousands of videos related to just the 2019 year model which is enough to brief you if how famous this vehicle is? This is the 3rd generation of Honda insight whereas the 2nd generation of Honda insight lasts from 2009-2014. When looking back at the history of Insight you will find that 1st two generations of Honda insight were flops but this 3rd generation is much better than previous generations compared to design performance and features. In the current generation, nothing is taken or borrowed from two previous generations, this is totally new based on the latest technology and frame.
Exterior, Interior Design of Honda Insight:
Honda insight for 2021 has a lot of influence from Civic and Honda Accord and there is nothing similar to the last generation that was similar to Toyota Prius.
Exterior:
The overall exterior of insight is beautiful and charming; starting from the front that splits into two parts upper and lower while the upper chromed part looks more like accord and the lower area looks like civic. Even this is a mixture of these two but it looks more beautiful and better than both. Headlights of insight add further charm to its external beauty where chrome integrates right into them, these headlights are full-LED and are standard on all versions. Looking from the side it looks similar to civic but a little bit sleeker and longer than civic. The rear side of the insight is as attractive as the front Because of sleek LED tail lights instead of Blocky ones on the Accord and Civic and the bottom of the rear side has chromed accent that also covers the exhaust pipes. This a great and good looking vehicle; wheels also play important role in its good looks Touring version of insight has 17-inch alloy wheels whereas LX and EX share 16-inch alloy wheels.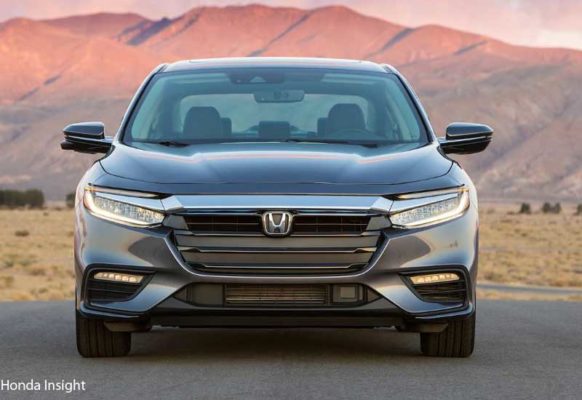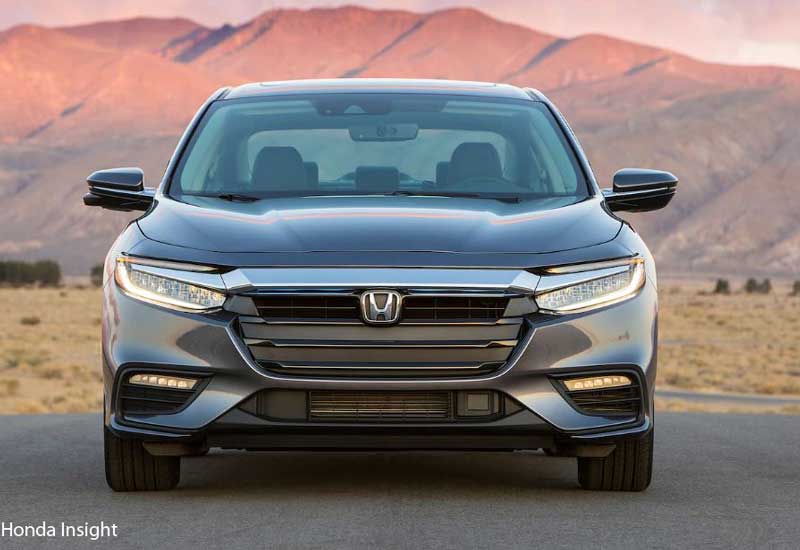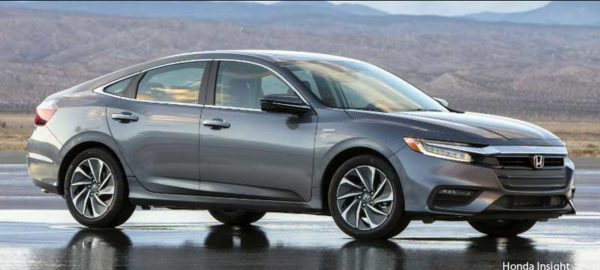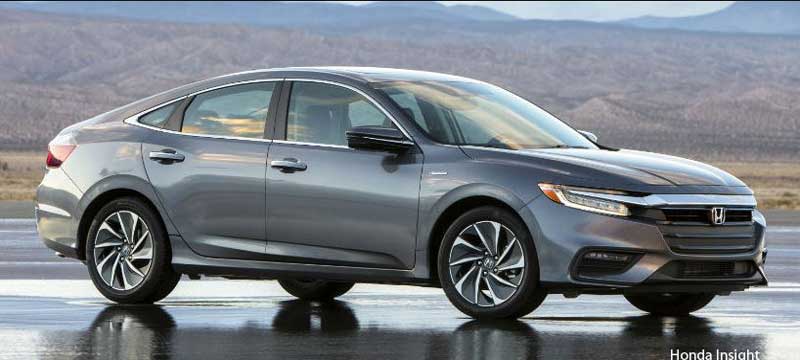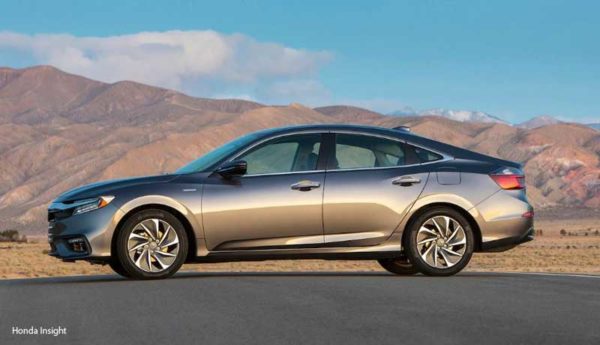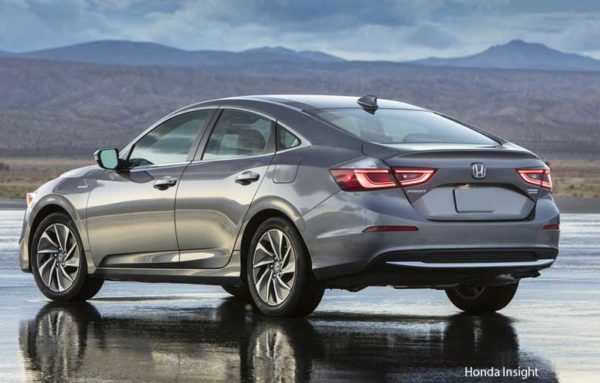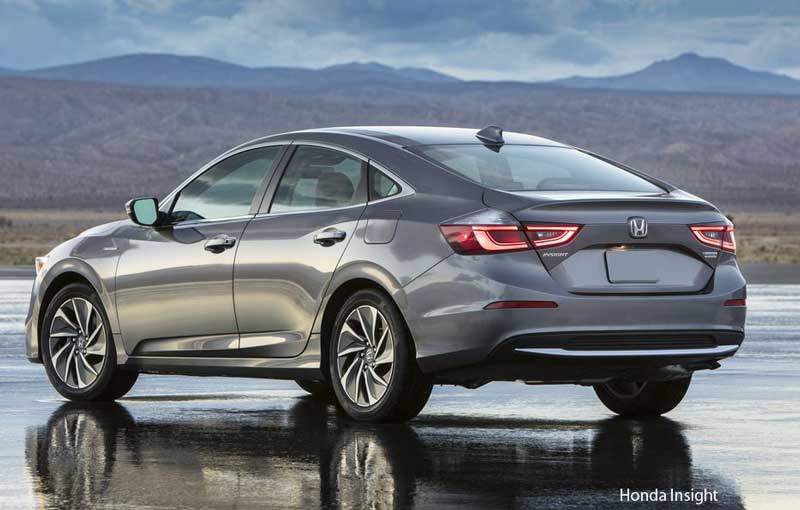 Interior:
Just like civic which has the best interior in the class this also has a beautiful and innovative interior made up of high-quality material. Same like outside civic influence can be seen inside as well; LX and EX versions of Honda insight have a high-quality cloth covering for seats while touring has leather, despite having cloth material on seats all the versions of insight have use of leather inside doors, on the steering wheel and armrests. The entire upper dash is soft-touch plastic-like civic and the dash embeds an 8-inch display in touring and a 5-inch display on the other two versions. Digital gauges are standard all across the trims those are actually the same as an accord and have nice screen and graphics.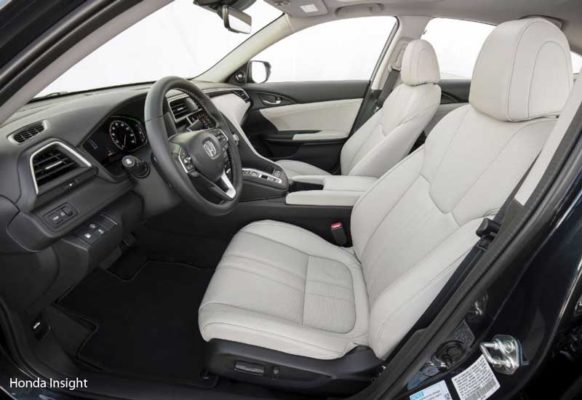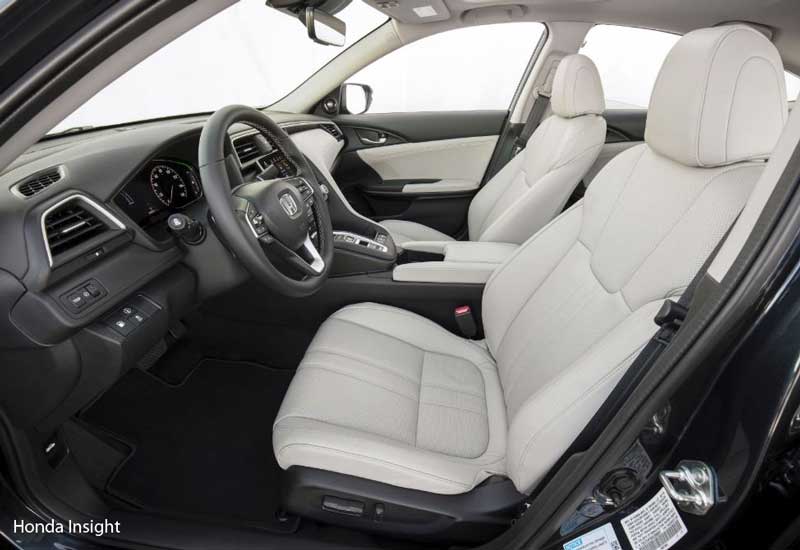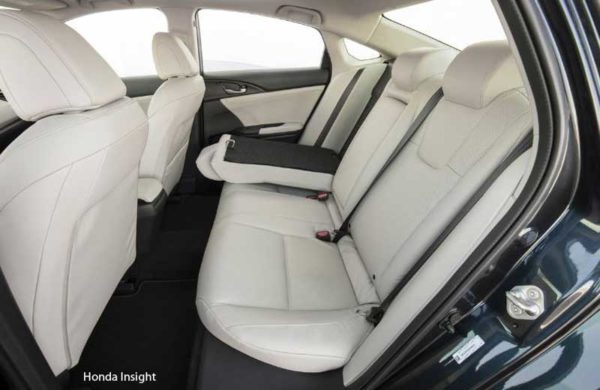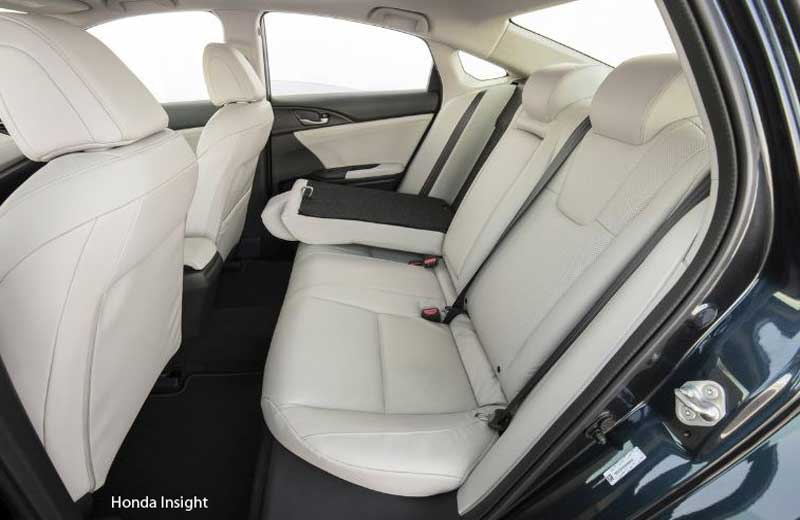 Updates in Honda Insight:
Honda Insight is a hybrid car of the Honda Company that falls among Mid Sized Sedans has now entered in the 2021 year model with the same exterior designing for all trims and Pricing for Base trim but have made some changes to optional safety features. Higher trims EX and Touring have also got revised Price tag with Addition of 500$ Because of new optional features.
Newly introduced features in Honda Insight:
As the previous year model of insight was having a lane watch camera system that gives the Camera view of the passenger side now in 2021 higher trims of insight have a Blind-spot Monitoring system with a warning light those illuminates when a vehicle sense another vehicle in the blind spot, other features include; Cross-traffic alert while driver Assistance features will remain standard with Honda Sensing Bundle.
Furthermore, a New Metallic Red Color has also been added to the 2021 Model of Honda Insight.
Engine, Power & Performance:
This front-wheel-drive vehicle has a 1.5-liter engine paired with electric motors and a lithium-ion battery pack which produces 151 horsepower and 134nm@5000rpm of torque. The top speed of insight is about 125 mph and gives an amazing fuel economy of 55 miles per gallon in the city, 49 miles per gallon on the highway, and 52 combines (LX). It has 30 more horsepower than Toyota Prius and also has more torque than the civic.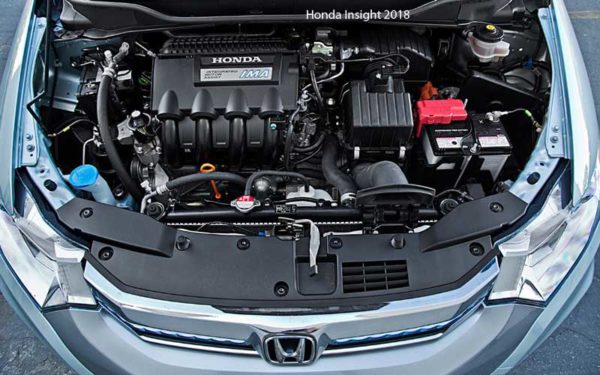 Comfort and Safety:
Among its three versions, Touring has more features than the other two, there is available dual-zone climate control in Touring while the other two have single zone and touring has 3 stage heated seats while absent in the other two. Seats of insight are comfortable and sporty, LX and EX versions have manual adjustment options while touring has 8-way power and lumbar support. The rear cabin is spacious has enough head and legroom but things that are missing on the rear include air vents, heated seats, and power options. It has 3 different driving modes econ, EV, and Sports, and gives pretty good and comfortable ride quality will all modes.
Safety:
There are no official ratings yet but Honda has included an entire suite of the active safety features standard on all versions while a lot of expensive electric vehicles still charge extra for these.
Technology:
Honda link system is updated with the latest software; the screen has a floating design and has better touch response and graphics. Apple car play and android auto are standard on Touring and EX while optional on LX, LX has 6, EX has 8, and touring has 10 high-quality speakers.
  Storage:
It has great storage like civic and also has a large trunk for the class and finally don't forget to write reviews for Honda insight 2021, complete specifications and features are also added for a quick overview.
Price:
The latest Model Honda insight price will be around (3rd Generation) 65 to 78 lacs in Pakistan (if the import is allowed) because civic is in sale for 36-44 lacs while insight is Hybrid and has updated design and features.