Infiniti Q50 3.0 Premium
Competition has surely risen so much because there has come out many models to threaten the leaders of sedan BMW and Mercedes. Infiniti Q50 is one of these that threaten the leaders and also a bestselling sedan. There are different trim levels available in Infiniti Q50 like there is available 2.0 t, Sport and hybrid. Major differences among these versions are engine configurations also with just few differences in features. Today we are discussing about 3.0t Premium, other versions will discussed with their specifications and features separately.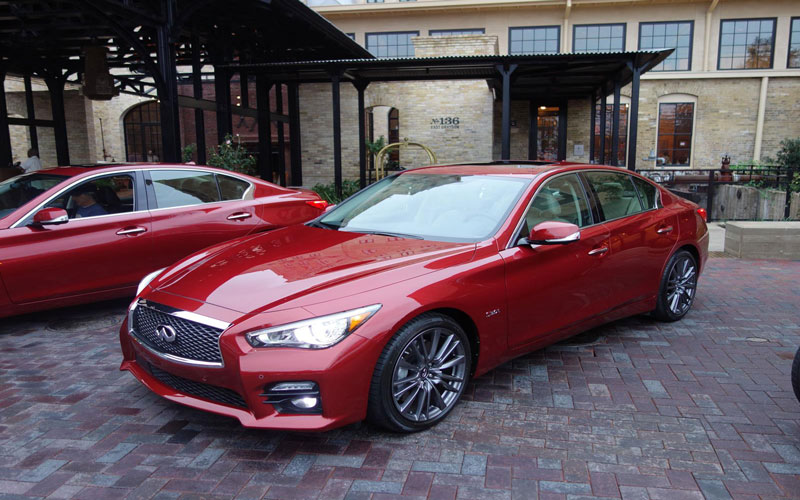 Design:
There are no major changes in 2017 leaving few up gradations, but without any major changes Infiniti Q50 is still handsome looking car because it is combination of Sporty looks and Luxurious interior, let's talk about its exterior sporty look first. Starting from front all Infiniti Q50 has beautiful Mesh grill that is chrome surround, Major change done on its front is its headlamps that are now Led Headlamps with day time running LED lights. Little below there are present fog lamps that fit together with front turn indicators. Many different things are optional in different trim levels like in Premium 3.0t 17 inch aluminum alloy wheels are optional whereas 17 inch are fitted as standard. Moving from front to rear body of car is nicely shaped and there given Mirrors with integrated turn lights and chrome windows trim on way to the rear. One thing that is special in it its length that is more than BMW as well as from Lexus, it got 6 inch extra from BMW while 4 inch from Lexus this is the place where Infiniti make  lot  difference. Now on the back side of car taillights are also LED where between these there are present 2 chrome accents that look aggressive, below there are present two chrome exhausts.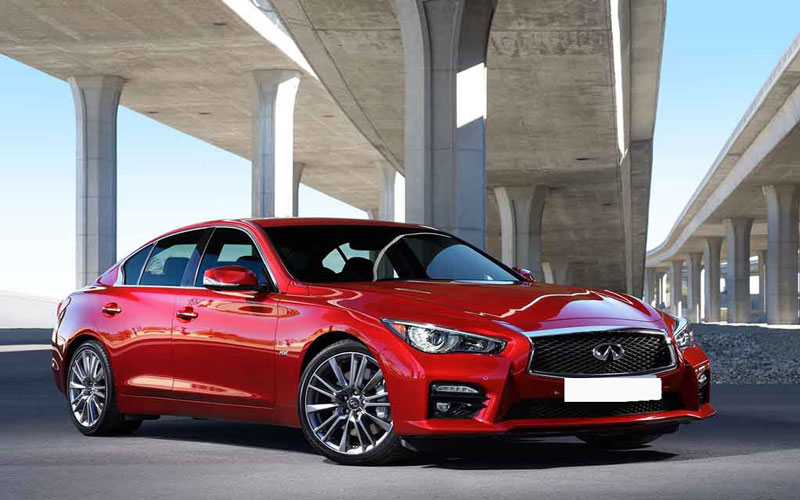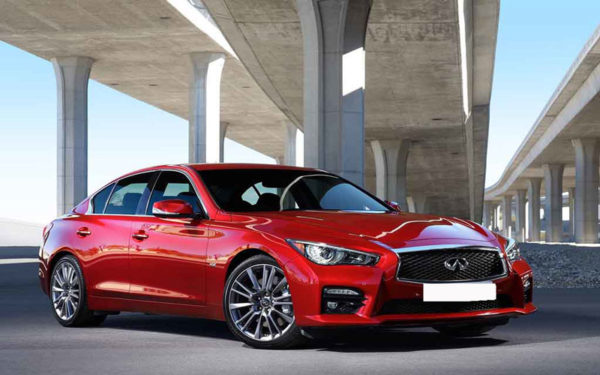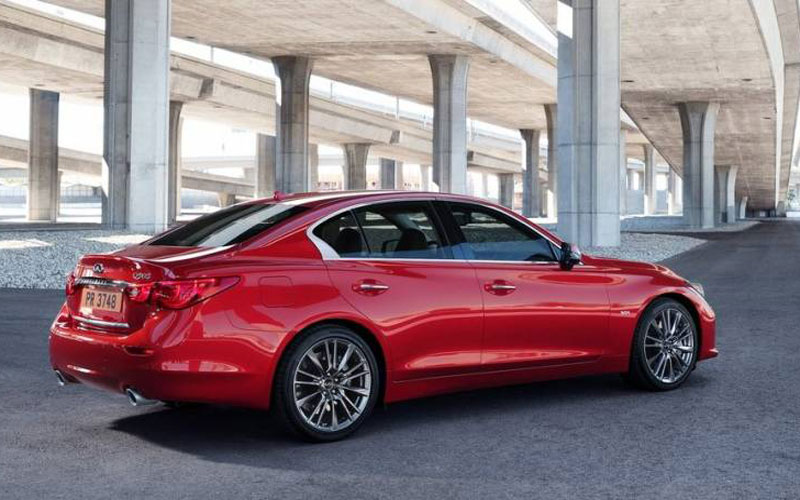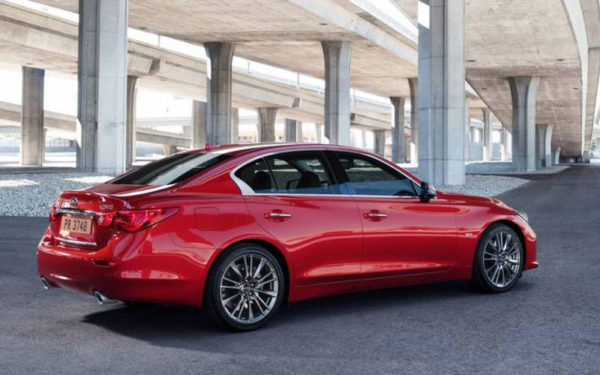 Leaving Exterior let's checks its interior; sitting inside the car one thing that you notice first is nice color combination that has given for interior, there are multiple choices for color combination available but most of them are optional, from my point of view the best one is Maple wood with stone leather that can cost round about 400 dollars because its optional in premium version. Everything inside car fitted so nicely you have 2 displays one is 8 inch above and 2nd is  7 inch below , upper one mostly used for navigation but the below one gives you controls near bout all controls related to car. Covering material used in car is Leather that is also applied on door panels and arm rests that look best if you having combination with maple wood (image for interior attached). Steering wheel is also leather wrapped that give you nice control over your phone by using button embed on its left and nice cruise control for which buttons are embed on its right side. Front dashboard is made up of plastic not ordinary but nice soft plastic that suites best with all interior. Exterior of car is also available in multiple beautiful colors but the one I like is dynamic sun stone red.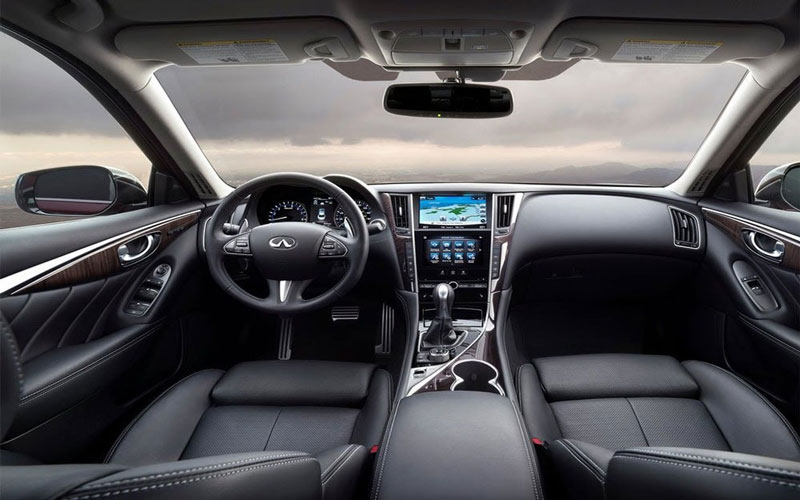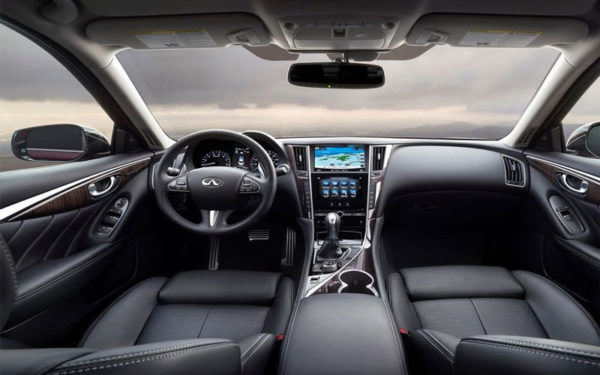 Engine and Transmission:
Push button start is standard in all versions of Infiniti but difference come with engine this 3.0 t premium version is available with 6 inline cylinders that is able to produce 300 horse power with 6400 Rpm. Fuel efficiency for different trim levels is different and best with Hybrid, this 3.0 t premium gives 19 with city and 27 on highway that combine gives 23 with its rear wheel drive while with All wheel drive you will get 20 within city and 29 on highway. Both all Wheel and Rear wheel drive available with 3.0 t, this one is all wheel drive version.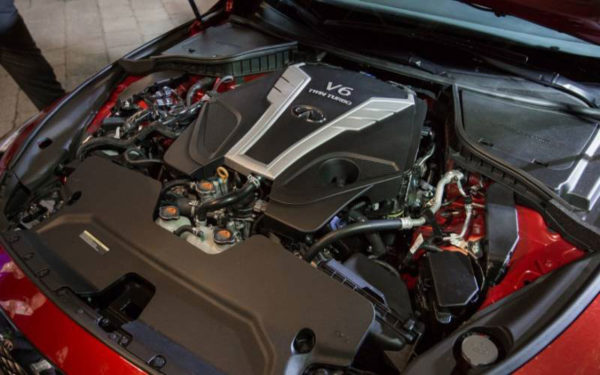 Transmission is 7 speeds automatic that is standard in all versions so there is no need to worry about that you can also use paddle shifter that is available with wheel. Steering wheel standard in all versions is electric power assist with speed sensing but you can also have direct adaptive power steering that is optional in this version, there is another thing optional within premium version related to steering wheel that is adjustment options. Top speed of Infiniti Q50 is 153 miles per hour that only take 4.5 seconds to reach from 0 to 60.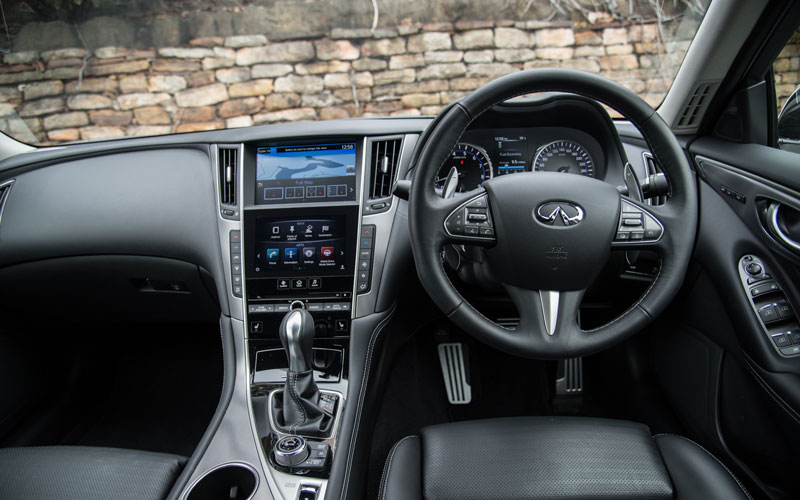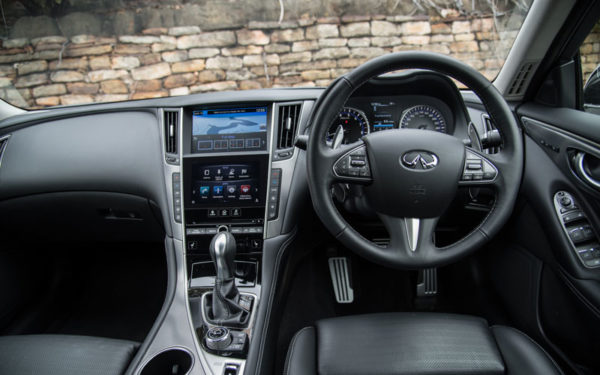 Comfort and Security:
I will give rating 4 out of 5 for this zone yes it has better options for securing you and making you comfortable.  Starting from comfort you have automatic climate control standard in all versions, seats of Infiniti Q50 are comfortable one problem with seats is these are not ventilated and heated, front seats heated are optional in premium but rest of things are added like arm rest on front rears with 2, 2 cup holders, More you have auto adjustable front seats with manual thighs adjustments. As length of car is more than BMW and Mercedes so it has lot of space you will face no problem while sitting inside car, it has lot of head room and leg room both on front and rear.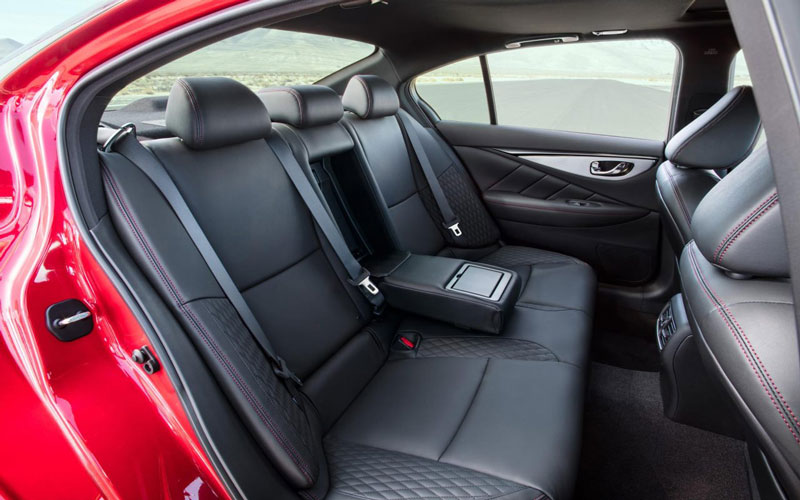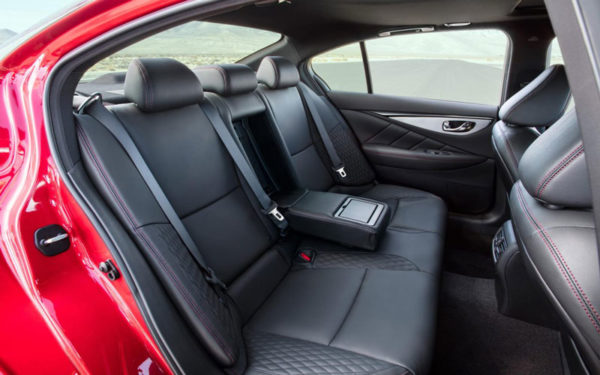 Now the security that is managed perfectly in Infiniti Q50; there are lot of options available to make it better from security point of view first of all making you save from collision it has forward emergency braking, predictive forward collision warning. You have airbags present on front, rear, side as well as for driver knee, one important feature that is present in Infiniti Q50 and I haven't seen in other versions is 360 degree rear view camera that shows you everything around the car. At the end of discussion only one thing I will say it is the best sedan from all point of views. Must share your reviews and comments related to Infiniti Q50 2017 thanks.