2023 Chevrolet Corvette Stingray
Sold in the USA = 2020-Present
Generation = 8th facelifted
2023 Chevrolet Corvette Price in the USA:
Corvette 1LT

 Starts at:  

$62,195 

Corvette 2LT

Starts at: 

$69,495 

Corvette 3LT

Starts at: 

$74,145

 
Chevrolet has given a major facelift to Corvette for the year 2020 and this is one of the biggest redesigns we have seen since its sixty-seven years of history. 2020 Corvette is introduced with a mid-engine design delivering you more power of 495 hp and this eighth generation of Corvette serves you dual-clutch automatic transmission thus its amazing power, quick acceleration and refined handling techniques are quite impressive. Chevrolet Corvette is the top-rated sports car declared number one among all other sports coupes. It is available in both options either a coupe body style or convertible body with the retractable top while the coupe comes with a remove able roof panel.
Trim & Versions:
 Both coupe and convertible Corvette comes in three trim options that include 1LT, 2LT and 3LT. 1LT is the base trim that is equipped with all standard features like leather upholstery, eight inches infotainment screen, ten speakers and a keyless entry. 2LT trim is upgraded with fourteen speakers, heated seats with ventilation, head-up display and interior color option of your choice while 3LT trim features GT2 sport seats and more color options for your cabin. It also offers a Z51 performance package that slightly increases Corvette's power and features a cooling system along with adaptive suspension dampers. We will be discussing 2LT coupe in detail.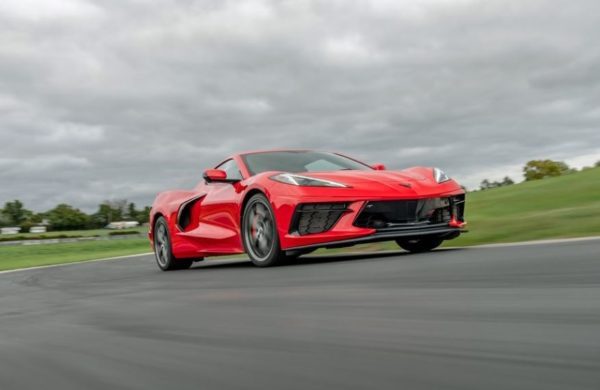 Engine & Power:
It has got a new mid-engine layout now behind the front seats and the new powerful V8 engine is 6.2 liters in a capacity that gives a horsepower of 490 hp and torque of 470 pounds-feet. The Z51 performance package further increases power to 495 hp and gives you more confidence in your drive with an innovative suspension system capable to read roads in every millisecond and adapting itself to the road condition to run smoothly in 10 to 15 milliseconds. It offers you an eight-speed automatic transmission is operated by a push-button gear lever mounted on a central console or paddle shifter fixed on the steering wheel.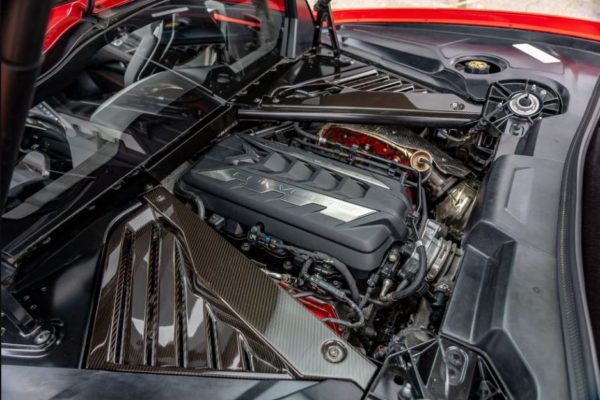 Performance:
 This top-rated sports Rear Wheel Drive car gives you impressive acceleration sprinting from 0 to 60 miles per hour in 2.9 seconds and runs to quarter-mile in 11.5 seconds with a top speed of 120 miles per hour. The steering response and high handling techniques of this all-new Corvette have been improved a lot from its previous generation delivering super thrill on roads. The fuel economy of the Corvette is average enough giving you a combined mileage of 20.1 miles per gallon.
Exterior Design & Features:
2020 Chevrolet Corvette is beautifully sculpted with a mid-engine layout giving it a powerful statement. The aerodynamic design of the Corvette hugs the ground for lower air resistance best for high-speed drives.  The convertible style lets you enjoy the windy breeze running on your face. The wide fenders give a more aggressive stance and confidence accommodating wider wheels while the rear spoiler helps to keep the car on track by providing downforce.
 The beautifully sculpted Z06 styled grille on front holds a Chevrolet badge on it while fender vents provide you with increased airflow. The door handles and hatch are perfectly merged into the body to give it a smooth and clean appearance and the mid-engine layout can be seen from the rear hatch window. The sporty and aggressive stance is accomplished with nineteen inches ultra-light wheel on the front and twenty inches wheels on the back.
Interior Design & Features:
The interior design of the Chevrolet Corvette is as striking as its exterior, with leather-covered seats and seating capacity for two adults with a heating and ventilation system. It is slightly difficult to get in and out of the car and the storage space on the front can carry some grocery bags while the rear trunk can carry golf bags while the rear storage is generous enough to carry remove able roof panel.
Eight inches touch screen is mounted on a central console with upgraded graphics easily connected with your smartphones to provide you with infotainment while fourteen speakers deliver a good sound system. It features GPS navigation, traction management software, head-up display, twelve inches instrumental panel screens, Bluetooth connection and 4G LTE Wi-Fi connection. Safety features of the 2020 Chevrolet Corvette include blind-spot detection, rear cross-traffic alert and a rearview camera.
Major competitors:
Major competitors of  Chevrolet Corvette include Porsche 911, Chevrolet Camaro and Ford Shelby GT350.