2019-2021 Honda City 7th Generation 
Read: Booking Price of Honda City Pakistan Revealed
Hond city Current Price in Thailand: 
Honda city S =

579,500 Baht

Honda city V =

609,000 baht

Honda city SV =

665,000 baht

Honda city RS = 

739,000 baht
7th generation of Honda City made its debut at 26th International Motor Expo held in Thailand in 2019 and started its sale on 24th December 2019. The 2020 Honda City is brought to us with many new changes in exterior and interior design and features. We can see the evolution of a design with eye-catching looks and bold styling. It is wider in shape than the previous model while equipped with a more advanced infotainment system and powerful engine.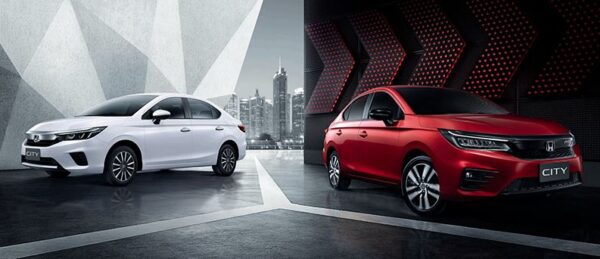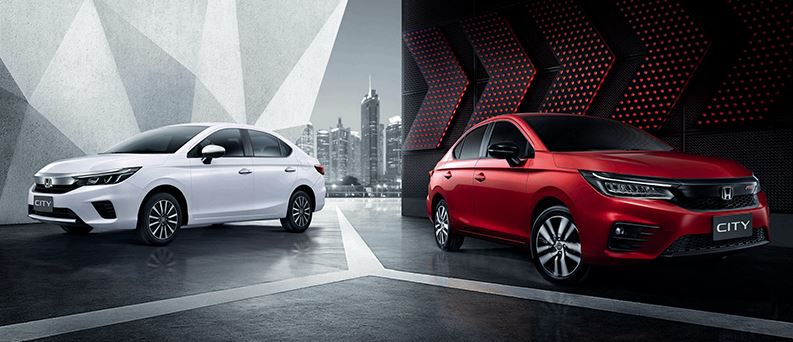 Trim Levels:
It will be available in four trims that include S, V, SV and RS in which RS is the new trim with more exciting features having sporty look and exclusively red paint on it. It will be launching in India and other countries by mid of 2020 or at the start of 2021. On the other hand, it has been running successfully in Thailand and Japan and continues its typical sedan looks with solid wing face and a major facelift can be seen in its headlight design which is more jewel eye in appearance and length is increased by hundred meters while height is lowered up to twenty-eight meters. Apart from it, the new turbocharged engine is more powerful generating more amount of power and available in both petrol and diesel engine option.
Engine, transmission and performance:
It is powered by an all-new 1 litres turbocharged 1000cc engine with VTEC technology and generating a horsepower of 120 bhp at 5500 rpm and torque of 173 Nm at 2000 to 4500 rpm. Previously it was charged by 1500 cc engine with i-VTEC technology but now it has been improved to a litre turbocharged engine and Honda is also planning to introduce a mild hybrid turbocharged technology engine too.
Transmission & Driving Dynamics:
It is offering seven-speed automatic and manual transmission with fuel efficiency capable of giving twenty-three kilometres per litre which is quite affordable. The steering wheel is provided with 3 spoke unit having angular controls fixed on it and very lightweight as compared to previous models which made it very easy to control and handle the car especially when turning around corners. Vehicle stability control and hill start assistance features made your drive easy and safe giving you enough confidence in your driving while the anti-lock braking system and brake assistance let you apply emergency brakes when required and makes the braking system efficient enough to apply brakes smoothly without giving huge jerks to the passengers sitting inside the cabin.
Exterior design and features:
It is 4553 millimetres in length, 1748 millimetres in width and has a height of 1467 millimetres which shows that it is longer, wider and shorter than the previous models. It has received major facelift changes in its exterior design which includes the sleeker layout of headlight that is now having integrated daytime running lights that helps in clearer vision in driving, fog lamps redesigned, the front bumper is bolder with sporty looks and lower bumper has wider inlets.
 Rear-end has received new creases depicting aggressive looks while the overall silhouette is the same as the previous model and the bumper design holds vertical reflectors on both ends. The alloy wheels are enlarged than the previous generation with a diamond cut design increasing the visual stance.
Interior design and features:
The interior design of Honda City 2020 is attractive enough with a redesigned cabin and the latest features. The cabin is designed with black colour and piano theme with a new layout of dashboard having aluminium trim pieces used inside. Infotainment is provided by eight inches touch screen that is compatible with Honda Connect, Android Auto and Apple Car play interface. Leather-wrapped seats are comfortable enough to provide you with a relaxing and comfortable journey. It gives accommodation to five passengers with a more spacious cabin than before having more legroom.
The cabin is equipped with the climate control system, audio control mounted on the steering wheel, air conditioning system, dual front airbags, rear parking sensors, panoramic sunroof, keyless entry, start and stop engine push button, emergency braking system, anti-lock braking system, traction control and seat belt warning alarm. Honda Care will be providing 24 hour's emergency help to the drivers in case of accidents and will be giving maintenance services.
Major competitors:
Major competitors of Honda City 2021 include Honda Civic, Toyota Corolla, Volkswagen Vento, Maruti Suzuki Ciaz and Hyundai Verna. Proton Saga, Changan Alsvin, Toyota Yaris
Price:
S trim of Honda City is available at a price of 579,500 Baht. V trim has a price of 609,000 baht while SV trim is available at a starting price of 665,000 baht and RS has a cost of 739,000 baht.