2023 Jaguar F Pace

 
Sold in the USA = 2016-Present
1st Generation
2023 Jaguar F Pace Price in the USA 
P 250
52,400 $
P 250 S
56,000 $
P 340 S
                                59,600 $

(Discontinued)

R Dynamic S
64, 800 $
SVR
89,500 $
Jaguar F-Pace was introduced in 2016 as a compact SUV, and it is the first SUV introduced by Jaguar Land Rover. Its design is based on the Jaguar C-X17 concept car, and it became one of the best SUVs in the United States of America and won the World Car of the Year at the New York International Auto Show held in 2017. The latest Jaguar F-Pace comes with a variety of power trains. Its cabin has luxury trim pieces, along with cutting-edge infotainment technology. The Present Jaguar F-Pace model is almost similar to the previous one with the same power trains but with few changes to exterior design. Jaguar F-Pace brings award-winning design and excellent performance to make your journeys extraordinary. The Jaguar F-Pace comes with more cargo area than any of its rivals, and its handling maneuvers are impressive, just like a sports sedan. In 2021 F-Pace model gets a revised front and rear design, and an updated and changed interior design with an 11.4-inch new infotainment screen introduced, now there is also the option of a V6 engine choice. The present Jaguar F-Pace has similar changes, and several improvements have been made compared to the previous models.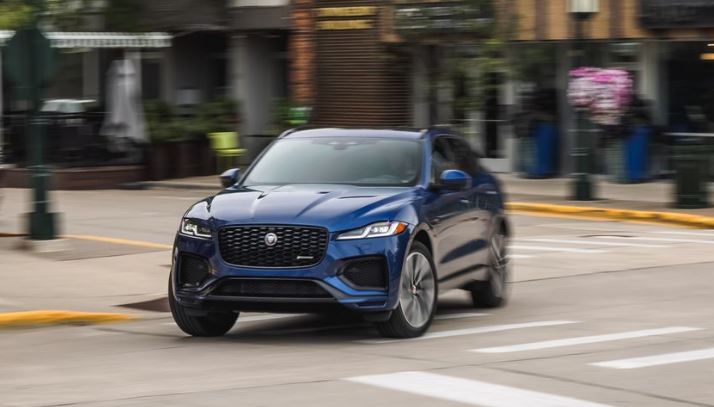 Trims & Variants:
The Latest Jaguar F-Pace is available in 4 trim levels in the United States of America. These trims are base trim, S, R-Dynamic S, and SVR trim.
The Base Model F-Pace offers heated mirrors, simulated leather upholstery, a panoramic sunroof, 13 speakers, an 11.4-inch infotainment screen, and a wireless charging pad.
The F-Pace S trim offers a power liftgate, leather upholstery, upgraded infotainment system, traffic sign reader, and adaptive dampers.
The R-Dynamic S trim offers a sporty exterior design, interior R-Dynamic styling, selectable drive modes, and adaptive suspension dampers.
The SVR trim offers 21-inches wheels, 14-way heated front seats, Faux-suede, leather upholstery, adaptive cruise control, 17 speakers, a heated windshield, and a Wi-Fi hotspot.
Engine & Power:
The power trains of all the variants are different. The Base F-Pace variant gets its power from a 2.0 liter, turbocharged, 4-cylinder engine that generates a maximum of 246 horsepower and a torque of 269 lb-ft. The F-Pace S trim gets its power from a 3.0-liter, 6-cylinder, turbocharged engine that generates a maximum of 335 hp and a torque of 354 lb-ft. The R-Dynamic S trim has a 3.0 liter, 6-cylinder engine that produces 359 horsepower and a torque of 405 lb-ft. Finally, the SVR trim gets its power from a 5.0 liter V8, a supercharged engine that generates a maximum of 550 horsepower and a torque of 516 lb-ft. All the variants offer an 8-speed automatic transmission, and a four-wheel drive is standard in all of them.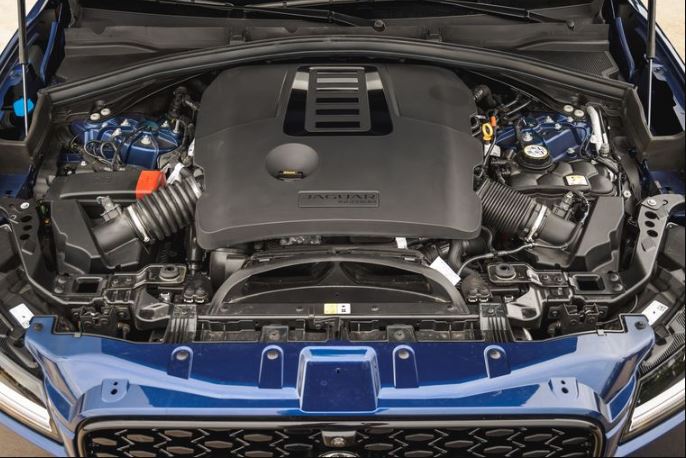 Performance & Drive:
All variants of the Jaguar F-Pace deliver efficient performance with intelligent driver technologies. It offers all-wheel-drive technology and shifts torque to the front wheels, maintaining control and composure to provide maximum grip. It offers several driving modes, among which the dynamic driving mode is for full dynamic performance, and the Eco mode consumes less energy and fuel while the rain mode, ice mode, and snow mode provide more grip in low-grip conditions. The ride quality is smooth and never harsh because of its well-tuned suspension system, and the larger wheels don't let the ride become challenging. The steering response is quick and gives confidence-inspiring feedback. The steering is scalpel-sharp, and the feedback from the roads remains phenomenal. The handling maneuvers of the Jaguar F-Pace are impressive, and it is fun to drive, turning around corners smoothly with minimum or no body roll. The braking system is efficient, and the brakes feel rock solid, applying brakes smoothly. The 8-speed automatic transmission works well with quick gear changes and holds gears smoothly. The fuel economy of the Jaguar F-Pace is not bad, and the inline-6 cylinder engine gives a mileage of 20 miles per gallon in the city and 27 miles per gallon on the highways. The 4-cylinder engine delivers 22 miles per gallon in the city and 27 miles per gallon on the roads. The acceleration of the Jaguar F-Pace is quick, taking 5.5 seconds to accelerate from 0 to 60 miles per hour. The higher-end trims offer adaptive cruise control and the latest driving assistance features to make your ride safer and more accessible.
Exterior Design & Features:
The exterior design of the Jaguar F-Pace is award-winning. The extraordinary design of this SUV has a new dynamic look with a deeper grille in the center and double J Blade F-Pace's signature headlights on its sides. The Jaguar's heritage-inspired diamond-cut logo is embedded beautifully in the central grille. The wider vents and F-Pace dynamic stance add aggressiveness to its design. The rear bumper is also redesigned, and the integrated exhaust finishers, along with sleek taillights, attract customers' eyes. The taillights have Jaguars double chicane graphics. The 21-inches alloy wheels in the higher-end trims add boldness and sportiness to their character.
Interior Design & Features:
The interior of the Jaguar F-Pace has two new color themes: Mars red and Siena Tan. The cabin has cricket-ball stitching with leather upholstery and is engineered with precision for enhanced tactility. It is a five-door SUV that gives a seating capacity for five adults, and the 2nd row of seats has a power recline feature along with 14-way power adjustments of the front seats, and the front sports seats are given with heating technology. There is an 11.4-inches curved LCD screen mounted on the dashboard that offers more clarity and is compatible with smartphones. There is an optional Wi-Fi system with a data plan, and it will offer a choice of media streaming along with 20 GB of data per month and multiple connected devices. The wireless charging device lets you charge your Smartphone without connecting it to wires. The cabin has a feature of optional cabin air purification that captures all fine particles and airborne allergens from the air and freshens the air inside. You can see the air quality index inside the cabin. You can have an Activity key that locks and unlocks the car, so you don't need conventional keys for your vehicle. The cargo area gives a space of 31.5 cubic feet so that you can carry a generous amount of luggage. The Online pack offers various features through a built-in SIM card, including unlimited streaming media, online speech recognition, an online calendar, and weather forecasts.
Safety & Features:
The Jaguar F-Pace has not been rated by NHTSA or IIHS yet. However, it is equipped with all up-to-date safety features, and some of the safety features include:
Adaptive cruise control
Lane-keep Assist
Traffic-sign recognition
Forward collision-warning alarm
Automated emergency braking
Airbags
Forward vehicle guidance helps drivers handle the car in tight spaces by giving the virtual image of the car with wheel projections.
Forward traffic detection: helping in detecting potential hazards crossing your path through a camera, showing on the screen.
Major Competitors: