Lamborghini Aventador Coupe 2019
 Lamborghini launched Aventador in 2011 at the Motor Show in Geneva. It was planned to be a successor of Murceilago and introduced in two body styles including two door coupe and 2 door roadster. In 2017 Aventador got updated with new facelift and features and up till that 5000 units of Aventador were already sold in worldwide markets. The 2019 Aventador LP 770-4 SVJ Roadster was launched at Pebble Beach Concours in 2018. Other trims introduced in 2019 include Aventador S coupe, Aventador S Roadster and Aventador SVJ Coupe. Two Coupe trims include Aventador S and Aventador SVJ. Both of them are flagship for royalty with most powerful engine and eye catching looks. The Italian designed body is distinctive and intensifies the flame. The Aventador S maintained the heritage of S model and evolved into the existing Aventador S 2019 model. The heartbeat of the rocket is its engine which is upgraded to V12 with a horsepower of 740hp.
Lamborghini Aventador SVJ is a supervening blend of tremendous performance, cutting edge technology and aerodynamic design powered by V12 engine composed in ultra-light weighted car's body. Lamborghini does not lack behind in providing ultimate safety to it passengers by offering air bags for driver and passengers, side protection system, electronically stability control system and anti- lock braking system. It is a type of vehicle embedded in a spirit to provide royalty to its buyers keeping in mind that luxury of endless possibilities are not achievable by everyone so the company does offer extreme personalization according to your dreams from the options of choosing the colors of leather, lining of the cabin to upholstery and even stitching details can be customized according to your wish.
Performance of the super beast:
Both trims of Aventador Coupe are powered by 770CV V12 engine. The Aventador SVJ Coupe produces maximum torque of 720Nm at 6750rpm and maximum power of   66Kw at 8500rpm. The upgraded emission control system for this trim is Euro 6 LEV-3. On the other hand Aventador S Coupe generates a torque of 690NM at 5500rpm and maximum power of 544KW while it offers Euro6 LEV 2 emission control system. Apart from the powerful V12 heart of this royalty, it is also equipped with its sharp brain: LAMBORGHINI ACTIVE VEHICLE DYNAMICS (LDVA) unit. It is the system with latest and active technologies that control dynamic axles of the car and the lateral dynamics of the car are operated by LAMBORGHINI DYNAMIC STEERING and REAR WHEEL LAMBORGHINI STEERING.  Longitudinal dynamics are operated by FOUR WHEEL DRIVE UNIT and the vertical dynamics of the car are controlled by LAMBORGHINI MAGNETO RHEOLOGICAL SUSPENSION.
The advantage of LDVA lies here when it operates the car by combining all the information from every sensor of the car and gives a real time performance which is absolutely perfect. Aventador S features a very new system by combining both LAMBORGHINI DYNAMIC STEERING and LAMBORGHINI REAR WHEEL STEERING and thus producing a topnotch performance. Lamborghini Dynamic Steering adapts itself according to change in the speed and modes of driving by changing direct steering and indirect mode of driving. On the other hand Lamborghini rear wheel steering feature controls the steering axle at back with the help of 2 electromechanical actuators. This system will work by operating the rear axles in opposite direction of front axles at a very reduced speed in order to reduce the wheelbase that will result nimbleness and remarkable performance for cornering and turning car while it will operate both the axles in parallel direction on high speeds which will increase the wheel base resulting more control, grip and stability of car on roads.
 The aerodynamics of Lamborghini SVJ have been upgraded to Aerodynamica Lamborghini Attiva 2.0 introducing new air in lets and new channel designs. This system works by varying aero load to gain increased downforce by opening and closing the electronically actuated motors embedded in front splitter and bonnet of engine. It features electronically controlled four wheel driving system transmission with an independent shifting rods gearbox control equipped with total seven speeds. It can accelerate to 62 miles per hour in a quick time of 2.9 seconds and offers a maximum speed of 350 kilometers per hour.
Exterior and interior body styling:
Exterior body design of Aventador S is like a style icon with an enhancement of aggressiveness and dynamism by adding sharper lines. The front end of the car is resembling the fins of the shark expressing the similar aggressiveness and boldness in its force to dominate the roads while the rear end has hexagonal shaped tail pipes. The upgraded design of the Aventador has 130 percent more front downforce and the air vents at side decreases turbulence in order to improve efficiency and cooling system. The specialty in body design of Aventador SVJ is its ultra-light weight body in order to give maximum performance by using carbon fiber.  It is restyled with a restyled front design and omega shaped wings at back along with large sized side skirts and large sized exhaust outlets. It is a blend of lightness and aerodynamic profile giving an outclass performance.  Aventador Coupe is 4797 millimeters in length, 1136 millimeters in height and has a wheel base of 2700 millimeters.
Exterior View: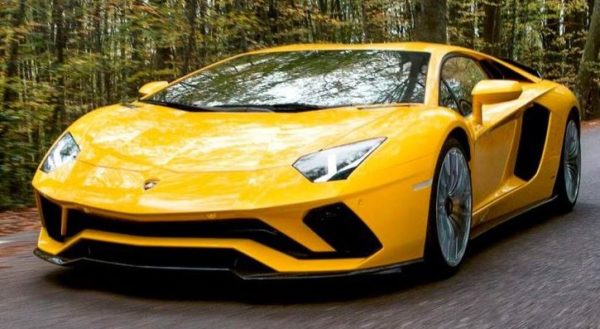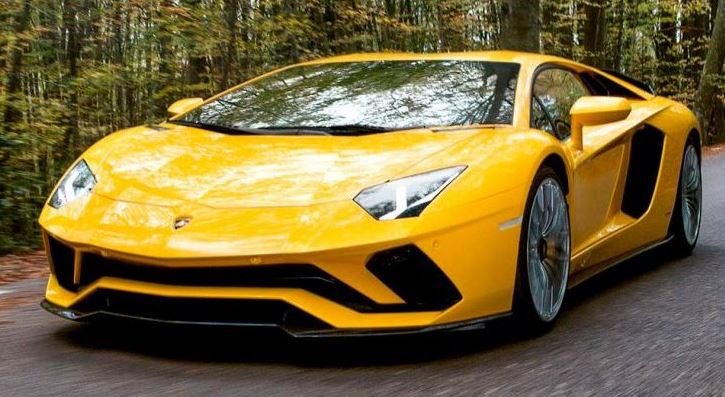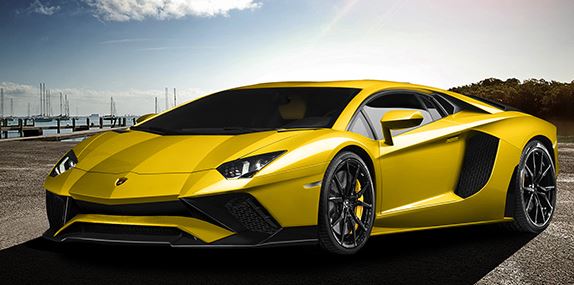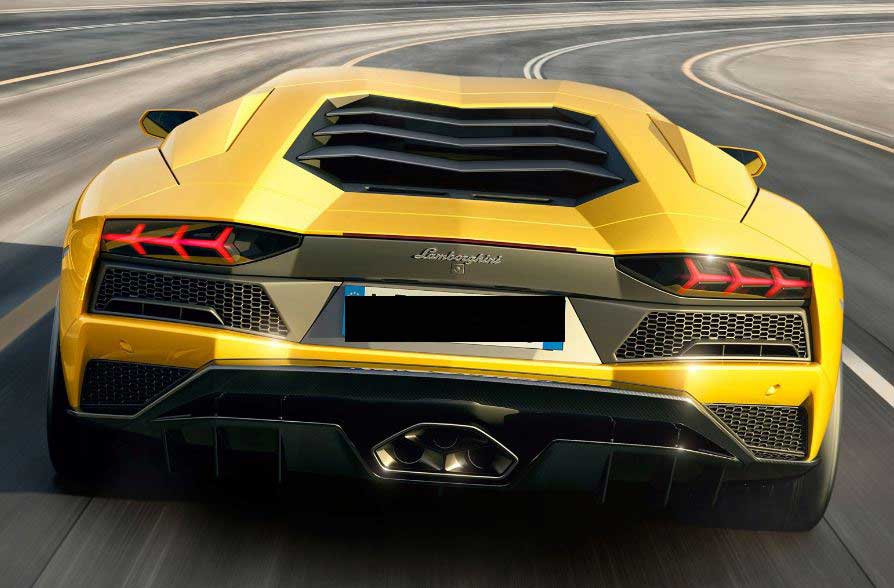 The interior of Aventador SVJ has carbon fibers embedded in monocoque forming cockpit, console, doors and seats. The endless luxurious touch is added in the cabin with ALCANTARA upholstery and the unique look to this gem is gained by the notable exquisite stitching details. The luxury is added with the advanced technology introduced inside the cabin including the instrumental cluster displayed in TFT LCD screen with improved graphics and an interior LED lighting system is introduced to increase the brightness of the cabin. The infotainment system is controlled by voice commands and Apple car play for providing you entertainment and track data.
Interior View: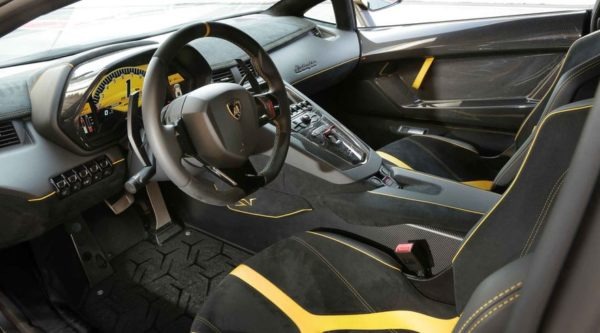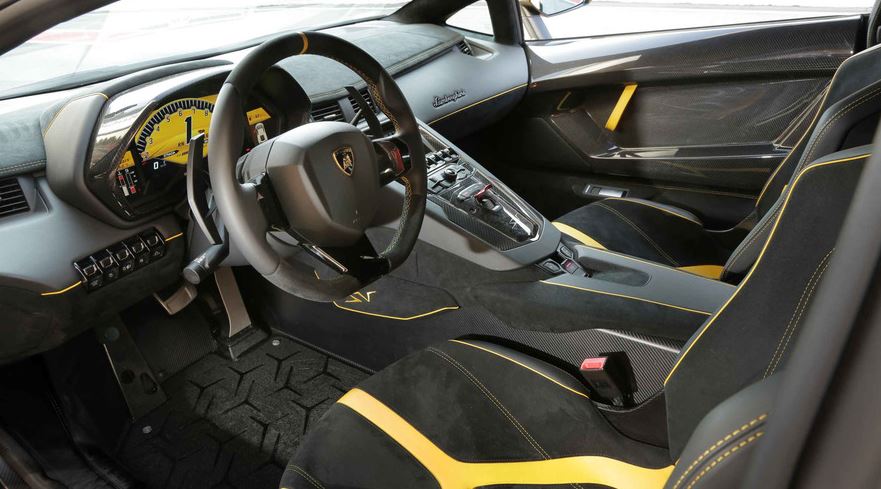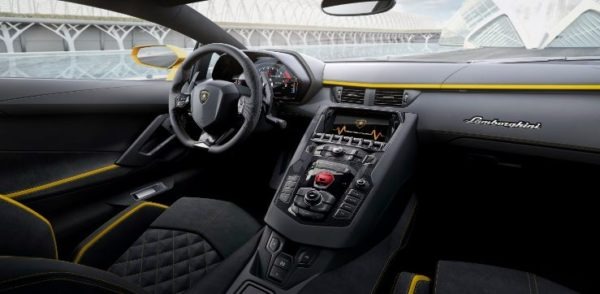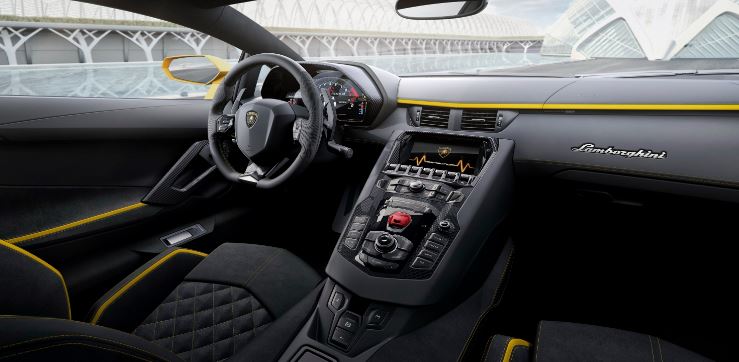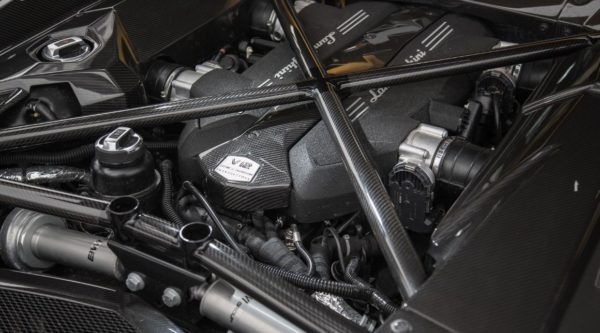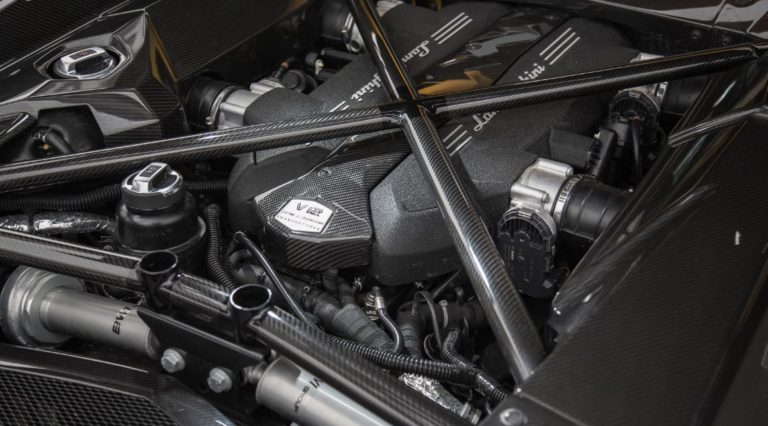 Rivals in market:
It is a super beast which is produced in a very limited edition but still it has some rivals in market including 2019 Mercedes Benz AMG GT, 2019 Maserati Granturismo and 2019 BMW 18.
Pricing:
Lamborghini Aventador S has a starting price of 417,650 US dollars and the price of Lamborghini Aventador SVJ is 517,770 US dollars. However you can customize your car according to your wish and it will cost some extra amount to the price. The breath taking style, high performance, cutting edge technology, super quick speed has made it more than a centerfold and flagship of royalty in market. Though it is manufactured in limited amount because it has a very low customer demand as every class cannot afford it but still the limited edition go on sale readily even after the pre bookings.