Land Rover Discovery HSE Luxury 2019
Land Rover introduced the redesigned model of its Discovery in 2019 which is still running in its fifth generation since 2017. It has been launched with a slight changes made in styling and features of the original fifth generation. It is considered best in its smooth driving and excellent off road driving abilities which make it an exceptional giant vehicle while the luxury and technology provided is really tremendous that ranked the Land Rover's Discovery among number eleven among Luxury Mid-sized Sports Utility Vehicle and on number nine among Luxury Sports Utility Vehicle with three rows. US news rated the 2019 Discovery 8.3 scores out of 10 scores keeping in mind the performance, interior, reliability, safety and critics.
The Land Rover Discovery is available in three versions including SE, HSE and HSE luxury. These may be powered by either three liters turbocharged V6 engine or Td6 diesel engine V6 turbocharged. HSE luxury is the best available option for the buyers with premium offers in which you can get additional safety features, Capability plus package for driving on slippery pathways, more features of infotainment with smartphone package and more additions in driver's assistance program along with 360 degree view of the reverse camera helping in parking. The Discovery HSE Luxury 2019 is powered by three liters six cylinder V6 engine available in both petrol and diesel option. Both the options are giving the eight speed transmission with automatic controls by the paddle shifters mounted below the steering wheel.
The engine of the HSE luxury is powerful enough to generate a horsepower of 340hp at 6500rpm and covering a mileage of sixteen miles per gallon in city while twenty one miles on highways. It offers additional safety features to ensure a safe drive. Some of them include automatic emergency braking system, lane keeping assistance and driver condition monitoring system. Automatic braking system will automatically apply the brakes to stop the car if there is a danger of something hitting the car from front.  Lane keeping assistance option will assist you in controlling steering wheel correctly to be in your lane especially in heavy traffics. Driver condition monitoring system will remind the driver to take a break by showing a coffee sign on the instrumental cluster that tells the driver to take a break when he is feeling fatigue in order to avoid accidents because one of the major reason for accidents is the fatigue and inattention of the driver. It is available in four wheel drive option with All Terrain Progress Control assistance that will let you drive in every type of off road conditions.
Looks of Land Rover Discovery HSE Luxury 2019:
HSE Luxury option comes with an attractive front bumper design that gives the appearance of any sports vehicle. The mash grille on the front is black in color that adds a royalty in the looks along with the black colored hood, fender vents and tail gate script. The wheel variety may varies from nineteen inches to twenty two inches with silver, glossy black, satin grey or diamond turned looks. The angular head lights on front runs aggressively across sideways while the logo of the company is encrypted above the mesh grille network to stamp the authenticity and realness. This seven seater giant vehicle has rectangular LED tail lights on back with the option of Panoramic sun roof for the luxury trims with power sliding roof that will increase the Discovery's cabin space and adds more ambient lights to the inner. The 2019 Discovery has remarkable towing abilities with a capability to tow up to 3720 kilograms of load. It is available in variety of color options for interior and exterior colors theme.
Exterior Photos: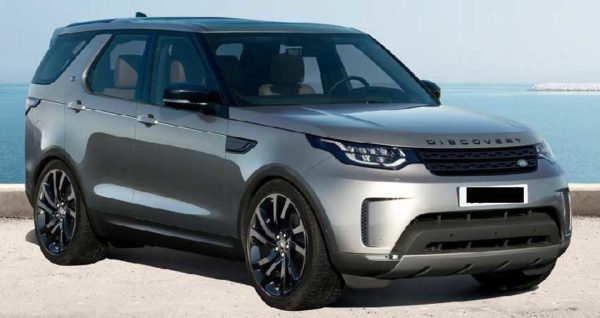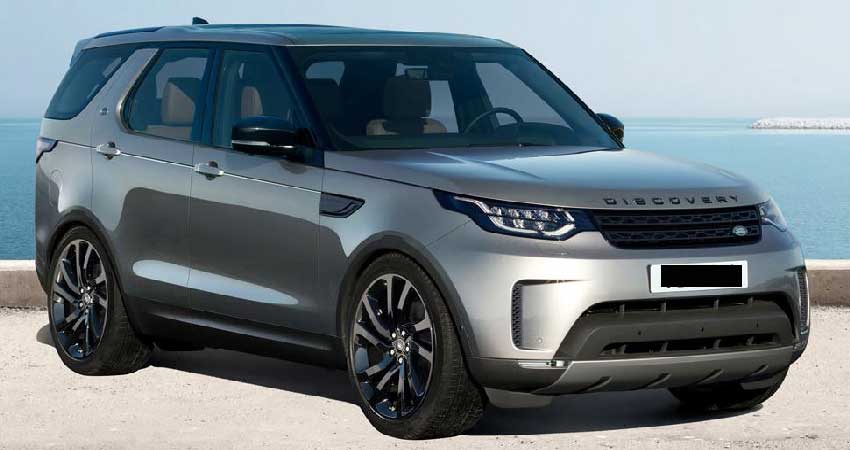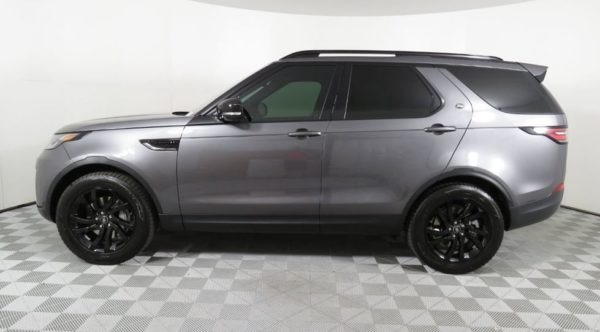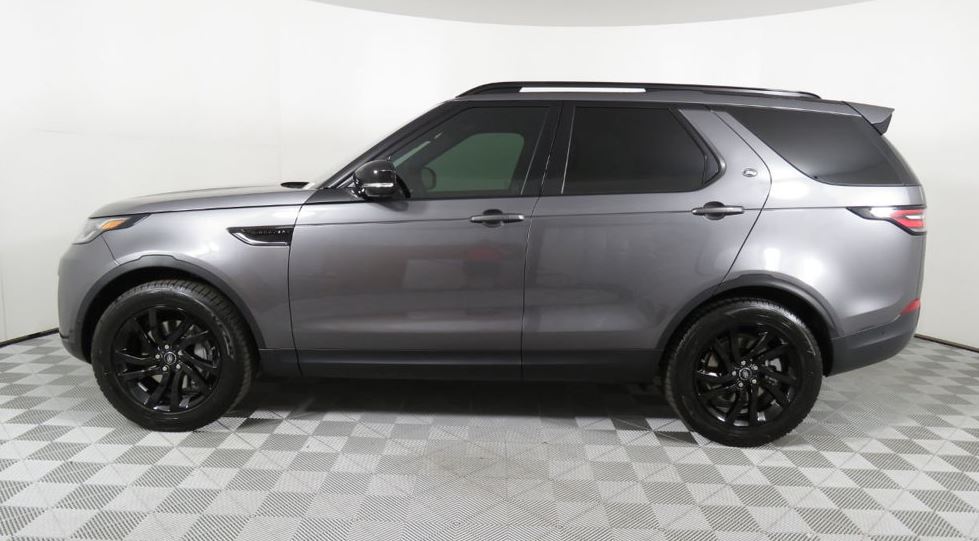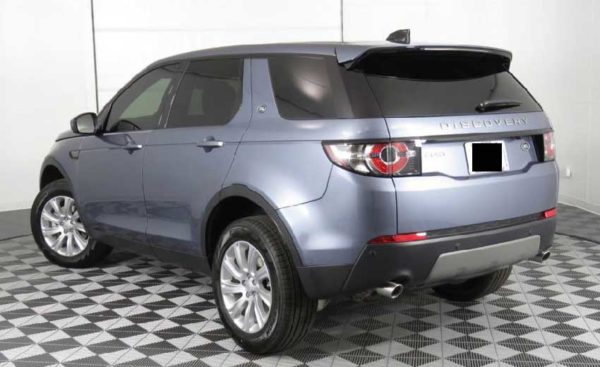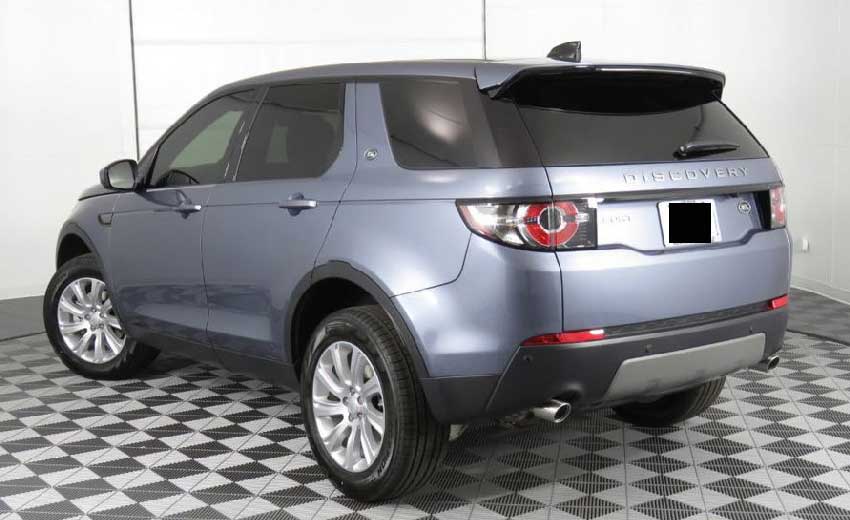 The interior space of the Discovery is very spacious with enough room for head and legs and offering a seating capacity for seven passengers with three rows of seats. All the materials used for the interior are highly good in quality and gorgeous. It offers a good visibility even over the hood with the extra assistance from rear view camera. The first and second row of seats are provided with heating system to provide ultimate comfort and controlled temperature environment for the passengers. Land Rover is providing Digital Surround Sound System with the help of fourteen speakers and subwoofers being partner with MERIDIAN Group. The tail gate is controlled by power to let the space utilized easily for carrying luggage for social or sports events. There is a ten inch touch screen on front console with infotainment system controlled by touch system and Apple Car Play and Android Auto which includes entertainment, satellite navigation, settings for vehicle, driving modes and driver's assistance programs.
Interior Photos: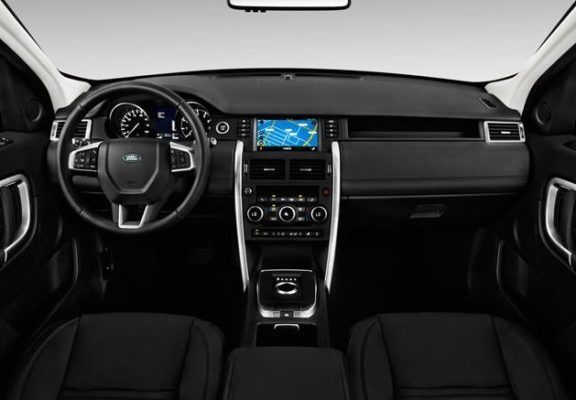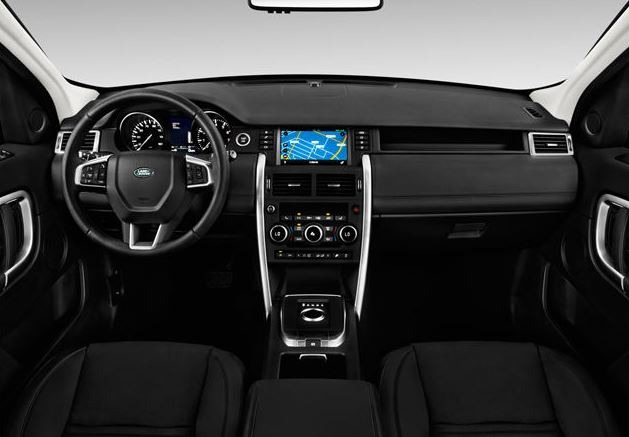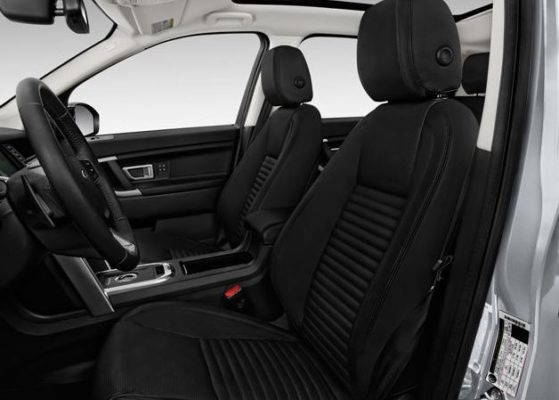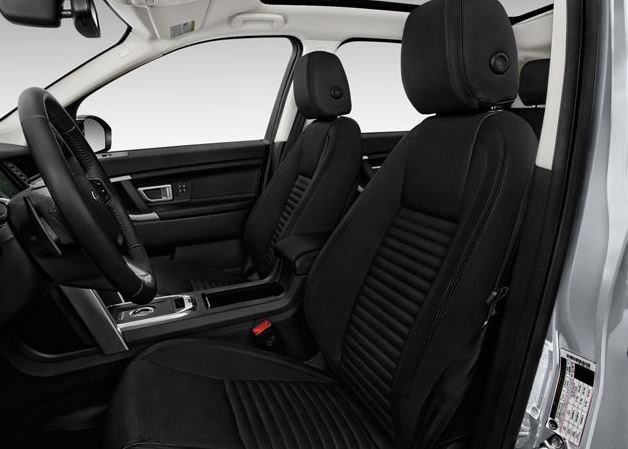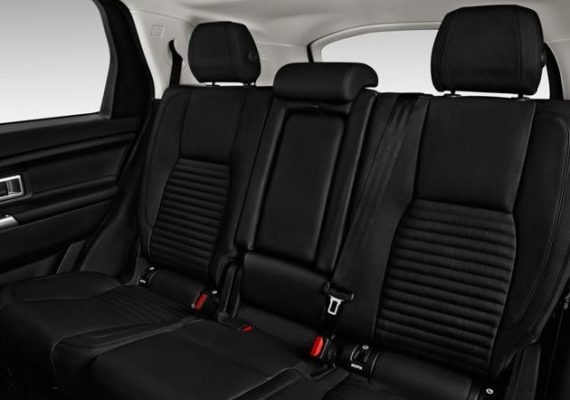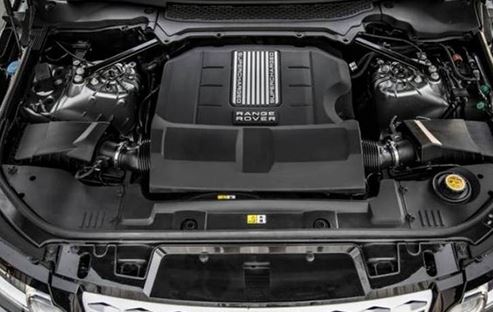 Features offered by Land Rover Discovery HSE Luxury 2019:
It provides an IPhone charging with mobile visibility. You can now use your phone while connected with charging on charge dock on the central console. The second row seats have click and go system for holding your tablets, I pads, bags or shirts when needed and it can be removed when not required. A luggage partioner is provided with the car to be fixed in the second row to divide the cargo area in two sections and for carrying cargo easily. There is another luggage carrier on the roof of the car with silver and black aluminum design for carrying up to sixty one kilograms of luggage. You will be provided with navigation pro system that will help to park your car by finding a nearby parking and giving you updated routes for your driving. There is a driver's assistance program that consists of premium driving technologies including the park pack, drive pack and adaptive cruise control with special steering assistance and complete view of the surrounding with the help of 360 view rear cameras.
 It offers enough space for passengers by the usage of three rows of seats. The locking and unlocking of the car is done by the Activity Key which is a waterproof wrist band that let you get in and out of the car easily just like the keyless entry system. It is provided with child security seats with LATCH connections on second row. The cargo space offered by the vehicle is 45.3 cubic feet behind the 2nd row. The infotainment system includes Wi-Fi hot spot, USB port, and fourteen speakers with sub woofers, Bluetooth connectivity and satellite navigation. There is a feature introduced in Discovery that is called Terrain Response system that allows the vehicle to drive off road in all types of pathways including bumpy surfaces and muddy pathways. The safety features include blind spot detection, rear view camera, automatic emergency brakes, forward collision warning, driver condition monitoring, and rear cross traffic alert alarm, traffic sign recognition and adaptive cruise control. The HSE luxury features electronic air suspension system with redesigned and more attractive alloy wheels. The interior cabin is more illuminated with more bright ambient lights. You can also opt for Capability plus Package, seven seat luxury climate control package or the smartphone driver's assistance program package.
Major competitors:
This luxury SUV has to face a tough competition from Land Rover Discovery Sport which is the smaller variant of Land Rover Discovery. It also has to compete with Land Rover Range Rover Sport, Audi Q7 and Jaguar F-Pace.
Pricing:
It is priced at a starting price of 67,200 US dollars. It is an exceptional SUV with remarkable powerful engine, smooth handling and comfortable ride that makes it an athletic performer among its rivals.