Lexus GX 460 Luxury
More people around the world are started to prefer cars based on Crossover or SUV platform that is why these platform based vehicles are getting more niche with every passing year. Lexus GX is the midsized vehicle of the brand that is in production since 2003 and still on the preference list for the people those are looking for luxurious gigantic SUV; it is a big SUV but not huge SUV, again one size smaller than Lexus LX.
Designing cues of Lexus GX 460 Luxury:
GX 460 full re-design was done in 2010 year and now it is a nice shaped body vehicle and has luxury touches.
Exterior:
As a truck based SUV GX features a sophisticated design that is rugged and boxy but upscale simultaneously and high ground clearance also make this suitable for off road. All the trims of GX have same signature grill, LED headlights design with high beam day time running lights while luxury trim level has little bit different grill up front and also comes up with sport design package as optional, with sport design luxury package gun metallic finished 18 inch split six spoke alloy wheels are optional as well. On the rear side it has LED tail lights but one thing that is old fashioned is the tail gate that open sideways and not above like other SUV's and the big mess happens with this gate is tight parking areas and during loading & unloading of luggage but there is also a good thing that rear window of this vehicle can open unlike other vehicles and make it little easier to put some luggage without opening the gate.
Interior:
It has high quality interior that is composed using different materials including high quality leather, wood trim and brushed aluminum accents, it has very upgrade type of design and it's really opulent but started to show its age though. In 2018 year of model of GX 460 there is no major change except the addition of new LUX leatherette seating surfaces. On the driver side it has analogue gauges with small display between, which is quite old cluster if compare to other models of Lexus. Head unit definitely have older design and not equipped with latest technologies either (like android auto and apple car play) while other Lexus models have better resolution screen and upgraded mouse like controller to interact with that.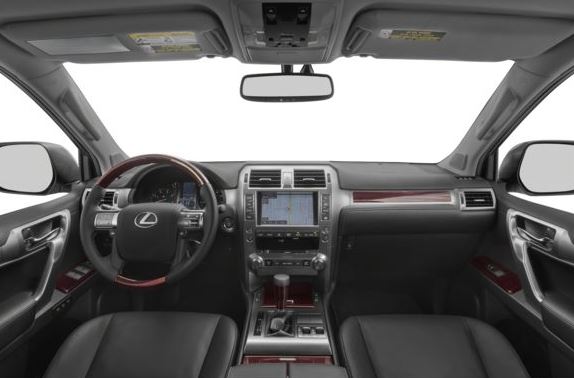 It is a 3 row vehicle with sitting capacity up to 7 members  and for the 2nd row you can also have optional captain seats and backseats entertainment system with Blue Ray DVD player additionally with noise cancellation Bluetooth headphones while the rear entertainment system cost around 1970$ extra. Climate control unit with HDMI is also available for the rear seat passengers and the climate control vents are embed in the roof at three different positions left up, right up and rear.
Engine & Power:
Lexus GX 460 is equipped with 4.6 L V8 engine that produces 301 horse power with 446nm@3500rpm of torque, it is the only engine option available for all trim levels of Lexus GX 460. With V8 it can reach up to top speed of 113 miles per hour and accelerates 0-60 in 7.0 seconds, due to heavy weight of 5200 pounds GX can feel sometimes slower than competitors and also thirstier at the pump. Comparing to the horse power and torque it produces the fuel economy is very low which is 15 miles per gallon in city 18 miles on highway while other full size SUV's give better fuel economy and gas mileage.

Driving Experience:
On the free way it is a wonderfully smooth and quiet SUV to drive that is really luxurious; Handling Lexus GX 460 feels secure and stable around the corners that is great for truck based SUV but if compare to modern vehicle it still can't match the nimble feeling of those. Ride quality become smoother when equipped with optional adaptive suspensions and with luxury package you can have extra kinetic dynamic suspension system that also adjusts the vehicle height.
Comfort & Safety:
Seats are pretty plush and soft  in the GX and provide reasonable amount of support on the side bolsters, front driver & passenger seats are power adjustable with power recline and lumbar support. Front seats are heated and ventilated as well and as mentioned earlier 2nd row tilt slide captain chairs are optional, 2nd row chairs are also slide forward to enter in the 3rd row and are easy to slide and there is also enough space to walk through middle seats as well. 3rd row seats are little tight for passengers and with all seats up you don't get lot of cargo space as well but with 3rd row down you get nice amount of space.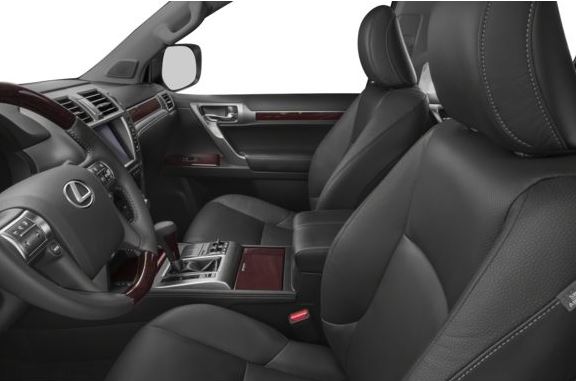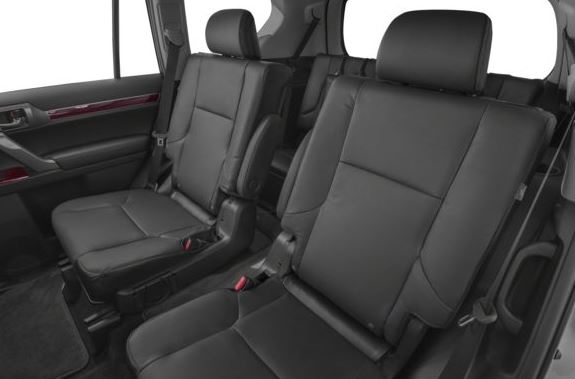 Safety:
Luxury trim level of Lexus GX 460 almost have all the options and if you want to make it safer than it has 4340$ driver support package that gives lane keep assist, rear cross traffic alert, dynamic cruise control, wide view front and side monitor and crawl control ( hill climb function)
Conclusion:
GX 460 is on the top of chain and sport design package is the only option with this.
It is the sub brand of Toyota that is why it is also related to Prado and 4runner mechanically.
Interior quality is great and built with superb craftsmanship and with lots of soft touch materials all around and feels very impressive when come to the quality and nothing feels very particularly cheap.
Lexus GX 460 remain a favorable choice if you are looking for a luxurious off road capable Midsized SUV, however other modern luxury crossovers offer more preferable performance and passenger space.
Competitors:
Cadillac Escalada
GMC Yukon Denali
Toyota 4runner