Lexus IS 350 AWD 2018
Lexu  "IS" is categorized as luxury sport sedan that is available with two different power trains depending upon the need and choice. It gives you all; great driving experience, better fuel economy and high quality luxurious exterior and interior.
Design Dynamics of Lexus IS 350:
Exterior:
Lexus "IS" has great looking exterior with bold front composed of big spindle grille which has also become the Lexus trade mark and beautifully designed LED headlights with day time running lights. Lexus vehicles for 2018 year looks much similar in their exterior designing like RC 300f have about same exterior & interior design other than that "IS" is a four door sedan while RC 300f is a 2doors coupe. Just like the RC 300f fog lamps on the car are not standard but you need to pay extra money to equip with those, on the rear side it has new amber turn signals and LED tail lights.
Interior:
Interior of Lexus IS 350 is pretty good and quality vise it is certainly very competitive; not in this one but all 2018 years models of Lexus high quality interior, there is plenty of soft touch material all around on door panels, dashboard and around the center console. The biggest update done to Lexus vehicles is the up gradation of head unit with 10 inch screen that looks much better and modern now while the previous one was pretty small and out dated. From the long time Lexus has been competing against BMW 3 series to be the top selling vehicle in compact luxury sedan category but still need many up gradations to become better. Center console is pretty simple and easy to use but this is controlled by mouse like controller which can be much distracting while driving. Comparing the map quality with other vehicles of same class than Lexus should have to upgrade it because competitors like BMW & Audi have much better quality and also have Google earth like features, as Lexus have other features like live traffic alert but still quality is not as good as others because it looks little outdated. Another important feature missing in Lexus is android auto and apple car play that is so much disappointing again but overall interior is great; it has new auto dimming rear view mirror that looks more stylish and also do have sunroof for front seats.
Engine & Power:
There are two different power trains available as per need and choice it has standard 2 liter turbo charged four cylinder engine that have nice power and gives better fuel economy but if you are looking for better driving experience and more fun to drive car than you must go with 3.5 liter V6 that produces 306 horse power with 375nm@4800 rpm of torque. Top speed of the vehicle with 3.5 V6 is 139 miles per hour while it takes only 6.5 seconds to accelerate 0-60 miles per hour. With this new engine there has been increase in horse power by 5 that is good but hybrid version of IS still not available that could make 3.6 V6 little more economical.

Driving Experience:
It is one of the best driving vehicles in the compact luxury sedan but again depends on the power train, if you go with 3.5 V6 engine it gives you more power and acceleration and driving it is also so much nimble around the corners. It has 3 different driving modes those change throttle response, suspensions and steering wheel sensitivity and makes it more fun to drive vehicle.
Comfort & Safety:
It has one of the best front seats in the business those are so much comfortable and supportive as well, seats are power adjustable with lumbar support and has heating and ventilation as well. As for visibility it has lot of glass around which makes it easy to look around. On the rear side it has decent amount of head room with okay amount of leg room (leg room is not enough competitive in the segment).
Safety:
Backup camera is standard on Lexus IS 350 and as per IIHS it has high safety ratings for all the sections leaving head lights those are just acceptable.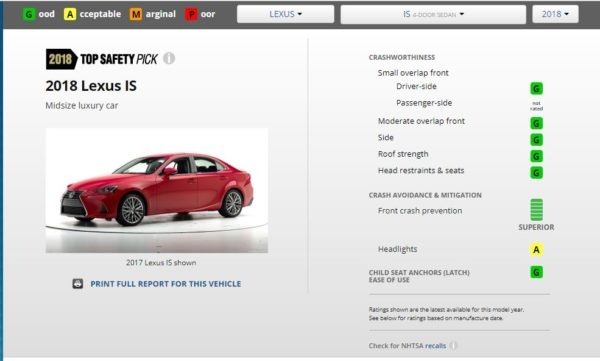 Conclusion:
Pros:
Handling
Interior Quality & finishing
Reliability
Safety
Cons:
Android auto & apple car play missing
Rear leg room
Headlights
Maps
Check out one of the best review by DannyTheWildCard in Video Section, thanks