Lexus RC 300F Sport 2018
It is a beautifully designed coupe for daily driving & fun which is more than enough powerful for an average person; it is so much sporty both from its exterior and interior.
Design Dynamics of RC 300f Sport:
Exterior:
Major up gradation to Lexus vehicles done last year; most importantly the addition of new full size spindle grille with small size inserts below that makes it look more fantastic, projector beam LED headlights with day time running lights are standard on RCF 300f while small LED fog lamps are optional with 400$ Extra. On the side vehicle has auto dimming exterior mirrors something usually not seen in many vehicles and below it has F-Sport specific 19 inch split 10 spoke alloy wheels. Rear side has spoiler and it looks great on it while this wasn't present on previous year's models. In 2018 year model a new color choice is also available for RC 300 which is Flare yellow.
Interior:
RC 300f Sport has great finished high quality leather interior with aluminum trim details; Gauges in the car are inspired from LFA that was the previous super car of the Lexus. Steering wheel is wrapped with perforated leather while the heated wheel is available for all wheel drive version only. There is available navigation package that cost around 1700$ and gives 10.3 inches high resolution screen with Pandora radio, navigation and other features.
Engine & Power:
This RC 300f Sport is available with 2 different engines and driving systems, if you go with rear wheel drive setup than you will get 2 liter turbo charged 4 cylinders engine that produces 241 horse power with 250 pound feet of torque, with this engine it accelerates 0-60 in 7.3 seconds and achieves the top speed of 143 miles per hour. Fuel economy with 2 liter engine is 22 miles per gallon in city and 32 miles per gallon on highway.
If you go for all wheel drive trim than you will get 3.5 liter naturally aspirated V6 engine that produces 260 horse power with 319nm@480rpm of torque ( which is also 5 horses more than previous year model), with V6 it accelerates 0-60 in 6.3 seconds and achieves the top speed  of 130 miles per hour. Fuel economy with 3.6 V6 is 28 miles per gallon in city and 24 miles per gallon on highway.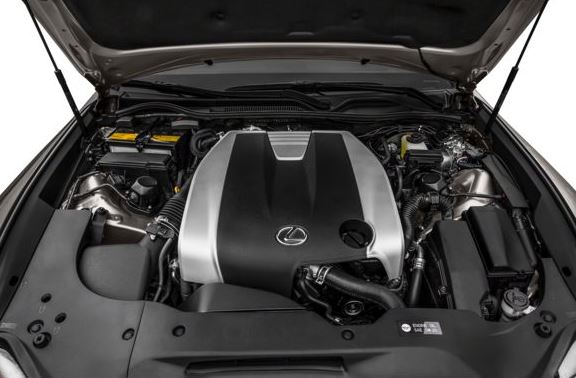 Both the engines work with different transmissions, all wheel drive system works with 6 speed automatic transmission and also have paddle shifters while 2 liters trim works with 8 speed automatic transmission.
Driving Dynamics:
It has different driving modes including Eco, Normal, Custom, Sport and Sports plus while the last one is specific to the F Sport trim level only. Sport mode adjusts the throttle response and shift points while Sport plus mode adjusts steering sensitivity and suspension system, Paddle shifters are very impressive and react equally.
Comfort & Safety:
Front seats are F sports Bolstered; those are very comfortable and bolstered very well for heavy cornering and hold you in place better, front seats are power adjustable and have heating and ventilation as well. Rear seats are not comfortable for adults as there is not enough leg room, head room is fine but still seats are more for children's than adults.
Safety:
For 2018 year model Lexus RCF coupe has received 5 out of 5 by IIHS organization

Pricing:
All wheel drive Lexus RC 300f Sport:

Starts at 47,070 $

Rear wheel drive Lexus RC 300f Sport:

starts at 47,070 $