Lexus RC F 2018
Lexus RC F 2018 takes the meaning of aggressiveness and wild sportiness to next level combined with its big powerful engine. The Lexus RC F 2018 is as closest as Japanese manufacturers can get closer to German recipes when it comes to sedans and coupe. The Lexus RC F 2018 with its heavy wild looks from the exterior catches attention of car enthusiast making it an excellent daily driver for the performance freaks; Exclusive fascia, flare fenders and 19-inches wheels makes it a complete package. The Lexus RC F 2018 is powered by the big aluminum block 5.0L V8 outputting 467hp with eight-speed paddle shifting. The Lexus RC F 2018 is divided into three sections when looking closely at the vehicle from side. Studying it in-depth explains why it is different in dimensions from front to mid and back.
Exterior Photos:
Handling and Track Performance:
The wide front gives it greater area for handling on the track, the rear is deemed to keep vehicle configuration tidy enough whereas mid-section accounts for its stiffness and shorter wheelbase. This explains why Lexus RC F 2018 is engineered into three different components from different sedans of Lexus. The mesh grills, exhaust outlets and fine vents accounts for its worthy interior and exterior designs. The rear wing pops out at 50mph thus proving the track capabilities of RC f. Yes the Lexus RC F 2018 is heavier and it needs to lose couple of pounds weight before it can compete with BMW M4 or Cadillac ATS-V however the RF C has its own thing going on in spite of being inspired from Americans or Germans so it makes it worthy enough.
V8 Performance and Ultimate Powerful Drive:
In terms of performance the V8 gives it enough juice for an ultimate powerful drive, however with a lot of weight added as compared to others, it sure is a few seconds slower to quarter-mile. The Lexus RC F 2018 does 0-60 mph in just 4.4 seconds with delivering 467hp at back of wheels. The top speed noted in Lexus RC F 2018 is 170 mph (273.5 kmh). The driving modes include Eco, Normal, Sports and Sports+. The manual mode lets the RC F shift at red line and sharpens the shifting between gears. The Michelin sports tire, Torsen limited-slip differential and re programmable stability control and brembo brakes as in general. However for the daily drives, it sure gives you the feeling of being driven like it is supposed to be, the transmission, ride quality, and might sounding V8 places the Lexus RC F 2018 high in terms of performance.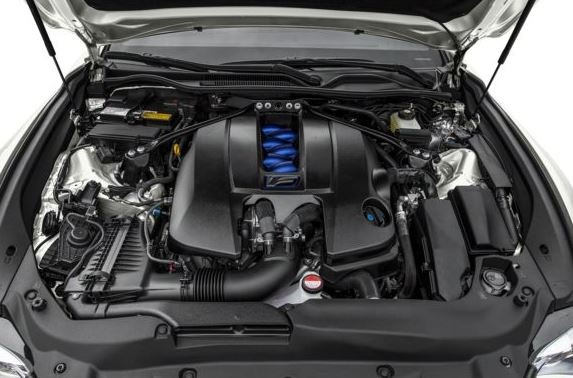 Hand Stitched Beautiful Interior:
The interior seats of Lexus RC F 2018 are hand-stitched like the old days which are proof of attention to detail in the interior and comfort. The front seats undoubtedly are in the best version there can be, however the rear seats could have been somewhat slightly better. The adjustable steering wheel gives a good comfort in drive that combined with cushioned seats for accommodating any type of body kind from big to small ones. In other words the front seats are comfortable enough. The back seats support 2 person seating giving the Lexus RC F 2018 a typical 2+2 configuration for coupe. The trunk is 10.1 cubic-feet. Well the answer to question is its narrow for accommodating couple of golf bags.
Interior Photos: 
Best in RC F 2018:
The Lexus RC F 2018 has one of the best audio-system and exclusive tech packed inside when it comes to features and technologies inside the cabin. The leather upholstery, automated climate control, power tilt and telescope steering wheels makes the environment good. However the infotainment system in Lexus RC F 2018 is a big let-down for it unfortunately. The safety features in Lexus RC F 2018 area advanced that have earned it a good performance score in crash test and safety tests. The lane departure warning, automatic emergency braking, Forward collision warning, adaptive cruise control, and automatic high beams with good score for headlights and stability makes it a safe vehicle to drive for sure.
IIHS Ratings for Lexus RC F 2018:
The IIHS grades the Lexus RC F 2018 at 7 out of 10 stars in crash test and safety ratings. As for the mileage section the Lexus RC F 2018 manages to give out efficiency of 16 mpg in city whereas 25 mpg on highway. The Lexus RC F 2018 is priced at $64,650