Maserati Quattroporte S Q4 Gransport 3.0L Awd
Luxurious, Sporty and Styled Casting with exclusiveness in cars is how Maserati defines itself. The Italian legend living since 1914 is known to produce cars with every inch of exclusiveness. Maserati styles its cars as Italian marvels with heart ranching screaming sounds and made-to-measure interiors. Therefore Maserati is true example of Italian styling combined with exclusiveness which is also key element when it comes to Italian car brands
Maserati Quattroporte S Q4 Gransport 3.0L AWD in 2018 was upgraded from its former performance figures that came since the year 2013. Although the car has been ever since in production however received upgrades time after time. We'll be focusing on 2018 model of Maserati Quattroporte for the review. Coming to the name of car, the word "Quattroporte" literally translates to "four doors" in Maserati Quattroporte S Q4 Gransport as per the Italian language.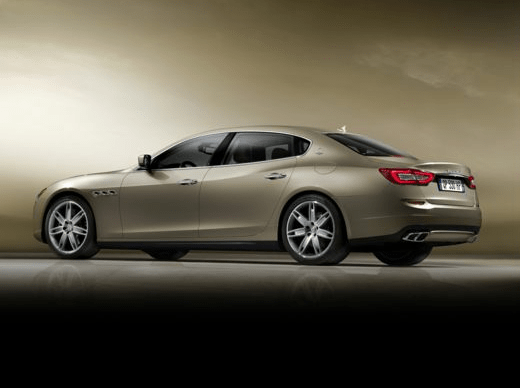 Race Breed Sedan is what Maserati Quattroporte S Q4 Gransport 3.0L AWD is all about. The Maserati delivers an insane powerful driving experience on the road closely to any Italian supercar. The Maserati Quattroporte S Q4 Gransport 3.0L AWD comes under the Large Car Category. This sedan has famously been knowing for its screaming tone along with the exclusivity in terms of drive, styling and interior. The Quattroporte was initially powered by the same engine which comes in Ferrari California commonly known under the nickname of "Ferrari-Maserati V8". However in 2013-2018 the Maserati Quattroporte S Q4 Gransport comes with F160 twin turbo-charged V6 engine. The F160 is engine that displaces 2,979 cc (3000 cc) with its turbo chargers powering each cylinder, direct injection and twined intercoolers. These engine blocks are designed by Maserati but approved by Ferrari. The reason why Maserati shares its engine and mechanics of engines with Ferrari is because both companies are owned by Fiat Chrysler Automobiles. Therefore the engines can be exchanged and shared between the joint sharing programs. C is powered by a 3.0L
Beautiful Italian Design:
Maserati Quattroporte S Q4 is styled in 4dr car in terms of body shape which delivers aggressive looks to the sporty looks to racecar sedan. There is optional Carbon fiber also offered along with 21-inches wheels. When hopping inside it has bolstered seats styled in piano black colored interior providing an elegant look to the cabin with dark colors leasing the eye of masculine gender. The cabin is fitted with open pore wooding along with silk-trimmed detailing. The carbon fiber which ads in Gransport package enhances the dark look thus syncing with the seats. The advanced air shutters technology reduces the drag force during drive thus increasing mileage especially on highways. The center of dashboard is fitted with 8.4 inches of touch screen infotainment panel with central knob for rotating, scrolling and gliding through the menu. It also is supported by Apple car play and Android functions. The other features in Quattroporte S Q4 Gransport are adaptive cruise-control, forward collision warning system, lane departure warning and surround view camera for managing the blind spots as well as guiding through rush in traffic.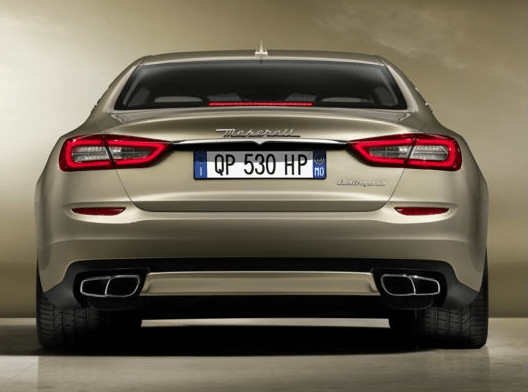 Insane Power of 3.0 L Maserati:
The Maserati Quattroporte S Q4 Gransport is powered by a 3.0L AWD engine which is powerful enough to take the car up to 424hp (430 PS) @ 5700 rpm. The wheels generate torque figures of 428 NM. As the name says the drivetrain in this sedan is All-Wheel-Drive. With a fuel tank of 21.1 gal (79 litres) the sedan gives the mileage of 16 mpg in city whereas 23 mpg on Highways. This translates to 6.8 km/l in city and 9.7 km/l. When it comes to transmission of Quattroporte S Q4 it has 8 Speed Automatic w/OD. The "w/OD" means with Over Drive. The gears can be shifted with either a manual mode or gear knob.
Direct Competition with the Best's in Industry:
Maserati Quattroporte S Q4 Gransport 3.0L AWD is directly in rivalry with high-class big-boy sedans such as BMW 7-series, Mercedes-Benz S-Class, Porsche Panamera. While the Maserati has less dealer networks it still is a car to be bought especially if you are into aesthetics and loud tones with Italian taste. The Maserati Quattroporte comes in several packages however S Q4 Gransport 3.0L AWD is signature for the current 2018 model. It starts  around $105,600 and goes up to $136,600.