2022 Mazda 3 Hatchback
Sold in the USA: 2019-Present
4th Generation
2022 Mazda 3 Hatchback Price in the USA:
| | |
| --- | --- |
| Mazda 3 2.5 S Hatchback | |
| Mazda 3 Select  | |
| Mazda 3 Preferred | |
| Mazda 3 Carbon Edition  | |
| Mazda 3 Premium | |
| Mazda 3 2.5 Turbo | |
| Mazda 3 2.5 Turbo Premium Plus | |
Mazda has recently released its fourth generation of Mazda 3 at end of 2019 which is the demanding vehicle of later years and it has been renewed with many upgraded features including the emergency braking system, adaptive cruise control, blind-spot detection, and lane-keeping assistance system. The 4th generation Mazda 3 has been ranked 6.7 stars out of 10 among other sedans because of its stylish looks, powerful engine, sporty handling, and availability of all-wheel driving options. A full package of driver's assistance programs is provided as standard in all types of trims.
Trim & Versions:
It offers six trims in the latest model that includes Base variant, select trim, Premium trim, Turbo premium, and preferred trim & carbon edition. The powertrain of all trims are similar but they differ in terms of different features they add up in higher-level trims.
Base trim features 8.8 inches infotainment screen, eight speakers, adaptive cruise control, and emergency telematics.
Select trim is upgraded with leather-covered seats and steering wheel, smartphone infotainment connectivity, keyless entry, and a rear cross-traffic alert system.
 Preferred trim features twelve speakers audio system along with heated seats at the front and a power control driver's seat.
Premium trim is the high-level trim that is equipped with a head-up display system, panoramic sunroof, leather upholstery, and adaptive automatic adjustable headlights. While comparing all the trims, the select trim is most loved by the customers because offers many latest features and a less purchasing value as compared to top-of-the-line trims.
Turbo & Turbo Premium: Both trims are powered by a 2.5-liter turbo engine and all-wheel-drive system as standard.  Other than 2.5 Turbo engine the Premium trim has; The black rear roof spoiler and front air dam 360° View Monitor46 Front and rear parking sensors
Carbon Edition: Has the following Special features; Power sliding-glass moonroof, 8-Way power driver's seat with 2-position memory, Heated front seats
Engine, Transmission & Power:
It comes with a 2.5 liters DOHC sixteen valve four inline engine provided with variable valve timing that generates a horsepower of 186 hp and torque of 186 NM. It offers six-speed automatic transmission which comes with a sports driving mode that delivers wonderful driving performance.
Fuel Efficiency: It has the capability to drive twenty-six miles per gallon in the city and thirty-five miles per gallon on highways.
In the Recent Years Company has introduced a 2.5-liter turbo engine in Mazda 3 as well that generates 250 hp @ 5000 rpm with 320 lb-ft @ 2500 rpm of torque, both the turbo trim are equipped with an all-wheel-drive system that is optional in other trims.
Handling & Driving:
  The steering wheel of the Mazda 3 is well-weighted with high accuracy which makes the handling of the car very confident while the suspension of the Mazda 3 is improved a lot to gobble up bumps and jerks and maintains a balance between comfort and full sporty performance. You can also upgrade your car with an all-wheel driving facility that adds more confidence in your driving even in cold weather and unfavorable conditions. It can accelerate to sixty miles per hour in just 8.3 seconds and the non-turbocharged engine delivers more power to make the acceleration fast as compared to previous models.
Exterior Design & Features:
The proportions of the Mazda 3 are smart with 4660 millimeters of length, 1795 millimeters of width, and 1435 millimeters of height having a typical hatchback design. The front design of the Mazda 3 is highlighted with a wide grille that has the Mazda logo encrypted on it and narrow headlights sweep on sideways displaying a glamorous look.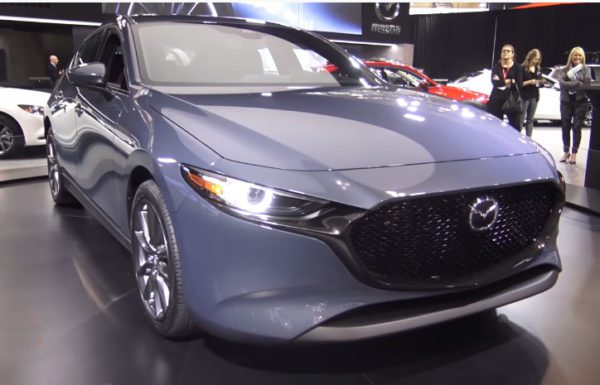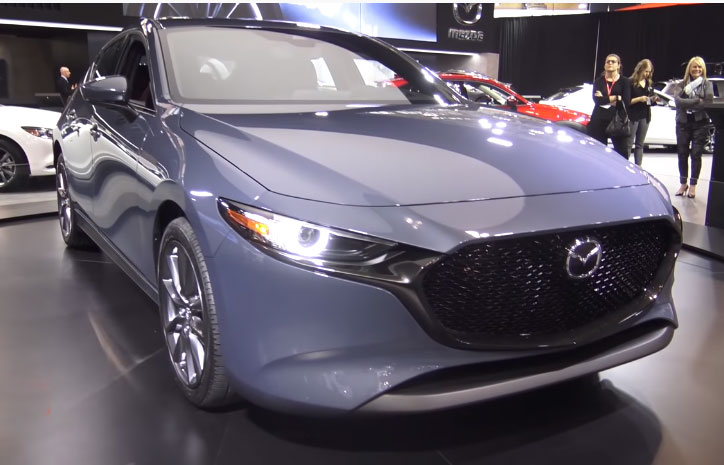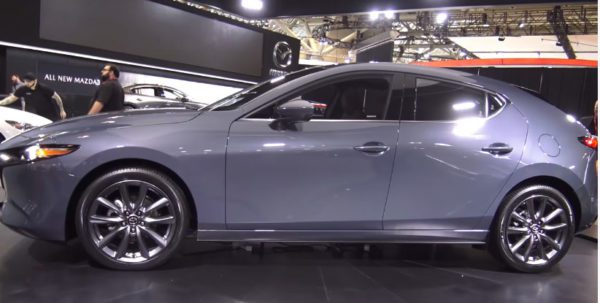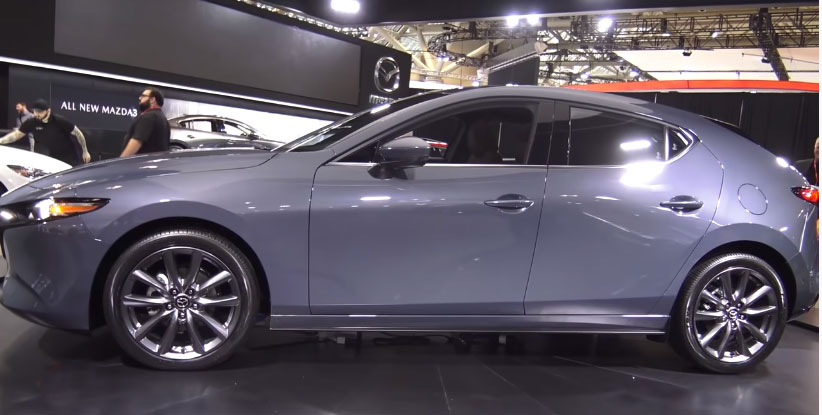 The roofline of the all-new Mazda 3 is longer than before with soft and gentle contours and the rear end is sleeker with the roof diving into the tailgate and LED taillights are eye-catching while sixteen inches alloy wheels are bold enough to give it a real sporty look. LED headlights are provided with daytime running lights and windshield wipers come with rain sensors that work automatically when rainfalls.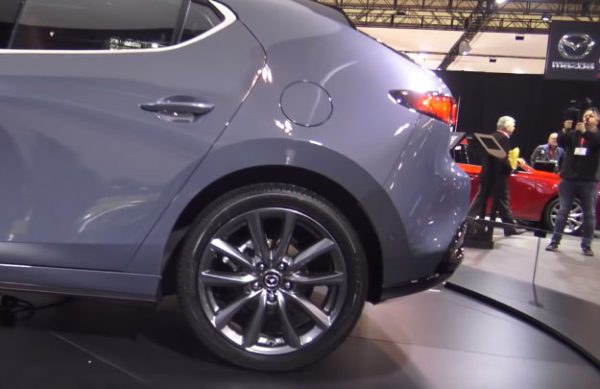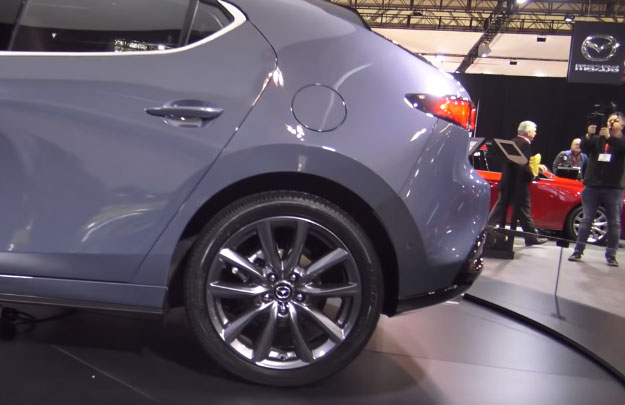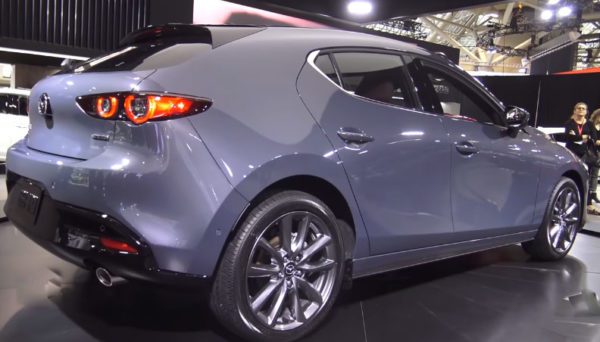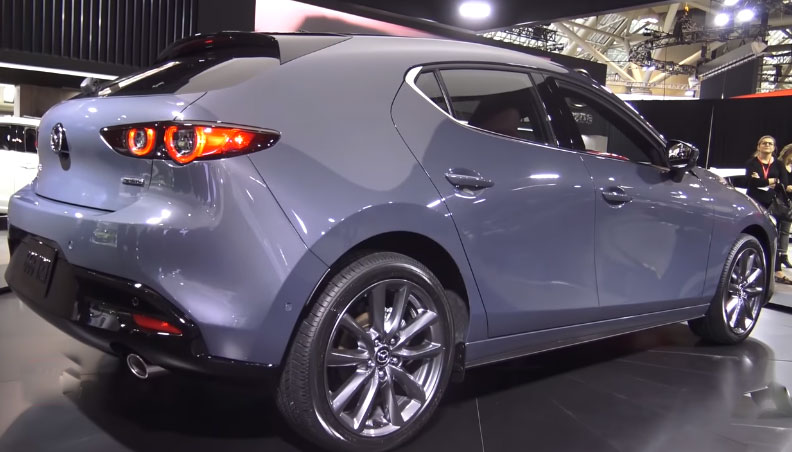 Interior Design & Features:
Mazda 3 cabin gives us the harmonious feel with a low beltline and giving spacious enough seating to give you a relaxing journey with leather-covered seats providing seating capacity for 5 passengers. It also offers a 20.1 cubic feet cargo area to carry enough amount of luggage which can be increased while folding rear seats.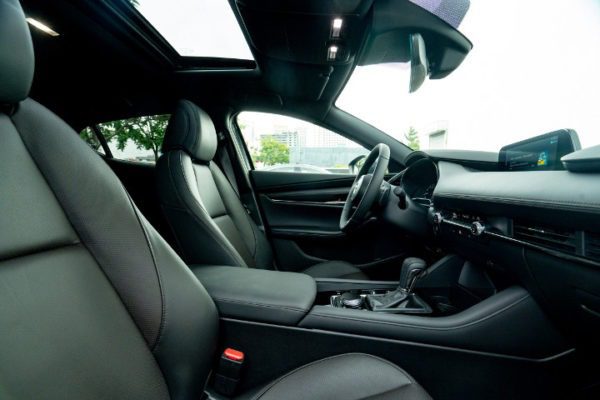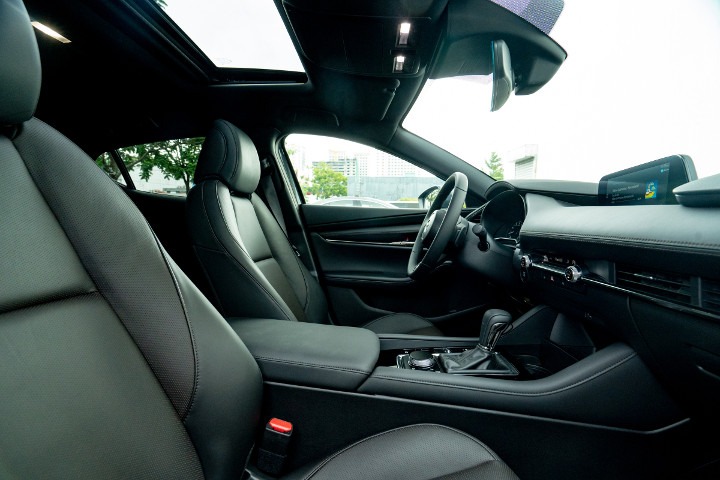 It provides you with infotainment by an 8.8 inches display screen that is compatible with Android Auto and Apple Car play interface.  Higher trims are also equipped with a head-up display, leather upholstery, dual-zone climate control, adaptive cruise control, keyless entry, and upgraded driver's assistance programs. IIHS has rated Mazda 3 4th generation with GOOD scores and marked it a safe car as it provides you with airbags, automatic emergency braking system, rear cross-traffic alert, lane-keeping assistance, blind-spot detection system, smart braking support system, frontal collision mitigation, driver drowsy monitor, stability control system and pedestrian detection system.