Mazda CX-9 2018
The trend of vehicle buying has been changing in past few years with the crossover & SUV while constantly cutting down the sales of Sedans. Therefore highest selling sedans such as Camry and Accord have recorded lowest number of sales during the past year and so. In simple words the preferences of vehicle buying has incurred a noticeable change while there are many factors that account for this however the most dominant factors include improved "mpg" due to advance fuel technologies along with crossovers and SUV providing more assist in daily life utilities. Henceforth the automakers all across the globe are now investing into Crossover and SUV production.
Engine & Performance:
Following the market trend Mazda also introduced crossover SUV in 2016 under the name of Mazda CX-9, since 2016 the CX-9 Mazda has been in production. The Mazda CX-9 comes with a powerful 2.5L SKYACTIV-G turbo-I4 engine; as the name says Mazda CX-9 comes with a turbo for optimum performance. The Mazda during the making of CX-9 fitted a turbocharged inline 4-Cylinder engine while it is an attempt of providing greater fuel economy and surprisingly the engine performed well. The Mazda CX-9 accelerates from 0-60 mpg in 7.1 seconds while Mazda always has remained close to the hearts of car enthusiasts; it has continued this reputation in CX-9. The Mazda CX-9 undoubtedly is automotive enthusiast's daily hauler, as soon as you step foot on the gas the Mazda CX-9 feels lighter just as any small crossover instead of an SUV. The suspension is soft but durable enough to ride over rough terrains therefore making it a mixture of driving in city along with country side. The steering provides sharp cornering combined with smooth suspension. As for the performance figures the Mazda CX-9 makes about 227hp on 91 RON whereas 250hp on premium fuel by its 2.5L Turbo-charged engine. Thus the torque is 420Nm.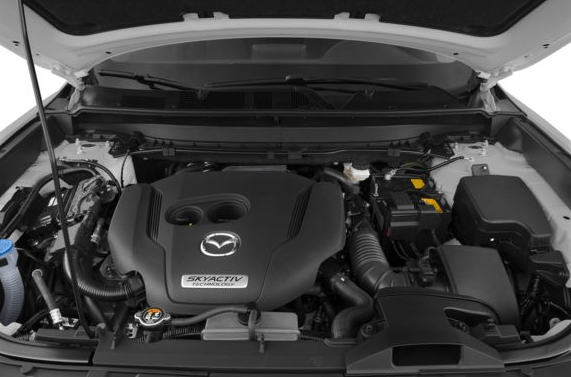 External Dimensions:
Talking about physical dimensions of Mazda CX-9 it has a wheelbase of 2,930mm. However the length, width and height of Mazda CX-9 are 5,075 mm, 1969 mm, 1747 mm respectively. The curb weight is 1,924 kg being 90kg lighter than the previous generation.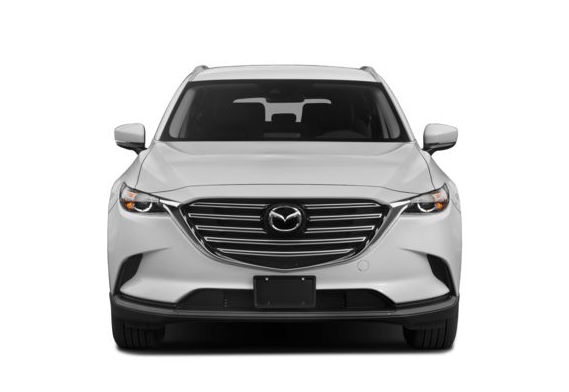 Posh Interior of Mazda CX-9:
Mazda CX-9 comes in great deal in terms of interior with a handful of features in the cabin; the interior is detailed in terms of up scaling, as soon as you open door you are welcomed with posh interior. The interior is made from soft touches of plastic with graining making it more pleasant. Further the interior of Mazda CX-9 is equipped with brushed aluminum and genuine rosewood. The dashboard has either 7.0 inches or 8.0 inches of infotainment system in center on dashboard; the sports version has 7.0 inches of infotainment panel whereas the Touring and Grand Touring version comes with 8.0 inches. The infotainment panel of CX-9 can be controlled with touch screen, voice commands, central knob and redundant button near gear shifter. Bluetooth connectivity, HD radio and internet applications are onboard. The cabin of CX-9 is smaller as compared to other rivals with no second-row option whereas a tight space when it comes to 3rd row seating space. The 2nd and 3rd row seats can easily be folded down making a flat surface for more cargo space hence making it easier to load and unload heavy bulky items. The cabin space of Mazda CX-9 can accommodate 25 luggage cases.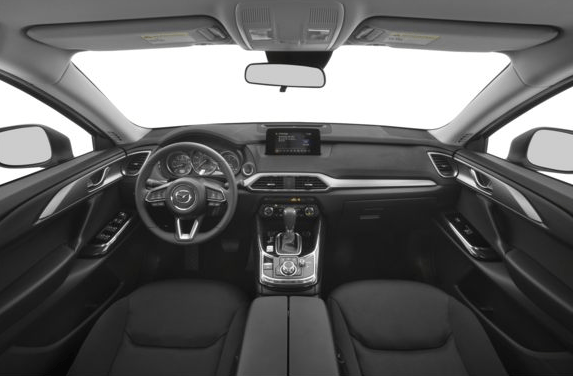 Better Fuel economy:
As the Mazda CX-9 equipped with 4-Cylinder engine that is why it offers greater fuel economy on road, therefore the Mazda CX-9 offers far greater mileage than its competitors in the league. According to the EPA it does 22mpg during the city whereas 28 mpg on highways on front-wheel-drive version whereas as for the all-wheel-drive version It reduces the mileage to 2mpg.
Safety Ratings:
Safety is one of most important concern in any vehicle which just can't be ignored. The safety standards by IIHS (Insurance Institute for Highway Safety) are strict for any auto manufacturer to score 5-star rating. Mazda CX-9 did well in crash test ratings and automated braking technology. However the tough spot for any SUV are the headlamps in which Mazda CX-9 also earned satisfactory ratings. Overall the IIHS awarded the CX-9 with five star rating. The list of safety features also include blind spot monitoring. In addition it has Radar Cruise Control with options of on and off. Adding to the list of features is lane keep assist and lane departure warning, "Autonomous Emergency Braking" on high and low speeds. The Mazda CX-9 is earned itself Wheels Car of the Year award in 2017.
The Mazda CX-9 comes in four trims:
Sports
Touring (Best Seller)
Grand Touring
Signature