Mercedes Benz AMG CLA45 4Matic
CLA class of Mercedes is a series of luxurious executive class that made its appearance in 2013 and became famous for its subcompact, Porsche and royal touch. The 2019 model of CLA 45 with 4Matic Drive amaze the whole community with its decent list of features and outclass looks along with its affordability as compared to other models. The 2020 model is also expected to lunch this winter after the unofficial debut of AMG CLA45 on German news with a two liters four cylinder engine generating a horsepower of 383hp. While talking about the 2019 model of Mercedes Benz AMG CLA 4Matic, it exhibits an aggressively aerodynamic design with a powerful engine and smooth ride driven through perfect handling of the car. Mercedes redesign its vehicles almost after every five years so the 2019 model is seen to be bit different in its predecessors. It is a four door coupe style car with front wheel drive option and all-wheel drive option for all type of conditions. The high performance AMG turbo charged engine generates enough torque and power to drive smoothly and readily anywhere.
 CLA 45 is considered to be the most affordable car of Mercedes with latest technology and sleeker looks. The 2019 model of CLA has two trims including CLA 250 and CLA45 where CLA45 is considered to be the higher trim among both with all-wheel drive option as a standard in CLA45. CLA 45 2019 has efficient control to be stable on bumpy roads and curvy highways while the safety features provided by the 2019 CLA 45 model are enough to ensure the safe drive in all types of conditions. Active brake assistance program helps in preventing front collisions by generating warning alarms or automatically applying brakes when driver is not active. Blind spot detection program will help you detecting any blind spot by displaying it on your mirror while the attention assistance program helps you be active and tells you to take a break when driver feels fatigue. Apart from this total eight airbags will be provided for drivers and passengers safety. Some other safety features of CLA45 2019 include Mercedes Benz Emergency call in case of emergency, rear view camera for parking, tire pressure monitoring system, ABS, ESP, keyless entry and rain sensing wipers.
Under the Hood:
Under the hood there is an AMG powered turbo charged two liters four cylinder engine generating a horsepower of 375hp and torque of 350lb-ft which is many times more than the previous models. It is a super-fast car accelerating from zero to sixty miles per hour in just 4.1 seconds at a seven speed dual clutch automatic transmission. The advanced and better suspension of the car is handled by multi-link rear suspension and four wheel independent Macpherson Strut front suspension. It does give amazing fuel economy by giving a mileage of 23 miles per hour in city and thirty miles per hour on highways.  The powerful AMG engine increases the high hp/liter ratio because of its intercooled twin turbocharger that can easily pump 26.q psi of boost. The reduced friction on roads and increase torque is due to its direct injection system. The ECO start and stop program automatically power on and on the engine when not in use especially while parking, in order to save fuel. There are two automatic modes other than the manual mode option including comfort and sport mode and Race start mode. The manual mode can be opted easily and operated by the paddle shifters behind the steering wheel letting you change the seven speed gears manually. The AMG Sport suspension and exhaust system with high performance braking system makes it an exceptional car among the other competitors.
Exterior and Interior technology:
The design of CLA45 is totally aerodynamic with lower body work and huge sized air intakes with functional lower cross winglets. The rear diffuser paneling from the chrome tail pipes to merge into the bumper by mesh-work. The flowing curvy body of CLA 45 sweeps all the way to create a 3 dimensional vehicle with frame less door glasses and impressive front looks to give a modern four door coupe design. The bold grille on front has chrome adornments embedded inside creating a twin power dome drilling into the headlights with Mercedes logo confidently encrypted on center of grille's fascia. Overall length of the car is 184.7 inches with a height of 55.7 inches, width of 80 inches and ground clearance of 106.3 inches.
Exterior Photos: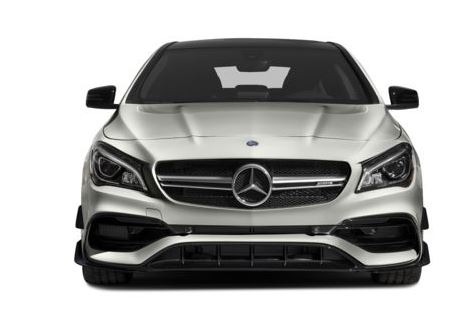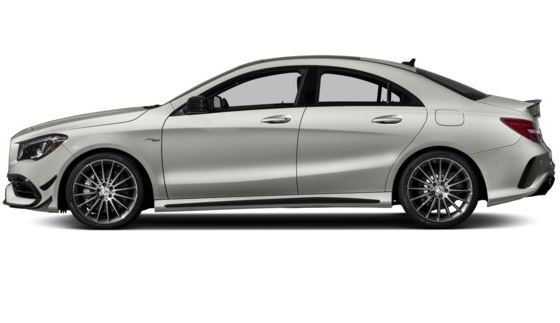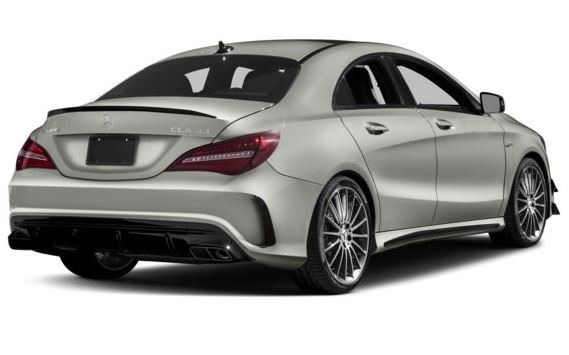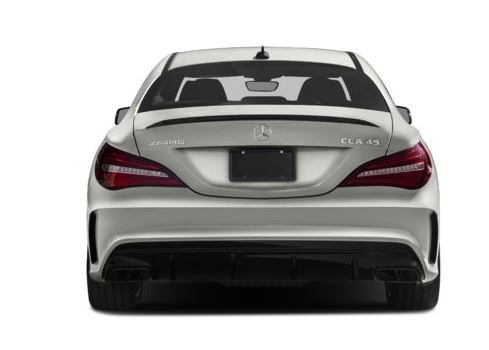 From the Interior car is very spacious with enough legroom and head room for front and back passengers. It offers a seating capacity for five passengers. The richly grained leather upholstery for seats, steering wheel, head rest and side bolsters create a real luxury to the cabin with both front seats equipped with contours and bolsters for comfort and safety. The driver's seat is equipped with fourteen way power adjustment of height and lumbar support with memory recall system installed in seats, power side mirrors and the there is also a thigh support for adding more comfort to your drive. The black theme color inside the cabin adds more soberness to the inside of car. There is an eight inches central display screen on the central console features you audio and video entertainment apart from hands free calling system and navigation system installed inside. These features can be opted by control buttons on steering wheel too other than the display screen. The COMAND system installed gives you GPS technology with high resolution and entertainment with a large size screen. Other than these many other exciting features include LOGIC7 sound system, live traffic and weather service, advanced voice controls, ambient cabin lights, heated front seats, ten years of Mercedes Me Assistance service, automatic climate control, spacious trunk, three years of Connect services, Compass, welcoming home feature, anti-thief alarm, LED headlights and tail lights with LED daytime running lights, 4.5 inches colored instrument cluster, optional panoramic sunroof and electromechanically power steering.
Interior Photos: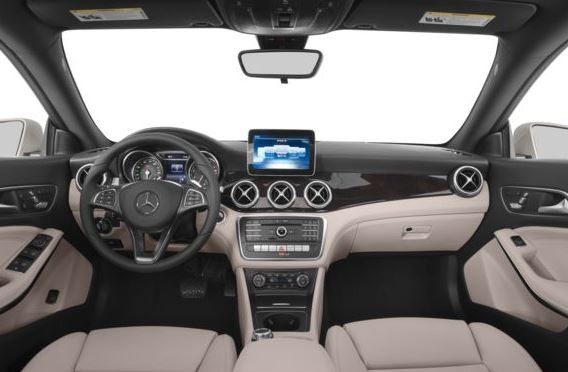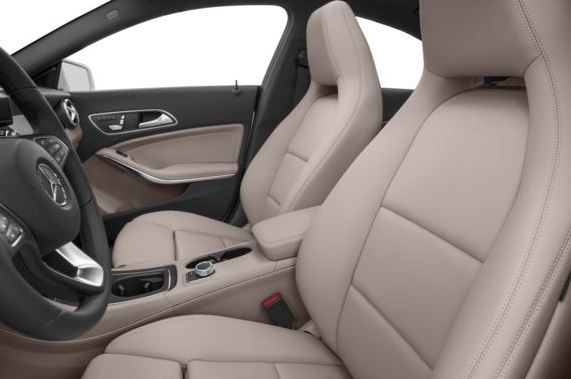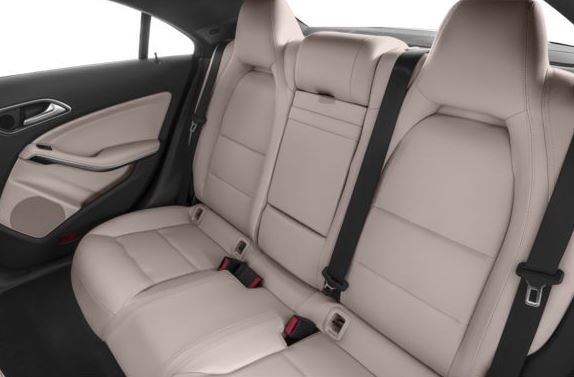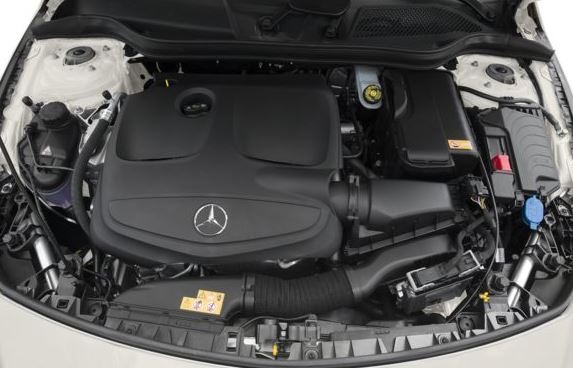 Major competitors:
Some of the major competition observed by Mercedes Benz AMG CLA45 2019 was among the following cars of the same class including Audi A3 with the same luxury level and affordability, BMW 2 series that is ranked as the highly leading luxury coupe and Volvo S60 which is newest in the luxury sedan class providing stylish design and innovative features.
Some drawbacks felt?
This is a perfect and affordable car but still some drawbacks are reviewed by the customers which let the company to engage itself in the launch of newest model of 2020. One of the drawback observed is the transmission and slow engine performance at comparatively slower speeds. The overall ride becomes stiffer as a result of it rather than promised smooth ride while the comfort provided by the cabin is also not up to the mark when comparing to rivals as the rear seats are a bit confined and the interior elements can be improved a bit to be matched with luxury cars of the same class.
Pricing:
The Mercedes Benz AMG CLA45 2019 4matic is available in markets worldwide with a starting price of 53,100 US dollars that is quite affordable as compared to other models of Mercedes and you can get the warranty of 48 months or 50,000 miles.