Mercedes Benz AMG G63 4Matic 2019
G class of Mercedes is no doubt one of the top luxurious SUVs around the globe, With a classical forty years old history G class has maintained its unique design and powerful AMG engine. The 2018 model of G class maintained its unique looks with slightly a bigger body and more efficient performance. The G63 2018 was completely redesigned with more attractive appearance but it kept its iconic looks. It exhibits remarkable on road and off road capabilities along with high technological gadgetry. Mercedes unveiled its 2019 model of AMG G63 at Detroit auto show with a slightly redesigning and changes in performance and it has managed to be the favorite model among customers due to its tremendous performance and good reviews.
 The all new AMG G 63 is a high powerful beast with luxurious features and a complete confidence that makes G63 loveable. The G63 has the powers of a heavy traffic loaded in a wagon, being built on G platform, it delivers remarkable suspension with its front independent suspension and revised rear suspension. Mercedes is delivering the Edition number one its G63 model with gray stripes, special matte black painted design, twenty two inches wheel with red colored trim and exterior side mirrors with red strips. This design will be changed for the upcoming editions and people are rushing to order the first edition of their favorite G63. Mercedes has always cement their status as luxury providers with ensured safety and it has not proved this wrong in G63 model by providing all the best and possible safety features to its customers to ensure safe and secure drive. G63 2019 provides air bags for drivers and passengers to avoid any mishaps in side collisions and major accidents. Other than this G63 is equipped with ABS, brake assistance, electronic stability control system, child locks, blind spot detection system, traction control, day time running lights, front tow hooks and automatic leveling headlights to adjust the light automatically according to the darkness.
What makes it the heaviest vehicle to break down 4-2nd barrier?
Mercedes generates its AMG G63 2019 model with an acceleration of 3.9 seconds and a top speed of 149 miles per hour which means it can easily catapults from zero to sixty miles in just 3.9 seconds which is extremely remarkable. When talking about its engine, the wonderful performance of this fast running beast is powered by 5.5 liters twin turbo charged eight cylinder V-8 engine that generates the horsepower of 563hp at 5500rpm and torque of 561lb-ft at 1750rpm. This powerful vehicle has tremendous fuel economy by running a mileage of twelve miles in cities and fifteen miles on highways with a total fuel tank capacity of 25.4 gallons. It offers seven speed automatic transmission with the option of seven gears manual mode with the help of paddle shifters mounted on steering wheel by offering three modes including Sport, Comfort and Sport plus modes for driving differently in different situations. It also offers 4matic drive that makes it perfect vehicle for all type of weather conditions including heavy rainfall and unpaved pathways. It comes with 40 by 60 torque split from front to back for better performance.
 G63 will no doubt be your favorite sports car with its improved suspension, power, torque and performance. The previous model of G63 has a top speed of 137 miles per hour while the acceleration of the predecessor was 4.8 seconds which is quite less than the 2019 model and this is the reason G63 2019 has been called the heaviest vehicle because of all these superb specifications that made it better than its predecessor.
Looks of the all new AMG G63 4Matic 2019:
G63 2019 has an attractive design which is slightly different from previous generations with more aggressiveness in its front bumper and stylish grille design. The exhaust pipes remains the same as previous models but the wheel arches are flared a bit to add more beauty to its sporty look. Wheels are bigger and wider squeezed by the red colored brake calipers. The rounded headlights are darker and high beamed flaring towards the outer boundary while in the middle there is a central silver accent grille that holds the Mercedes logo encrypted on it. While the back bumpers and the side mirrors are painted black for elegant looks and the tail lights are angular in shape with LED lights.
Exterior Photos: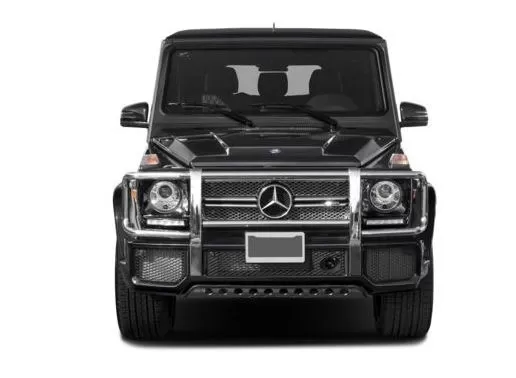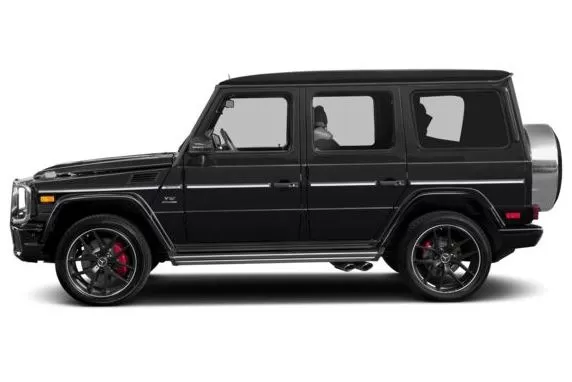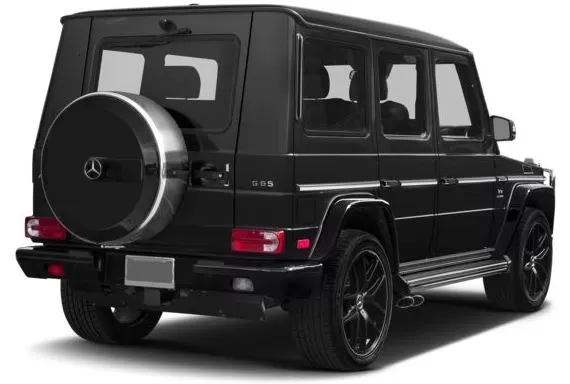 Inside the cabin is more attractive with red detailing on steering wheel, dashboard, console, panels of doors and seats with red and black colored leather coverings on seats with heated front and rear seats while the driver's seat is memory seat with full lumber support and height adjustable headrest. It offers a seating capacity for five passengers with enough room space inside the cabin. Overall the wagon is 76.3 inches in height and 76.3 inches in width with a ground clearance of 112.2 inches.
Interior Photos: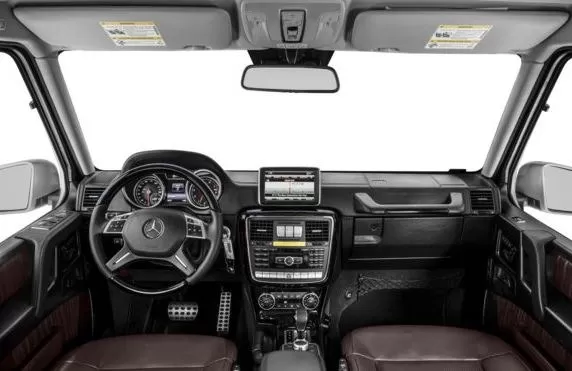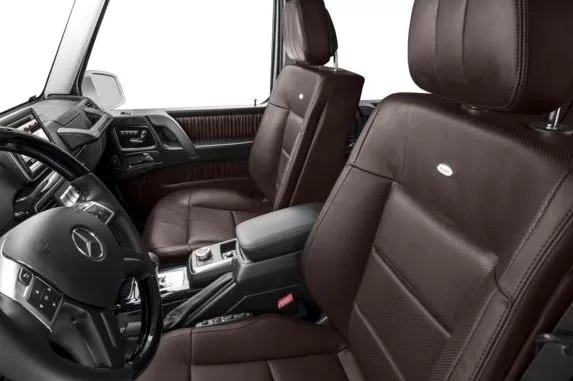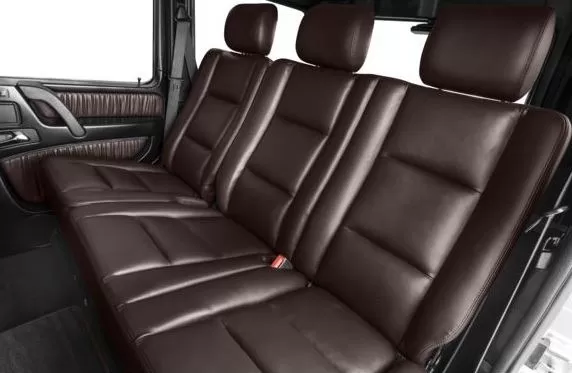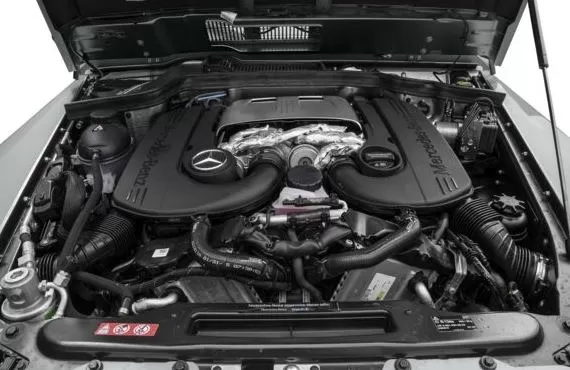 Some outstanding features of AMG G63 2019:
This superb car has undoubtedly become a super beast in its class because of the amazing features provided by it. Some of the remarkable features include adaptive cruise control, rear view camera, automatic headlights, heated steering wheel, and rain sensing windshield wipers, heated mirrors along with mirror memory function, keyless entry, power folding mirrors, power steering, climate control, navigation system with wireless mobile phone hookup and full air conditioning system inside the cabin. The multimedia system consist of 12.3 inches central screen display that displays high pixels, ambient lights and faster speed to provide you with entertainment and navigation via touchpad control on console or steering wheel. The analog gauges are provided with high resolution and red indicators to show graphics and it is very easy to operate it by scrolling the menu through touch controls on steering wheel.
The digital cluster is placed in front of driver with customizable changes in instrumentation and it shows the information about vehicle, various settings and drivers assistance program features. There is a Cockpit Management and Data system which make your access easy to entertainment and navigation for your convenience. It is controlled by rotatory knob and touch pad response through fingers and let you select which feature you want. Some of other exciting features include three years of live traffic service, burmester sound system, Android Auto, Apple Car play, Bluetooth connectivity and in car optional Wi-Fi system.
Pricing and warranty:
Mercedes presents its AMG G63 4Matic 2019 model with a starting price of 147,500 US dollars and the orders are already started for this marvelous creation. It comes with a warranty of 48 months or 50,000 miles while the service and repair will be provided by the company's factory trained workers when required with prepaid maintenance. AMG G63 is automotive equivalent of a power lifter heavy vehicle which means it is much better than the previous models and we are hoping a good business of Mercedes Benz AMG G63 2019 model.