Mercedes Benz AMG GLA45 4Matic 2019
The Mercedes-Benz GLA is a crossover SUV that offers an ideal mixture of efficient on-road capabilities, perfect suburban size and superb high speed cruising. GLA is a 4-door, back lift gate, compact SUV that has a seating capacity for five adults. It is available in two versions including GLA250 and GLA45 AMG trims. GLA 45 trim was introduced in 2015 as first generation of Mercedes Benz AMG GLA45 4Matic. It is equipped with all-wheel 4matic drive system that makes it different from other vehicles.  The GLA45 offers three modes of driving including Comfort, Sport, and Sport+ that increase stiffness of the drive smoothly. Performance of the car is superb with remarkably smooth suspension that transmits every jerk and bump smoothly to backside not even being noticed.
It is one of the most entertaining luxurious crossovers that produces respectable mileage and out class clearance. The all- wheel drive option of this luxurious crossover let you drive in every weather condition because it is equipped with high technological and safety features that let you drive safely and smoothly. The GLA45 is a blend of outclass  performance and sharp handling of the vehicle with an increased ground clearance for rutted and bumpy roads or the uneven field you might be driving through.  When coming towards safety then it must be mentioned that this luxurious crossover is equipped with all basic and advanced safety features including total eight airbags for safety of passengers and avoiding mishaps during accidents. Other safety features include the blind spot detection system, active brake assistance, adaptive braking technology, anti- lock braking system, seat belt warning alarm, electronic stability program, rain sensing windshield wipers, keyless entry, Mercedes Benz Emergency call, advanced tire pressure monitoring system, lane keeping assistance program, active parking assistance and rear view camera for parking.
Engine and performance of GLA45 2019:
It is powered by AMG two liters inline-4 turbo cylinder engine that generates a power of 375hp at 6000rpm and torque of 350lb-ft at 2500 to 5000 rpm. The total fuel capacity of the car is 14.8 gallons and it provides amazing mileage of twenty two miles in city and twenty eight miles on highways with a top speed of 167 miles per hour and it can accelerate from zero to sixty miles per hour in just 4.3 seconds. It offers both manual and automatic transmission where driver has the choice to choose either the seven gears automatic transmission or the manual transmission by shifting the gears manually by the help of paddle shifters. An amazing top speed is achieved by transmitting the torque to the ground either driving on full front-wheel drive option or the all-wheel drive option and the GLA45 can easily reach a quarter mile in just 12.5 seconds. It offers highly efficient braking system with all safety features equipped in it including ABS and electronically stable braking system that assists you in driving safely.
Styling and features of Mercedes Benz AMG GLA45 4Matic 2019:
The GLA 45 has an impressive front with a muscular and defined looks that are as stylish as its name. The sport wheel covers its fenders completely giving a bold and unique body shape. The chrome accents on the front flares up to the roof rails to add elegance while the lower body design is aerodynamic with large air intakes and with functional flicks. The wide grille on the front has a central matte chrome logo encrypted on it with bulging appearance of the ever shining Mercedes name.  The GLA 45 is 175.4 inches in its length, 8 inches in its height and 79.6 inches in its width. Coming to the interior, cabin of GLA45 is very stylish and luxurious with its richly grained leather upholstery. The front and back seats are leather covered with head restraints and side bolsters along with the steering wheel covered with leather. The interior cabin is made very spacious with a large head room and leg room for passengers while the back seats are easily foldable to increase the back space for carrying luggage and cargo.it uses the high quality metal pieces inside the cabin for door handles, dashboard and steering wheel. There is an n eight inch screen on the dashboard which is basically not a touchscreen but it can be controlled through Apple Car play and Android Auto with Bluetooth connectivity and USB ports provided. It gives you audio, video entertainment along with hands-free calling.
Exterior Photos: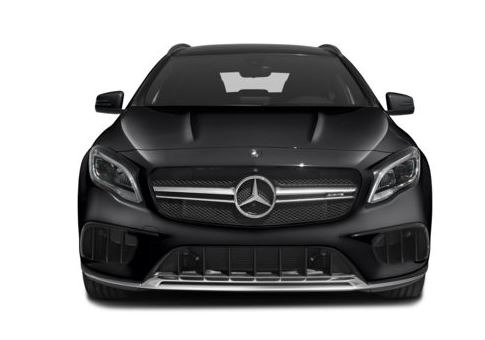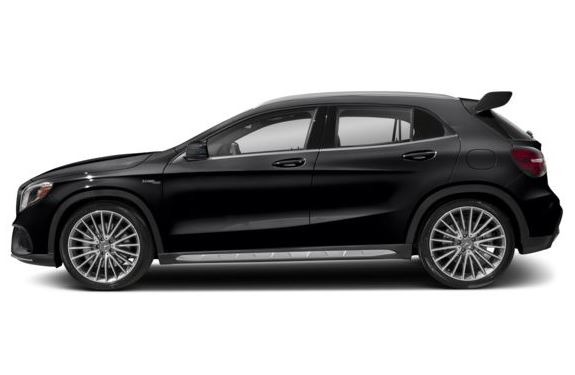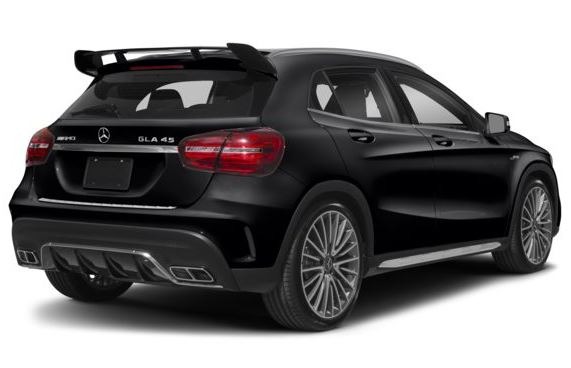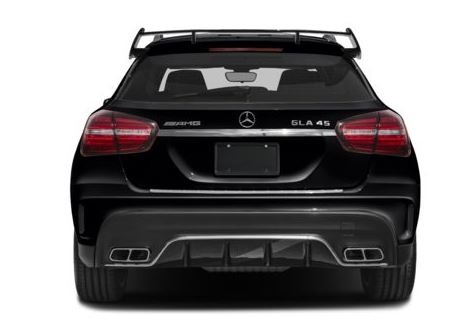 The integrated steering wheel can give you many other features including the satellite navigation that let you store maps and assist you in driving with the live traffic information that will help you drive easily and quickly in traffics with remarkable speeds. The Mercedes ME Connect services provided by GLA45 include Maintenance Management services, Remote Diagnostics service, tele diagnostic service, accident recovery service in case of emergency, roadside assistance service and air map updates. Some of the other features include rear fog lamps and LED headlights and rear lights with power lift gate and power windows, power door locks and power steering along with panoramic sunroof that increases the space and ambient lightening inside the cabin, high quality metal accents door panels, blind spot detection, rear view camera, active parking assistance, Bluetooth connectivity and automatic climate control system inside the cabin.
Interior Photos: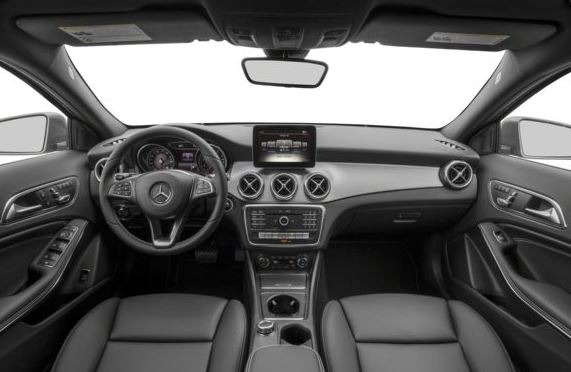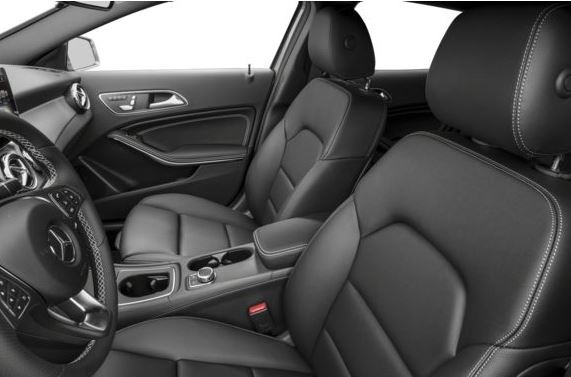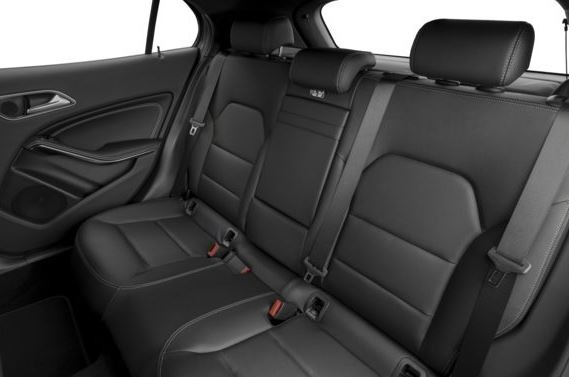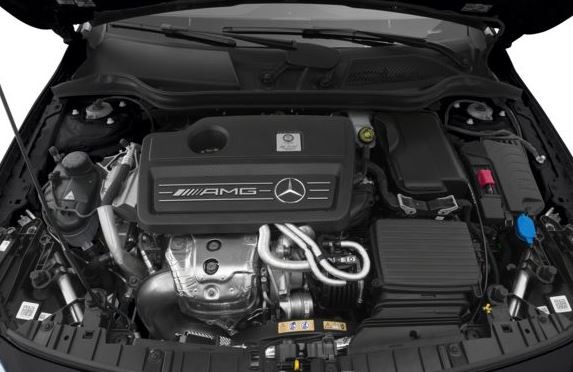 Pricing and warranty:
It is present worldwide excluding Pakistan with a starting price of 53,350 US dollars and the company is providing the warranty of 48 months or 50,000 miles coverage of the vehicle with service and maintenance of the car being caught at your door step by the factory trained mechanics and helpers. GLA 45 4matic 2019 has already won the hearts of people with its remarkable body design and wonderful performance that makes it one of the best luxurious SUV of its class and we hope to see a good business of it in the near future.