2022 Mercedes Benz C Class
Sold in the USA: 2021-Present
5th Generation
2022 Mercedes Benz C Class Price in the USA: 
Mercedes Benz C300 
 Starts at:

44,600 $

Mercedes Benz C300 4MATIC
 Starts at:

46,600 $
Mercedes Benz customers were patiently waiting for the new C class flagship in 2020 and the C Class was already been spied in W206 on roads as an SUV-inspired variant of the traditional wagon while it was also confirmed that the C Class sedan for 2021 will be unveiled by Mercedes at Paris Motor show and it will be officially launched till September. The W206 of the C class is much fancier than previous models and it has a pure EV derivative with better plug-in hybrids. It has a 48 volts electrical system and the use of aluminum reduces the weight of the car to such a huge amount that air suspension options will be provided in some trims while made standard in higher trims. The Mercedes Benz C Class sedan was first introduced in wagon style and later on, the coupe and convertible styles were also launched however the electric model will be out around 2023. Mercedes Benz C Class is available in two trims including the C300 Sedan and C300 4MATIC sedan while different packages can be bought to enjoy more features just like the Night package, Parking Assistance Package, Driver's Assistance Package, and Premium Package.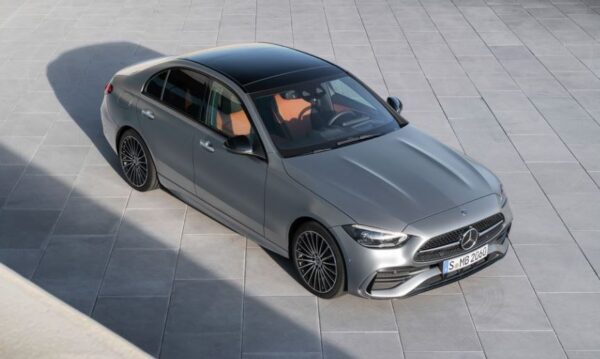 Engine & Power :
The C300 sedan is powered by 2 liters turbocharged inline four-cylinder gas engine paired with 9 speed continuously varying automatic transmission that generates 255 horsepower @ 5500 rpm with maximum torque of 295 nm @ 2000 rpm. The other trim is also equipped with the same engine power and the rear-wheel drive option is also available in both assisting your driving skills in all types of weather conditions. It rides softly and smoothly over every type of surface because of its standard suspension tunings and comfortable riding qualities. It will give you the option of four driving modes in which the Eco and Comfort modes are kept luxurious and Sport and Sport plus modes tighten up the mechanics for sporty driving. The cabin is made insulated from outside noises and engine throttles while the steering response is very accurate and adjusts accordingly with the driving mode selected. All-wheel driving C class will provide a mileage of twenty miles per gallon in cities and thirty-three miles per gallon on highways with a fuel tank capacity of 17.4 gallons.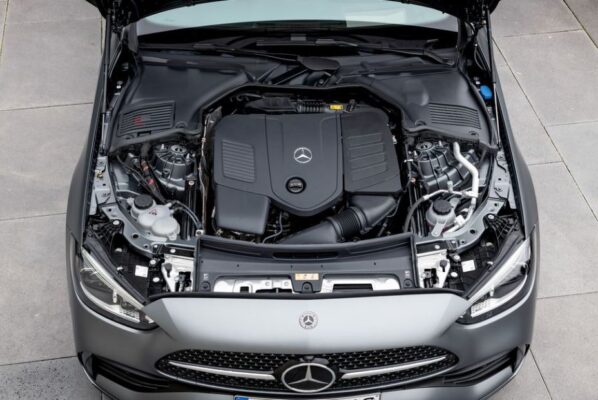 Exterior Design & Features:
The overall body of the upcoming Mercedes Benz C Class will have a length of 184.5 inches, a height of 56.8 inches, and a width of 71.3 inches with a wheelbase of 111.8 inches. As already mentioned above the weight of this model will be lighter than previous models ranging from 3869 pounds to 4012 pounds. There will be a variety of exterior color options with black and polar white being the standard options. Eighteen inches alloy wheels along with LED headlights, power-folding side mirrors, power sliding sunroof, keyless illuminated entry, and power-operated windows are made standard in all trim levels.
Interior Design & Features:
It will be a five-seater car with leather upholstery adding a luxurious touch to the cabin while the well-cushioned seats provide the maximum level of comfort. You can also personalize the color of the cabin according to your choice and the dashboard can be personalized with a variety of deluxe wooden work. You will be provided with a head-up display, a three-zone climate control system, a heated steering wheel along with heated and ventilated seats, and a variety of driver's assistance programs including attention assistance, blind spot detection, crosswind assistance, and rear view camera along with adaptive cruise control, lane keep assistance and 360 view camera.
Infotainment will be provided by 10.25 inches screen displaying high-quality graphics compatible with Android Auto and Apple Car play interface while the thirteen speakers Burmester sound system provides a well-equipped sound setup. It also features wireless charging, a touchpad controller, Wi-Fi in the car SD navigation, and Sirius XM radio. The interior of the car will be exceptionally luxurious displaying an impression of sophistication and modernity making you feel more special than all other average compact luxury sedans.
Major Competitors:
Major Competitors of  Mercedes Benz C Class are Mercedes Benz 3 series, Mercedes Benz CLA Class, Mercedes Benz E class sedan, and Audi A4 sedan.