Mini Clubman Cooper FWD 2017
Brand under BMW has something special for their customers, a collection of Hatchbacks that provide you same comfort and luxury like other expensive sedans. Even though this is a Mini Wagon but it really has lot of guts to compete with sedans and other Mini's in market.  This brand MINI was founded in 1959 that is specialized in making small or Mini cars.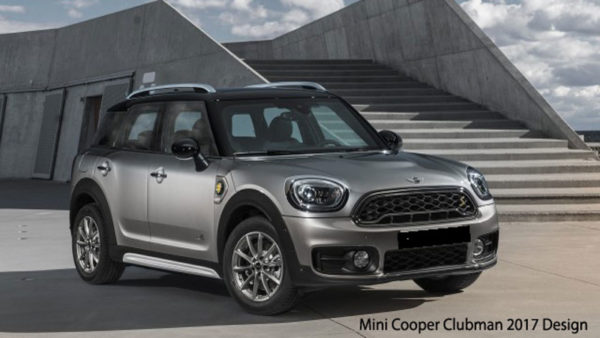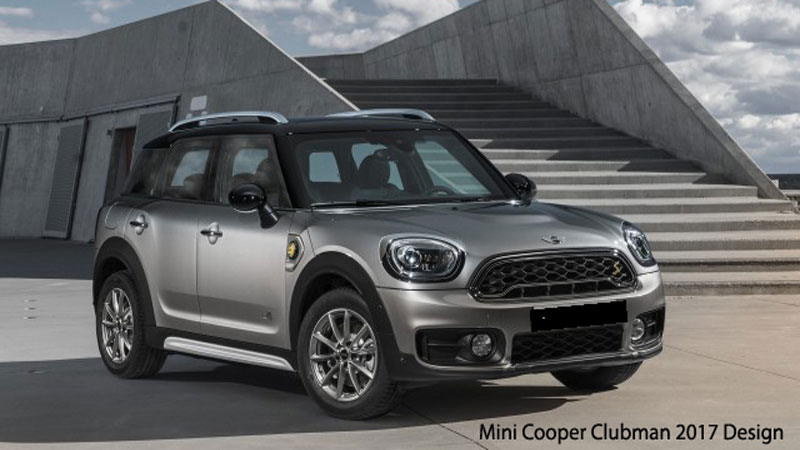 This was product of British Motor Corporation that is now under control of BMW. Mini Clubman 2017 is a futuristic hatchback car loaded with so many options and stylish looks.
Design of Mini Clubman Cooper 2017:
This Mini Clubman has 3 different versions; there is present 2 door convertible, 3 door hatchback, and 5 door hatchback. The current version under discussion is 5 door hatchbacks or technically not wrong to say it is six door hatchback because it got 2 doors on rear side. This is the bigger version among all three that can be called a practical version of station wagon. First thing we notice after seeing is it an stretched car which is more wider and longer that got 2669 mm wheel base and 1800 mm width that is quite more than lot of Mini's on road. Wider car has wide black grill with chrome surround that gives unique appearance in the presence of Ellipse circular fully automatic aero composite halogen Headlamps. Below the front grill a body color bumper present with black net air intake and fog lamps.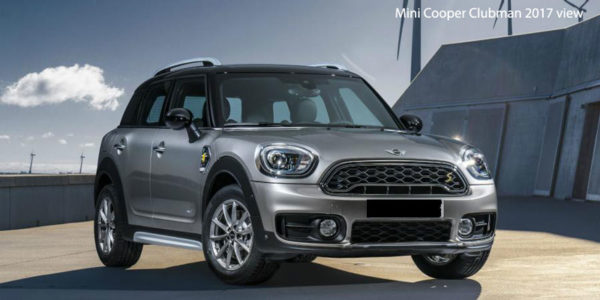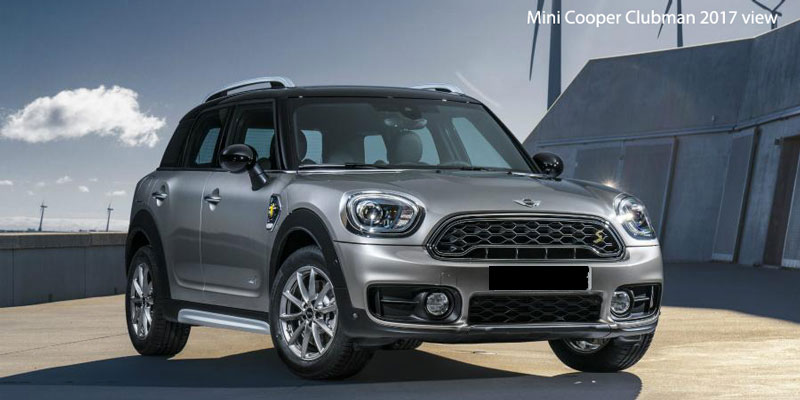 Moving to side of car it has black mirrors, chromed door handlers with 16 in alloy wheels that surely make this more adorable.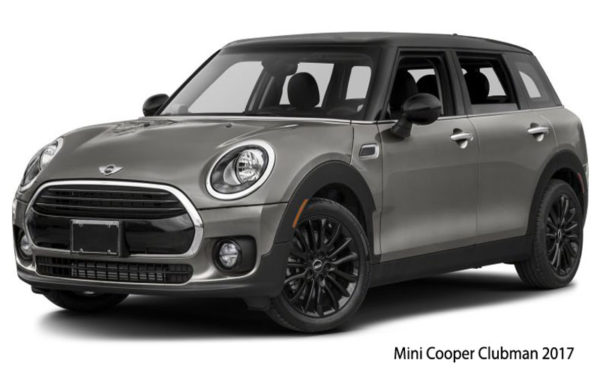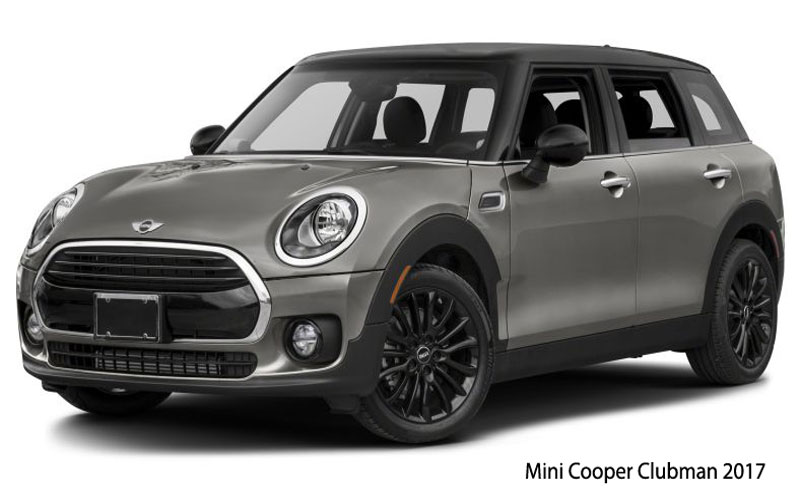 Rear side of Mini Clubman has big horizontal head lights that are not as cute traditional tail lights present in other Mini's but still a nice combination with body appearance.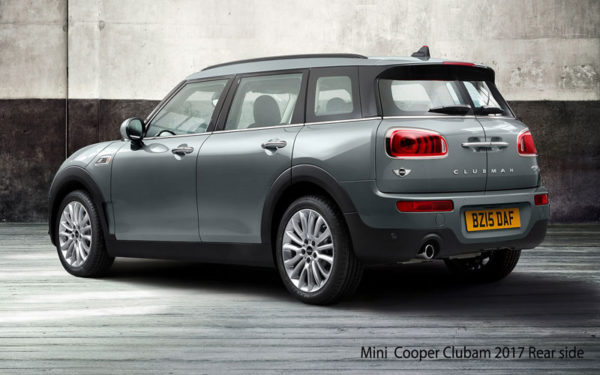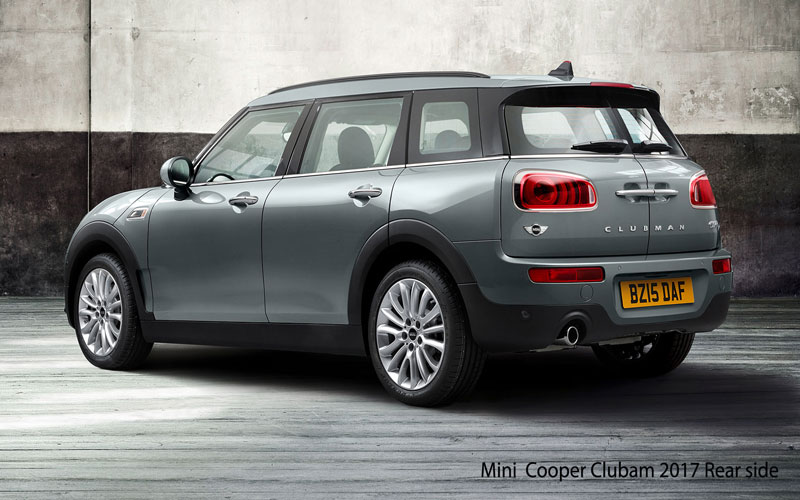 Moving inside it has spacious interior that is fully loaded with lot of functionalities. Front cabin of Mini is totally different from traditional hatchbacks but it is still so cool and charming. Interior has black where exterior got wide range of color options for users.  Beautiful looking ring shaped LED dial that has 6.5 inch infotainment display inside.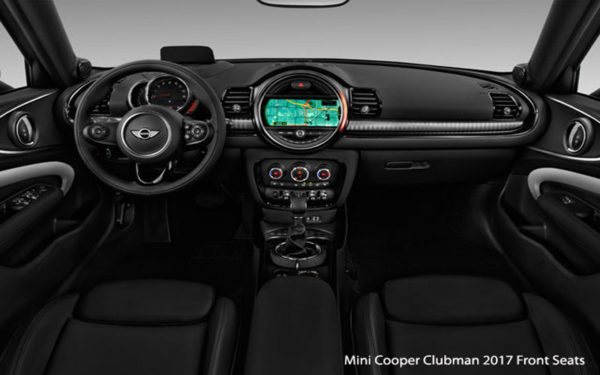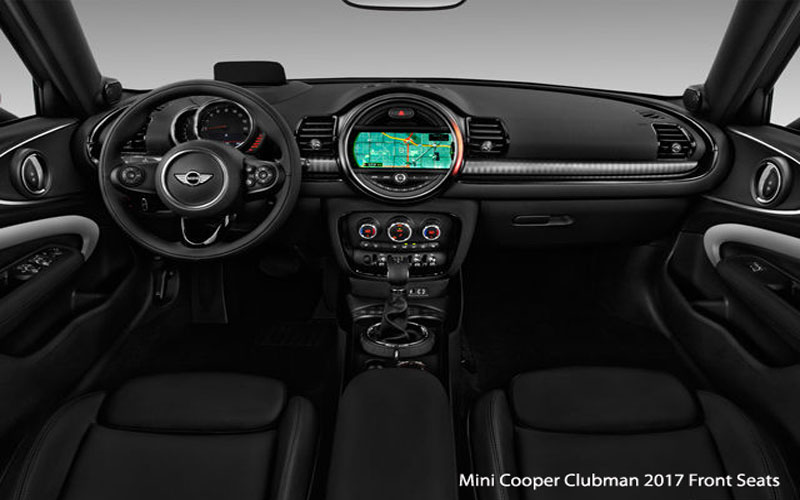 Lot of cool looking buttons present on head side for performing different functionalities in car. More on inside there has been used leather material on seats, added metal look instrumental panel and chrome metal look interior accents. This is the precious illuminated interior that gives you extra ordinary visually appealing environment that is not present in other cars.
Engine and Transmission:
All versions of Mini Clubman Cooper has same 1.5 liter inter cooled turbo premium engine that has 3 inline cylinders and produces 134 horse power with 280Nm@1250 Rpm peak torque. It gives 127 miles per hour top speed with 0-60 reach capacity in just 8.0 seconds.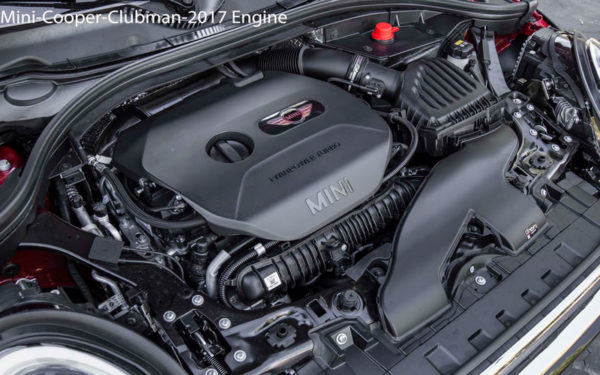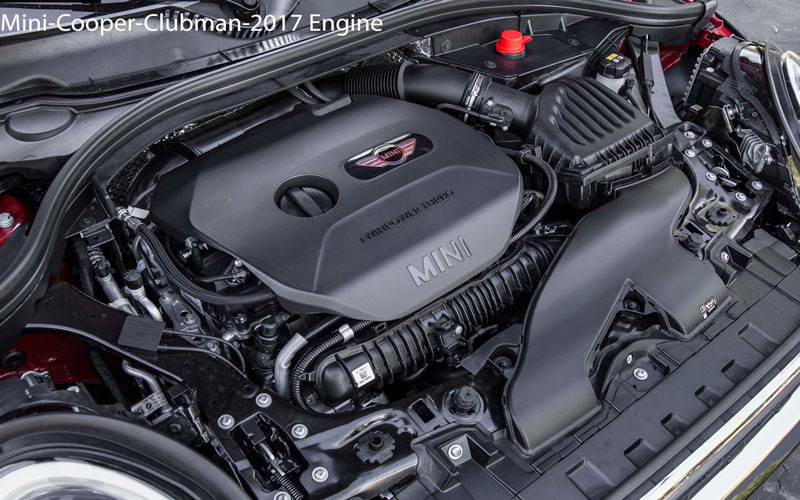 Fuel Economy of Mini Cooper Clubman is better which is 25 MPG in city and 34 MPG on highway. It is loaded with 6 speed manual or automatic transmission that works using power shifter or shift gear knob.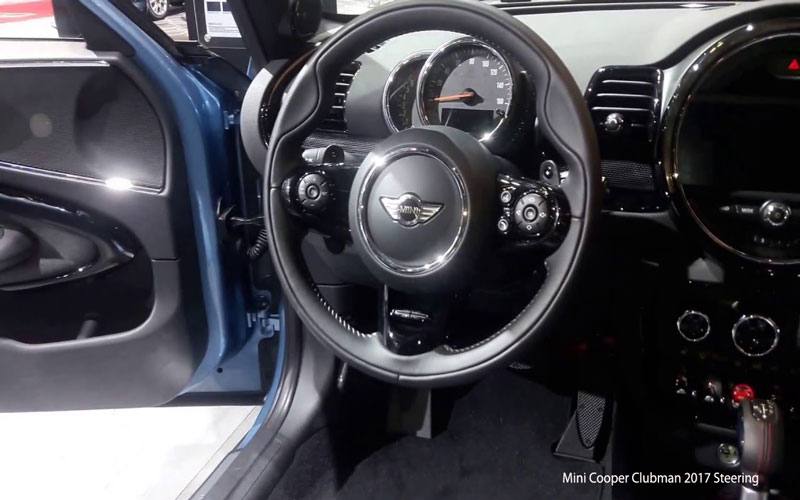 For better control over car there has been added Electric power assist speed sensing rack and pinion steering that is leather wrapped to give better griping.
Comfort and Security:
Mini Cooper Clubman can compete with any car in this section, its spacious interior with comfortable front and rear seats make it superior on other Mini's. Front driver and passenger seat has 6 way manual adjustment options, arm rest with 2 cup holders. Rear seats are comfortable too with enough support and good back rest for long distances. There is enough head and leg room on rear side where you face no problem while seating, more on rear A.C vents for passengers also present.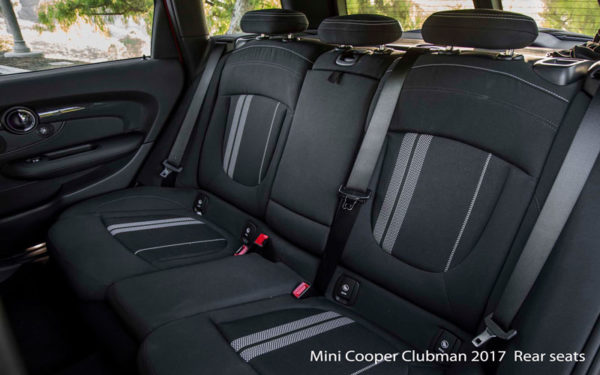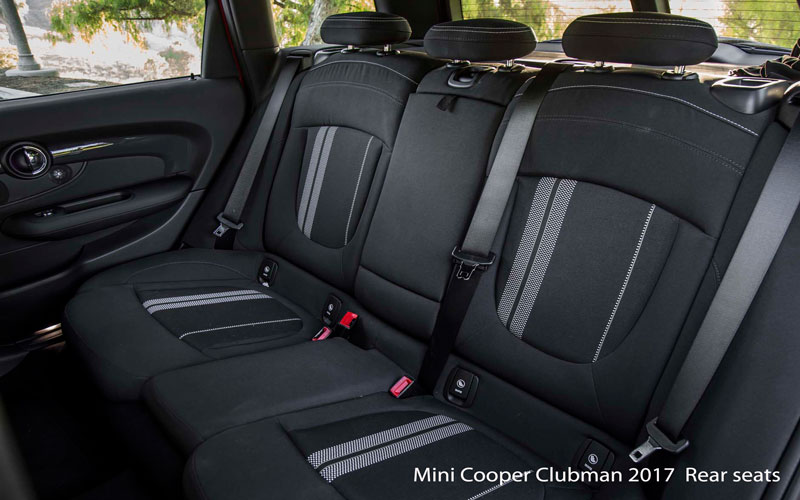 To give better control over car in any scenario this car equipped with anti lock braking system, Electronic Stability control, Traction control and low tire pressure monitoring. In case of accident there are added curtain 1st and 2nd row airbags, side impact beams and driver passenger knee airbags.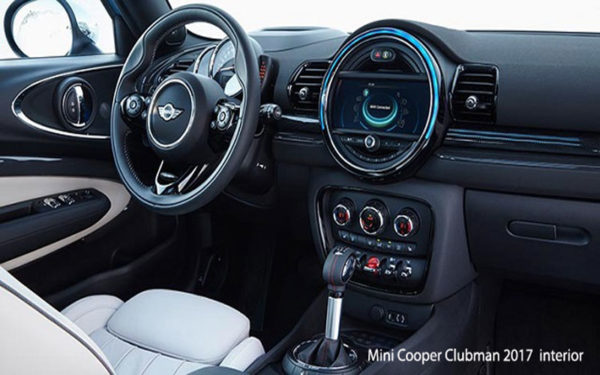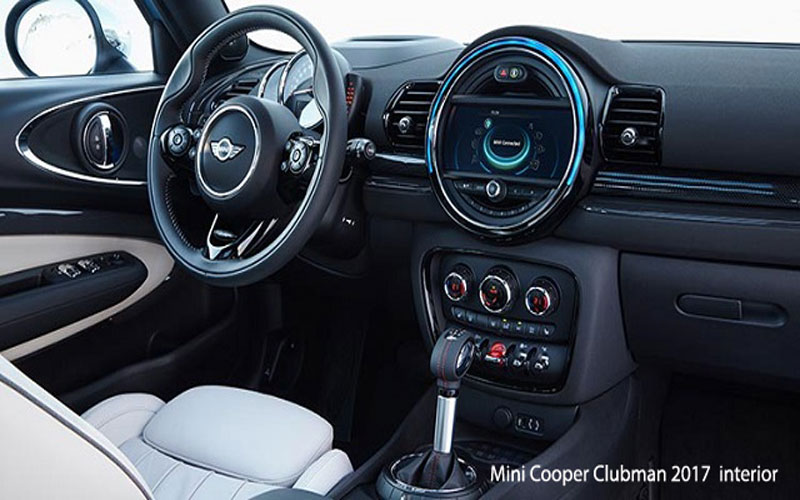 Complete Specifications and features of Mini Clubman cooper 2017 has added below for further assistance.
Price in India: 3.8 million Indian Rupee
Price in USA: 24,950 $