2023 Renault D-280
Sold in Pakistan = 2021-Present
2022 Renault D-280 Price in Pakistan:

140,000,00/- PKR

Booking = Online
The D range of Renault trucks includes medium-duty trucks launched in 2013 as a successor to Midlum. Ghandhara Nissan Limited made an initiative to introduce foreign brands in Pakistan with their locally assembled vehicles. Ghandhara Nissan has been an authorized assembler of Nissan, JAC, Dongfeng, and Renault trucks in Pakistan. Renault Pakistan sells three locally produced trucks by Ghandhara Nissan, and these are D-280, C-380, and K-380. Now specifically talking about Renault D-280, it is a 4×2 medium-duty truck introduced by Ghandhara Nissan. Initially, some units got imported, but after 2019 Ghandhara Nissan started manufacturing Renault D-280 in Pakistan. It is also known as PRIME MOVER, and it gives you a range of utility options making it a versatile truck. Its off-road driving abilities are appreciated, so you can easily carry the goods to any of the terrains. The D-280 trucks have low maintenance costs and operational costs, so it is economical for the small business class. Renault D-280 was introduced by keeping in view the demand arising from China-Pakistan Economic Corridor, and thus it has been used in various sectors because of its versatility. We will share some features and specs of the Renault D-280 in detail today.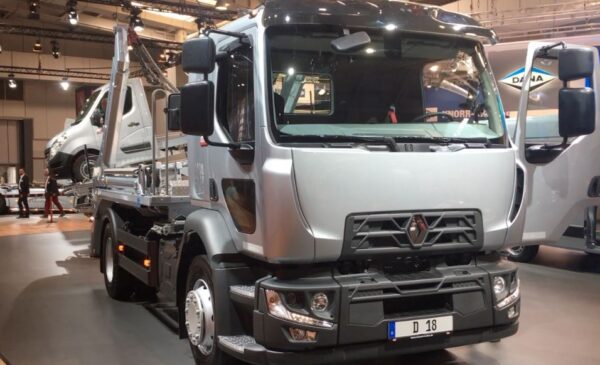 Variants available:
The Renault D-280 is available in only one trim level, which is the D-280 Prime Mover. It is a front-wheel-drive truck that offers only a single engine choice. You can customize your trucks as per your needs. You can either convert the flatbed of the Prime Mover into a dumper for transporting dumps for the construction business. You can also use it as a tanker to carry petroleum and other liquids or use it as a goods carrier to transport goods to various places. It can also be converted into a refrigerator van for transporting frozen items, and thus it has its utility in the food business. Another use of this truck can be seen in collecting garbage and crane cargo, so the heavy loads are loaded into it with the help of a crane. It can be used for military or police services for transporting troops or prisoners.
 Engine and transmission:
The Renault D-280 gets its power from a Dxi7, Euro III, diesel engine with a 6-cylinder, 4-valves, turbocharger, and a displacement of 7.2 liters. It generates a maximum of 280 horsepower @ 2300 RPM and 920 Nm of torque @ 1200 RPM to 1700 RPM. The suspension system works well with parabolic leaf spring suspension on the front axles and anti-roll bar suspension on the rear axles. It offers you a nine-speed manual transmission. The automatic transmission has not been introduced yet in this truck, but the manual transmission works efficiently.
 Performance & Drive:
Now talking about this Prime Mover's performance, we must tell you it is a well truck that delivers a good driving performance. The 7.2 liters diesel engine produces enough power to run the front wheels efficiently, giving you a smooth drive. Unfortunately, four-wheel driving is not available in Renault D-280, but its 4×2 wheel drive faces all the road situations with maximum efficiency. The manual transmission works great with precise gear changes, although more effort is required to drive the truck at higher speeds when heavy goods are loaded. On the whole, gear changes are easy and convenient. The parabolic leaf spring suspension plays its role in giving you a smooth and balanced ride by absorbing shocks and abnormalities of the road. It comes with daytime running lights that provide a clear vision on roads and assist the drivers. The handling of Renault D-280 is not very tough once the driver has learned the handling of maneuverability. The anti-lock braking system gives you a more secure ride by preventing the brakes from being locked whenever you hit an accident. An electronic braking system applies brakes efficiently, providing you with safe driving. It can carry a payload of up to 34280 kilograms, and it offers a ground clearance of 291 millimeters which lets you drive with a heavy load smoothly on rough terrains. The fuel economy of Renault D-280 is not bad, giving you economical fuel efficiency, and it features a fuel tank capacity of 200 liters. It gives you a maximum speed of 90 kilometers per hour.
 Exterior design and features:
The Renault D-280 truck has an overall length of 7450 millimeters and a width of 2400 millimeters. It is a large-size truck with a hydraulic tilt-able cabin. A large windshield pronounces the front end, and there is a black-colored small grille underneath, which has the Renault logo encrypted on it. The headlights are narrow and come with daytime running lights. The side mirrors, bumper, and door handles are colored black. The rear end has a long bed that can be customized according to your requirement. The vehicle is designed, so the truck's overall weight is less, and the vehicle has a curb weight of 5.1 tonnes.
 Interior design and features:
The cabin is designed elegantly with fabric-covered seats. You will find plastic trim pieces inside the cabin that look cheap. The seats are well-cushioned so that the driver can carry heavy loads to long distances conveniently. It has a simple steering wheel with a retarder positioned below it. The air suspended driver seat offers manual adjustment. The cabin is spacious with a sleeper compartment in it for long route travels. You will get a multi-information display in the cabin, showing the vehicle's basic information, and an onboard diagnosis is also given. You will find a manual accelerator button in the cabin, and the windscreen is wide enough, giving you a clear view of the road ahead. The height of the driver's seat is a bit high, so the drivers have a better idea of the road. It offers an air conditioning system in the cabin too, and the air conditioner works well even when driving with heavy loads loaded in the truck.
 Safety & features:
This is the major issue in Pakistan that most of the vehicles in Pakistan specifically commercial vehicles lack the safety features so here is with D-280, it does not have airbags, blind-spot detection, and many other important features are very important for such type of vehicles.
Some of the safety features the Renault D-280 provides are as follows:
Anti-lock Braking System
Electronic Braking System
Advance Safety Assist
 Major Competitors:
Volvo FMX
Forland C717
DF-245 Ipm