Subaru R2
Sold in Pakistan = 2003-2010
Generation = 1st (Discontinued Worldwide)
Price in Pakistan =

7-11 Lac PKR

(As per Condition & Model)
Subaru R2 falls into the Kei Car category of JDM (Japanese Domestic Market) vehicles. The Kei cars are possibly the smallest car to be manufactured while being highway legal. Kei cars were introduced in Japan during 1949 where certain standards were set up for dimensions and engine power thus allowing the public to enjoy better insurance plans and reduction in tax. The Kei cars ever since have been more popular with the passing day while acquiring one-third of market shares in terms of new car purchases. These cars are imported all around the Asian, European, and American markets for people with the need for smaller, fuel-efficient, and cheaper cars.
When it comes to the design of the Kei car category, due to standards set by the Japanese government there is not much to do with the styling of the car as the car has to be 3400 mm long and 1475 mm wide. This pushes the auto manufacturers to make a boxier car with wheels popping towards the outside to provide more cabin space in the interior therefore the creativity in making of these cars is very narrow whereas the fixed small engine is also what hinders engineering teams for any automotive manufacturer to improve performance and upgrade other components. In simple words, a car made by any manufacturer on such standards is most likely to end up in typical shape, features, and performance no matter if it is a Japanese or German engineering marvel. Henceforth cars manufactured in this category from Suzuki to Toyota and others are pretty much alike.
When Subaru decided to launch itself into the 660 cc category they knew that they needed to provide a better-looking and packaged car than other reputed competitors like Suzuki and Toyota, in order to gain market shares. Therefore the company brought Andreas Zapatinas, the man responsible for designing Alfa Romeo 145. He was assigned to design his first production car for Subaru in 2002.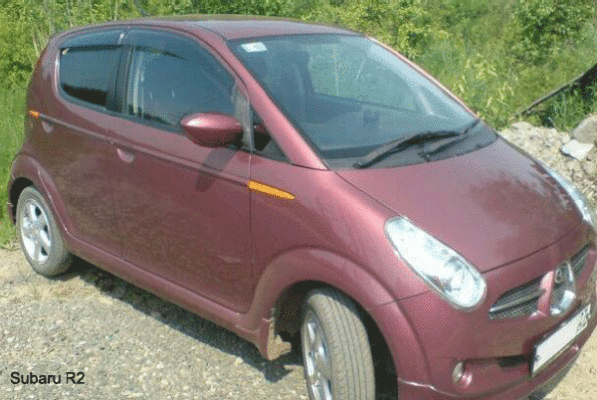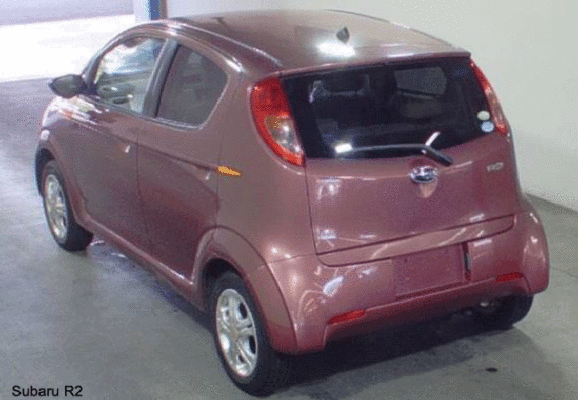 Subaru announced R2 in the Kei car category in 2003 with a 660 cc engine. The design of R2 was inspired by the Kei car model of R-2 made in 1969-1972. The R2 looked much more stylish than the other options in the market as the design successfully made the car look a standard 4-door hatchback instead of a boxy shape. This placed the R2 above other names in the market right after it's launched.
Interior Design & features:
While most Kei cars come with cheap plastic material used in the interior, Subaru styled the car with high-quality plastic punched together with attention to detail hence making it the best interior in its category. The instrument panel is also designed as of Nissan March, the gear is placed at a higher position than normal for ease of use.  The interior comprises of light colors in order to attract female customers as such cars are common in females rather than men whereas the rear seats fold down to make extra room for luggage.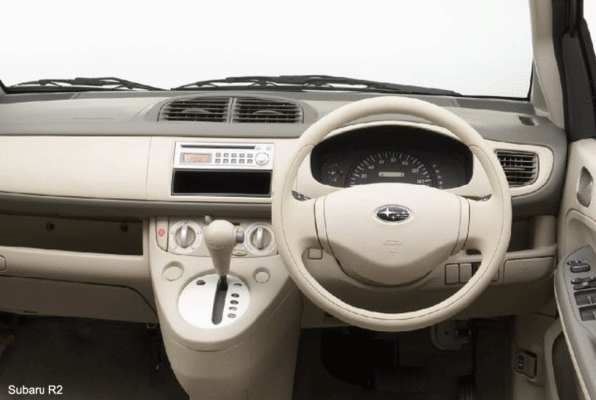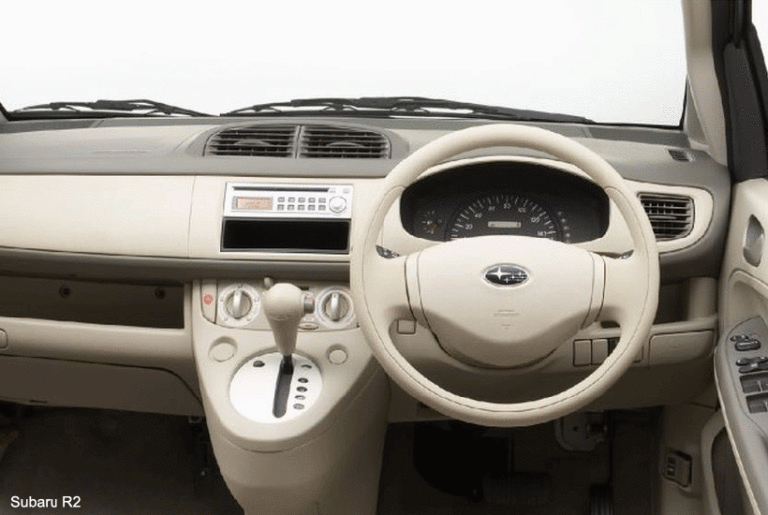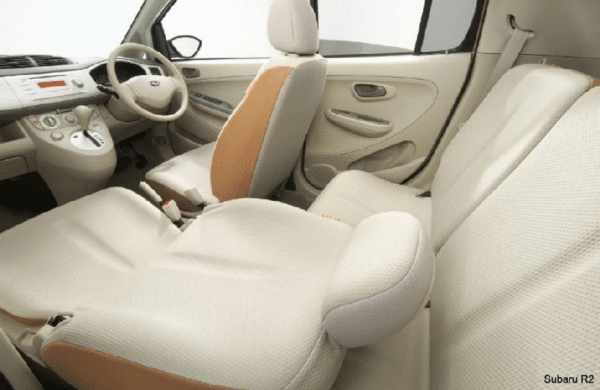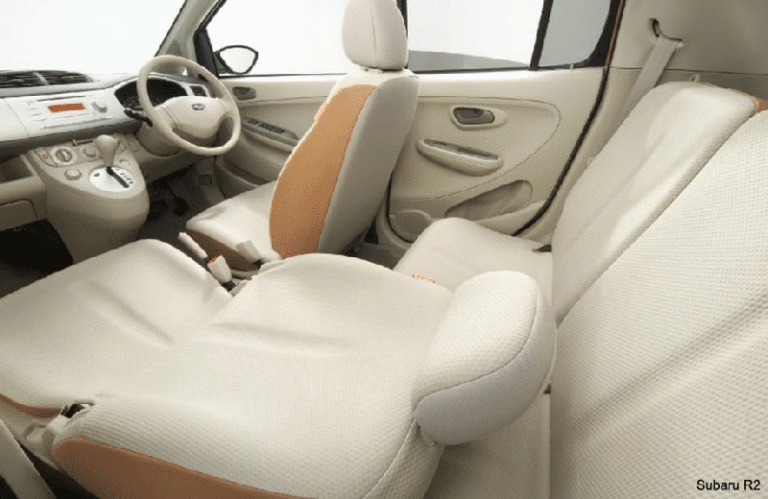 Engine & Power:
Like all other cars in its category, the Subaru R2 comes with a 660cc (558 cc) petrol engine. However, interestingly it was still offered in 3 different trims according to the engine.
EN070U I 4 engine in SOHC category as a base model.
EN070D I 4 engine with DOHC AVCS.
EN07X I 4 engine with DOHC Supercharged.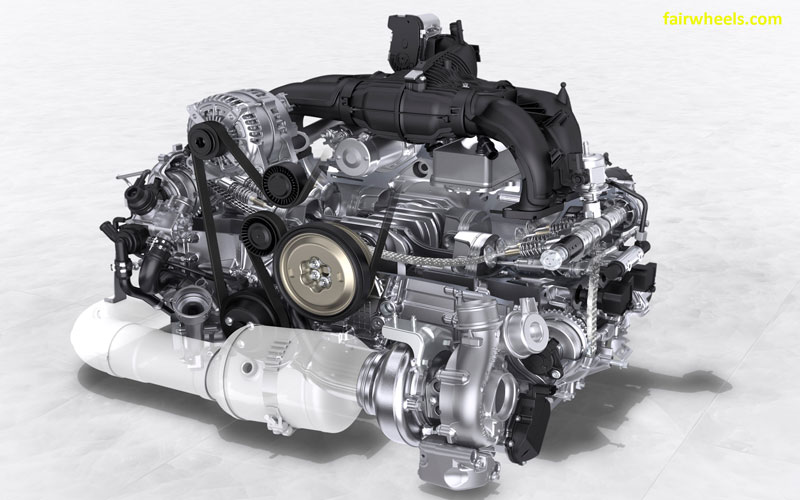 Due to such wide options in just one engine category, it enables Subaru to take advantage of its rivals in terms of performance. The first base model engine makes about 46hp, whereas the DOHC AVCS engine with twin-cams takes up the horsepower to 54hp. Whereas, the supercharged version making it most selling trim makes about 64hp and generates 76lbft of torque.
Suspension & Transmission:
Identical to other cars in the Kei category it uses Strut and Torsion-Beam suspension The Subaru R2 is offered in front-wheel-drive along with the optional 4-wheel drive. The Subaru R2 comes with 5-speed manual transmission whereas, in the turbo version with automatic transmission, it goes to a 7-speed automatic CVT (Continuously Variable Transmission). The Subaru R2 is said to be better engineered in terms of styling, interior, and mechanically due to such features.
The Subaru R2 was produced from 2003-2010. During its tenure, it held to the title of superior in terms of quality as well as performance. Therefore it came with a higher price tag as compared to others in competition. The Subaru R2 was discontinued in 2010 and replaced with Subaru Lucra.