Suzuki Khyber
Status =

Discontinued (from 2000)

Sold in Pakistan = 1983-2000
Generation = 1st
Suzuki Khyber is a five-door hatchback car produced by Suzuki company, equipped with a Carburetor base four-stroke engine with Manual transmission five for forward and one for reverse. Having cloth seats and a seating capacity of five-person.  It was available till 2000 but after that Suzuki quit producing Khyber and start to produce Suzuki cultus. This is not wrong to say that Suzuki cultus is a new version of Suzuki Khyber. Suzuki Khyber is composed of strong body structure and can be found in use. Overall is a good car by not with respect to new ones can be bought about 2 lac or 2.5 in use having a good condition.
Suzuki Khyber Detailed overview & Review:
If compared to the time in which this vehicle was introduced then there is no doubt that it was a great car with new Design Thought. Suzuki Khyber could be called the 1st ever design of Suzuki Cultus that was later refined and introduced with the new name Cultus. Suzuki Khyber 1st Generation was introduced in 1989, which is a compact hatchback with generous space inside that remained in production until 1999 after which it discontinued and its alternative Suzuki Cultus with new Designed introduced. Suzuki Khyber remained the most loved car of the time by the Pakistan community because of its unique better design, generous space, and affordable price.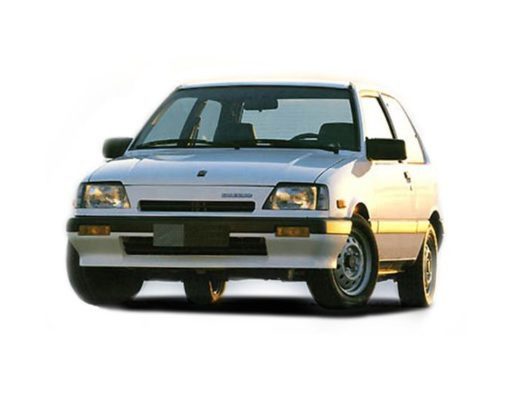 Trim Levels:
Suzuki Khyber was available in 3 different trims including GA, Plus, and Limited Edition which is not difficult to differentiate among these. GA Trim is without air conditioner/Heating and equipped with Black Bumpers, Plus Trim with Air-conditioner/Heating plus Body-coloured Bumpers while the limited edition that was usually introduced last year before discontinuing is equipped it body-colored door handlers, Body-coloured Bumpers, Body-coloured side mirrors, and alloy wheels.
The exterior of Suzuki Khyber:
The exterior of the Suzuki Khyber was kind of cool during that time having a long front End/Hood-like Sedan and Rear Cut end like a hatchback that creates a uniqueness to its design. Square headlamps with a small rectangular grille with 2 vertical air intakes give good looks to the car. Black Bumper with indicators, black side mirrors, black door handles and steel wheels with steel caps are other standard features on the exterior. The rear of the car is again with a Black bumper and Swept tail lights; as there wasn't much on the exterior but the thing that was attracting the customers and made them love is its overall design language and Shape that is some sort of sporty as well.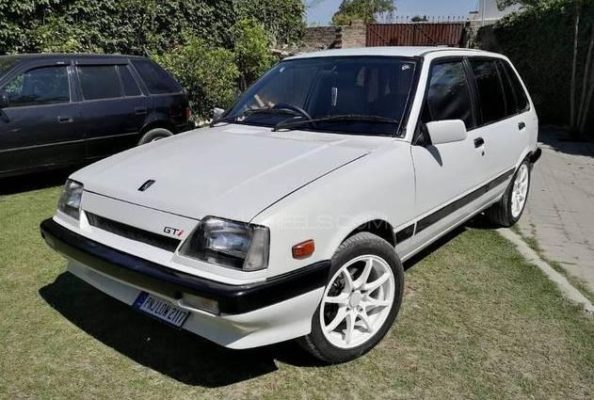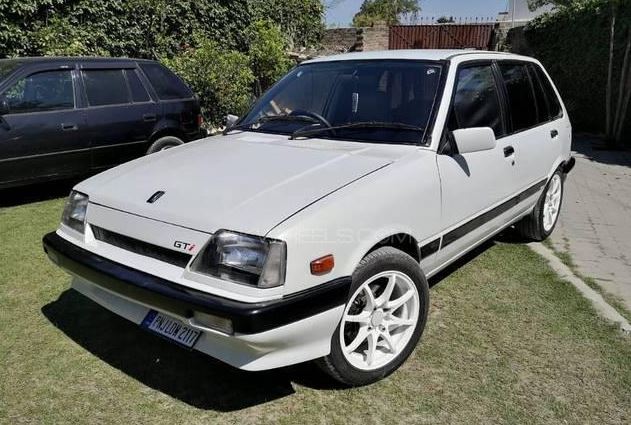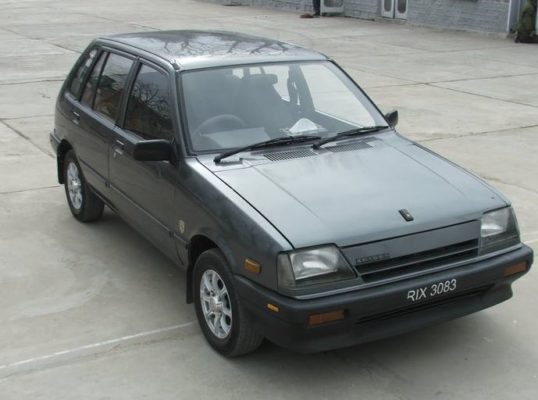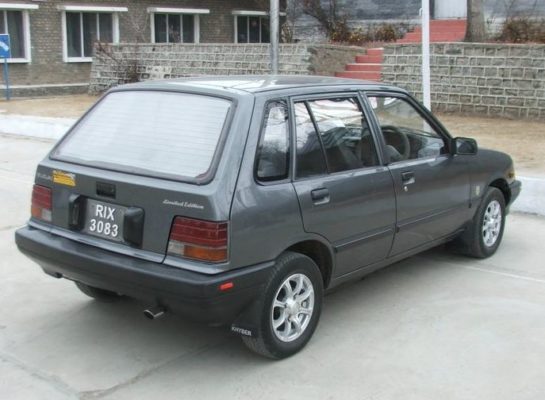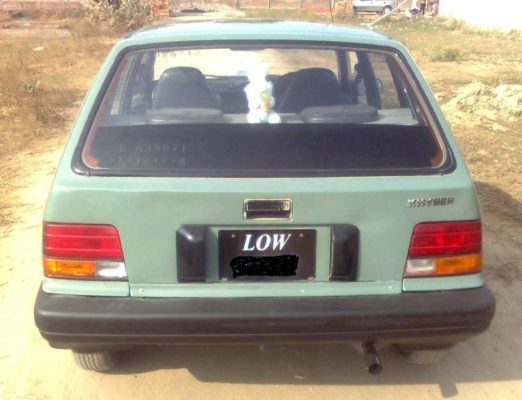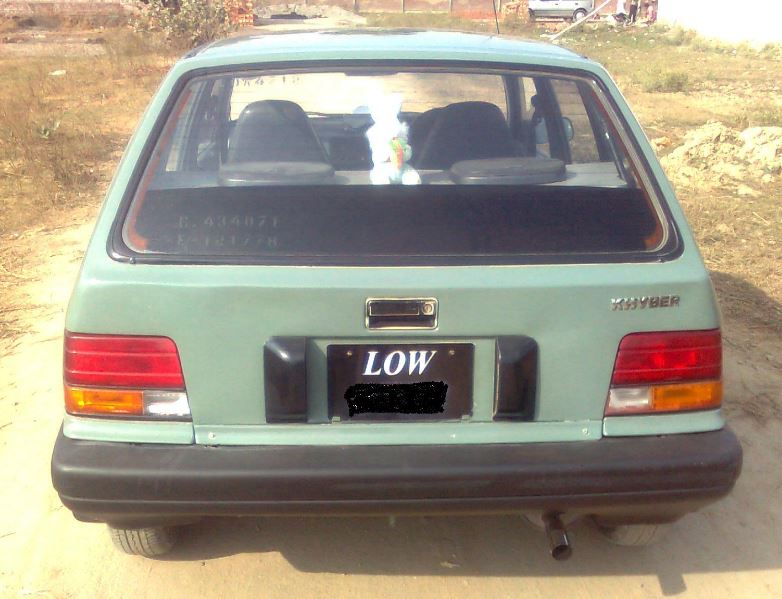 Before 2004 Suzuki vehicles were not manufactured locally but Assembly parts were imported from Japan because of which it has strong body structure and frame that make those vehicles survive and still in 2020 Khyber's are present in the market.
Interior of Suzuki Khyber:
The exterior of Suzuki Cultus is quite better than old Khyber because of better finishing but if the interior is compared with cultus it becomes much difficult to differentiate Khyber and Cultus interior. On the inside, Khyber has the same positioned air vents, a Glove box of the same size, and other interior ques.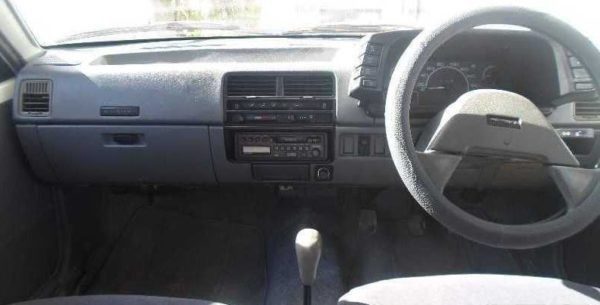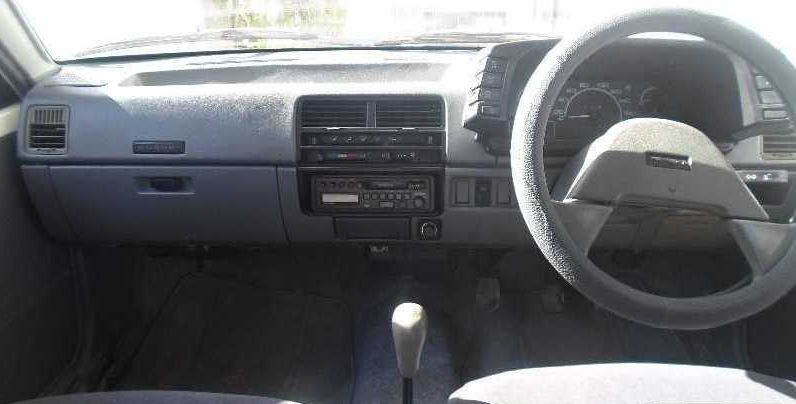 The quality vice interior is composed of plastic that is used on the Dashboard, inside door panels, and other parts of the car while seats have fabric material. Khyber has a manual steering wheel and transmission while for the entertainment stereo speakers and Audio system is present as well. Overall interior is good all because of enough head and legroom, generous space, and luggage area and could also be considered affordable comfortable ride.
Engine and Power:
Suzuki Khyber is equipped with a 1.0 Liter 3 cylinder water-cooled Carburetor engine that produces 100 horsepower with 115nm@4500 rpm of torque. This front-wheel-drive vehicle is paired with 5-speed manual transmission. The top speed of the car is 130-140 km/h and it gives a fuel economy of 8-9 km/h and has a fuel tank capacity of 33 liters.
Pros & Cons:
If concluded overall Suzuki Khyber has the following good and bad things
Pros:
Good acceleration
Generous interior space
Good air conditioner
Strong Body structure
Unique styling at that time
Affordable price
Cons:
No safety features
Sensitive dashboard electric
Manual steering wheel
Difficult drive
Major Competitors:
Hyundai Santro, Daihatsu Charade