2017- 2021 Suzuki Swift (3rd Generation)
Current Price 2021 in India:
| | | |
| --- | --- | --- |
| VARIANT | METALLIC ()* | NON-METALLIC ()* |
| SWIFT LXI | ₹5 19 000.00 | ₹5 19 000.00 |
| SWIFT VXI | ₹6 19 000.00 | ₹6 19 000.00 |
| SWIFT VXI AGS | ₹6 66 000.00 | ₹6 66 000.00 |
| SWIFT ZXI | ₹6 78 000.00 | ₹6 78 000.00 |
| SWIFT ZXI AGS | ₹7 25 000.00 | ₹7 25 000.00 |
| SWIFT ZXI+ | ₹7 58 000.00 | ₹7 58 000.00 |
| SWIFT ZXI+ AGS | ₹8 02 000.00 | ₹8 02 000.00 |
 "Suzuki Swift in 2019 tops the mini-car by its spacious room, exquisite styling and note-worthy performance."
Overview & Review:
Everyone loves an aggressive throttle response stepping the foot on the gas, especially when you are driving a mini-car category hatchback. Therefore it's about the aliveness felt in drive instead of engine displacement for a consumer. Suzuki Swift 2019 caters the need of everyone in almost every shape. Suzuki Swift is easily daily driver performance champ. Thus Suzuki Swift 2019 is worth considering in the mini-car category.
Although Suzuki Baleno falls under the same category so you might be confused about the Suzuki square of same cars, well Suzuki proudly presents you with a handful of options in mini-car category. This type of behaviour is common with manufacturers assembling small cars to provide maximum options to the customer, thus promoting the buyer to choose from their inventory. For example, the Ford offers Ka+, Fiesta & EcoSport. Similarly the Vauxhall hedging with the blighters such as Viva, Corsa and the Adam. Thus Suzuki widens the magnitude of mini-car range in terms of three cars in the same category namely Suzuki Baleno, Suzuki Ignis micro-SUV & Suzuki Swift, the longest-serving hatchback.
Exterior Photos:
Thus Suzuki Swift severs as a more compact yet more spacious to the Suzuki Baleno along with being a bargain as compared to the Baleno. Hence a cool way to save money and indeed getting more spacious on the room. As for the exterior features you get slopping hood wrapped along with C-pillar upgraded to a floating roof now paired with wrapped around front-screen. The lighting clusters form rear and front are somewhat identical to the previous 3rd gen, as it should be since people tend to like it. Thus why change the coolness in a vehicle without a need of replacing it entirely.
4th Generation Swift:
The 4th gen Suzuki Swift 2019 goes by the codename MkIV with a changed "smiling grill" fitted at the front from previous might not be universal acceptance. As for other changes that have occurred in newest gen include shortening it 10mm and 15mm lower than the predecessor. The Suzuki Swift 2019 is based on the same Heartect platform used for Baleno and Ignis as well as Swift. The wheelbase is extended to 20 mm for more space in the boot which accounts for 54 litres of more space than the previous one making it 265 litres of cargo space with seats accounted in it, indeed an intelligent space planning.
Engine & Transmission:
Suzuki Swift comes in a variety of engine and transmission options. The usual 1.2L K12B Dualjet i4 is the most common one available in almost every market for Suzuki from European to Asian and American ones. However, the other engine options include a 1.0L Boosterjet three-cylinder engine, 1.3L Fiat Multijet engine. The Sports version comes with 1.4L K14C i4 engine. These engines are mated with 5-speed, 6-speed and 4-speed transmission depending upon the engine and market with 7-speed CVT automatic transmission with manual mode for obviously the 1.4L sports version.
How does Suzuki Swift drive?
Stating the experience of the smallest one available 1.0L Boosterjet engine will automatically determine the work to be done by the others. The 1.0L engine generates 109 bhp @ 55,000rpm The Suzuki Swift 2019 gives out 125 lb-ft of torque at 25,000-35000 rpm coming from the front wheels obviously. As for the Suzuki Swift Sports, it has 138 bhp with 162 lb-ft of torque 1.4L Boosterjet. The regular 1.0L engine does 0-62 mph in 10.2s which sets the expectations for Sports version pretty higher although there are as of no official figures available right now. Thus the Suzuki swift 2019 is quicker, excellent to drive on-road and going through the curves. There are no problems when it comes to driving, the dynamics are also in favour of swift along with the weight. The Suzuki Swift weighs only 890 kg.
Interior Photos: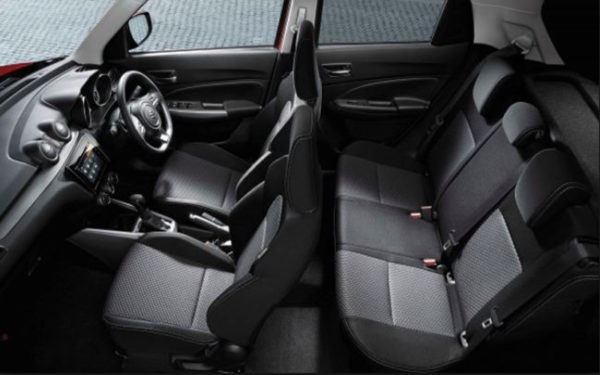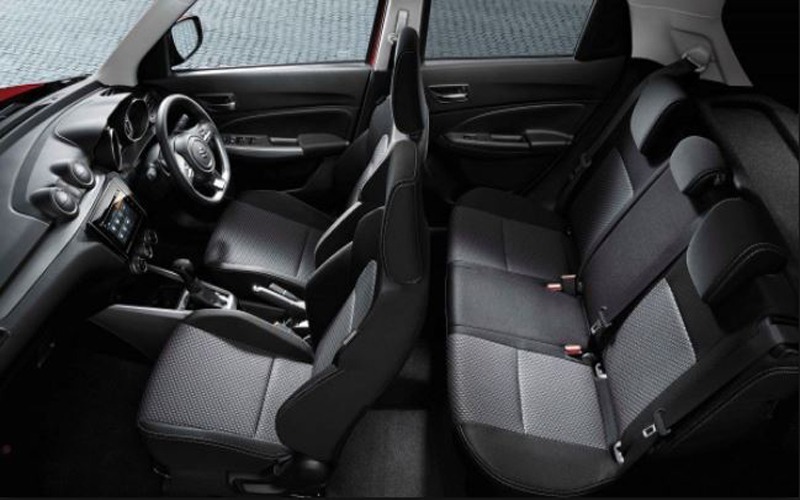 Downside:
One downside is the less-aliveness to be felt in the steering wheel while driving thus there is notable distant of under-steering in situations. However, overall it's a sweet little charm in terms of drivability. As for the other factors included in the drive, there are no reports of tyre or wind noises when cruising at a decent speed. The ride is also smooth, especially in higher engine options.